Texas Football: Grading All 22 Starters from the Alamo Bowl Victory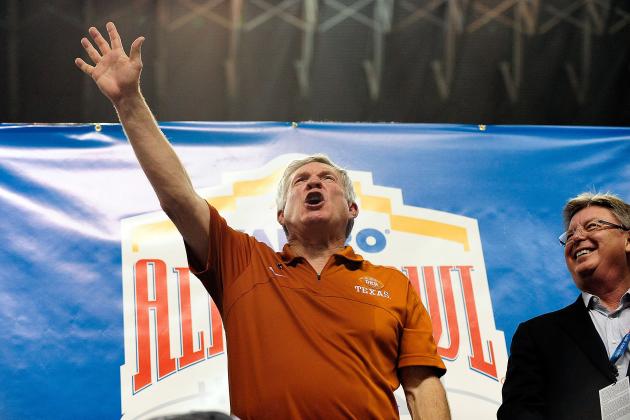 Stacy Revere/Getty Images

For the second consecutive season, the Texas Longhorns were able to end a disappointing season on a positive note, beating the Oregon State Beavers 31-27 to win the Alamo Bowl. The win shows that this program still has some fight courtesy of its seniors and up-and-coming stars, giving it a solid starting point for the offseason.
While this is obviously not where the 'Horns and their fans wanted to be at the end of the season, a comeback win over a Top 15 team will do just fine for now. The win also gives Mack Brown some respite, as a loss would undoubtedly have brought heavy scrutiny upon him and his staff.
Now Brown, who is now 10-4 in bowl games at Texas, and guys like newly-minted offensive coordinator Major Applewhite can focus on building upon this success. Most notably, starting with the recruiting class, which should get a boost from what the team showed in this victory.
But this a victory that belongs, first and foremost, to the players that gave their best performances when the team needed them most. Read on for the grades for all 22 of Texas' starters and how each contributed to Texas' biggest win of the season.
Begin Slideshow

»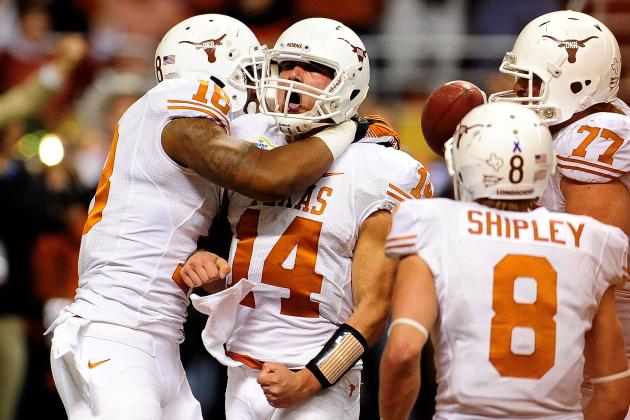 Stacy Revere/Getty Images

Grade: B+
Following a bad second-half interception, David Ash looked as if he was headed for another disastrous performance in a big game. But the sophomore quarterback was able to pull it together in the fourth for the signature performance of his Texas career.
Prior to the fourth quarter, Ash was 12-of-22 for only 95 yards and an interception, displaying some of the maddening traits that had frustrated so many Texas fans throughout the regular season. But Ash maintained his confidence and was able to find success on the ground, running seven times for 22 yards and a touchdown.
Then, with his team trailing by 10, Ash was able to translate his success on the ground into 146 passing yards and two touchdowns in the fourth quarter. The first came on a frantic scramble to his first in which he was able to lob the ball to freshman Johnathan Gray. The second touchdown, which turned out to be a game-winner, was a beautiful 36-yard bomb to Marquise Goodwin following a big fourth-down conversion.
Whether this was the breakthrough performance that Ash needed to take his career to the next level remains to be seen. But he did show a mental and physical toughness that he lacked through much of the season in keeping himself in the discussion for the starting position in 2013.
Ash needed to deliver in a big way, and he did just that.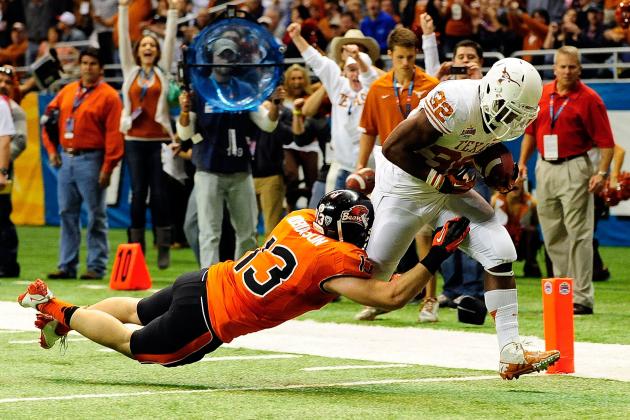 Stacy Revere/Getty Images
Gray's crucial touchdown reception.
Grade: B
Johnathan Gray may not have racked up incredible stats against the Beavers, but the freshman runner did deliver two of the game's biggest plays en route to the victory.
Gray, and the rest of the Texas running game for that matter, was stuffed by the Oregon State front for almost the entire game. The young back finished with only 18 yards on seven carries, but came up big in the fourth quarter.
With his quarterback under serious duress, Gray ran up the sideline and created enough separation for Ash to hit him over the top for a 15-yard score to cut the deficit to three. On the next drive, Gray's number was called on a crucial 4th-and-1, a Wildcat snap that he took three yards for the first down. Ash hit Goodwin for the game-winner on the very next play.
Get used to seeing Gray make clutch plays in important situations. After all, there is a reason he was able to win three consecutive state titles in high school. Just another reason to love this emerging stud.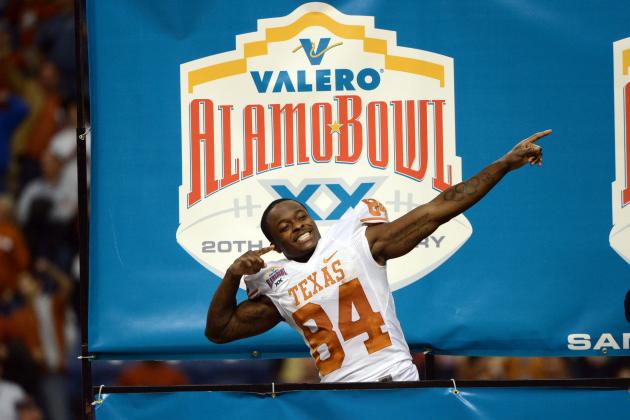 Brendan Maloney-USA TODAY Sports
Goodwin at the podium.
Davis: D
In what was a recurring theme for him throughout the regular season, junior Mike Davis once again came up small in a big game. Luckily for him, his teammates in the receiving corps picked up his slack.
Just as he did against West Virginia, TCU and Kansas State, Davis was almost completely an afterthought against the Beavers in putting up only 30 yards. Were it not for his 19-yard reception for a first down on Texas' second-to-last drive, this was another complete egg-laying by the team's top wideout.
Davis did have All-American corner Jordan Poyer covering him for much of the night, but this trend of disappearing in big games is troubling. To be a No. 1 wideout in this game, you have to figure out how to play against the opposition's No. 1 corner, and he cannot do that right now.
Shipley: A
Often underutilized this season, sophomore Jaxon Shipley had another great game for the Longhorns in displaying his world-class hands and route-running ability.
While Marquise Goodwin was delivering the big gainers, Shipley was steadily keeping the 'Horns moving and was Ash's most reliable target throughout the night. The sophomore finished with eight catches for 88 yards, earning every bit of them against that tough Oregon State secondary.
Over the final four games of the season, the second coming of Shipley was hands down the Longhorns' best receiver. Not only did he average almost 94 yards over that span, but he displayed very precise route-running and hands that simply do not let go of the ball. As a possession receiver, Shipley could be among the best in the country.
Goodwin: A+
No surprise here, as the Alamo Bowl's Offensive MVP, Marquise Goodwin, earns top-billing for his performance on Saturday.
Goodwin, also underutilized for much of the season, needed to touch the ball only five times to rack up 132 yards and two touchdowns. And his timing could not have been better.
The senior's first touchdown was a 64-yard run off of a reverse to start the second quarter with Texas' only first down coming off of a penalty. The second, which will be remembered for decades by Longhorn fans, was the game-winner following a fourth down conversion.
Goodwin, who may or may not earn a spot on an NFL team, leaves big shoes to fill at slot receiver. A guy with 4.3 speed is hard enough to replace, but his leadership through these past three seasons has been invaluable. We all wish the best for him moving forward.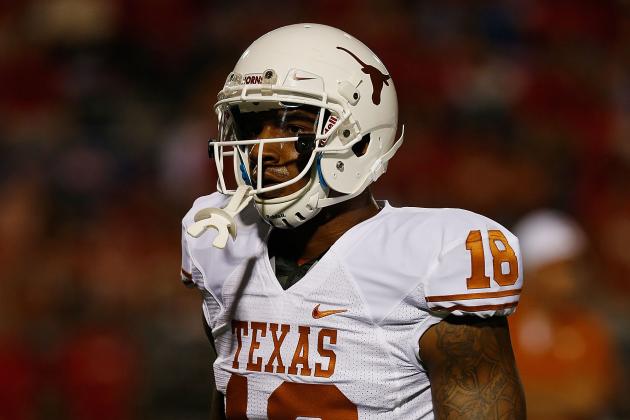 Scott Halleran/Getty Images

Grade: C
Hard to give senior tight end D.J. Grant a fair grade, as he was only thrown to once and was out of lineup for much of the game.
Grant was never really involved in the offense in 2012, totaling only 125 yards on 13 catches for no touchdowns. He is a solid receiver, catching his only target for five yards, but his deficiencies as a blocker made it hard for the coaches to trust him.
No matter who the quarterback is next season, Texas needs to help him out by coaching up a tight end that can catch and block. There is too much potential for production at this position for the coaches to relegate it to being an extra offensive lineman.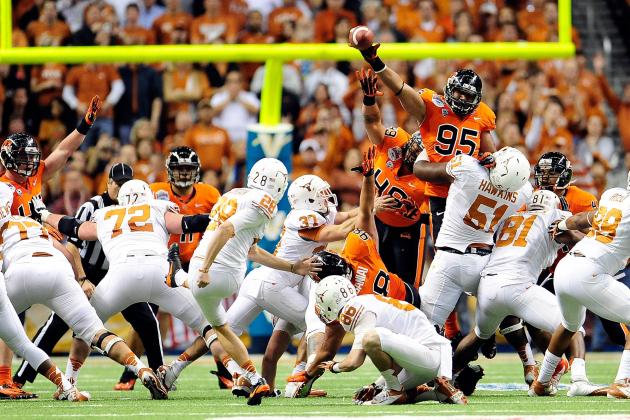 Stacy Revere/Getty Images

Grade: B-
Given that it was short its best interior blocker, the Longhorn offensive line did a commendable job with the dirty work in the trenches.
The big uglies struggled, as they did all year against tough fronts, getting push up front for the Texas running backs that lost 30 yards in the win. But they were able to pave the way for 117 yards, 64 of which came on Goodwin's first-half touchdown, and kept David Ash clean throughout the game.
The play of the game for this group was on Gray's fourth-down conversion out of the Wildcat. Texas needed a yard to keep the drive alive, and the offensive line gave Gray enough to pick up three. That is what these guys have to be able to do, and they did it when it mattered most on the game-winning drive.
This group is far from a finished product, but it is getting there.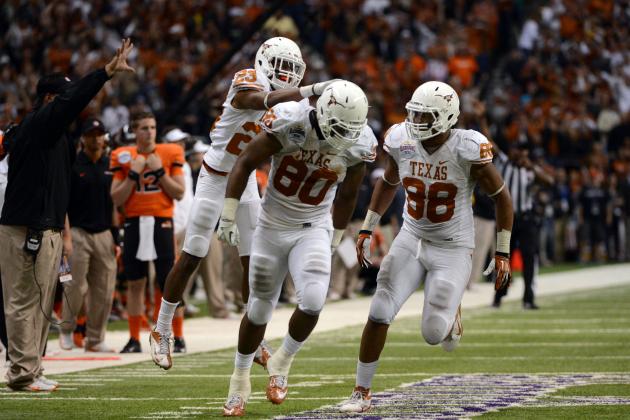 Brendan Maloney-USA TODAY Sports

Moore: D
The Longhorn defense played one of its best games of the season against the pass, but the run defense was still unsatisfactory. Brandon Moore's performance up front is a big reason.
The big JUCO transfer Moore failed to record a tackle, while Storm Woods ran for 118 yards and two touchdowns. The linebackers still struggled to plug the gaps, but Moore was brought in to stuff the run and had trouble doing so in this game.
Moore was Texas' most consistent defensive lineman throughout the regular season, so it is safe to say he just had a bad game.
Jackson: B-
Continuing to emerge in his sophomore campaign, Desmond Jackson had another solid game for the 'Horns up front against the Beavers.
Jackson's performance was highlighted by a six-yard sack of Cody Vaz at the beginning of the third after David Ash cut the lead to three. The play put the momentum firmly in Texas' hands and set the tone for the defense's second-half showing.
Jackson has incredible potential at the position given his size and strength, giving us random flashes throughout the season. Should he find some consistency, he will be a force in the middle of the Texas defense for the next two years.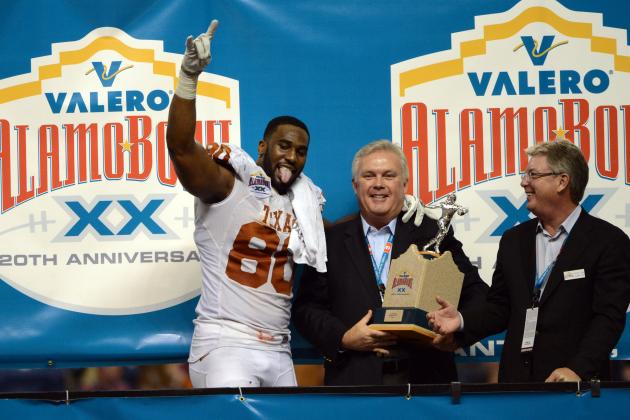 Brendan Maloney-USA TODAY Sports

Okafor: A+
The Longhorns needed a big game from their best defensive player, Alex Okafor, to slow down the Oregon State passing attack. The senior defensive end delivered with an all-time performance at the Alamodome.
Okafor led the charge on Saturday in racking up 4.5 sacks, six total tackles for loss, forcing a fumble and personally taking 40 yards away from the Oregon State offense. Of those 4.5 sacks, two came on Oregon State's final two drives, and each forced a long fourth-down situation. That is what an all-time performance looks like.
Okafor did everything asked of him and much more in spearheading the defense to its best game of the season against a ranked opponent. He will be missed.
Reed: A
Okafor's MVP performance certainly takes up most of the headlines, but Cedric Reed, his counterpart on the left side, also had a great game for this defense.
Reed had half of a sack, two tackles for a loss, had four QB hurries and recovered a fumble deep in the Oregon State territory that gave Texas its first points of the game. But most importantly, Reed forced the Oregon State offensive front to pay him heed, freeing up Okafor to wreak the havoc that he did.
Reed, along with Reggie Wilson, Shiro Davis and commit Jake Raulerson have big shoes to fill after Okafor's departure for the NFL. If Saturday's performance was any sort of peek into his future, Reed should do just fine in that role.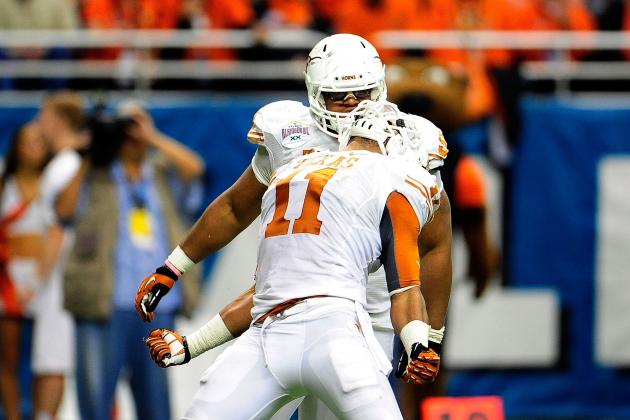 Stacy Revere/Getty Images

Jinkens: B
Stepping in at mike linebacker for the hobbled Steve Edmond, freshman Peter Jinkens continued his late-season surge up the depth chart with another good game against the Beavers.
Jinkens got things started with a first-quarter interception and played well for the rest of the game. The 'Horns still gave up too much on the ground, which hurts his overall grade. But considering that was playing one of the toughest positions on the defensive side of the ball, you cannot help but continue to be impressed by this kid.
If Jordan Hicks can redeem himself in time for the 2013 season and Steve Edmond continues to mature, this Texas linebacking corps is pretty set with Jinkens moving forward.
Jackson: B-
A special teamer through much of the early season, the sophomore linebacker had the best game of his young career on Saturday.
Jackson was third on the team with seven tackles, including a fourth-quarter sack, and broke up a pass for the 'Horns.
Jackson has done well when given his opportunities this season and could find himself vying for a starting spot if Jordan Hicks is dismissed from the team.
Thompson: B
Per the rest of the linebackers, sophomore Kendall Thompson did a good job making plays against the Beavers, but had trouble defending the run.
In recording three tackles for loss and two sacks, both career highs, Thompson struggled to get off of his blocks, but made plays when they were there. His highlight of the game was the game-sealing sack of Cody Vaz on Oregon State's final drive.
Thompson, like Jackson, showed some flashes this season, but will have to really work in order to earn a starting spot in 2013.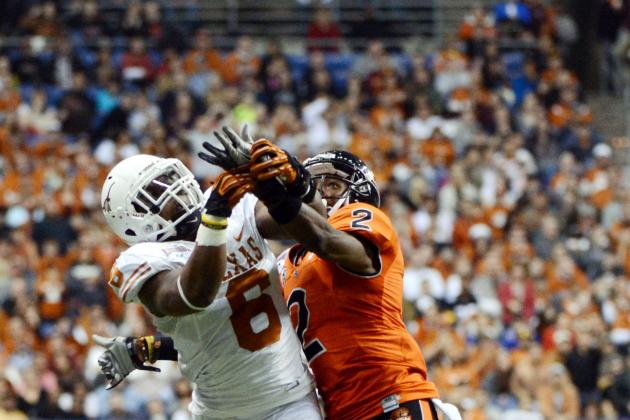 Brendan Maloney-USA TODAY Sports

Diggs: A
The silent MVP of the Alamo Bowl is cornerback Quandre Diggs, who shut down one of the best wide receivers in college football on Saturday.
Meet Markus Wheaton. Going into Saturday, he averaged 100.6 receiving yards and seven catches per game, scoring 12 touchdowns on the season. On Saturday, Wheaton caught only three balls for 37 yards and never even caught a whiff on the end zone all because of the play by Texas' Diggs.
Oregon State lived by the big play in 2012, and Wheaton was the man he looked to most often for such plays. But on Saturday Diggs was all over Wheaton, picking off the only real shot the Beavers ever took at him on the outside. His tight coverage also forced Cody Vaz to hang onto the ball longer than usual, which allowed the Texas pass rush to have a field day.
Diggs also had a punt return that led to the offense's first touchdown of the second half, giving him his best game of the season. He could not have picked a better time for such a performance.
Byndom: A
Quandre Diggs may have had the interception, but fellow corner Carrington Byndom played every bit as well on the opposite side against the Beavers.
Byndom, presumed to be Texas' shutdown corner in 2012, struggled through much of the regular season. Whatever was ailing him clearly has been remedied, as Byndom held Brandin Cooks, OSU's other 1,000-yard receiver, to three catches for 31 yards.
He is eligible for the NFL draft, but it seems more likely at this point that Byndom will return to Austin in 2013. If he does, expect more lockdown performances like this.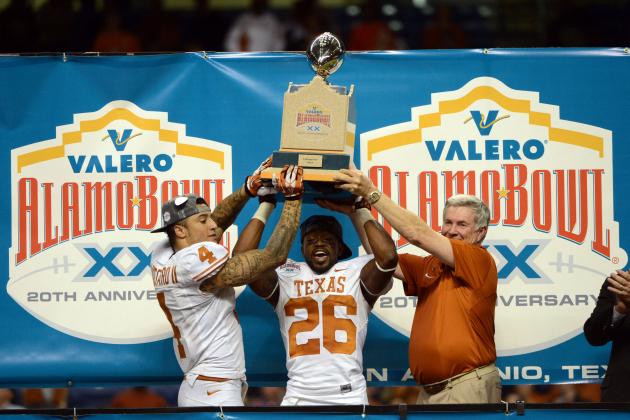 Brendan Maloney-USA TODAY Sports

Vaccaro: B+
Doing it all once again for the safety position, senior Kenny Vaccaro had another great game in his final outing in the burnt orange.
Vaccaro's stats were pretty pedestrian in this contest (four tackles, two passes broken up), but he deserves a lot of credit for his job on the Oregon State receivers. Not only did Vaccaro give help over the top, but he was frequently manned up on both Wheaton and Cooks, who had their lowest combined output of the season.
Vaccaro is a first-round pick in April, and he played like it all season, even when the defense was at its worst. Huge hole for the coaches to fix here, presumably by the aforementioned Diggs.
Thompson: C
He could have been better, but sophomore Mykkele Thompson played a very tough game at safety for the Texas Longhorns.
Thompson led the 'Horns in tackles with 10, most of the time having to bring down running back Storm Woods, including one for a loss. Unfortunately, he was getting to his spots a little late and was a contributing factor to Woods' big day. He was also called for a critical pass interference penalty in the first half, but that was a missed call.
The strong safety spot has been a constant struggle for Mack Brown and his staff in 2012, due mostly to missed tackles. Thompson finished his tackles in this game, which was enough to get it done, but he probably does not start in 2013 either.