Penn State Football: How Nittany Lions Can Beat Michigan in 2013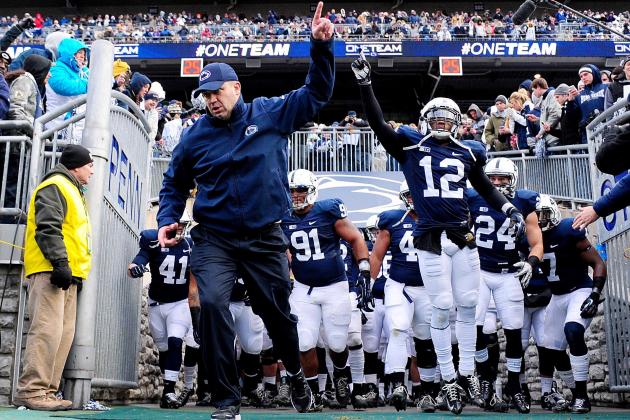 Evan Habeeb-USA TODAY Sports

While it's quite some time away, Penn State fans don't have much to look forward to until spring practice without a bowl game, so let's look into the future a bit at the team's matchup with Michigan in 2013.
Even though the Wolverines dominated the Lions for most of the 2000s, Penn State won the most recent contest between the two schools in 2010 in a 41-31 victory.
However, these two programs have been through quite some change since then and it'll be reflected in the Oct. 12 matchup.
Obviously, a lot can happen from now until then, so I'm not here to predict the future or give exact predictions to a game that's 10 months away.
However, what can be done is an analysis of how the two teams' regular seasons panned out, arrivals and departures, etc.
With that being said, let's have some fun and take a premature look at the 2013 meeting between Penn State and Michigan.
Begin Slideshow

»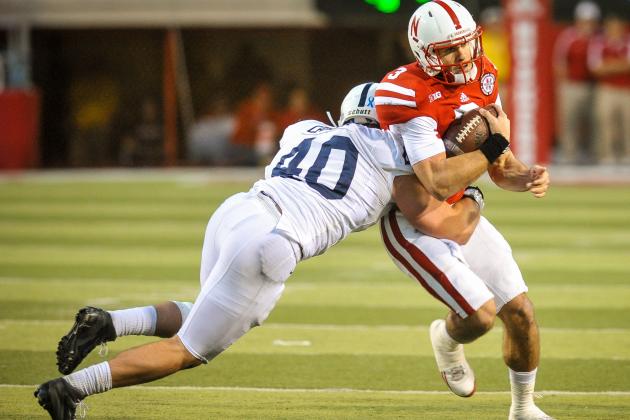 Eric Francis/Getty Images

As opposed to the read option offense Denard Robinson has run for the past couple of years, Michigan coach Brady Hoke will have the personnel to establish his power-I offense.
As many people know, the initiative of the power-I offense is to pound the ball early and establish tempo.
Hoke is a hard-nosed guy and will want to stick with the run early, especially on the road at Beaver Stadium.
What do the Lions do to counter this? Stack the box, remain disciplined and tackle properly.
Penn State defensive coordinator Ted Roof has to make sure middle linebacker Glenn Carson is hitting the "A" or "B" gap on every play and the defensive tackles need to pinch and take away power draws and ISO dives.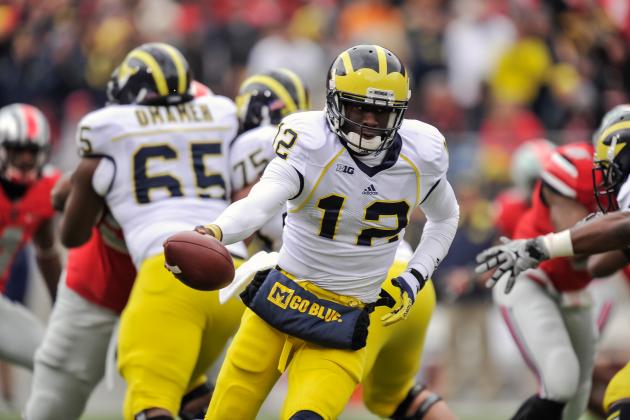 Jamie Sabau/Getty Images

With all that being said, Penn State needs to use Deion Barnes to contain on the outside as well as the other starter on the end—maybe Garrett Sickels.
First of all, the defensive linemen—and linebackers for that matter—can't overpursue the run in the backfield because a byproduct of the power-I is an effective play-action passing game.
Devin Gardner, who is Michigan's expected starting quarterback next season, is a guy with the ability to use his legs and get outside the pocket to throw.
While power-I is based on a power running game and play action scheme, Gardner has ability to get around the edge and do damage with his legs, so if Johnson preaches contain to his athletic and swift ends, they should be prepared to bottle it up.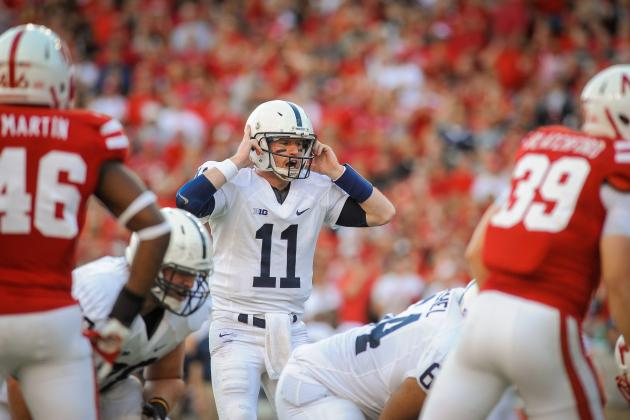 Eric Francis/Getty Images

Big game and big stage means a big-time performance needed from the Lions quarterback, right?
In my opinion, that's not what Penn State will need to beat Michigan in 2013.
With Matthew McGloin graduating, the Lions will have a new quarterback under center next season.
Whether it's JUCO transfer Tyler Ferguson, blue-chip recruit Christian Hackenberg or last year's backup Steven Bench, the Lions will have an inexperienced signal-caller trying to beat Michigan on what will most likely be a night, Whiteout game at Beaver Stadium.
Also, leading up to Oct. 12, they really wouldn't have played any huge games, most notably a matchup with Syracuse at Met Life Stadium.
Point being, has to remain poised in the pocket and not make any bad decisions that could potentially take the life out of Beaver Stadium.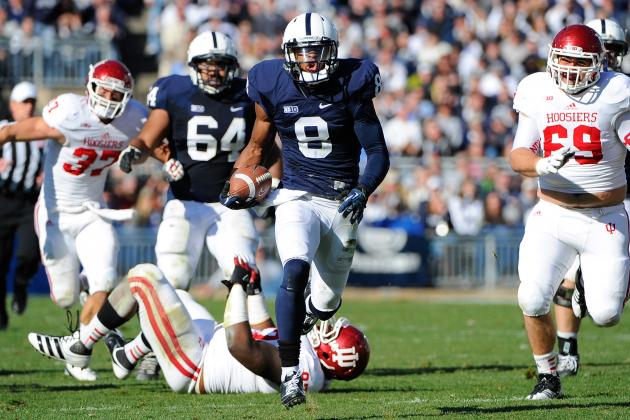 Rich Barnes-USA TODAY Sports

However, the Lions can't be afraid to take a few shots downfield.
In a game like this, Bill O'Brien doesn't want to put his quarterback in any uncomfortable positions, but at the same time, to win a big game some shots downfield need to be taken.
Regardless, that's not saying taking those shots would be a risk.
With a heavy dose of the running game with Zach Zwinak and company, the Michigan defense will probably be creeping up, so a few cracks over the top to Allen Robinson wouldn't hurt.
Especially considering Robinson's ridiculous playmaking ability, the Lions would be smart to take some chances with the deep ball.