After dropping five of their last eight, the TCU Horned Frogs will finish their season on a high note this December after knocking off the Michigan State Spartans in the Buffalo Wild Wings Bowl on Saturday in Tempe, Arizona.
Although the NFL playoff race has and will continue to steal college football's bowl thunder until the mighty BCS games arrive, there are a number of solid, underrated postseason clashes for fans to take in this winter.
Here are three of my picks for winners of under-the-radar bowl matchups.
Russell Athletic Bowl: Rutgers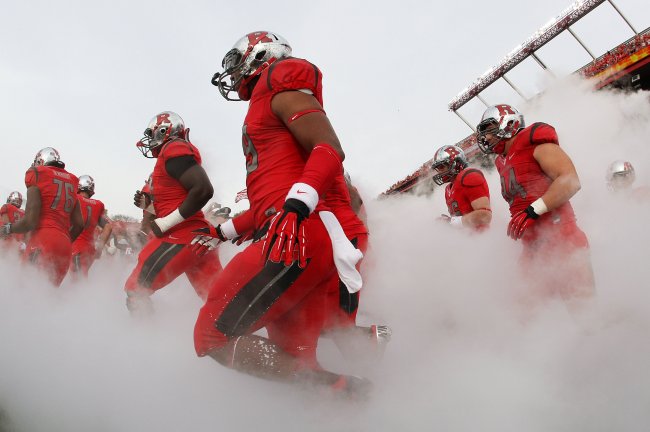 Alex Trautwig/Getty Images
The Scarlet Knights will square off against the Virginia Tech Hokies in the Russell Athletic Bowl in Orlando on Dec. 28, and should have the advantage given their superior scoring defense.
Rutgers is allowing just 14.3 points per game this season, ranking fifth-best in the nation.
Offensively, the Scarlet Knights aren't quite as potent as the Hokies, but they do boast a 2,500-yard passer in Gary Nova and a 1,000-yard rusher Jawan Jamison. As long as Rutgers keep the game in the teens or low 20s, it should come out on the winning end against a Virginia Tech team that has underachieved all year long.
The Hokies have lost five of the six games they've played away from Blacksburg this season.
Meineke Car Care Bowl of Texas: Texas Tech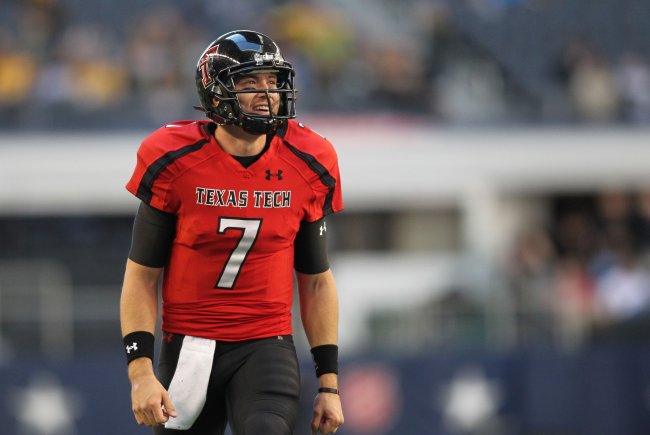 Tim Heitman-USA TODAY Sports
Texas Tech will be a heavy favorite in its postseason clash with Minnesota this December. The two programs will meet in the Meineke Car Care Bowl of Texas in Houston on Dec. 28.
Yes, the Red Raiders come in without Tommy Tuberville on the sideline, having dropped four of their last five. However, Minnesota went just 2-6 in the Big Ten this season, squandering a 4-0 start to the season to finish 6-6. Plus, there isn't one area that you can truly point to where the Golden Gophers excel.
On the other side, Texas Tech boasts an elite passing attack, led by senior Seth Doege. The Red Raiders rank second in the nation in pass offense, averaging roughly 362 yards through the air per game.
Texas Tech is the superior team without question and is set to come away with the win in Clutch City.
Music City Bowl: Vanderbilt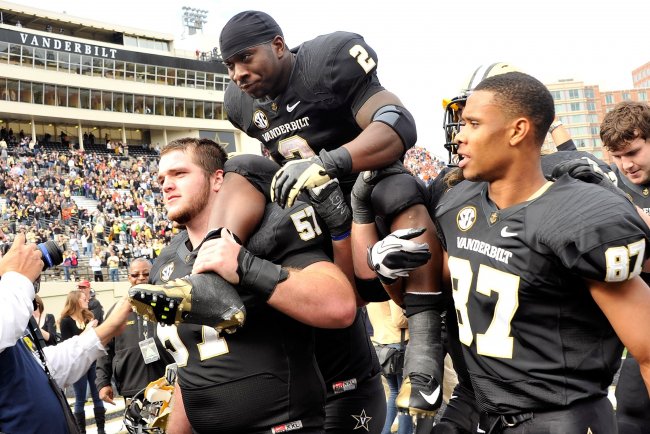 Frederick Breedon/Getty Images
In an under-the-radar battle between the SEC and the ACC, Vanderbilt will take on North Carolina State in the Music City Bowl in Nashville on New Year's Eve.
This time around, I give the edge to the SEC. The Commodores have won six straight games after starting 2-4 and have a dominant scoring defense—which is giving up a shade over 18 points per game in 2012.
In addition to ranking 15th in scoring defense, Vanderbilt ranks 17th in total defense, holding opponents to under 327 total yards per game. Although the Wolfpack have a quality passing attack, their 109th-ranked running game makes them rather one-dimensional offensively.
Of course, Vanderbilt's offense isn't prolific by any means, but it won't need to be in order to win the Music City Bowl this New Year's Eve. The SEC is renowned for its tough defense and that's what will propel the Commodores this bowl season.
Follow Bleacher Report Featured Columnist Patrick Clarke on Twitter.