25 Storylines That Should Have College Football Fans Excited for 2013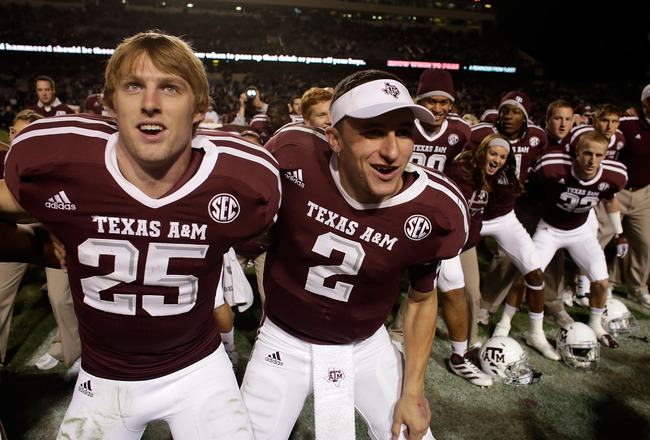 Scott Halleran/Getty Images
While the 2012 season is almost over, fans are already looking at the calendar and realizing they have a long wait until the 2013 begins.
This past year, college football has provided us with some outstanding memories and stories that will last a lifetime. As we prepare for the end of the 2012 season, here are 25 stories that can get you excited for the 2013 season.
SEC Continuing Streak in Title Game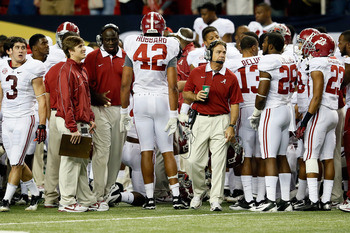 Kevin C. Cox/Getty Images
For the seventh straight year, the SEC is being represented in the BCS National Championship Game.
Regardless of what happens this year, the SEC will once again be out to prove conference supremacy and try to make it eight straight years.
LSU vs. Alabama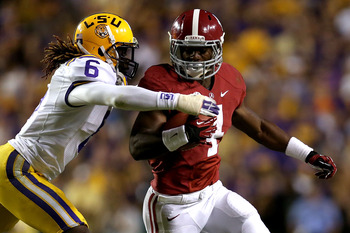 Matthew Stockman/Getty Images
For the past few years, Alabama and LSU have put forth some true battles, and the winner has gone on to play for national titles.
This coming year, both teams will be strong and will certainly give us another classic.
Last Year of BCS
Andy Lyons/Getty Images
For years, fans have been sick and tired of the BCS system, and the good news is that this will be the last year of the current system. While the playoff system replacing it may not be a huge step, it is a step in the right direction.
Return of Johnny Manziel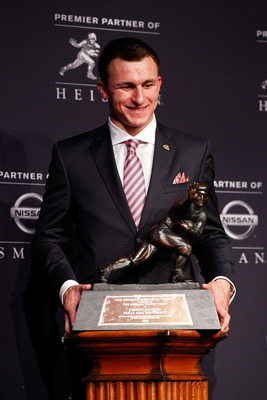 Mike Stobe/Getty Images
After an outstanding freshman season that saw him capture the attention of the nation and the Heisman Trophy, Johnny Manziel will be back for his second season. All eyes will be on Manziel as he looks to prove he will be a force for the next couple of years.
Oregon's Offense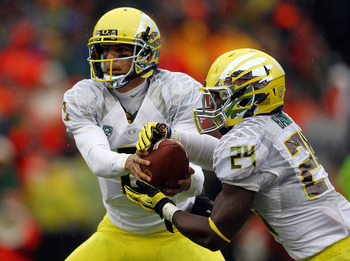 Jonathan Ferrey/Getty Images
Every season it seems as if the Oregon offense is able to go to a new level.
This year Marcus Mariota is in his first season, but next year, after he has had a full season under his belt, Mariota will be able to elevate the Ducks past this year's numbers.
Can Notre Dame Do It Again?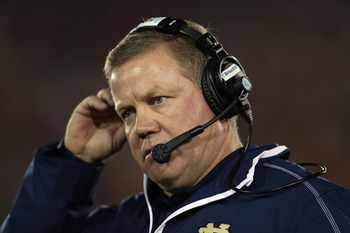 Jeff Gross/Getty Images
While the title game has yet to be played, Notre Dame fans will be more excited than ever going into next year.
The Irish proved they could get the job done in 2012, and fans will be expecting so much more next season.
Ohio State Back in Bowl Hunt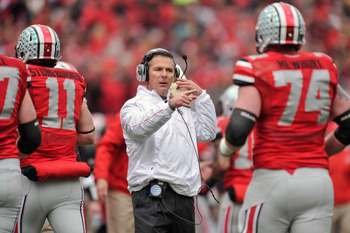 Jamie Sabau/Getty Images
Urban Meyer managed to take a team with no shot at the postseason, got them to believe and helped the Buckeyes turn in an undefeated season.
With their postseason ban gone, it will be interesting to see what Meyer can get out of this team in 2013.
Post-Matt Barkley Era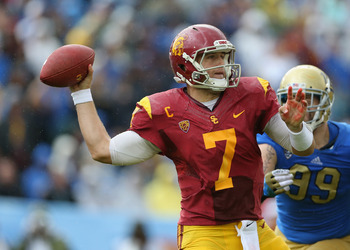 Jeff Gross/Getty Images
For the past four years, Matt Barkley has been throwing for a lot of yards and touchdowns for the USC Trojans. He came back this year but fell short on all of his goals, so it will be interesting to see how the Trojans transition.
Can Stanford Repeat?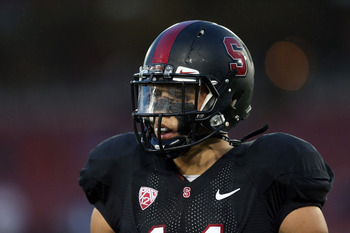 Ezra Shaw/Getty Images
Coming into the 2012 season, not many people were talking about Stanford as a Pac-12 title contender after the Cardinal lost Andrew Luck. This year's title proved everyone wrong, and the question will turn to whether or not they can repeat.
Will Michigan Get Back to an Elite Level?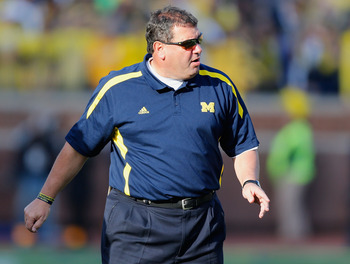 Gregory Shamus/Getty Images
It has been quite some time since Michigan has been at an elite level, and fans are still hoping that coach Brady Hoke can re-elevate the program.
As Michigan's third season under Hoke begins, it will be time for him to show the fans some results with big-time wins.
Can Mike Leach Turn Things Around?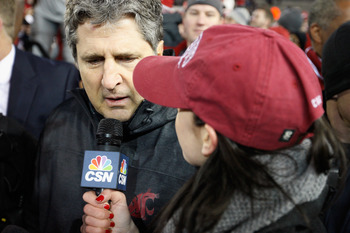 William Mancebo/Getty Images
Mike Leach came to Washington State this year with the hopes of turning things around and doing so quickly. While year one may have not gone the way he had hoped, Leach should manage to start building this program this offseason.
More Conference Changes?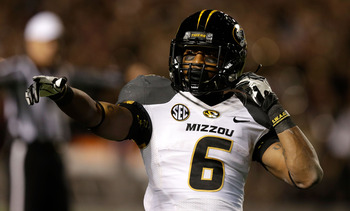 Scott Halleran/Getty Images
For the past few years, conferences have been switching things up, and teams have been on the move. Next year will be no exception, and it will be interesting to see how conferences continue to shift around.
Will Boise State Be Back in the BCS Conversation?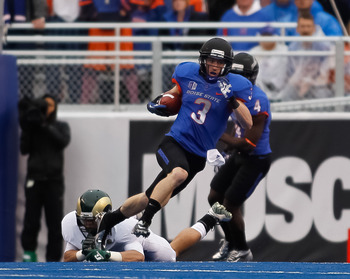 Otto Kitsinger III/Getty Images
With the loss of Kellen Moore and a loss in the opening week of the 2012 season, Boise State seemed to fall of the map this year. As the 2013 season opens, it will be interesting to see if the Broncos can get back into the BCS mix.
Rich Rodriguez Repeating Performance at Arizona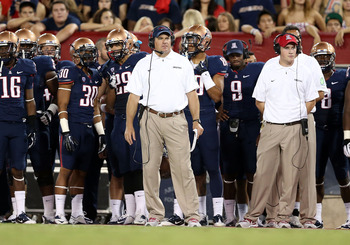 Christian Petersen/Getty Images
While Rich Rodriguez was at Michigan, the Wolverines defense was awful, but the offense was effective.
Now at Arizona, Rodriguez saw those same trends develop this year, and he needs to make sure they don't continue into his second season.
Big 12 the Best Conference?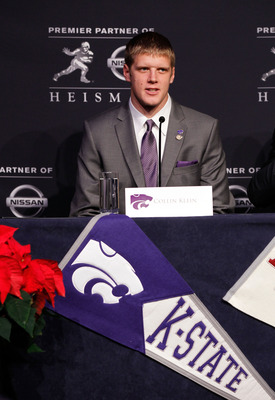 Mike Stobe/Getty Images
While the SEC often times gets top billing around the nation, the Big 12 is quickly picking up steam. With teams like Oklahoma, Oklahoma State, Kansas State, Texas and West Virginia, the conference is in for a great year.
Will Chip Kelly Still Be at Oregon?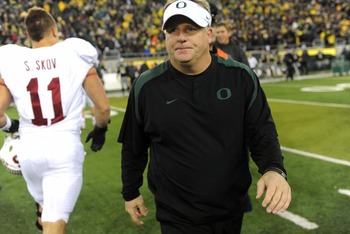 Steve Dykes/Getty Images
One of the biggest coaching questions this offseason will be if Chip Kelly remains at Oregon.
Since last year, Kelly has been one of the hottest names to jump to the NFL, and it will be interesting to see what he does.
Who Will Challenge Alabama?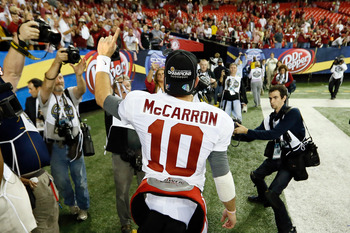 Kevin C. Cox/Getty Images
This past year, Alabama was pushed to the limit by Georgia and did end up losing to Texas A&M.
Regardless of what happens in the national-title game, the Tide will be a favorite going into the 2013 season, and teams will need to play their best to win the SEC.
Will the Longhorns Be Back?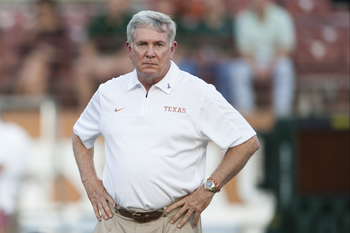 Cooper Neill/Getty Images
While Texas made some strides to improve this year, the Longhorns have been off of the main stage for quite some time now.
With plenty of talent and recruits at their disposal, the Longhorns and Mack Brown need to get things turned around in a hurry.
Will UCLA Rise to the Top of the South Again?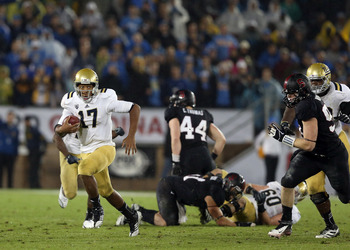 Ezra Shaw/Getty Images
UCLA came out of nowhere this year to rise to the top of the Pac-12 South. With Jim Mora Jr. back for his second season as head coach, all eyes will be on the Bruins to see if this year was a fluke.
Will Wisconsin Make It 4 Straight Rose Bowls?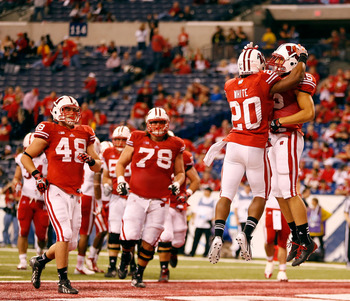 Gregory Shamus/Getty Images
For the past three years, Wisconsin has played in the Rose Bowl. In those three years, the Badgers have won Big Ten titles, and in the first year, they were the co-champions.
With this run under their belt, can the Badgers make it four straight?
Will Clemson Capitalize on Its Talent?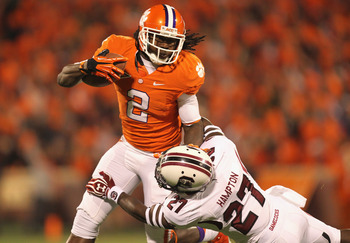 Streeter Lecka/Getty Images
For the past couple of seasons, Clemson has had the talent to go to the national championship but has come up short. This year, Tajh Boyd and Sammy Watkins will be back, and the Tigers have a chance to be one of the most explosive teams in the nation.
Hearing About Possible Oregon Violations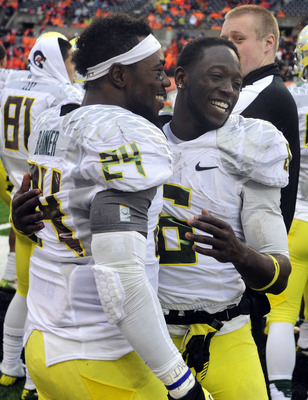 Steve Dykes/Getty Images
While the Ducks continue to succeed on the field, off-the-field questions continue to swirl around the program about its recruiting practices. This is an issue that has been going on for almost two years now, and it appears that the next step is a formal hearing in front of the NCAA board.
Heisman Race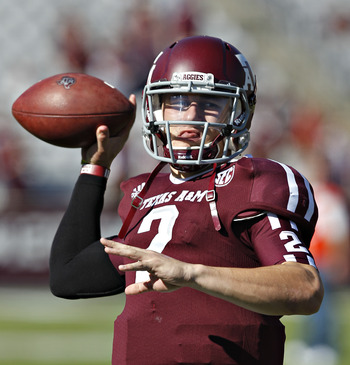 Bob Levey/Getty Images
Every season has shown off a new star in college football, and some of those stars have risen to new heights to win the Heisman Trophy. This past year Johnny Manziel came out of nowhere, and 2013 should provide us with a new star.
Breaking the SEC's Grip on the Title
Kevin C. Cox/Getty Images
Before the Crimson Tide play in the national-title game against Notre Dame, the SEC has won the previous six title games. If they win again this year, the conference hold on the title will continue and be carried over to the 2013 season.
The Season Will Be Back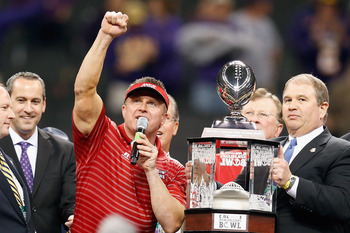 Chris Graythen/Getty Images
Ultimately, when the 2013 season begins, while college football fans will be happy about all of the storylines that surround the campaign, most will be happy to just have football back.
As we wait through the summer, fans will be as anxious as ever for the return of football.
Keep Reading