10 Freshmen to Watch This College Football Bowl Season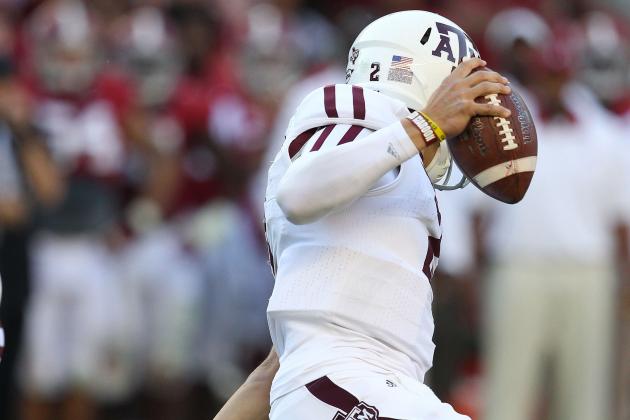 Mike Zarrilli/Getty Images

College football bowl season is a time for many teams and players who don't normally get a whole lot of attention to shine, but it's also a time for well-known players to show off against cross-conference teams they usually wouldn't play against.
There are a lot of freshman contributors from this season who will have a chance to strut their stuff on the biggest stage of the year, and there are plenty of difference-makers bearing the "freshman" tag.
While there will certainly be some names missing from this list, here are 10 freshmen for which you should definitely keep your eyes peeled this postseason. Some are on teams that recruit for immediate playing time, and others are on teams that generally pass out redshirts at orientation.
Either way, they are worth watching because of the game-changing levels of skill they have shown throughout the regular season.
Begin Slideshow

»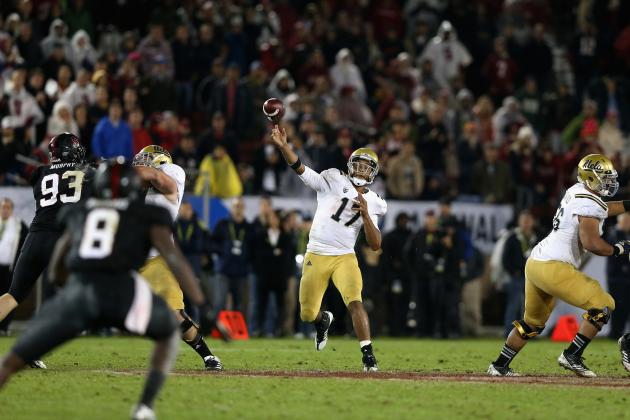 Ezra Shaw/Getty Images

Brett Hundley, quarterback at UCLA, will be appearing in the Bridgepoint Education Holiday Bowl on Thursday, Dec. 27. So far this season, Hundley is 292-of-428 for 3,411 yards, 26 touchdowns and 11 interceptions.
That's not nearly as impressive as the fact that he led UCLA to the conference title game in his freshman season. He will be up against a Baylor defense that has allowed a lot of yardage and points this season. If Hundley can deal with the pressure of a bowl game, this defense should give him some confidence to take into 2013.
What Baylor can do to UCLA is a different story entirely, but Hundley will be the freshman to watch during that game.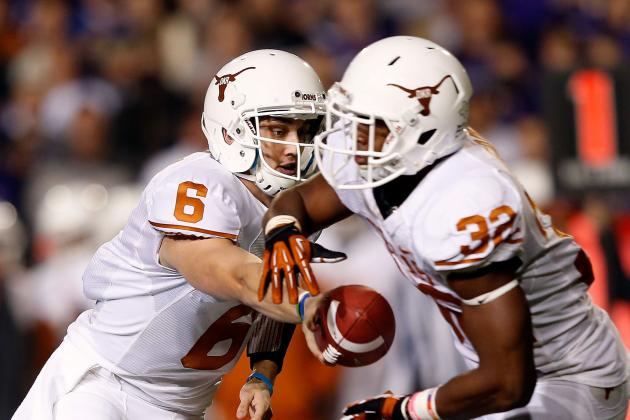 Jamie Squire/Getty Images

Johnathan Gray is the freshman running back for the Texas Longhorns. He has accrued 683 yards on 142 carries this season and has been a key part of the Longhorns' road to the Valero Alamo Bowl, which takes place on Dec. 29, 2012.
Gray is a starting freshman at one of the premier college football schools. The Longhorns may not be doing as well as they should be, but that's clearly not Gray's fault. Gray is one of the highlights of the Texas offense, and he is one of the more consistent performers on the squad.
He will be a pleasure to watch, and so will his competition...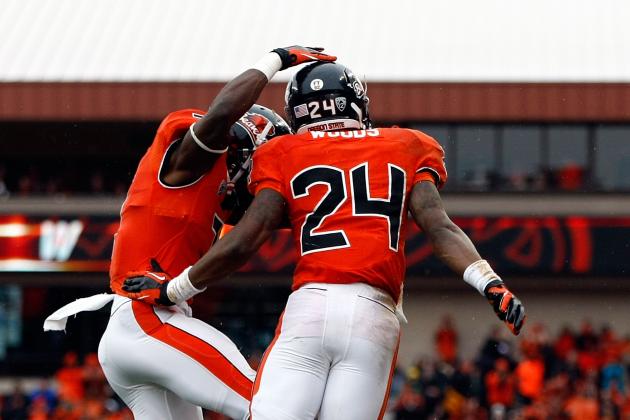 Jonathan Ferrey/Getty Images

Texas will face the Oregon State Beavers in the Alamo Bowl, and the Beavers have a stellar freshman of their own in Storm Woods. The running back will be on the field trying to outperform Johnathan Gray.
Woods has 822 yards and 11 touchdowns on 171 carries this season, and the Texas defense should have a few holes punched in it by the time the fourth quarter starts.
If the offensive line can get the better of Texas' defensive line, Woods should have little issue rolling up more than 100 yards against the hit-or-miss Longhorns.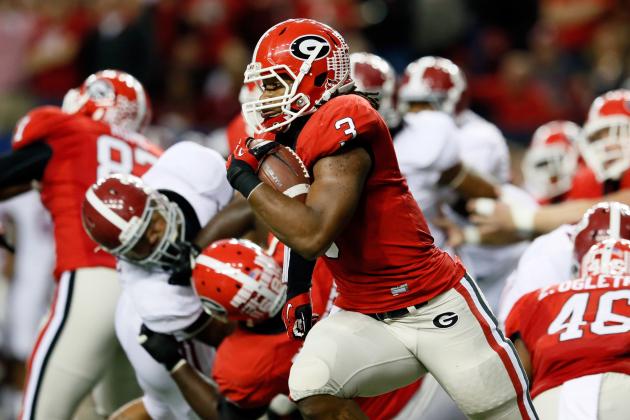 Kevin C. Cox/Getty Images

Considering the success of the program both lately and throughout history, it's not often that freshmen get to log serious playing time at Georgia. Todd Gurley is a running back for the Bulldogs, and he is a scoring machine.
Gurley has 1,260 yards and 16 touchdowns for the Bulldogs on 199 carries. Gurley will not be the only freshman running back worth watching on the Georgia side of the ball, but he will be the fuse igniting the dynamite that is Georgia's offense against the Nebraska Cornhuskers in the Capital One Bowl on Jan. 1.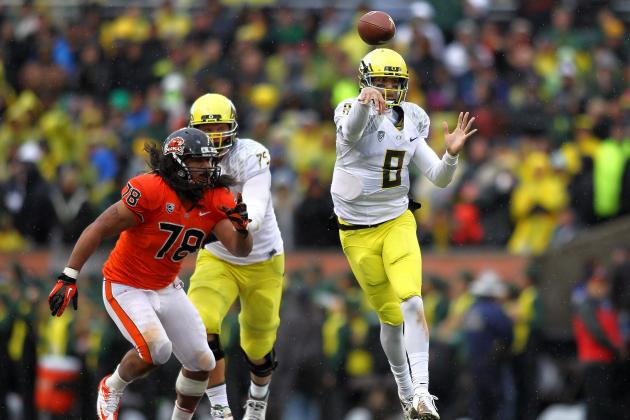 Jonathan Ferrey/Getty Images

Marcus Mariota had a stellar year, and the Oregon Ducks finished the season just shy of the national championship in Miami. That is a huge accomplishment for a freshman at any position, but to be the signal-caller and only suffer one loss in overtime makes for more than just a good season.
Mariota finished the regular season 218-of-312 for 2,511 yards and 30 touchdowns. Mariota will be leading the Ducks against Kansas State in the Tostitos Fiesta Bowl on Jan. 1, and he will be the freshman to watch.
This game is one of two games that could easily have ended up being a battle for the crystal football, and both teams will be carrying a giant chip on their shoulders for this battle. Watch out for Mariota, as Baylor gave everyone a glimpse of how to beat the Wildcats.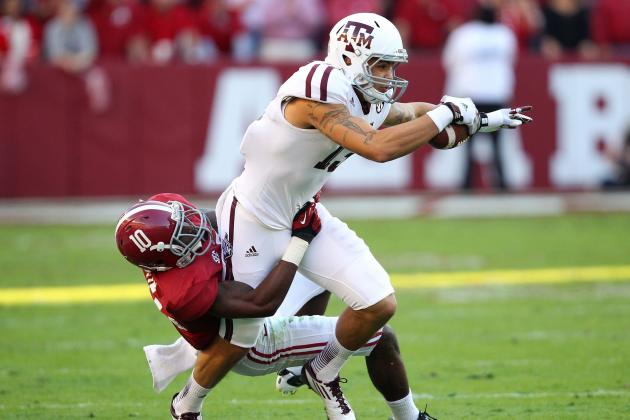 Mike Zarrilli/Getty Images

There are three freshmen worth keeping an eye on in the AT&T Cotton Bowl this season, but we will start with Mike Evans. Evans is a wide receiver for the Texas A&M Aggies, and he has become the Aggies' leading receiver off a 75-reception, 1,022-yard, five-touchdown season.
Evans will be on the receiving end of passes thrown by this season's Heisman winner, and he will tag Oklahoma for a lot of yardage as a result. Evans may turn out to be the third-best freshman in this game, but that's just how talented the youngsters on these squads are.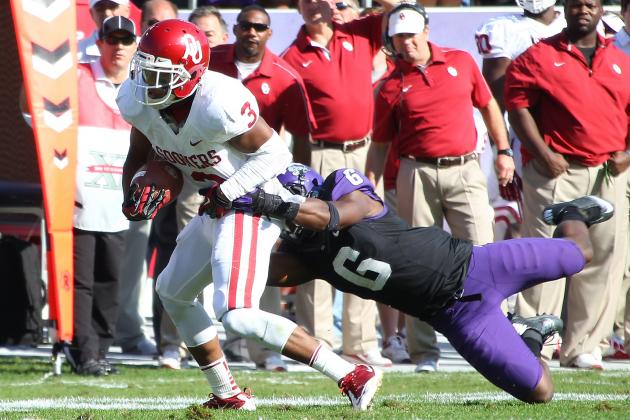 R. Yeatts/Getty Images

Sterling Shepard also takes the field in the Cotton Bowl, but it's as a wide receiver for the Oklahoma Sooners. Shepard is not the Sooners' leading receiver, but he is fourth on the list of 14 receivers.
Shepard has amassed 578 yards and three touchdowns on 41 catches, and he has played consistently all season. If not for Kenny Stills, Landry Jones' go-to target, Shepard would have a lot more receptions. That is a successful relationship that won't change for this game.
However, Shepard will be much lower on the radar and should be the dark-horse difference-maker for the Sooners. Texas A&M will key in on the other receivers so much that Shepard should slip in undetected every once in a while for some crucial third-down conversions.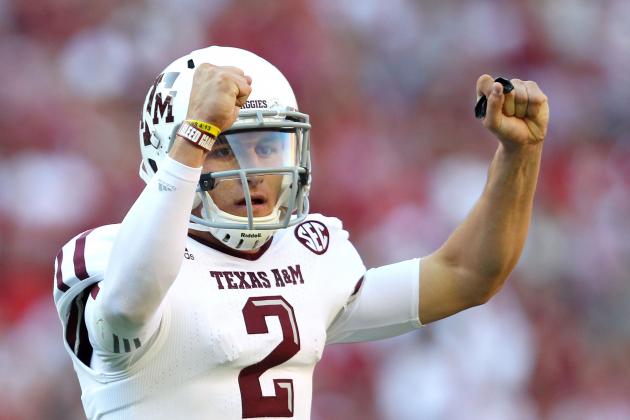 Mike Zarrilli/Getty Images

Johnny Manziel—quarterback, Heisman winner and first-year SEC standout—will take the reins of the Texas A&M Aggies against Oklahoma in the Cotton Bowl. Oklahoma routed Texas A&M last season when both teams were in the Big 12, but A&M didn't have Manziel or the aforementioned Mike Evans at the time.
There are difference-makers all over the field in the Cotton Bowl, but Manziel is the best player in the nation. That is up for debate, of course, but his stat line should help settle the discussion.
Manziel went 273-of-400 for 3,419 yards and 24 touchdowns. He added 1,181 rushing yards and 19 touchdowns on 184 carries as well. Manziel's rushing numbers would have been impressive if he were "just" a running back in the SEC, but he's a quarterback.
His story is well known in the college football world, and there's only one question chasing him around right now: Is Texas A&M really this good, or is the SEC really smoke and mirrors? If he is genuinely an elite quarterback in the nation's elite conference, then he should have little trouble dispatching the Sooners with extreme prejudice.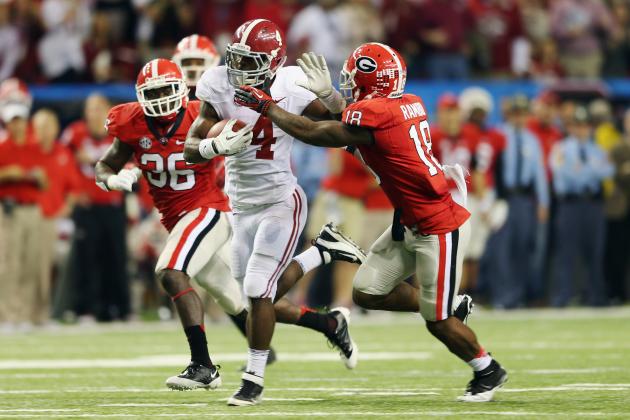 Mike Ehrmann/Getty Images

T.J. Yeldon is at one of the nation's premier programs for running backs. Tailbacks show up to Alabama knowing that they will get to split carries with the feature back in their sophomore season. They move to the feature position in their junior year and go on to the NFL after only three years in the program.
Some stay for their senior seasons, but the great ones leave early. Yeldon will almost certainly leave early, as he is splitting carries as a freshman with Eddie Lacy. Yeldon was the receiver on the 28-yard screen that completed the comeback against LSU earlier in the season, and he has been a formidable foe all year.
Yeldon has 1,000 yards and 11 touchdowns on 154 carries for the Tide. Injuries may have pushed him onto the field a little early, but his skill with the football has kept him suiting up for the big stage. Look for him in the BCS National Championship Game against Notre Dame.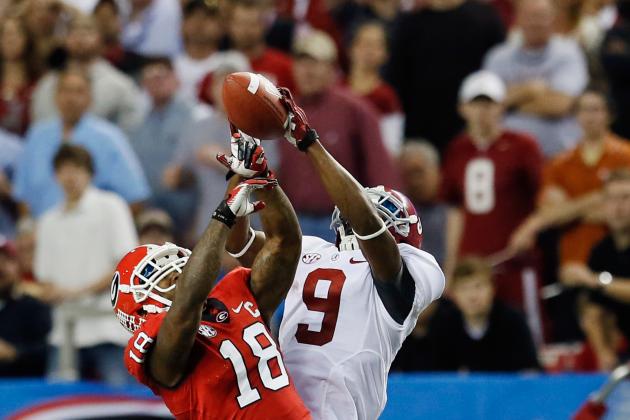 Kevin C. Cox/Getty Images

The other big freshman to watch during the national championship game is Alabama's standout wide receiver, Amari Cooper. Cooper has taken the field by storm and is the Tide's leading receiver. Freshmen just don't get to do that at elite schools.
Cooper has caught 53 passes for 895 yards and nine touchdowns. His biggest touchdown was his go-ahead score in the SEC title game against Georgia. That sent Alabama to the national championship game against undefeated Notre Dame.
Alabama wouldn't have made it to where it will be on Jan. 7 without Yeldon and Cooper. They are the two freshmen on the biggest stage of the year, so depending on how well they play, expect their performances to be lauded by the media for the next few months.