Beef O'Brady's Bowl 2012: Ball State vs UCF Live Scores, Analysis and Results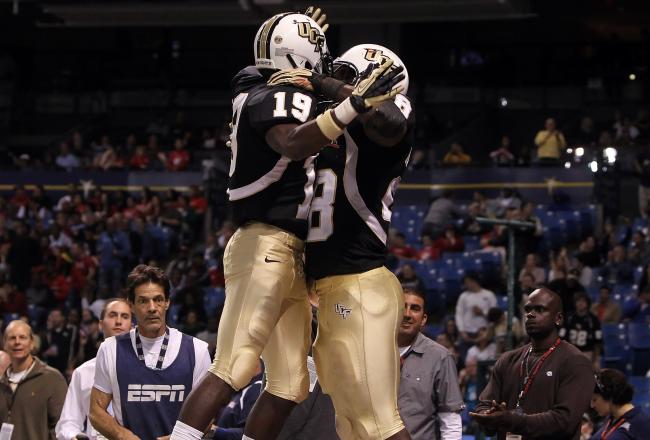 Kim Klement-USA TODAY Sports
The UCF Knights completely dominated the 2012 Beef 'O' Brady's Bowl, defeating the Ball State Cardinals 38-17.
The win marked the first time in the five year history of the bowl game that the Conference USA representative has won the game, including UCF's loss to Rutgers in the 2009 game.
The Knights were led by redshirt-sophomore quarterback Blake Bortles led the charge with 272 yards passing and three touchdowns. He also rushed for 80 yards and a touchdown.
Bortles was aided by an incredible performance by running back redshirt-senior running back Latavius Murray. Murray scored three touchdowns, two rushing and one receiving.
Ball State looked outmatched from the beginning of the game.
They fell behind 14-0 early after they could only gain 15 yards on eight plays on their first two drives while not being able to stop UCF.
Their struggles continued with a missed field goal late in the second quarter leaving UCF enough time to add another touchdown before halftime.
They finished with 288 yards of total offense compared to UCF's 494 yards.
The Cardinals also struggled on third down converting only 3-of-9 attempts while the Knights converted 9-of-12.
With the win UCF brings the series record with Ball State to a 2-2 tie.
Jamal Wilburg is a Featured Columnist for Bleacher Report.
Follow him on twitter @JWilburg or visit his website www.jamalwilburg.com
UCF 38, Ball State 17-- Final
UCF continues to air it out against Ball State. Receivers are even trying to hurdle defenders.
They are not slowing up even with the game in hand.
Somebody is actually pondering a nickname for this game in the unlikely event that Ball State were to come back.
Have to love Twitter.
If Ball St can come back and win we're calling this the flop in the trop. I'm naming it now whether it happens or not #Beefsbowl

— Mike Mitchell (@mikemitchell41) December 22, 2012
UCF 38, Ball State 17-- Fourth Quarter.
It took Ball State just under five minutes to move the ball 76 yards on that scoring drive. They will have to figure out how to move at a quicker tempo for the remainder of this game.
TOUCHDOWN BALL STATE.
Wenning connected with Willie Snead for a 16-yard touchdown pass. Nice moves by Snead to make Brandon Alexander miss and take the ball into the end zone.

UCF 38, Ball State 10-- Late Fourth Quarter.
Ball State converts the fourth down with a four yard completion.
Even if they score a touchdown on this play they will trail by three scores with about five minutes remaining.
The Cardinals shortest scoring drive tonight was 4:19.
Wenning was running for his life as UCF recorded their fourth sack of the game.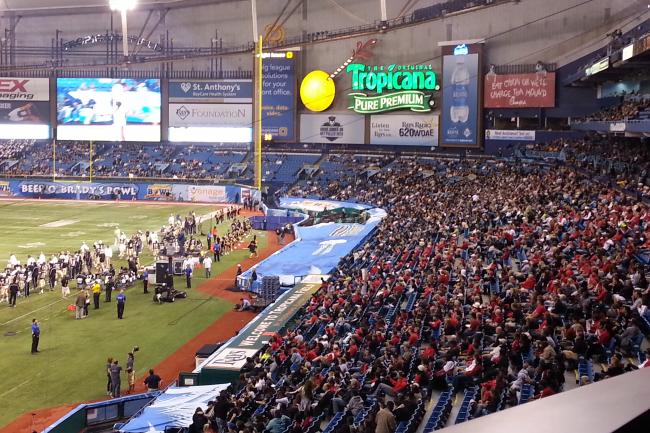 With the game out of hand the stands are beginning to thin. Oddly enough it seems to be the UCF sections that are looking the thinnest.
people are now headed for the exits here at the Trop, 38-10 #UCF over #BallState. 10:12 to play in Beef O'Bradys bowl

— Chris Fischer (@ChrisFischer07) December 22, 2012
UCF 38, Ball State 10-- Fourth Quarter.
UCF kicker Shawn Moffitt nails the 25 yard field goal extending the Knights lead to 28.
First and goal for the Knights from the nine.
Since they are Knights, shouldn't the players be referred to as sir?
UCF 35, Ball State 10-- Fourth Quarter.
Storm Johnson just bolted down the field for a 35 yard gain.
UCF doesn't have player names on the backs of their jerseys and it wouldn't matter as any and everybody has been making plays against Ball State.
21,759 in attendance for this year's game.
Claps from the entire crowd as Wenning gets up and walks off the field.
Wenning injured his ankle earlier this season.
Kelly Page in at quarterback for Ball State.
Central Florida defensive end Troy Davis sacked Ball State quarterback Keith Wenning.
Wenning is still down on the turf.
Ball State moves into Central Florida territory on a nice catch by their tight end Zane Fakes.
Well what do you know, another pass interference penalty.
Not sure if Vegas has any action on the frequency of penalties. If so, whoever took the over would be happy.
Three pass interference penalties per team so far.
UCF quarterback Blake Bortles three touchdowns tonight ties the Beef 'O' Brady's bowl record set by University of South Florida quarterback Matt Grothe in 2008.
UCF 35, Ball State 10-- Late Third Quarter.
Bortles and the UCF offense is moving the ball at will.
They are ensuring there is no confusion between Ball State University and Ball So Hard University.
You have to love college bands.
In the most appropriate response to the on-field action, Ball State's band plays Livin on a Prayer before the Cardinals attempt the onside kick recovered by UCF.
UCF 28, Ball State 10-- Third Quarter.
Ball State has trimmed the lead with a 45-yard field goal by Steven Schott.

You could make quite the drinking game out of the pass interference penalties in this game.
Had Ball State scored on that wasted drive in the second quarter, they would've been trailing 28-14 right now looking to make it a one score game. Instead they are still down three scores.
This article is
What is the duplicate article?
Why is this article offensive?
Where is this article plagiarized from?
Why is this article poorly edited?