Re-Ranking SEC Quarterbacks After Tennessee's Tyler Bray Declares for NFL Draft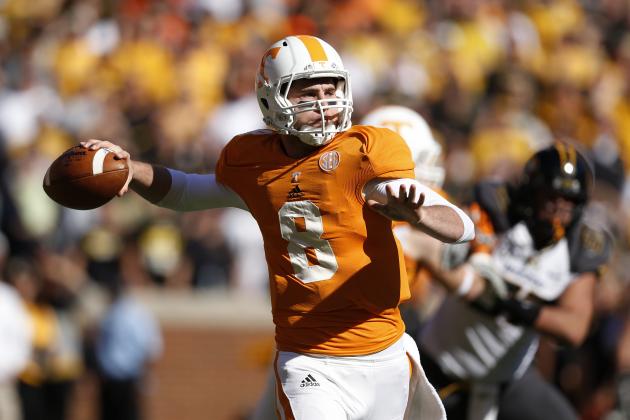 Joe Robbins/Getty Images

Tyler Bray caught the college football world off guard when he announced he was leaving Tennessee for the NFL draft after this season. Bray was considered the top quarterback in the conference despite his struggles in Knoxville under Derek Dooley.
The declaration changes the landscape at the quarterback position in the SEC, pushing Tennessee from near the top of the quarterback rankings to the bottom.
Here is a look at how the SEC signal-callers stack up against one another after the departure of Bray.
Begin Slideshow

»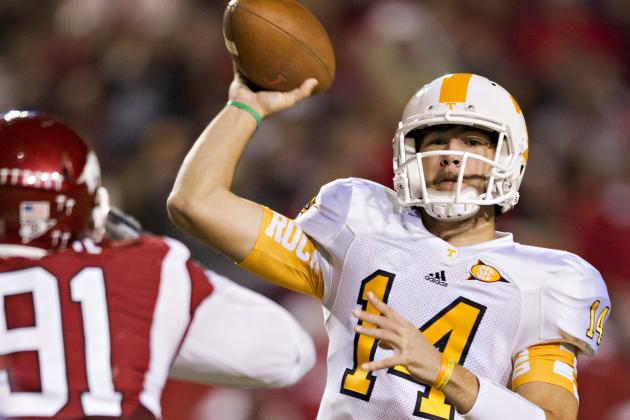 Wesley Hitt/Getty Images

Justin Worley has experience for the Volunteers. But in reserve duty, he has looked pretty bad. He has five interceptions and only one touchdown pass in two seasons.
The Vols will face an uphill battle with a new coaching staff and signal-caller. With Worley running the offense, Tennessee will struggle to earn bowl eligibility in 2013.
Career Stats: 63-of-110 for 738 yards, 1 TD, 5 INTs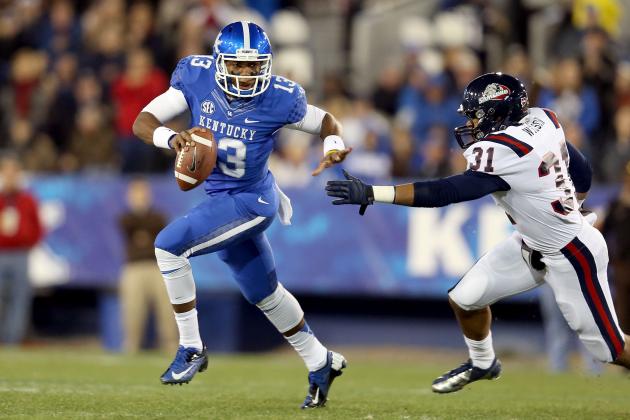 Andy Lyons/Getty Images

Jalen Whitlow was a freshman when he was called into action this season for the Wildcats.
He showed flashes of dual-threat ability, but couldn't do enough to push the Wildcats into the winner's circle too often.
Whitlow could shock the SEC in 2013, but right now he is near the bottom of the conference.
Career Stats: 87-of-161 for 801 yards, 3 TDs, 2 INTs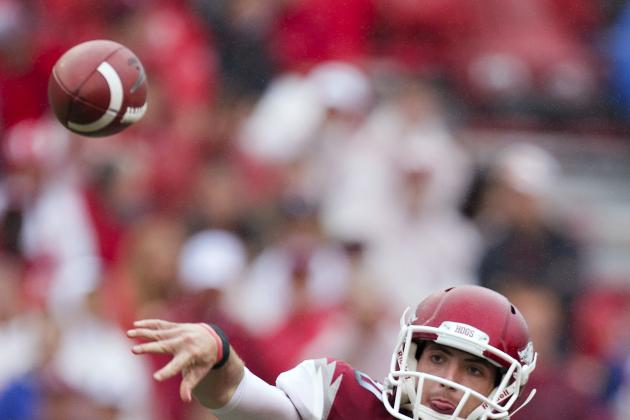 Wesley Hitt/Getty Images

Brandon Allen was called into action as a freshman this season when Tyler Wilson fell to injury. He wasn't ready for the battle.
Allen was throttled by Alabama in his only start, tearing away a lot of the confidence and swagger that new quarterbacks tend to carry.
This guy has a ton of talent, but the new staff in Fayetteville will have work to do if it expects to contend for the SEC West next season with him at quarterback.
Career Stats: 21-of-49 for 186 yards, 1 TD, 3 INTs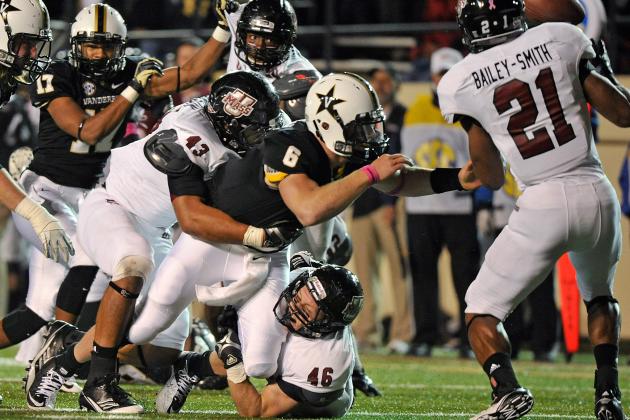 Frederick Breedon/Getty Images

Austyn Carta-Samuels, a transfer from Wyoming, is a dual-threat player who fits well in James Franklin's spread-option attack.
He saw limited action this season, but the rising senior is the assumed Vandy quarterback heading into the 2013 season.
Career Stats: (Vandy) 14-of-24 for 208 yards, 1 TD, 0 INT, 5 rushes for 27 yards
(WYO) 345-of-578 for 3,655 yards, 19 TDs, 13 INTs, 259 carries for 758 yards, 6 TDs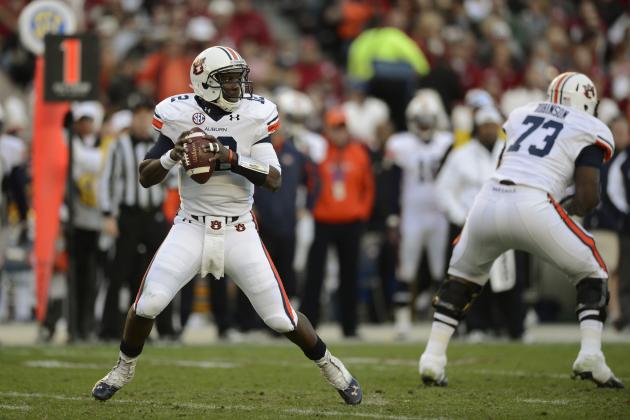 John David Mercer-USA TODAY Sports

Jonathan Wallace stepped into a disastrous situation for Auburn this year. The true freshman took over the starting quarterback job during the Texas A&M game and is the leading candidate to get the starting nod next season.
Wallace looked better than any other quarterback for the Tigers, consistently making better decisions with the football than his more experienced counterparts.
The return of Gus Malzahn will help Wallace develop, but questions remain about the rising sophomore heading into 2013.
Career Stats: 46-of-80 for 720 yards, 4 TDs, 4 INTs, 51 carries for 152 yards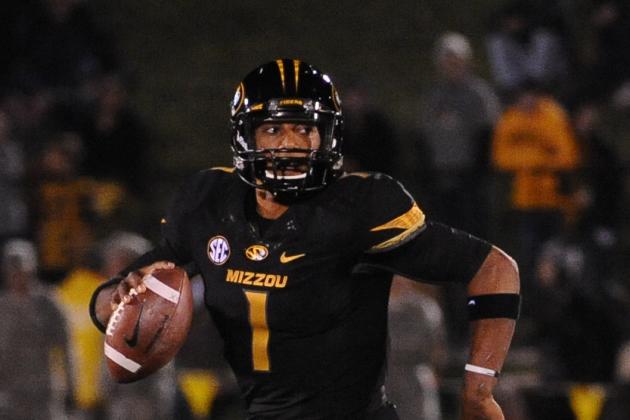 Dak Dillon-USA TODAY Sports

The Missouri Tigers struggled in their first year in the SEC. Injuries plagued starting quarterback James Franklin, keeping the Tigers' offense from finding its stride.
Franklin has been a very good player over the past three years for Missouri. But if he can't stay healthy, the Tigers will continue to struggle in 2013 in their new league.
Look for the Missouri offense to improve in 2013 with Franklin finally finding his groove against SEC defenses.
Career Stats: 388-of-624 for 4,533, 32 TDs, 19 INTs, 328 carries for 1,216, 17 TDs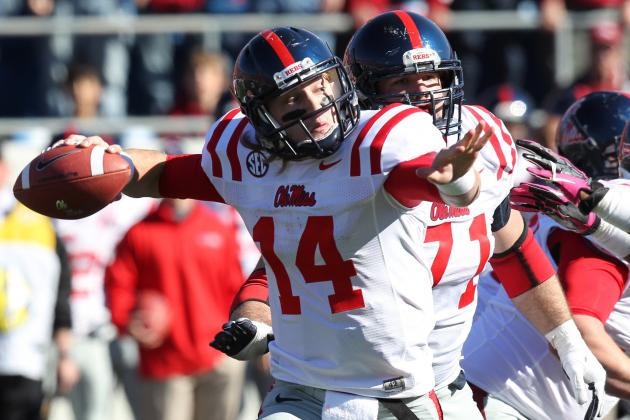 Nelson Chenault-USA TODAY Sports

Hugh Freeze stepped into a disaster at Ole Miss and in one season was able to turn around the Rebels' offense.
Bo Wallace was a big part of the turnaround, guiding the Rebels to a 6-6 record.
Wallace got better with each passing week, hitting a career high of 403 passing yards against Vanderbilt in the second weekend of November.
The Rebels could be strong contenders in the SEC West if Wallace continues to progress in the Freeze offense.
Career Stats: 213-of-336 for 2,843 yards, 19 TDs, 15 INTs, 135 carries for 363 yards, 8 TDs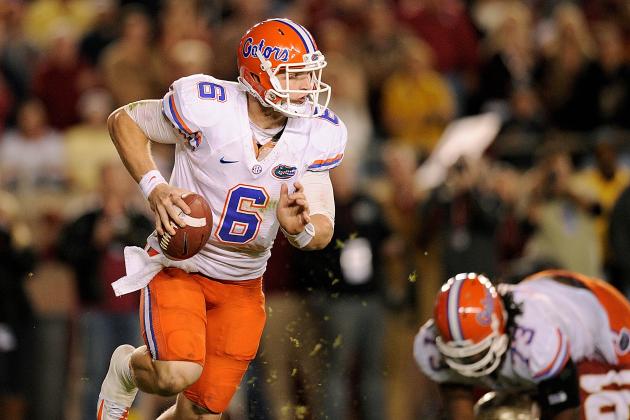 Kevin Liles-USA TODAY Sports

Jeff Driskel was a pleasant surprise for the Florida Gators this fall.
He was far from the best quarterback in the league, but he helped Florida find its way into the BCS. The Gators were darkhorse title contenders at the season's mid-point.
The Gators entered the year with a quarterback controversy, but Driskel came out on top in convincing fashion.
If Driskel continues to progress this offseason, the Gators will be a dangerous offense heading into the 2013 season.
Career Stats: 156-of-250 for 1,619 yards, 11 TDs, 5 INTs, 124 carries for 422 yards, 4 TDs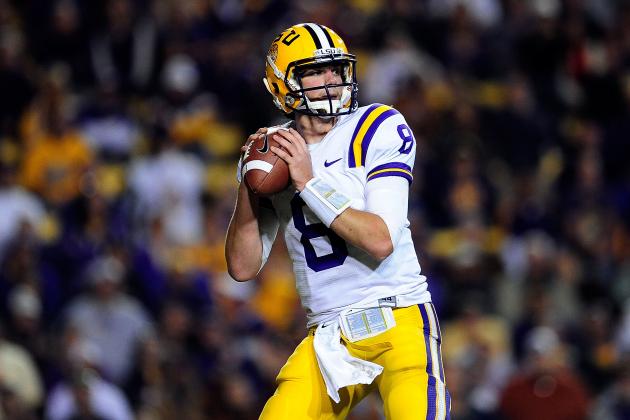 Stacy Revere/Getty Images

Zach Mettenberger had struggles and triumphs in his first year as the Tigers quarterback, but he still fell short of expectations.
He was expected to be one of the best quarterbacks in the country, but he struggled to find consistency.
Mettenberger is one of the most talented quarterbacks in the league, and he should find his stride in his senior year. He is a borderline NFL prospect—he could get better, or he could get worse. It starts in the Chick-fil-A Bowl on Dec. 31.
Career Stats: 201-of-340 for 2,581 yards, 12 TDs, 6 INTs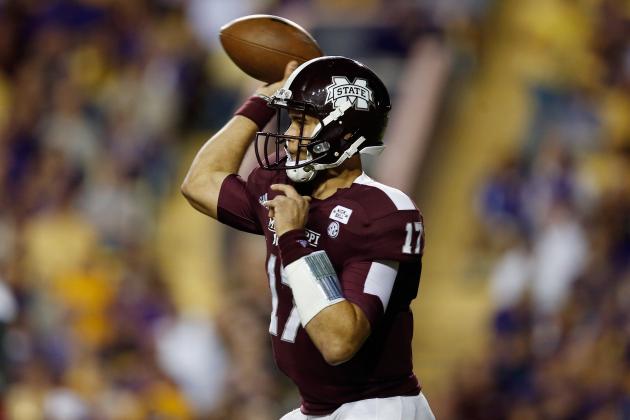 Chris Graythen/Getty Images

Tyler Russell stepped into a starting role for Mississippi State this fall and did extremely well.
He was a change-of-pace player for the past two seasons, but this year he took the reins and led the Bulldogs to an eight-win season and a Gator Bowl berth.
Dan Mullen knows how to coach offense. Russell is the most recent QB to benefit from his tutelage. Look for his stock to rise dramatically heading into the 2013 season.
Career Stats: 327-of-562 for 4,460 yards, 35 TDs, 18 INTs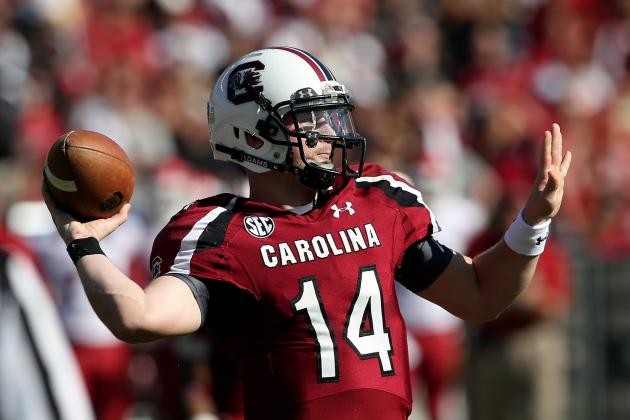 Streeter Lecka/Getty Images

Connor Shaw has been a rising star for the Gamecocks since his freshman season. He is now the leader of the South Carolina offense. When healthy, he is one of the best signal-callers in the conference.
Shaw battled through a shoulder injury sustained in the first game this year and still led the Gamecocks to a bowl berth and successful season.
As a senior, look for Shaw to put it all together and help South Carolina become a leading challenger for the SEC East title in 2013.
Career Stats: 282-of-423 for 3,403 yards, 30 TDs, 15 INTs, 288 carries for 1,029 yards, 11 TDs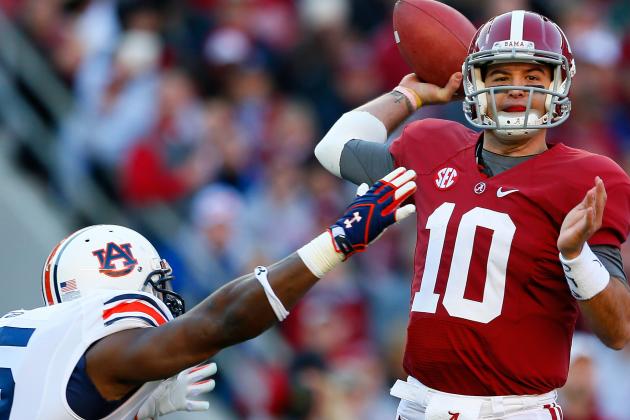 Kevin C. Cox/Getty Images

AJ McCarron finished the 2012 season ranked No. 1 in passing efficiency after leading to his team to a berth in the BCS National Championship Game.
McCarron is a steady game manager who has the arm to make any throw. He is selective with his passes and has been one of Alabama's best quarterbacks in recent years.
With McCarron leading the Tide offense, they will be contenders. Off the field, McCarron often shows emotion. But when on the field, he has ice water running through his veins.
Career Stats: 440-of-662 for 5,692 yards, 45 TDs, 8 INTs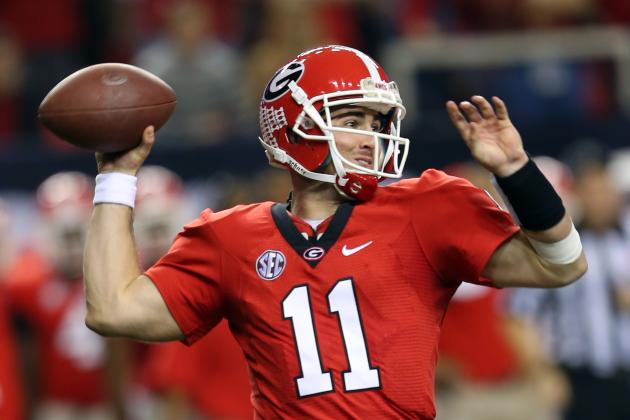 Mike Ehrmann/Getty Images

Aaron Murray endured one of the most heartbreaking moments in college football this year in Georgia's last- second loss to Alabama in the SEC title game.
Murray still had a strong season, finishing the year No. 2 in the country in passing efficiency—second to fellow SEC quarterback AJ McCarron.
There has been no indication that Murray will leave for the NFL after his junior year, but it is a possibility. If he stays for his senior season, the Bulldogs will likely return to Atlanta for the SEC title game.
Career Stats: 678-of-1,098 for 9,664 yards, 90 TDs, 30 INTs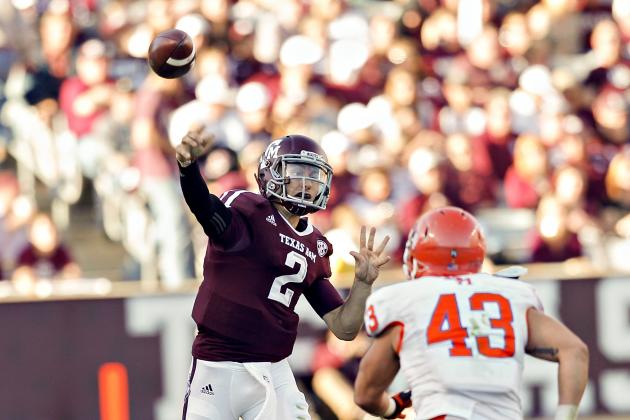 Bob Levey/Getty Images

Johnny Manziel took the college football world by storm this year, taking over games and highlight reels nearly every Saturday. He became the most dynamic dual-threat quarterback in the game, setting several records along the way.
Manziel became the first freshman to win the Heisman Trophy.
With him at the helm, the Texas A&M offense is set for the next two years. Look for the Aggies to challenge for the SEC West in 2013 and for a possible return to New York for the Heisman Trophy winner.
Career Stats: 273-of-400 for 3,419 yards, 24 TDs, 8 INTs; 184 carries for 1,181 yards, 19 TDs