10 College Football Coaches That Have the Most to Lose During Bowl Season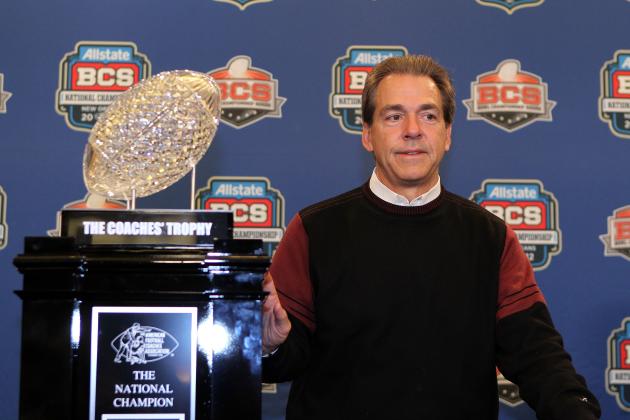 Andy Lyons/Getty Images

The college football bowl season is underway, and the games will soon begin to fall like dominoes throughout the next month. The players on every team are the ones preparing for the big game, but the majority of pressure falls on the head coaches.
If you don't win the game, there is a good chance you will have some explaining to do.
The truth is that a bowl berth is only half the battle and doesn't mean that this year was a success. In today's college football, nearly every team is bowl eligible and allowed to celebrate with a trip somewhere fancy.
You have to take care of business and get the job done in the big game to prove you can handle the pressure.
Sometimes a bowl victory can save a head coach's job and lead to bigger and better things. A loss could seal his fate and send him packing, as the school is looking for somebody who can get it over that hump.
There are many guys who are feeling the pressure this bowl season.
Here are 10 head coaches who have a lot to lose and will be coaching like their lives depended on it.
Begin Slideshow

»
Jared Wickerham/Getty Images

Bowl Game That Will Take Place: Rutgers vs. Virginia Tech

Why Winning Should Be on His Mind: If Virginia Tech loses to Rutgers, it would mark the first losing season for this program since the 1992 season. What would make matters even worse is that it would include a 0-3 record against Big East teams. Yes, the same conference that is falling apart before our very eyes.
Frank Beamer is responsible for making Virginia Tech what it is today, but a loss would be the third straight bowl defeat in as many seasons. There have been eight double-digit winning seasons before this disappointing year, but things really couldn't have played out any worse for the Hokies.
If Beamer can't coach his team to a victory, let the hot-seat talk begin and the pressure be turned up a few notches heading into next year.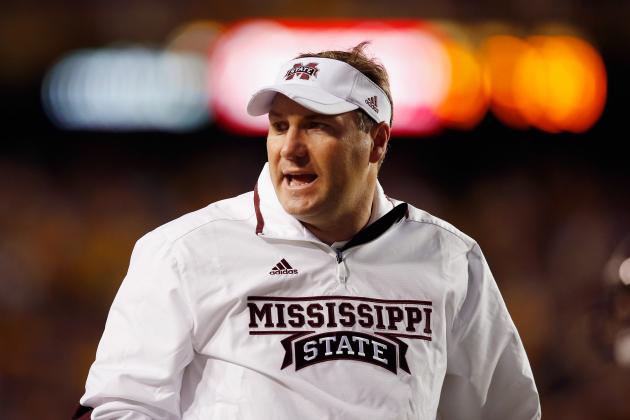 Chris Graythen/Getty Images

Bowl Game That Will Take Place: Mississippi State vs. Northwestern
Why Winning Should Be on His Mind: Dan Mullen is doing his best to turn Mississippi State into a respectable SEC program. In a place that isn't the easiest to recruit and doesn't have the richest history of winning, the fourth-year head coach has done a solid job.
However, the Bulldogs did lose four of the last five games and didn't beat one ranked team all season long. A loss to a school that produces more journalists than football players would really be a step in the wrong direction for what he is trying to do.
Mullen wouldn't only have to worry about the SEC; he would also have to worry about being the top team in his own state with Hugh Freeze doing great things with Ole Miss.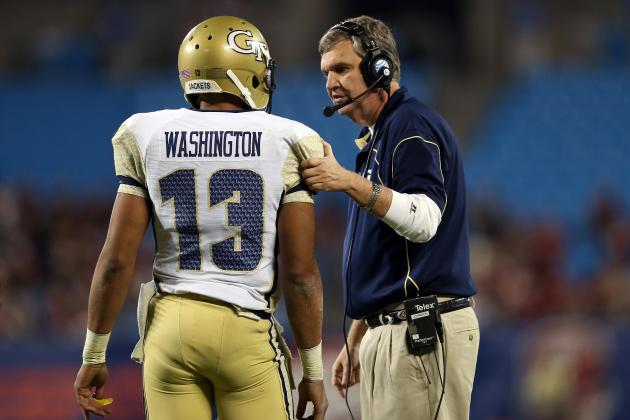 Streeter Lecka/Getty Images

Bowl Game That Will Take Place: USC vs. Georgia Tech
Why Winning Should Be on His Mind: Paul Johnson has to be on the hot seat already at this point. His team barely qualified for a bowl game and wouldn't have even been eligible for the ACC Championship Game if two teams ahead in the division weren't banned from participating.
As for how the rest of the year played out, the Yellow Jackets lost to Middle Tennessee, of all things possible.
A loss to USC wouldn't be that surprising, but it would put Johnson at 0-5 in bowl games throughout his career with Georgia Tech. The Yellow Jackets are simply not turning the corner and have not won a bowl game since 2004.
This is a program that has the resources to become elite in the ACC but for whatever reason can't seem to get the job done.
Johnson may be looking for a new job if he can't find a way to beat the Trojans.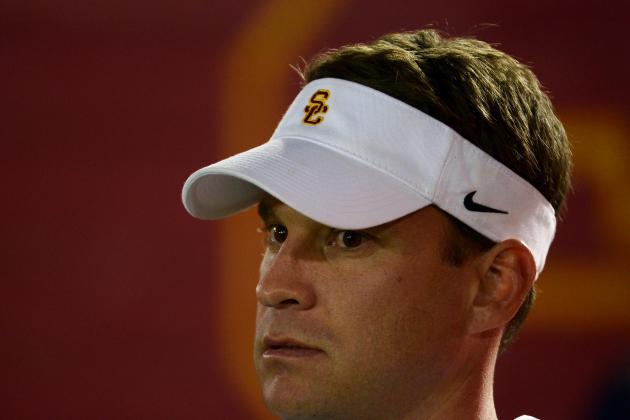 Harry How/Getty Images

Bowl Game That Will Take Place: USC vs. Georgia Tech
Why Winning Should Be on His Mind: I'm really not sure if there was more of a disappointing team this season than the USC Trojans. They went from possible national championship berth to forgetting about it quick and in a hurry.
I'm sure if you ask around the USC campus, many would love to see Lane Kiffin skip town after this bowl game takes place. If the team finds a way to lose to a below-average ACC team, it wouldn't be too far-fetched to believe that Kiffin joins his father in looking for another job.
Regardless of what happens with Kiffin and his future, he must win this game to show Trojan fans that there may in fact be hope at the end of the tunnel.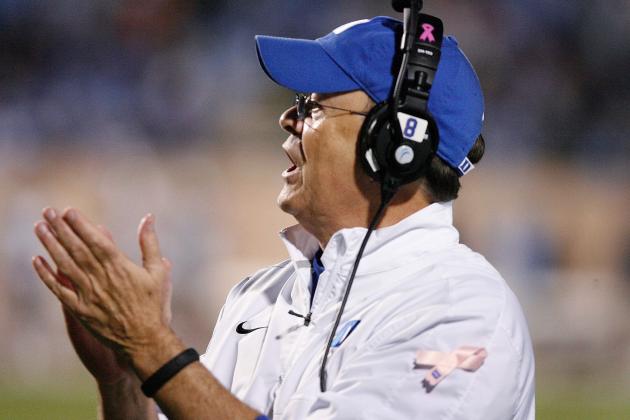 Mark Dolejs-USA TODAY Sports

Bowl Game That Will Take Place: Cincinnati vs. Duke

Why Winning Should Be on His Mind: Duke making the postseason in basketball is no big deal, but it is a tremendous accomplishment when we are talking about the gridiron. This is the first bowl appearance for the Blue Devils since the 1994 season, and they haven't won a bowl game since 1960.
If you need to know how long ago that was, "Theme From A Summer Place" by Percy Faith was the No. 1 song at the time.
This season should already be considered a success for the program and for head coach David Cutcliffe, but it has a chance to be even greater with a win. The drought has to come to an end because nobody knows how long it will be before Duke gets this shot again.
We may have flying cars and be living like The Jetsons by the time this team qualifies for another bowl game.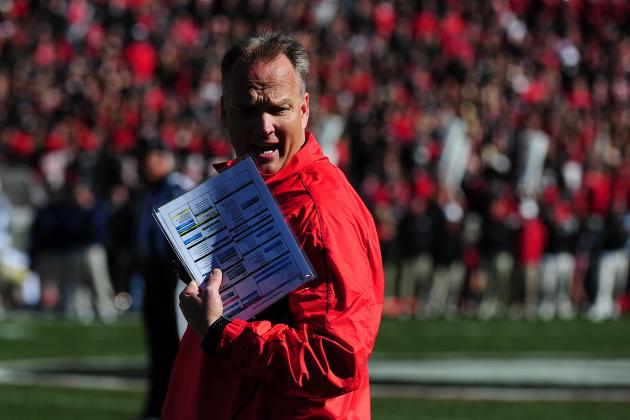 Scott Cunningham/Getty Images

Bowl Game That Will Take Place: Georgia vs. Nebraska
Why Winning Should Be on His Mind: Folks in Georgia are still sick to their stomach about the last-second loss to Alabama in the SEC Championship. A win must be provided to give Bulldog fans something to be happy about heading into the offseason.
But Mark Richt has had issues with winning big games his entire career. Richt is 4-13 since 2009 against ranked opponents and has also lost the last two bowl games against teams that weren't nearly as talented.
Unlike a few of the other coaches on this list, Richt should be in no danger of losing his job. However, the doubt will continue to surround him until he can begin winning big games on more of a consistent basis.
A win here would be good for the confidence heading into next year. A loss could prove that Richt is one of the more overrated coaches in college football.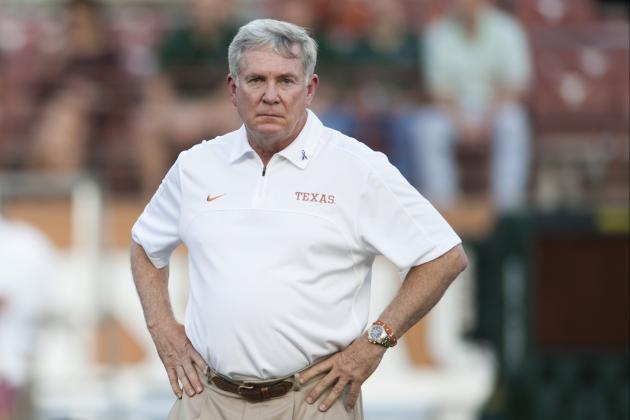 Cooper Neill/Getty Images

Bowl Game That Will Take Place: Texas vs. Oregon State
Why Winning Should Be on His Mind: There comes a time for every head coach where he simply does not have the magic anymore. We may be witnessing that point when it comes to Texas head coach Mack Brown.
The last three years have been subpar to say the least when referring to Texas standards. This season, his team just could not find a way to win a big game and was blown out for the second year in a row to Oklahoma.
There have been talks about Brown possibly retiring, while some think he needs to be fired if he can't turn things around quickly.
A non-BCS bowl for the third year in a row is not going to cut it, but a loss to the Oregon State Beavers would be even worse for a coach that is struggling to get back on top.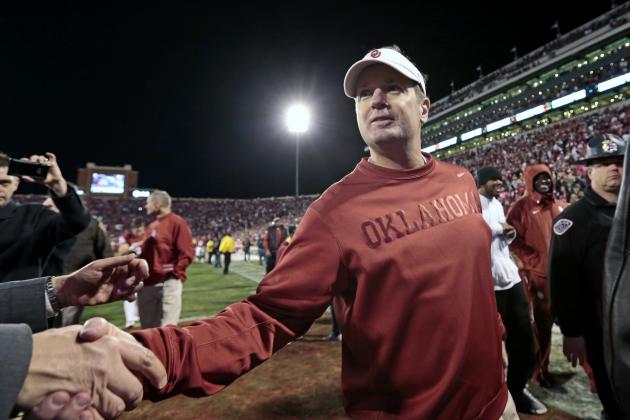 Brett Deering/Getty Images

Bowl Game That Will Take Place: Texas A&M vs. Oklahoma
Why Winning Should Be on His Mind: Another coach who seems to be losing his edge is Oklahoma head coach Bob Stoops. He was able to win at least 10 games for the third straight season, but has only appeared in one BCS bowl in four years.
Even when the Sooners have participated in a big bowl game, they have lost five of the last six BCS bowls.
Stoops continues to bring top-tier talent to Oklahoma but hasn't brought any major success to this program in quite some time. There should be no mention of him possibly losing his job, as he recently received a contract extension that keeps him around until 2018.
However, knocking off one of the hottest teams in the country would be a positive sign heading into next season. A loss and the questions will begin coming down if Stoops really has what it takes to get the Sooners back in the national championship picture.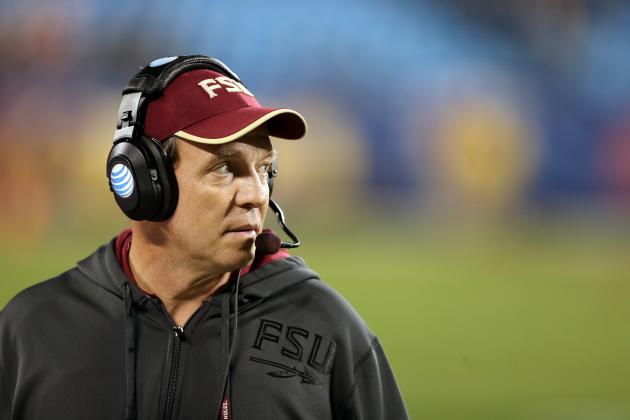 Streeter Lecka/Getty Images

Bowl Game That Will Take Place: Northern Illinois vs. Florida State
Why Winning Should Be on His Mind: It was only three years ago when Jimbo Fisher was picked to replace the legendary Bobby Bowden. Due to the big shoes to fill and the incredible résumé, Florida State fans expected to participate in the national championship sooner rather than later.
This year's team had a great chance to accomplish that but ended up losing to North Carolina State and getting beat down by Florida. An ACC title and BCS victory should be enough to hold Seminole fans over for another season, but a trap game against Northern Illinois is not exactly as easy as it appears.
The Huskies have played remarkable football in the MAC and will have an entire month to prepare for this game.
A loss is the last thing Fisher needs, as this underachieving in the regular season is quickly starting to bug the folks out in Tallahassee.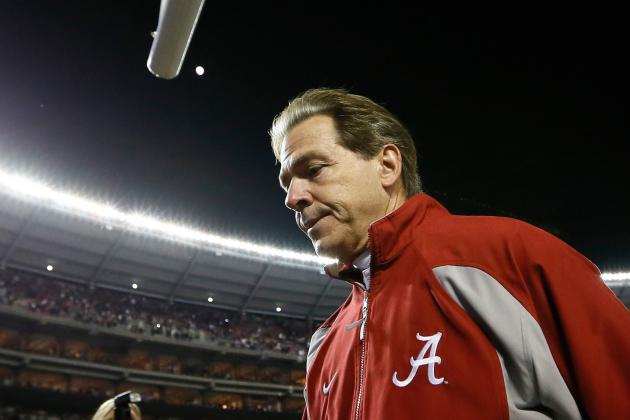 Kevin C. Cox/Getty Images

Bowl Game That Will Take Place: Notre Dame vs. Alabama
Why Winning Should Be on His Mind: There is not one coach who has more to lose this bowl season than Nick Saban. The Alabama coach is not only trying to turn his program into a dynasty but has an entire conference counting on him to extend the SEC national championship streak.
While Saban may have already made his mark on the college football landscape, losing to an underdog such as Notre Dame would not be pretty. It is not that the Irish aren't a respectable program; Alabama is just considered by far the superior-talented team.
It is also coached by guys who have been in this position many times, unlike the coaching staff for Notre Dame.
Very few outside of Notre Dame fans are giving the Irish a chance. This puts tremendous pressure on Coach Saban to get the job done. A win would put him in elite company, while a loss may show that there is a chink in the armor.