New Mexico Bowl 2012: Nevada vs. Arizona Live Scores, Analysis and Results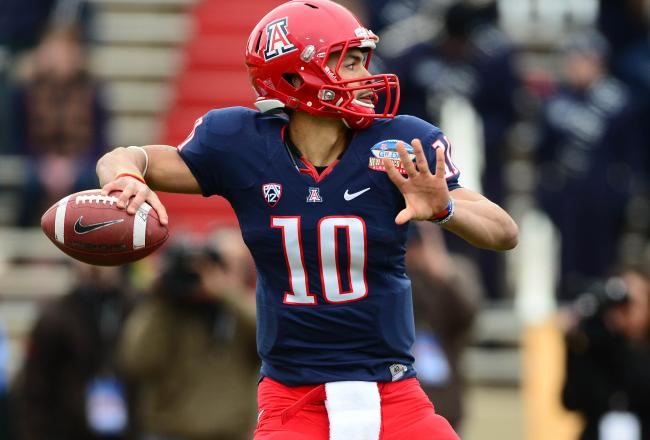 Christian Petersen/Getty Images
Final Score - Arizona 49 Nevada 48
The Arizona Wildcats and Nevada Wolfpack set the bar high for the other 34 college football bowl games this season, and turned in a shootout for the ages in the Gildan New Mexico Bowl on Saturday afternoon.
Both teams combined to rack up 1,234 yards of total offense and 97 points.
Nevada raced out to a 21-0 lead only to see the Wildcats come back with 21 unanswered points thanks to two turnovers by the Wolf Pack.
The offenses continued to rule the day until the fourth quarter. Arizona trailed 45-28 before fifth-year senior quarterback Matt Scott hit Austin Hill for a 63-yard touchdown.
Arizona's defense came up with two critical stops, and only surrendered a field goal in the final 15 minutes of the game, which gave the Wildcats' offense one last chance to win the game.
Scott took the Wildcats 75 yards in six plays to bring Arizona within six points, but the play of the game occurred moments later.
Marquis Flowers recovered the onside kick, which set Scott and the Wildcats offense up for the game-winning three-play, 51-yard touchdown drive.
The nation's top two running backs in terms of average yards per game, Ka'Deem Carey and Stefphon Jefferson, finished with 171 and 164 yards respectively. Carey scored three touchdowns, while Jefferson found the end zone twice.
Click here to see how Bleacher Report's Featured Columnist Zach Dirlam graded both teams!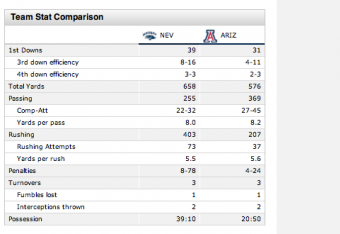 Final stats per ESPN.com.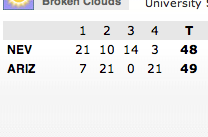 Final box score per ESPN.com.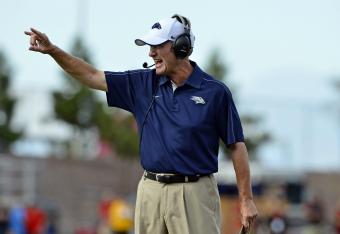 As for Nevada, Jefferson and Fajardo were outstanding all afternoon, but the Wolf Pack never really had an answer for Arizona's offense, and the onside kick did them in.
The Wolf Pack fall to 7-6 and are now 1-6 in their last seven bowl game appearances.
This team will look very similar next season with Jefferson and Fajardo back for another year, but head coach Chris Ault has to make some major overhauls on the defensive side of the ball in order for the Wolf Pack to compete for a Mountain West title.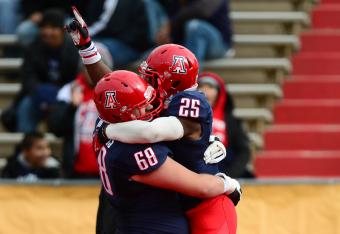 The New Mexico Bowl victory gives the Wildcats their first victory in a postseason game since 2008, which is when Arizona defeated the BYU Cougars in the Las Vegas Bowl.
Entering today's game, the Wildcats had lost three straight bowl games.
The win also gives Arizona its fourth eight-win season since 1993 and will propel the Wildcats into the offseason with a head of confidence. The victory also provides a selling tool for first-year head coach Rich Rodrigeuz.
Scott takes a knee and the game is over.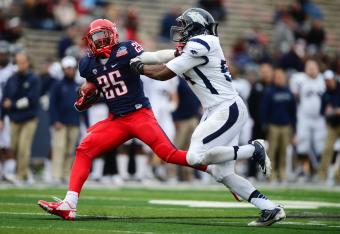 Nevada Interception!
Marquise Flowers comes up with the game-winning interception. Flowers also recovered the onside kick. Arizona snatches victory from the jaws of defeat today.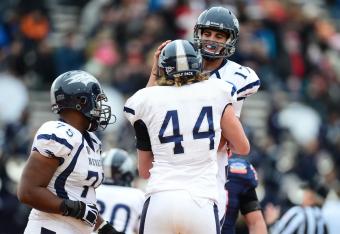 Too much time for Nevada? I think so given how bad Arizona's defense has been today.
Twitter is also exploding with laughter right now:
Arizona left too much time on the clock. Right? #NMBowl

— Kevin McGuire (@KevinOnCFB) December 15, 2012
Touchdown Arizona! Arizona 49 Nevada 48 - 0:19 remaining in the 4th quarter
Wow! Arizona scores a touchdown to take its first lead of the game just 21 seconds after recovering the onside kick. It only took three great passes from Scott to get the Wildcats into the end zone.
Scott hits Wharton for a big gain, and follows it up with a pass to Hill at the Nevada two-yard line.
Arizona recovers the onside kick! The Wildcats take over at their own 48-yard line.
Touchdown Arizona! Nevada 48 Arizona 42 - 0:42 remaining in the 4th quarter
Scott finds Hill for a two-yard touchdown pass on a stop route. Arizona needs to recover the onside kick now.
Arizona is going to be inside the Nevada 10-yard line after another pass interference call. The Wildcats are still in this, though they will need to recover an onside kick.
The Wildcats could not afford to run the ball there. After Arizona gets a pass interference call, Rodriguez calls a halfback dive with no timeouts left and only one minute to go in the game.
Arizona not going away late. The Wildcats are using the sidelines and throwing little button hooks to gain chunks of yards and stop the clock.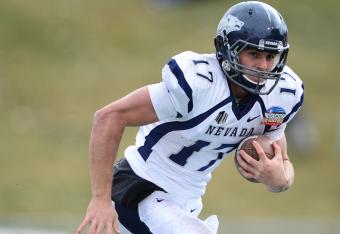 Nevada now has 403 rushing yards and 659 total yards today.
Nevada Field Goal! Nevada 48 Arizona 35 - 1:48 remaining in the 4th quarter
Allen Hardison knocks through another chip shot to extend Nevada's lead late in the game.
Rich Rodriguez's team is going to finish 7-6, which is not bad for an Arizona program that is not used to playing in postseason games, or finding itself above .500.
Rodriguez has a chance to succeed in the Pac-12 because of his offense, which will feature Austin Hill and Ka'Deem Carey for at least one more year. Scott will be tough to replace, but the play-makers around whoever the new quarterback winds up being will help make the transition much easier.
The defense is definitely a concern, though, and has been for Rodriguez at every stop. Until the Wildcats can consistently get some stops, or turnovers, Arizona is going to be a middle of the road team in the Pac-12.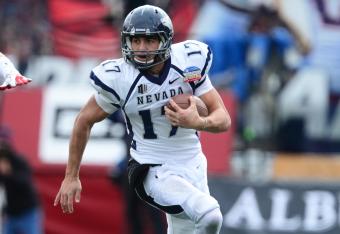 Nevada goes for it on fourth-and-inches. Fajardo gets the first down with his legs. That is probably the nail in the coffin.
Awful defense again by the Wildcats. Hale nearly had a first down on Nevada's bread and butter play. How do you not come to the line of scrimmage expecting that?
Arizona wisely takes a timeout with 4:08 remaining. Third down and 14 coming up. Hale picks up 13 yards. Nevada will run the play clock down and call timeout.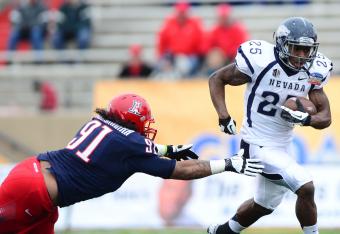 Nevada Fumble!
Jefferson fumbles for the second time today, and immediately gets pulled in favor of Hale. Thankfully, the Wolf Pack recovered.
Nevada flagged for a holding penalty. The Wolf Pack have been penalized six times for 50 yards this afternoon.
Especially with Nevada taking over at the Arizona 37-yard line:
Scott overthrows another receiver. Az has to punt. That might be end for Arizona.

— Joe Santoro (@JOE__SANTORO) December 15, 2012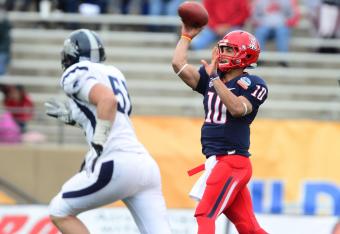 Scott overthrows Terrence Miller, who had a step on his defender and would have scored.
Fourth-and-five coming up after another incompletion on third down.
This article is
What is the duplicate article?
Why is this article offensive?
Where is this article plagiarized from?
Why is this article poorly edited?