UCLA Football: An Early Look at Baylor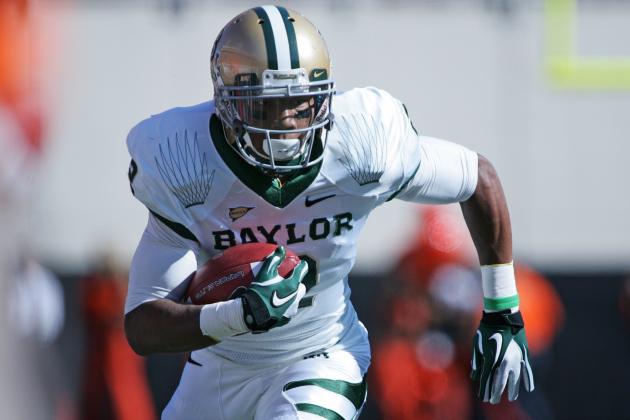 Brett Deering/Getty Images
Next to Marqise Lee, Williams will be the most talent WR faced all year
When the UCLA Bruins and the Baylor Bears square off in the Holiday Bowl on December 27 in San Diego, everyone should look up to the skies.
With the amount of points expected to be put up between the two teams, there should be plenty of fireworks in the forecast.
The matchup between the Bruins and the Bears will include perhaps the best collection of offensive skill players in any bowl this year.
Baylor boasts not only uber-talented running back Lache Seastrunk and Second Team AP All-American offensive guard Cyril Richardson, but also First Team AP All-American and Biletnikoff finalist Terrance Williams.
UCLA offensive guard Xavier Su'a-Filo was named as a Third Team All-American, while tailback Johnathan Franklin was a Second Team member. The Bruins also possess upstart freshman quarterback Brett Hundley.
The Bears are considered one of the hottest teams in the country at this point. Baylor has won three games in a row, including against then-No.1 Kansas State, Texas Tech and then-No.23 Oklahoma State.
Meanwhile, the Bruins have dropped two straight decisions—both to Stanford.
Let's take a brief look at the Baylor Bears, and what UCLA fans should expect from this contest.
Begin Slideshow

»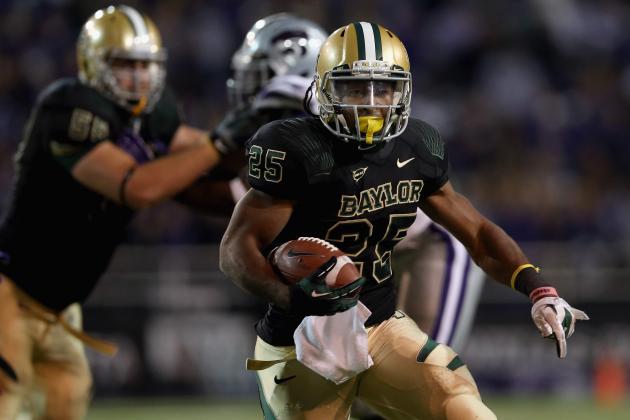 Ronald Martinez/Getty Images
RB Lache Seastrunk is a big threat
Let's take a step back and examine Baylor's offensive statistics on the season:
Baylor is No. 1 in total offense nationally, with an average of 578.8 yards per contest. The Bears also average 44.1 points per game, which ranks fifth nationally.
In terms of drive efficiency, Baylor has had nine touchdown drives that have lasted exactly one play. In addition, the team has had 16 touchdown drives that have lasted three plays or less.
Baylor ranks fifth nation wide with more than 353 passing yards per game. Along with their prowess in the air, the Bears rush for 225.5 yards a game—which is good for 19th nationally.
It doesn't take a rocket scientist to see that Baylor is pretty dangerous on the offensive side of the football. Art Briles has orchestrated an offensive juggernaut that is extremely diverse and exotic from a play calling standpoint.
The Bears have a dangerous, three-pronged running attack featuring Oregon transfer Seastrunk, Glasco Martin and Jarred Salubi. The trio has combined for 2,102 yards on the season. Even starting quarterback Nick Florence gets into the mix, as he's rushed for 534 yards on the ground this year.
Richardson and All-Big 12 performers Cameron Kaufhold, Ivory Wade and Troy Baker anchor an offensive line that's both physical and skilled. Along with Williams, fellow wide receivers Tevin Reese and Lanear Sampson provide headaches for opposing secondaries.
Reese has 51 catches for 889 yards and eight touchdowns on the season, while Sampson has 51 catches for 639 yards and six touchdowns.
It's truly a "pick your poison" scenario when defending against the Bears.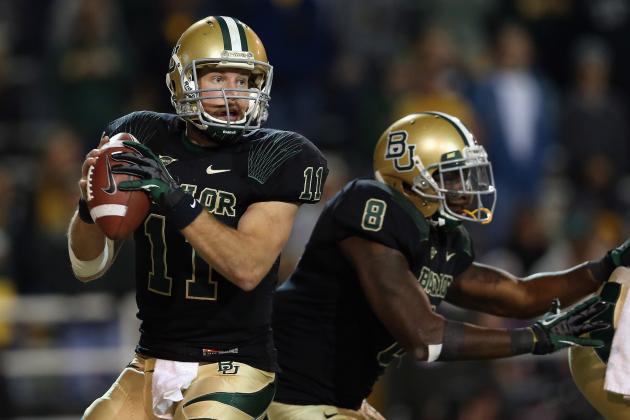 Ronald Martinez/Getty Images
QB Nick Florence has been terrific this season
Starting QB Nick Florence was placed in an unenviable situation at the start of the season.
He not only was replacing the iconic Heisman Trophy winner and No. 2 overall pick Robert Griffin III, aka RGIII, but he was also tasked with replacing the 4,293 passing yards and 37 touchdown passes that left Waco, Tex. for Washington D.C.
Throughout the 2012, season, Florence has acquitted himself quite well.
The senior from Garland, Tex. has tossed 31 touchdowns this season, along with 4,121 yards in the air. As mentioned in the previous slide, he also rushed for over 500 yards. While no one will refer to him as "RGIII" running the football, Florence has turned into a mobile threat from the quarterback position.
If anything, Florence has provided stability and leadership for the offense. He's commanded well, and has tons of respect throughout the entire football team.
However, he has had the propensity to throw interceptions this season. Florence has been intercepted 13 times, which totals the second-most in the Big 12.
Brett Deering/Getty Images
WR Terrance Williams
The First Team All-American brings a great combination of speed, size and height to the table. His top-end speed is fabulous, and there are times where Williams literally outruns defenders for touchdowns.
Williams is tops in the nation with 1,764 receiving yards. He has an outstanding 18.6 yards per catch average in addition to 12 touchdown grabs.
The effectiveness of Williams doesn't just stretch to him as an individual player, but also with his fellow receivers. With Williams commanding so much attention, it opens up things for Reese, Sampson and Levi Norwood.
For as great as a player as Williams is, he makes everyone around him that much better. Aside from Southern Cal wide receiver Marqise Lee, Williams will be the best receiver that UCLA has faced the entire year.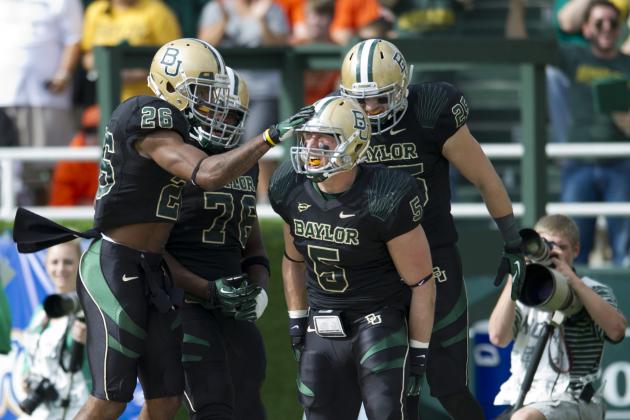 Cooper Neill/Getty Images
Lackey has been a bright spot for an otherwise porous unit
For as good as Baylor is offensively, it's been downright awful on the defensive side of the football throughout the majority of the year.
The Bears rank 119th out of 120 FBS teams in total defense—allowing a staggering 513.92 yards per game. Baylor gave up point totals of 42, 70, 50 and 45 in four games this season against Louisiana-Monroe, West Virginia, Texas and Texas Tech, respectively. Those point totals helped to contribute to a 38 points per game relinquishment by the defense.
To be fair, the unit has been improving as the season has progressed. Defensive coordinator Phil Bennett is a good coach with over 34 years of coaching experience on the collegiate level.
He's been victimized this season by youth and a lack of depth. With over a month to prepare for UCLA, he could pose problems with his schemes. Bennett likes to apply pressure and has done so with more frequency as the season's progressed. With that in mind, he'll hope to cause turnovers against a freshman UCLA quarterback.
Standouts on Baylor's defense include linebacker Eddie Lackey, linebacker Ahmad Dixon and linebacker Bryce Hager.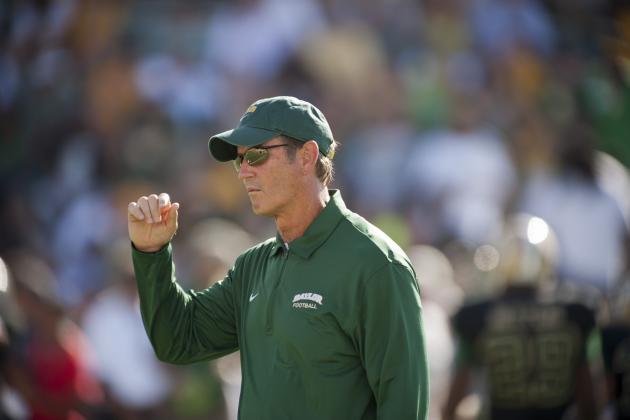 Cooper Neill/Getty Images
Art Briles is a tremendous coach
This should be a high-scoring football game. Plan and simple.
While Baylor doesn't possess a ton in terms of defensive talent or depth, it more than makes up for it with explosiveness and overall speed on the offensive side of the ball.
There's no doubt that Terrance Williams will have to be keyed on, and in some ways, similarly to Marqise Lee. UCLA will have to compensate for the overall team speed of Baylor's skill position players, and it could cause it to play more conservative—as opposed to blitzing frequently.
One wild card in this contest is Baylor's head coach. Briles is a great strategist with no qualms about playing aggressive and putting pressure on the opponent.
With Baylor being a slight underdog in this game, there's no reason to think that the Bruins won't get the entire kitchen sink thrown at them—and more.