Pac-12 Football: 6 Remaining Questions from This Season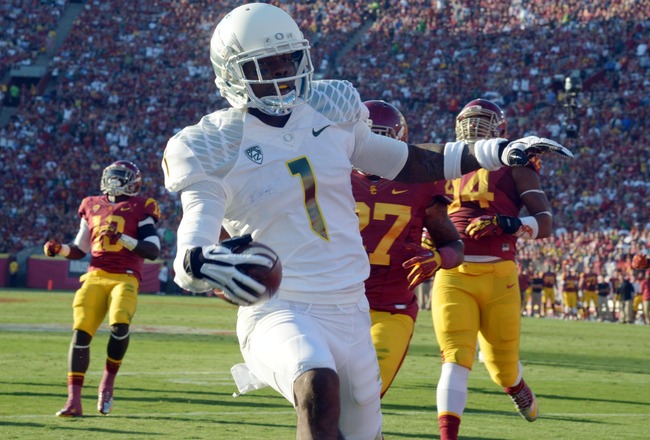 USA TODAY Sports
Usually, at the end of the regular conference season, all questions have been answered about the Pac-12 Conference. We go about the business of the bowl games, and then start arguing about next season.
But this year, things feel strangely unsettled. It's as if we should keep playing until we answer all the remaining questions.
While there were plenty of thrills and chills along the way, not everything is crystal clear.
Here are my questions; help me out with answers, OK?
Mike Leach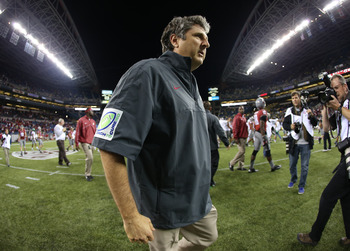 Otto Greule Jr/Getty Images
To steal a line from former USC head coach Pete Carroll, I'd like to ask Washington State head coach Mike Leach: "What's your deal?"
When Leach was dismissed by Texas Tech in that soap opera, I wrote it off to Craig James being an arrogant jerk. We all knew that Leach was a great coach and he just needed another opportunity.
Whoa, Nellie! Do you think this season was what the nice fans in Pullman had in mind?
First, you have to be surprised at Leach's record at Wazzu in his first year. Sure, it takes time to turn around a woeful team. But there were some pieces in place for Leach to build on.
Second, is Leach an abusive coach, or is he just tough, old school and today's players are too soft? Is the Pirate of the Palouse a psychopath, or an excellent motivator of young men? We can't answer those questions because we don't have enough information.
But if it's so bad that a star wide receiver gives up his scholarship to leave the program, it warrants a close look.
What's your deal, Leach?
Oregon vs. Alabama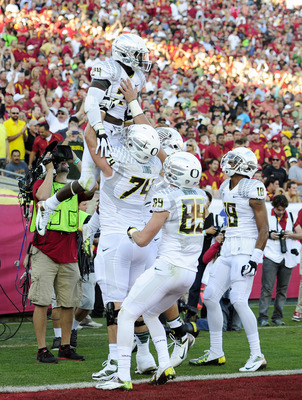 Robert Laberge/Getty Images
If there were a playoff this year, would Oregon have beaten Alabama?
Yes.
I can give you all the reasons, but in your heart you know it's true. When Nick Saban started whining about the speed at which some teams—duh—play the game, you knew he was very, very afraid.
Win The Day would have whupped on Roll Tide.
USC Troubles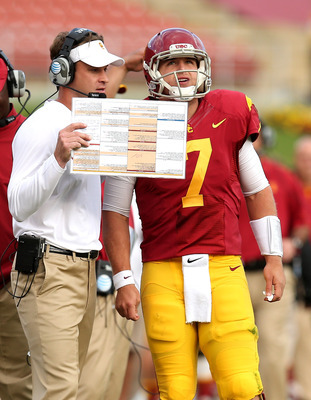 Stephen Dunn/Getty Images
What the heck happened to the USC Trojans?
Some of us felt the Trojans were a titch overrated prior to the season, but did anyone envision this meltdown? I called their losses to Stanford and Oregon, but had them at 10-2.
A 7-5 record? Are you kidding me?
I need to know why this happened. Was it bad coaching? Was Matt Barkley really just an average quarterback all along who happens to be great at PR? Did USC's defense truly suck?
And what was with all that deflating balls, switching jerseys, tension with the media stuff? Are the inmates in charge of the asylum?
Really, we need some answers here.
Stanford vs. Washington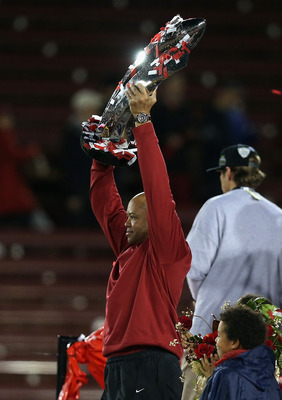 Ezra Shaw/Getty Images
How on earth did Stanford lose to Washington?
I watched both the Cardinal and the Huskies play several games this year, and Stanford's loss to Washington in Seattle is still a puzzle.
Yes, the Cardinal was coming off the high of beating USC in week three. And, yes, it was Stanford's first road game of the season.
But the Cardinal had 11 days to prepare for this one. You would think that the brilliant David Shaw could figure out almost anything in 11 days.
Play this game 10 times and Stanford wins 10 times. I don't get it.
Beavers Quarterbacks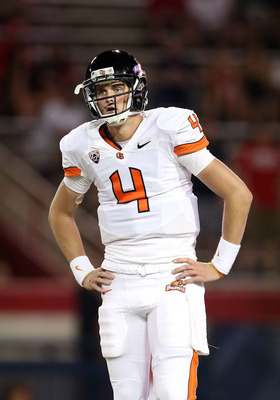 Christian Petersen/Getty Images
Last August, I told you that Sean Mannion would be one of the best quarterbacks in the Pac-12 Conference this year.
Now, I'm not sure he's even the best quarterback at Oregon State.
What a wild turn of events at the QB position in Corvallis. First, Mannion starts off with terrific play and big wins. Then, he goes down with a torn meniscus in his knee in early October.
In the state of Oregon, three million people thought: "Well, there goes the Beavers' year."
Then, here comes Batman to save the day—Cody Vaz swoops in and plays like he belongs. Turns out, he does.
I have no idea who should be the starting QB for Oregon State in its bowl game or next year. Your thoughts?
New Coaches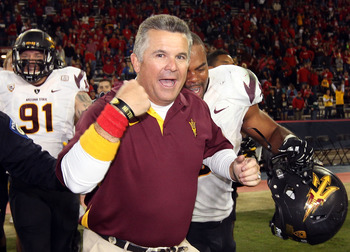 Christian Petersen/Getty Images
Remember a few slides back when I was bragging about being right about USC before the season started?
Here's why you should never brag: Boy, oh boy, was I wrong about the four new Pac-12 Conference coaches.
I told you last summer that Rich Rodriguez and Mike Leach were the two best hires ever in the conference, and that Todd Graham and Jim Mora would be huge duds.
Oops. Jim Mora led the UCLA Bruins to a hearty 9-4 record, destroying crosstown rival USC on their way to the Pac-12 South Division Championship.
Mr. Mora, I apologize.
Everyone in the Phoenix area thought Arizona AD Greg Byrne in Tucson beat them to the punch by firing Mike Stoops before the season ended and grabbing Rich Rodriguez. It took former ASU AD Lisa Love (whatever happened to her?) ages to get rid of Dennis Erickson and hire Todd Graham, who most fans thought was way down the list of possible hires.
So, yeah, of course Arizona State beats Arizona, and Graham now looks like the best hire on the planet.
Mr. Graham, I apologize to you as well, and welcome to the conference.
The jury is still out on Rodriguez, and it's way out on Leach. Guess we'll have to wait until next year, and that's the beauty of college football.
Kay Jennings is a member of the Football Writers Association of America.
Keep Reading