2012 Bowl Projections: 1 Bold Prediction for Every Bowl-Bound Team
Harry How/Getty Images
Bowl season will be starting on Dec. 15, and there are 34 games between now and the national championship bout between heavyweights Notre Dame and Alabama.
Going through stat sheets, watching games and rooting for teams always fills people with sure-fire ways to tell what's going to happen in the near future of college football. Of course, the teams don't always cooperate. Kansas State loses to Baylor, Oregon loses to Stanford, and just like that, the SEC's national title streak is no longer certainly over.
In a season filled with unpredictability, here is one bold prediction for every bowl-bound team in the nation. All 70 teams are presented in reverse-alphabetical order.
*Any reference to a betting line is using the spreads found at sportsbook.ag
*Stats were either from ESPN.com or cfbstats.com
Wisconsin Badgers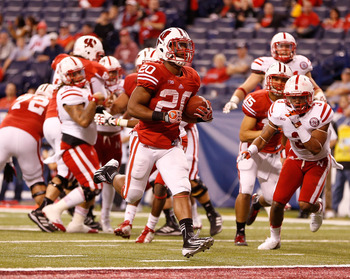 Gregory Shamus/Getty Images
Wisconsin's Montee Ball was just named to the AP All-America team as a first-string tailback. Ball will continue to impress in the bowl game against Stanford.
Ball will be the first tailback to rush for over 200 yards against the Cardinal by tagging them for 250 yards and three touchdowns in the Rose Bowl.
Western Kentucky Hilltoppers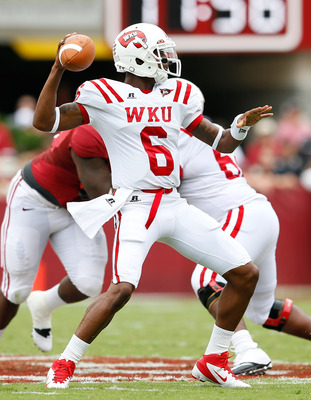 Kevin C. Cox/Getty Images
Western Kentucky will be facing off against Central Michigan in the Little Caesars Bowl. The WKU Hilltoppers will take all their pent-up aggression from their losses out on the Central Michigan Chippewas this postseason.
Western Kentucky will put up the second-most points of the season by hitting the Chippewas up for 45 points.
West Virginia Mountaineers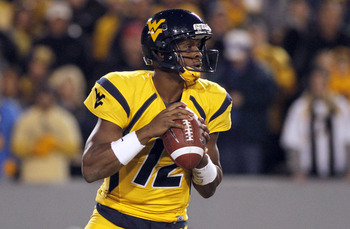 Justin K. Aller/Getty Images
Geno Smith has been a bit of an enigma throughout the season. After demolishing Clemson in last season's Orange Bowl to earn a three-loss record, Smith was heralded as a potential Heisman candidate in his first Big 12 season.
Smith led the Mountaineers to a seven-win season in 2012 and kept up with some highly potent offenses along the way. Syracuse will not be the same foe the Mountaineers lost to last year.
Smith and the Mountaineers will hang over 500 yards on the Syracuse Orange, proving that the Big 12 has much better prepared them for this battle than the Big East prepared Syracuse.
Washington Huskies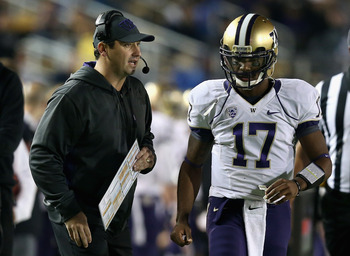 Ezra Shaw/Getty Images
Washington drew the Boise State straw this bowl season, and the Huskies have the task of proving whether the Broncos stats are inflated due to playing in a weaker conference than the Pac-12.
Washington is averaging just over 200 yards per game through the air in 2012 but will be facing a statistically better scoring defense than it has faced all season.
Washington will hang no fewer than 35 points on the Boise State Broncos behind Keith Price's season-high 300 passing yards.
Virginia Tech Hokies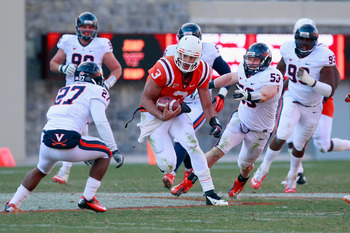 Geoff Burke/Getty Images
Virginia Tech has had a roller-coaster season, much as many teams on this list have had. Rutgers will be a formidable opponent for the Hokies, and Logan Thomas will need to have a career game against them in order to pull out the win.
That will not happen, and Virginia Tech will score only 14 points against Rutgers.
Vanderbilt Commodores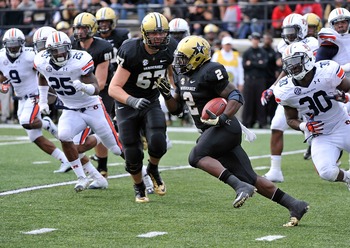 Frederick Breedon/Getty Images
Vanderbilt is going to play in what is basically a home game in the Music City Bowl this season. The Commodores will be taking on the N.C. State Wolfpack in Nashville, Tenn.
Vanderbilt's Zac Stacy will have a season-high game by rushing for more than 200 yards against the Wolfpack. (So far, his season high is 180 against Wake Forest on rivalry weekend.)
Utah State Aggies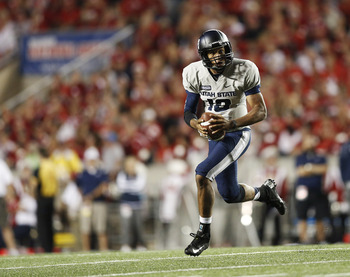 Tom Lynn/Getty Images
Utah State takes on Toledo in the Famous Idaho Potato Bowl. Utah State has lost only two games this season, against BYU and Wisconsin. Predicting a win for the Aggies is not bold, as they are a 10-point favorite in this venture.
Utah State's Kerwynn Williams will rush for 175 yards and two touchdowns.
USC Trojans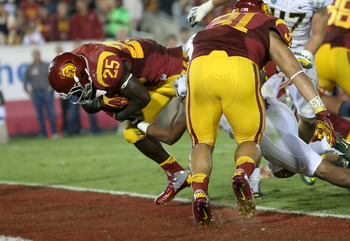 Stephen Dunn/Getty Images
The Sun Bowl matchup is one of the more lopsided in appearance of the 35 bowls this season. Win or lose, USC is the clear statistical favorite. Whether Georgia Tech can outperform the Trojans remains to be seen, but there is one bold prediction that looks very possible:
Matt Barkley will throw for 500 yards against the Yellow Jackets. He will have the performance of a lifetime because it's his last chance to show the NFL what he can do in a live-game situation.
UCLA Bruins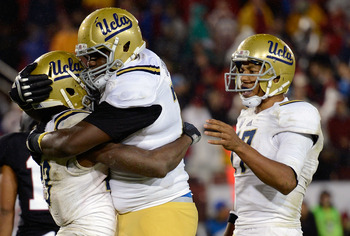 Thearon W. Henderson/Getty Images
In what looks like a lopsided match, 9-4 UCLA from the Pac-12 will take on 7-5 Baylor from the Big 12 in the Holiday Bowl. From the win-loss records, Baylor looks like the clear underdog. What people may not be taking into account is UCLA's inconsistency throughout the season.
UCLA loses to Baylor by 21.
UCF Knights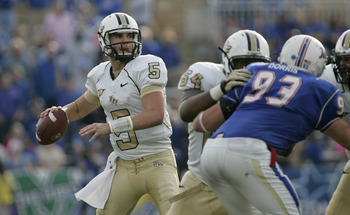 Brett Deering/Getty Images
UCF has faced only a couple of teams as good as Ball State has turned out to be in 2012. Even so, UCF will take advantage of Ball State's 103rd-ranked scoring defense to put some serious points on the board.
UCF's Latavius Murray will gain more than 250 total yards of offense against Ball State's defense, and he will score three touchdowns in the process.
Tulsa Golden Hurricane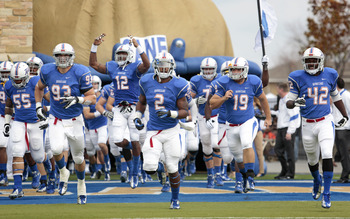 Brett Deering/Getty Images
Tulsa takes on Iowa State for the second time this season in the Liberty Bowl. Tulsa lost the season-opening match by 15 points back in September, but the Golden Hurricane have developed well throughout the season.
This time around, Tulsa's Cody Green will throw only one interception. To make matters better, that will be Tulsa's only turnover. (Last meeting, he threw two interceptions, and the team had three turnovers.)
Toledo Rockets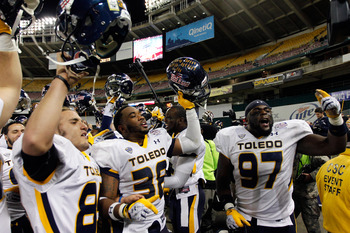 Rob Carr/Getty Images
As mentioned earlier, Toledo will be facing Utah State this postseason. Toledo enters the match with a major threat at tailback in David Fluellen.
Fluellen will rush for more than 200 yards and score twice. This will cancel out a similar performance by Utah State's Kerwynn Williams. It will be up to the rest of the offense to perform well enough to win.
Texas Tech Red Raiders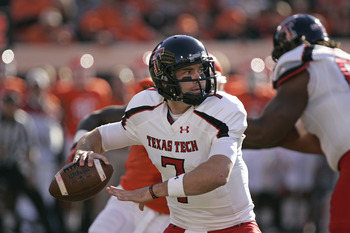 Brett Deering/Getty Images
Texas Tech had some brilliant games under quarterback Seth Doege this season. (The Red Raiders also had some completely lifeless games, as well.)
Doege will cross the 500-yard barrier for the only time this season against the Minnesota Golden Gophers. That's not to say that the Gophers are a bad team. It's simply the fact that Texas Tech will have a month to get its scheme together, and the Red Raiders have already shown that they are capable of airing the ball out with the best in the nation.
TCU Horned Frogs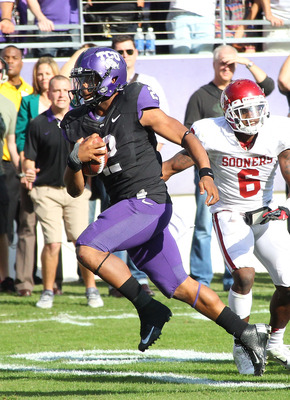 R. Yeatts/Getty Images
TCU's Trevone Boykin performed above expectations after taking over for Casey Pachall earlier in the season. With Michigan State's defense set against him and 28 days to prepare with his offense, Boykin will turn in his best performance of the season.
The offense will be clicking, and Boykin will throw for over 350 yards in TCU's attempt to dismantle the Spartans. The Horned Frogs have taken down some great teams this season, and Michigan State just is not up to snuff during its rebuilding year.
Texas A&M Aggies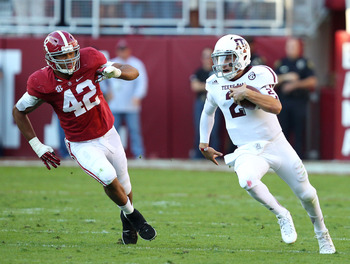 Mike Zarrilli/Getty Images
Texas A&M is under an immense amount of pressure for this battle against its old conference rival. Johnny Manziel has just become history's first-ever freshman Heisman winner, and Oklahoma is a perennial power in the Big 12 that consistently treated A&M like a high school squad.
Manziel will have all eyes on him as he leads the Aggies against the Sooners in the Cotton Bowl. He will handle the pressure just like he handled the pressure in Tuscaloosa against then-No. 1 Alabama.
Manziel will pass for more than 300 yards and rush for more than 200 to amass more than 500 yards of total offense against Bob Stoops and his Oklahoma Sooners.
Texas Longhorns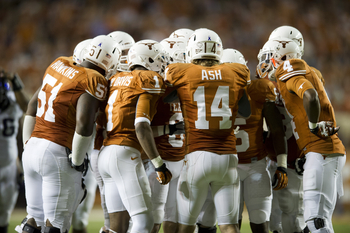 Cooper Neill/Getty Images
Texas has 28 days to prepare for the Alamo Bowl against the Oregon State Beavers. That has everything to do with the prediction made here. If Oregon State met Texas at any time during the regular season, there would be little reason to believe the Longhorns would pull out the win. (Texas hasn't beaten anyone ranked higher than No. 18 this season, and Oregon State is currently No. 11.)
Texas could have used the 28 days to get so comfortable with its game plan that either quarterback could make the throws blindfolded. Unfortunately, according to Texas coach Mack Brown, the staff had not even met to discuss bowl preparations as of Dec. 6.
The fact that the staff isn't even sure what they're going to do with the time between Dec. 6 and the bowl tells us two things:
1) The preparation for the bowl will not be much better than a regular-season game.
2) Oregon State will have a huge advantage as a result of issue No. 1.
Brown and company will have a tough fight ahead of them. If they aren't taking the Beavers seriously, Oregon State will do to them what Utah did to Alabama in 2008.
Texas will lose the Alamo Bowl to Oregon State by 14 points, despite being only a two-point underdog.
Syracuse Orange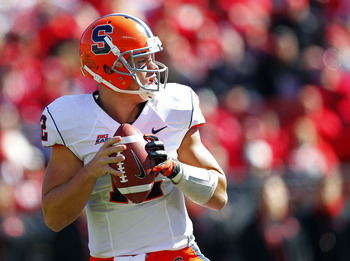 Rich Schultz/Getty Images
Syracuse has made it through the Big East with a 7-5 record. Unfortunately for the Orange, West Virginia just escaped the Big 12 with the same record. Syracuse may have the same number of wins as WVU, but the quality of wins is not quite as good.
Ryan Nassib will lead Syracuse in a valiant effort against the same Mountaineers squad that it dismantled last season, but his 200-yard performance with three touchdowns will not be enough.
Stanford Cardinal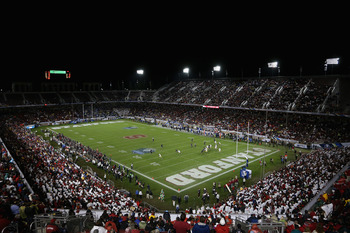 Ezra Shaw/Getty Images
Stanford is slated to take on the Wisconsin Badgers in the Rose Bowl. Though Wisconsin technically shouldn't have had the opportunity to do so, the Badgers capitalized on Nebraska in the Big Ten title game to earn the spot opposite the Cardinal.
Stanford will have a long day against Montee Ball and the Badgers. Though the Cardinal have faced running backs as statistically gifted as Ball, they have not faced a running back nearly as good as he is. (Despite what Oregonians would have you believe about Kenjon Barner.)
Stanford will post its worst loss of the season by falling to the Badgers by 20 points.
South Carolina Gamecocks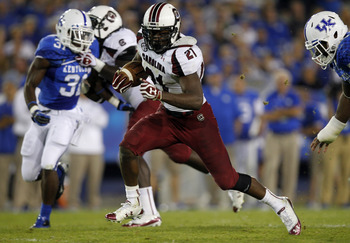 John Sommers II/Getty Images
South Carolina is the second SEC team that will have a chance to take down the Michigan Wolverines. Alabama took down the Maize and Blue in the first game of the season, and South Carolina can do it in the Outback Bowl if it plays its cards right.
The Gamecocks will not have Marcus Lattimore on the field with them to assist in the victory, but the game-breaking plays will come from Ace Sanders. Sanders will have his second straight season-high performance by racking up more than 150 receiving yards. He will also return one punt for a touchdown.
SMU Mustangs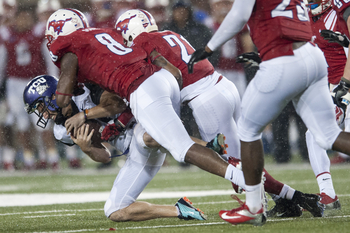 Cooper Neill/Getty Images
SMU will take the field against Fresno State, which shares a piece of the Mountain West Conference title. The Mustangs will have an opportunity to finish the season with a winning record.
The key to victory for the Mustangs is Garrett Gilbert and his interception mark. Fresno State is too good for SMU to hand it extra opportunities.
Gilbert will throw only one pick in his effort against the Bulldogs. It will be up to the defense to ensure that is sufficient for victory.
San Jose State Spartans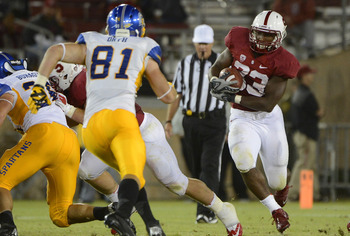 Thearon W. Henderson/Getty Images
San Jose State started the season off with a near-win over the eventual Pac-12 champion Stanford Cardinal. After that, things looked pretty good for the Spartans, who went on to a 10-2 regular-season record in the Western Athletic Conference.
San Jose State's biggest reason for winning all those games is quarterback David Fales and his 31-9 touchdown-to-interception ratio. Fales has yet to throw for under 200 yards in any game this season.
Against Bowling Green, he will have his best game of the season. He will throw for over 467 yards (his current season high) and will have zero interceptions in the game.
San Diego State Aztecs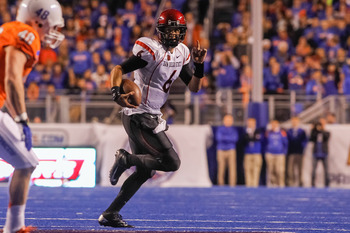 Otto Kitsinger III/Getty Images
San Diego State is in one of the more evenly matched bowl pairings of the season against the BYU Cougars. SDSU has rolled through its season to a 9-3 record in the MWC. The only downside to the Aztecs' season is that they have yet to face a defense as stingy as BYU's.
San Diego State will score only 21 points against the Cougars. Fortunately for the Aztecs, that may be enough to win this thing.
Rutgers Scarlet Knights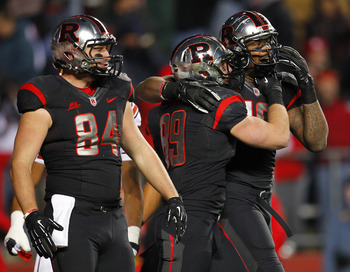 Rich Schultz/Getty Images
Rutgers may not have had a Big East championship season in 2012, but having only three losses in any AQ conference is respectable (even if it's temporarily the weakest AQ conference in the nation).
Gary Nova, the signal-caller for the Scarlet Knights has had a frightful season, usually throwing an equal number or more interceptions to touchdowns in any given game. His performance against the Arkansas Razorbacks was five touchdowns to zero interceptions, and it was one of the biggest Rutgers wins of the year.
Nova will have a similar outing against the Virginia Tech Hokies in the Russel Athletic Bowl. Nova will have another five-touchdown performance, but he will throw only one interception.
Rice Owls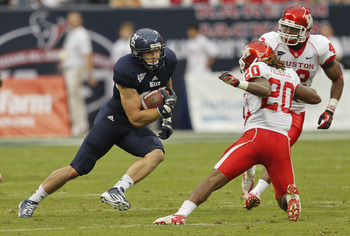 Bob Levey/Getty Images
Rice is going to be fighting an uphill battle against the potent third-ranked Air Force rushing attack that's good for more than 300 yards per game.
Rice will not win that particular battle, though its passing attack could still keep it in contention for the scoreboard victory. Rice will allow Air Force to gain a season-high 350 rushing yards.
Purdue Boilermakers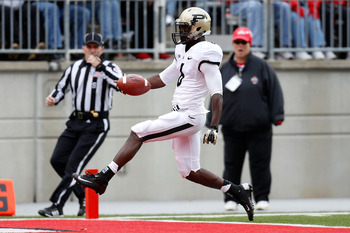 Kirk Irwin/Getty Images
Purdue could have had a better season, but a season-ending trifecta against the "I" teams of the Big Ten earned the Boilermakers a berth in the Heart of Dallas Bowl opposite the Oklahoma State Cowboys.
Purdue is a heavy underdog against the Cowboys to the tune of 16.5 points, and there is little statistical advantage for the Boilermakers in this battle. Purdue will end the season on a disappointing loss to Oklahoma State by 24 points.
Pittsburgh Panthers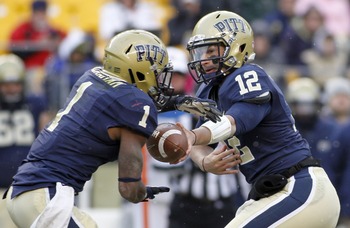 Justin K. Aller/Getty Images
Pittsburgh's roller-coaster season was pretty consistent in its own way. The Panthers lost two games, won two games, lost two games, won two games, lost two games and finished the season with two big wins over Rutgers and South Florida by a combined score of 54-9.
Pitt has the opportunity to break the cycle against Ole Miss in the BBVA Compass Bowl on Jan. 5. Regardless of the final score, Tino Sunseri will finish the 2012 season with a 350-yard passing performance against the Ole Miss Rebels. That will be his best performance of the season.
Regardless of the conference affiliations, this match is one of the best of the postseason as far as opponent equality is concerned.
Oregon State Beavers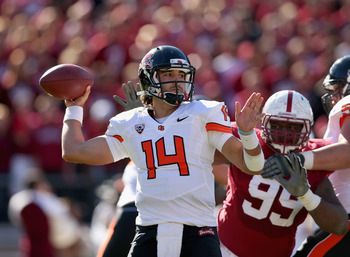 Ezra Shaw/Getty Images
Oregon State faces a questionable Texas team in the Alamo Bowl. Oregon State outranks Texas by 10 spots in the BCS but is only a two-point favorite over the Longhorns in this bowl.
Oregon State is in the same situation as Texas in terms of the quarterback situation. Oregon State has two quarterbacks that have both had brilliant games and horrible games in 2012. The Beavers will choose the more prepared starter but will presumably have the backup equally ready to play in case of failure by the starter.
Storm Woods will be the reason that Oregon State beats Texas, and Woods will rush for more than 100 yards for only the second time this season. Last time he crossed 100, he tagged the Arizona Wildcats for 161 yards and a touchdown in a three-point victory.
Woods will rush for 175 yards and two touchdowns against the questionable defense of the Texas Longhorns.
Oregon Ducks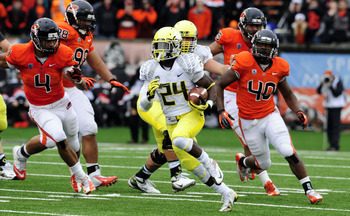 Steve Dykes/Getty Images
Oregon faces Kansas State in what looked like the national championship game before Nov. 17. The Ducks and the Wildcats will provide us with the second-best bowl in terms of prestige, but it will probably be the best bowl in terms of final score.
Kansas State proved against Baylor that it is susceptible to an efficient offense. If Oregon has anything, it's an efficient offense.
Oregon will throw 45 points on the board against Kansas State.
Ole Miss Rebels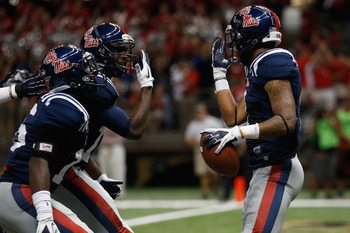 Chris Graythen/Getty Images
Ole Miss has already been briefly mentioned in the Pittsburgh slide. While Pitt will tag the Rebels for 350 yards of passing offense, Ole Miss will lock down the end zone in the second half for the first time this season.
Ole Miss's offense will also find a rhythm similar to the one it found against Mississippi State in the rivalry-weekend game.
Ole Miss will hang 48 points on the Pittsburgh Panthers.
Oklahoma State Cowboys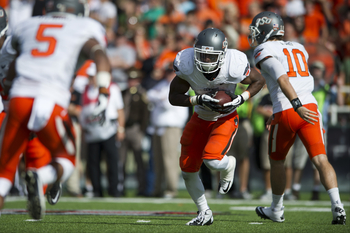 Cooper Neill/Getty Images
Oklahoma State is a gigantic 16.5-point favorite over the Purdue Boilermakers. That little fact may provide motivation for the Boilermakers, but it is not going to magically provide them with more talent to match up with the Cowboys.
Oklahoma State will ride its No. 2 scoring offense to a relatively easy win for a postseason encounter. Josh Stewart will emerge as the game's offensive MVP by hauling in catches for a total of 225 yards and three touchdowns. Both will be season highs for Stewart.
Oklahoma Sooners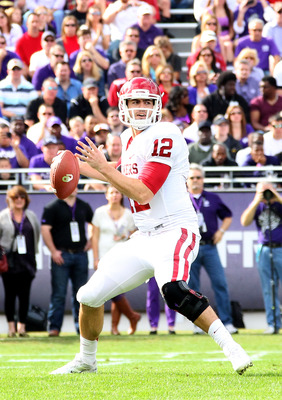 R. Yeatts/Getty Images
Oklahoma is facing Texas A&M, but this is not the same Aggies squad that the Sooners demolished during the 2011 regular season.
Landry Jones will have the game on his shoulders in this year's Cotton Bowl. The problem with that is that he will be under pressure from being behind on the scoreboard. That will cause him to force throws and play a little panicked for a lot of the game.
Landry Jones will throw three interceptions in this game. (That is something he has not done since Nov. 27, 2010, against Iowa State.)
Ohio Bobcats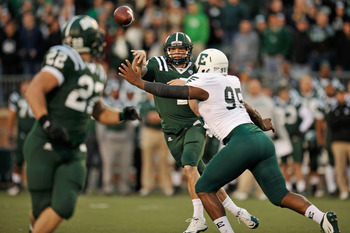 Jamie Sabau/Getty Images
Ohio had a Cinderella season going from Week 1 until the road loss to Miami (Ohio). The Ohio Bobcats are still led by one of the most talented quarterbacks in the nation, though, and they rode that wave into the Independence Bowl against Louisiana-Monroe.
Tyler Tettleton will have a great game against the Warhawks, but it may not be enough to beat them. Tettleton will need the assistance of his go-to tailback, Beau Blankenship.
Blankenship will do his best to help the team by gouging ULM for 180 yards and three touchdowns.
Notre Dame Fighting Irish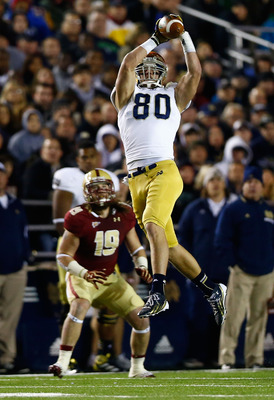 Jared Wickerham/Getty Images
It is no secret who Notre Dame's opponent is, and it is no secret that Notre Dame is also a 10-point underdog in the BCS title game. Notre Dame has entered quite a few of its games this season as an underdog and has managed to come away with wins in every case.
While there is a lot of chatter about how Notre Dame had close calls with weak teams, the Irish totally manhandled the Oklahoma Sooners. Holding the Sooners to 13 points was no small feat, especially in their own back yard.
Notre Dame's scoring defense is the best in the nation at 10.3 points per game, followed closely by Alabama at 10.7 points per game. (The math on those was done by me, because ESPN currently has Notre Dame ranked 24th and averaging 20.7 points per game and Alabama averaging 8.2 points per game.)
Notre Dame will give up more points in this game than it has all season. The Irish have not faced a tandem of running backs nearly as talented as Alabama's backfield, and it will show. Notre Dame will give up 40 to the Tide.
Northwestern Wildcats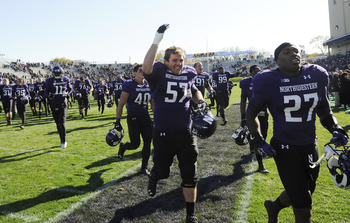 David Banks/Getty Images
Northwestern started the season on a hot streak and did not suffer a loss until its sixth game (against Penn State). Penn State, Nebraska and Michigan were the only teams to beat the Wildcats this season, and that success could carry over into the postseason.
Mississippi State will have something to say about that in the Gator Bowl, but the fact is that Northwestern earned a pretty high bowl bid with its 9-3 finish to the regular season. Venric Mark was the biggest factor in that 9-3 run, amassing 1,310 yards rushing on 213 attempts.
As good as the Bulldogs may (or may not) be, Mark will tag them for a season-high 200 yards in the process of the Gator Bowl.
Northern Illinois Huskies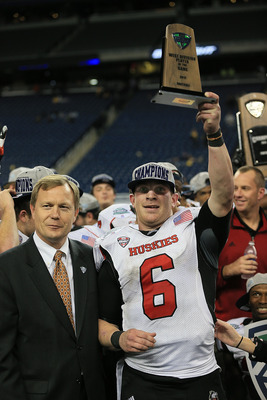 Dave Reginek/Getty Images
Northern Illinois is the hot topic of bowl season in 2012. The major argument going around right now is that Northern Illinois doesn't deserve the Orange Bowl berth.
Well, the Huskies finished in the BCS top 16 and finished ahead of at least one (two in this case) AQ conference's champion. Those are the rules, and thus Northern Illinois does deserve the Orange Bowl bid. Why? Because the Huskies did what had to be done and earned it by the rules.
For me, this just goes to show that Boise State never earned the "little guys" any respect at all. Boise State's success did not do anything for the Northern Illinois respect level. This BCS-busting issue is a joke. Northern Illinois should work night and day to replicate the success of both N.C. State and Florida against the Seminoles in the Orange Bowl.
Jordan Lynch will rush the Florida State defense for 210 yards, and he will hit them through the air for another 200. While that may or may not be enough to win the game, Lynch will expose Florida State's defense.
Northern Illinois has the nation's 12th-best scoring offense but hasn't played the caliber of teams that Oklahoma and Notre Dame have played. Well, guess what? Neither has Florida State.
Nevada Wolf Pack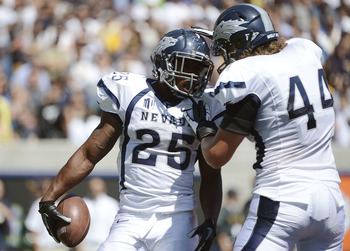 Thearon W. Henderson/Getty Images
Nevada's Stefphon Jefferson is going to be the highlight reel of the New Mexico Bowl. It is certainly doubtful that Nevada will win this bowl, considering its lack of success in the MWC, but Jefferson will make a name for himself as a junior against a team from a power conference.
Jefferson will have his second-best rushing performance of the season by taking Arizona for a 200-plus-yard ride.
Nebraska Cornhuskers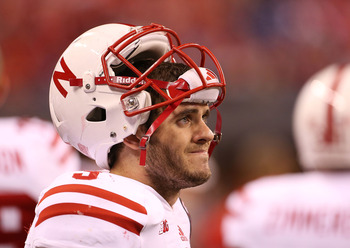 Leon Halip/Getty Images
Nebraska, what happened? After beating Wisconsin in the regular-season match by three points, the 'Huskers decided that they would lose 70-31 to the Badgers in the game that really mattered. The 'Huskers got mauled by Montee Ball to the tune of 21 points off 202 yards.
Nebraska has got a problem this postseason: Georgia has a better overall offense than Wisconsin...a lot better offense.
Nebraska will have serious trouble with Georgia and will allow the Bulldogs to score 49 points in the Capital One Bowl. (Something even South Carolina could not accomplish in 2011 with Alshon Jeffery on the field.)
N.C. State Wolfpack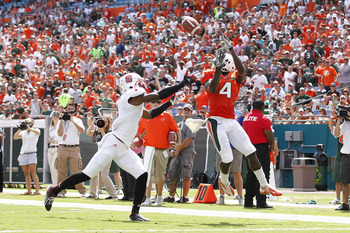 Joel Auerbach/Getty Images
N.C. State has a major identity issue this season. The Wolfpack are better than Florida State, but they are worse than Virginia. The list of comparisons goes on, but that is the biggest high-low combo on the schedule this season.
Now, N.C. State will be traveling to Nashville to take on Vanderbilt in its own back yard. Against all odds, N.C. State will take this thing into overtime knotted at 27 points apiece. (After that, it will be up to N.C. State to find a way to shut down Zac Stacy to secure victory.)
Navy Midshipmen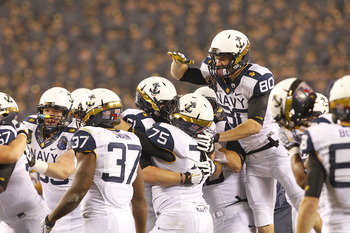 Hunter Martin/Getty Images
Navy had a decent year, and capping it off with a victory over Army was a nice touch. Navy looked like it wasn't going to gain bowl eligibility after being torn apart 50-10 by Notre Dame in the season opener, but nobody knew that Notre Dame was going to be No. 1 at the end of the season. Navy rolled to an 8-4 record in 2012 and will face Arizona State in the Kraft Fight Hunger Bowl as a result.
Navy has three running backs with more than 600 yards each this season, and that prowess will be on display against the Sun Devils in December. Navy will have two 100-yard rushers in the Fight Hunger Bowl on Dec. 29.
Mississippi State Bulldogs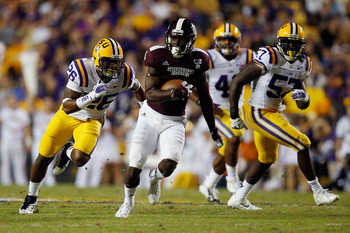 Chris Graythen/Getty Images
Mississippi State got off to a roaring 7-0 start before encountering three ranked opponents in as many weeks. The Bulldogs recouped against Arkansas for their eighth win and earned the SEC's berth in the Gator Bowl opposite the Northwestern Wildcats.
Mississippi State's defense deserves a lot of credit for that 8-4 finish, and the defense will be on display in the bowl as well. Johnthan Banks and Darius Slay will pick off the Northwestern signal-caller a total of two times in this outing. Northwestern had better get its running game going (as predicted earlier in the show), or this game is going to get ugly in a hurry.
Minnesota Golden Gophers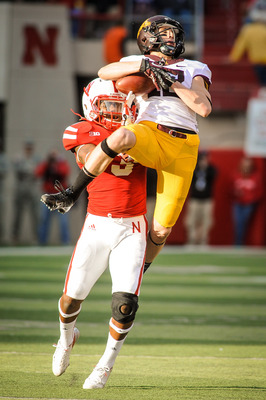 Eric Francis/Getty Images
It's difficult to say whether the Big Ten teams that made the postseason were better than they usually are, or if it is a result of the top teams' rebuilding status. The bottom line is that Minnesota looked pretty good this season and earned a trip to the Meineke Car Care Bowl of Texas off a 6-6 finish.
Minnesota isn't the strongest team in the nation, but it certainly has the ability to beat Texas Tech. (Especially if Texas Tech decides to lay an egg.)
Minnesota will get off to a quick start against the Red Raiders and be leading at halftime. It will be up to the Gophers to keep that lead through the second half to pull off the win.
Michigan State Spartans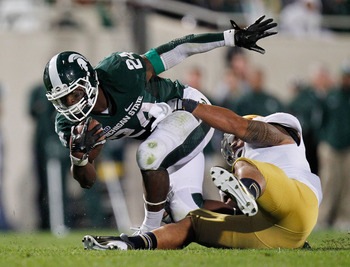 Gregory Shamus/Getty Images
Michigan State drew one of the better opponents for the Big Ten postseason in TCU. TCU isn't exactly an easy win, of course, but it is certainly more beatable than a Georgia. While it will be a difficult game to win for the Spartans, they did take down Boise State and Wisconsin earlier this season.
Michigan State's Le'Veon Bell will be the headliner for this game, and a great performance from him will be an absolute necessity for a shot at the victory.
Bell will rush for a season-high 275 yards against the TCU defense, and that is no small feat.
Michigan Wolverines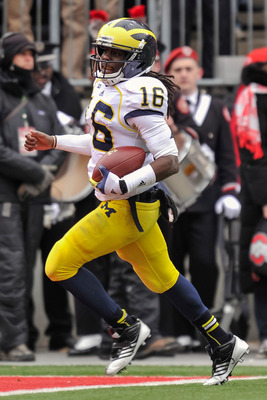 Jamie Sabau/Getty Images
Michigan provided the nation with an exceptionally interesting game in Week 1. (Exceptional because it was one of the only games without the "Chick-fil-A" sponsorship that was actually worth watching.) Though the Wolverines lost to Alabama that day, they also have a shot at redemption against the South Carolina Gamecocks.
Michigan finally figured out that Denard Robinson is a running back, and the Wolverines have used him successfully toward the end of the season. There's one thing that South Carolina may not be ready for in January: Michigan after a month of preparation with Robinson at running back.
Nobody in the country has seen what Michigan is capable of under those circumstances yet, and a Gamecock win is far from a certainty. Robinson will rush South Carolina for 100 yards. That may not sound very bold, but South Carolina has only allowed two people to hit it up for the century mark. (Jeremy Hill of LSU and Eric Breitenstein of Wofford.)
LSU Tigers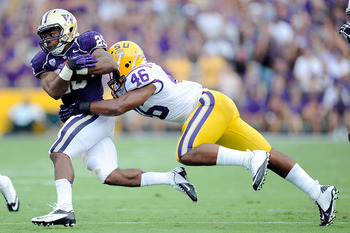 Stacy Revere/Getty Images
LSU drew Clemson as its opponent in the Chick-fil-A Bowl this season. As prolific as Clemson's offense is, it is not yet ready for the likes of LSU. LSU will dominate Clemson from start to finish with its defense, and Clemson will have more than just a little trouble with LSU's rushing attack.
While LSU is a mere four-point favorite over the Clemson Tigers, that spread will be covered by halftime. LSU will win this one by 14 points or better.
Louisville Cardinals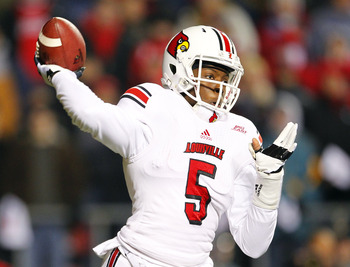 Rich Schultz/Getty Images
Louisville might be the biggest loser when it comes to the Northern Illinois situation. The Big East champion was likely to be placed in the Orange Bowl opposite the Florida State Seminoles before the Huskies sneaked into the spot.
In the meantime, NIU's presence in the BCS moved Louisville up a spot to face the Florida Gators in the Sugar Bowl. Only one team has beaten Florida all season, and that was Georgia. Louisville is not Georgia.
The good news is that Florida had a little bit of trouble containing Florida State's offense. Louisville might be able to learn something from that game tape. Louisville will not score more than nine points against the Florida Gators.
Louisiana-Monroe Warhawks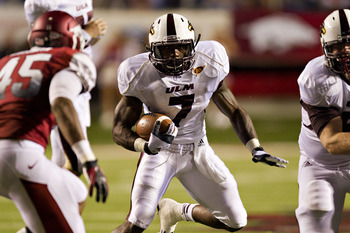 Wesley Hitt/Getty Images
Louisiana-Monroe already got its biggest win in school history by taking down then-No. 8 Arkansas. Granted, nobody knew how bad the Razorbacks would be until the Warhawks beat them, but that doesn't take away from the fact that the 'Hawks beat last year's Cotton Bowl winner.
Louisiana-Monroe faces Tyler Tettleton and the Ohio Bobcats in the Independence Bowl on Dec. 28. The Warhawks are comparable to all the teams that have beaten the Bobcats this season. The victory will depend on how much pressure the Warhawks can get on Tettleton.
ULM will find its way into the backfield frequently, and Tettleton will get sacked no fewer than four times.
Louisiana-Lafayette Ragin' Cajuns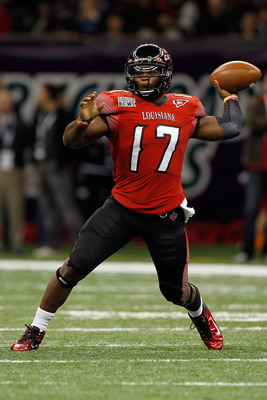 Chris Graythen/Getty Images
The Ragin' Cajuns are back in the postseason again in 2012, and they are right back in the same bowl as they made in 2011. This time, the Cajuns will be battling the East Carolina Pirates, a strong team from Conference USA.
Sixty minutes will not be enough to determine which of these teams is better. The rushing attacks will create a lot of drama that will not end until overtime.
Kent State Golden Flashes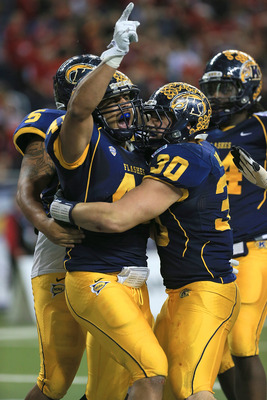 Dave Reginek/Getty Images
Kent State lost the MAC championship to Northern Illinois and landed in the GoDaddy.com Bowl against Arkansas State as a result. Kent State is a great team in the Mid-American Conference, and Arkansas State is the Sun Belt champion.
Despite the fact that Kent State is the underdog in this match, the Golden Flashes will not be denied. Kent State pulls off the upset via Dri Archer to earn a 12-win season in 2012.
Kansas State Wildcats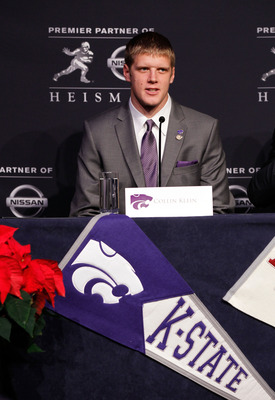 Mike Stobe/Getty Images
Kansas State is one of the coolest stories of the 2012 season. West Virginia was considered a major contender for the Big 12 title, and Oklahoma was the preseason favorite for the conference title. Kansas State was barely mentioned until it took down West Virginia 55-14.
Kansas State has the ability to shut down a potent offense, but it has only shown that ability on occasion this season. As mentioned earlier, Oregon is going to light up the scoreboard against the Wildcats. Can Kansas State keep up with the Ducks?
All it would take is a performance like it had against Texas Tech. Kansas State becomes the second team this season to take Oregon to overtime, but not because of defense this time around.
Iowa State Cyclones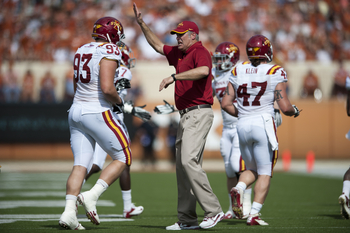 Cooper Neill/Getty Images
Iowa State, the next-to-last team in the Big 12 will take on the C-USA champion Tulsa in the Liberty Bowl on Dec. 31. This game currently has no betting line, and it is completely dependent upon which team shows up to play the hardest.
Iowa State won the season-opening match by 15 points, but that was mostly due to turnovers. As mentioned in the Tulsa slide, the Golden Hurricane will have only one turnover this game.
Iowa State loses the rematch in the Liberty Bowl by a field goal.
Georgia Tech Yellow Jackets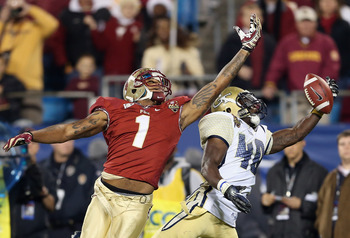 Streeter Lecka/Getty Images
Georgia Tech unluckily landed opposite the USC Trojans this postseason. The Trojans are currently a 10-point favorite in the game, but anything could happen. We have already established that Matt Barkley will have a career day against the Yellow Jackets, and it is now Tech's turn to have a prediction.
Georgia Tech will have two 100-yard rushers against USC, and the Yellow Jackets will be leading at halftime.
Georgia Bulldogs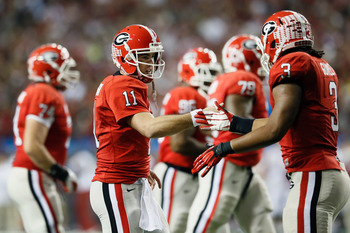 Kevin C. Cox/Getty Images
Regardless of how you feel about Georgia not being ranked ahead of Florida after coming just a few feet away from playing in the national championship, the Bulldogs do get to give us a great power match against the Nebraska Cornhuskers.
Georgia's Jarvis Jones will be a major factor in the game by pulling down one interception and raking in two sacks against Taylor Martinez.
Fresno State Bulldogs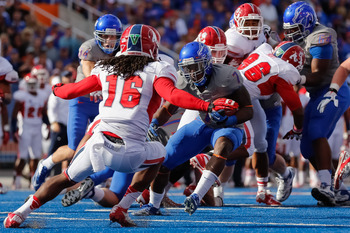 Otto Kitsinger III/Getty Images
Fresno State is a great matchup for SMU. If SMU can keep its turnovers under control, this game could be competitive well into the fourth quarter.
To that end, Derek Carr will pick the SMU defense apart and cross the 4,000-yard mark against them. (That mark will be met with 258 more passing yards.) In the process, he will throw three touchdown strikes to zero interceptions.
Florida State Seminoles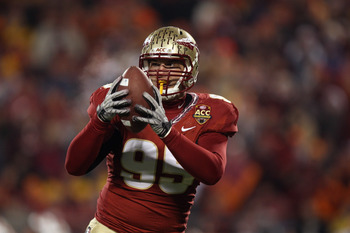 Streeter Lecka/Getty Images
Florida State has one job to do in the Orange Bowl: Stop Jordan Lynch. Sure, there are other players on the other side of the ball, but if you can stop Lynch, it is all downhill from there.
That's where FSU's sack-master will come into play. Bjoern Werner will sack Jordan Lynch four times in the second half after Lynch has tagged them for 400-plus yards of offense. That will give the Seminoles full control of the game after halftime.
Florida Gators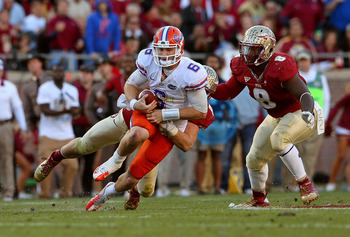 Mike Ehrmann/Getty Images
No. 3 Florida vs. No. 21 Louisville. This is the largest ranking gap in the BCS picture this season. Florida has held its own with (or beaten) four of the SEC teams that are currently in the BCS top 10. This is going to get ugly for Teddy Bridgewater and the Louisville Cardinals.
Florida will have backups in by the third quarter, and the 48 points that Florida puts up will start the announcers talking about Tebow and the 2009 Cincinnati situation.
East Carolina Pirates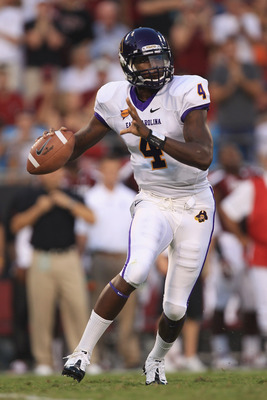 Streeter Lecka/Getty Images
Earlier, we called this game going into overtime as a result of both teams having success in the running game.
After it goes into overtime tied at 31, ECU will seal the deal by scoring first in overtime and holding the Louisiana-Lafayette Ragin' Cajuns to nothing on their following possession.
Duke Blue Devils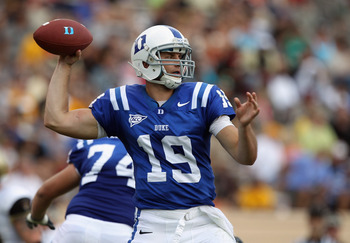 Streeter Lecka/Getty Images
Duke hit cruise control after hitting the six-win bowl-eligible mark. The next four games looked like Duke was simply waiting for the bowl game to win again. Fortunately for Duke, that opportunity is coming soon.
Unfortunately for Duke, it has been selected for the Belk Bowl against the Cincinnati Bearcats. Duke will have to play some serious football to stop a wounded Cincinnati team from taking it down in its home state.
Duke's Sean Renfree will play like a man possessed (by a blue devil), and he will throw zero interceptions on the way to a thrilling overtime finish. Duke's coaches will be tested in overtime against a good Bearcats squad, and the play-calling in extra time will decide the game.
Clemson Tigers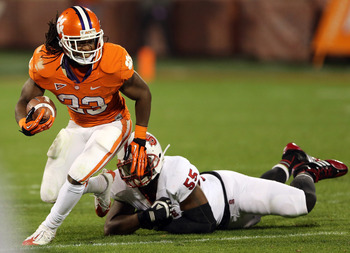 Streeter Lecka/Getty Images
While the title of the bowl is slightly less prestigious than "The Orange Bowl," Clemson has to be thrilled with the fact that it gets LSU as an opponent in the Chick-fil-A Bowl.
LSU is a formidable opponent with a stout defense and a growing offense. Clemson will get backed into a corner late in the game, and Tajh Boyd will throw two fourth-quarter interceptions that will ice the game for the LSU Tigers.
Cincinnati Bearcats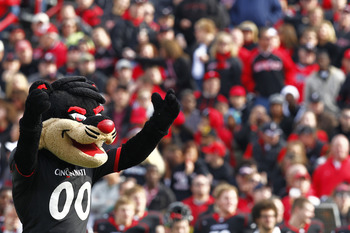 Tyler Barrick/Getty Images
Cincinnati will face the Duke Blue Devils from slide 58 in the Belk Bowl. Brendon Kay will have to bring back the spirit of himself from back when the Bearcats took on the Pittsburgh Panthers.
Cincinnati should win this game, but the statistical analysis doesn't cover the fact that Renfree and the Devils have been looking forward to this game since Week 8. Kay will throw for 250 yards and no interceptions, but he won't find his rhythm until late in the third quarter. (That's how the game gets into overtime.)
Central Michigan Chippewas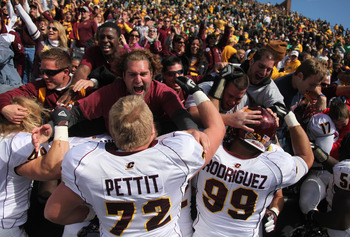 Matthew Holst/Getty Images
Central Michigan (6-6) will face the Western Kentucky Hilltoppers (7-5) in the Little Caesars Bowl. Central Michigan has beaten almost no one of import through this season but beat six teams to gain entrance to the postseason.
Central Michigan will have a lot of trouble with Western Kentucky and manage to put up only 17 points in the match.
BYU Cougars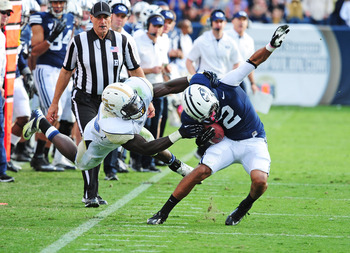 Scott Cunningham/Getty Images
BYU's defense was severely underrated heading into the Georgia Tech game, and the Cougars took the Yellow Jackets to the woodshed for 60 minutes. (BYU won 41-17 against Tech.)
After almost a month of practice, BYU's offense will hang 35 points on the San Diego State defense for the Poinsettia Bowl victory.
Bowling Green Falcons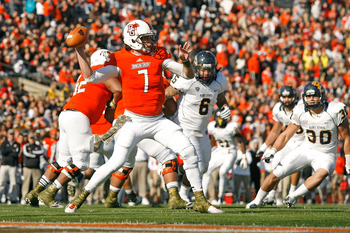 Kirk Irwin/Getty Images
Bowling Green was scoreless against Virginia Tech earlier in the year, and San Jose State had almost beaten Stanford less than a month prior to that game.
Bowling Green's record looks quite similar to San Jose State's, but that's where the similarities end. Anthon Samuel will break out of his current two-game scoring slump and put three touchdowns up for the Falcons, though. That might be enough to motivate Bowling Green to upset the Spartans.
Boise State Broncos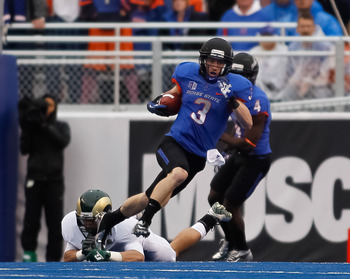 Otto Kitsinger III/Getty Images
Boise State got shafted last season by being left out of the BCS picture. This season, as Boise State was rebuilding, the Broncos did not do well enough to gain consideration. A 10-win season is nothing to sneeze at, but neither are the Washington Huskies.
Washington proved throughout the season that it's vulnerable to a passing attack, and Boise State's Joe Southwick has proven himself to be a viable passer. Southwick will toss for 250 yards, three touchdowns and only one interception in the match against Washington to score the win in the Las Vegas Bowl.
Baylor Bears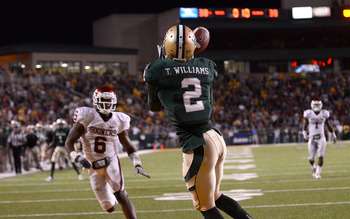 Sarah Glenn/Getty Images
Baylor took down the mighty Kansas State Wildcats just a few weeks ago and followed that up with wins over Texas Tech and Oklahoma State. Baylor is set and ready to go for the bowl game against UCLA.
Nick Florence and Terrance Williams will connect for 150 yards and two touchdowns, and Lache Seastrunk will tack on 200 more yards on the ground with two more scores in the win over the Bruins on Dec. 27.
Ball State Cardinals
Joe Robbins/Getty Images
Ball State has the nation's 103rd-ranked scoring defense, and UCF has the nation's ninth-ranked scoring defense. That is a lopsided match, no matter the conference affiliations involved.
Both teams have a bad habit of losing close games, and it will be interesting to see what happens if the game gets close. Will they compete to see who can drop the game the hardest, or will it be an actual competition where we get to see a lot of good football while the score is close?
Ball State will do its best to win, of course, as will every team in the postseason. Jahwan Edwards, the Cardinals' tailback, will rush for 200 yards for only the second time this season and will score three touchdowns to help Ball State pull off the upset.
Arkansas State Red Wolves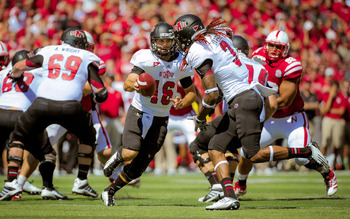 Eric Francis/Getty Images
Hugh Freeze took Arkansas State to new heights, and the team has not forgotten how to win even though he left for Ole Miss.
Arkansas State finds itself in a nine-win situation entering the GoDaddy.com Bowl. Double-digit wins in back-to-back seasons are possible for the Red Wolves.
Ryan Aplin will throw two interceptions in one game for the first time this season, and those turnovers will be the cause of Arkansas State's loss to the Golden Flashes.
Arizona State Sun Devils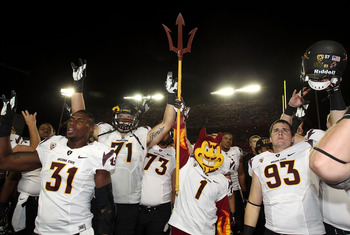 Christian Petersen/Getty Images
Arizona State will have some trouble with Navy's ground game in the first half but will recover nicely in the second half.
Chris Coyle will be the key to the outcome of the game, and he will haul in 10 passes for 150 yards and two scores in the Sun Devils' performance against the Midshipmen.
Arizona Wildcats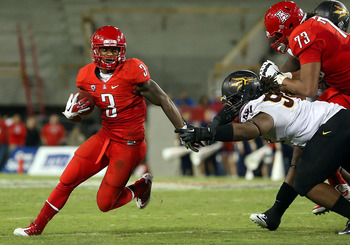 Christian Petersen/Getty Images
Arizona is a huge favorite (10 points) over the Nevada Wolf Pack in the New Mexico Bowl. Though Nevada's tailback will gouge Arizona for plenty of yards and points, Arizona will buckle down and do what it needs to do to win.
Ka'Deem Carey will outperform Nevada's Stefphon Jefferson at every turn. Carey will lead the offense with 250 yards and three scores on the ground. Arizona will get a 14-point victory in the process.
Alabama Crimson Tide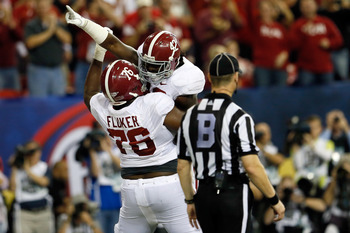 Kevin C. Cox/Getty Images
Alabama faces the undefeated Notre Dame Fighting Irish in the national championship game on Jan. 7. The Tide have faced many solid opponents, and Notre Dame has done the same.
Notre Dame hasn't faced an offense as variously talented as this one, though, and there will be three Alabama players with two touchdowns apiece at the end of this game:
1) Eddie Lacy
2) T.J. Yeldon
3) Amari Cooper
These three kids will account for 14 points a piece in the national title game, and Alabama will come away with a second straight crystal football.
Air Force Falcons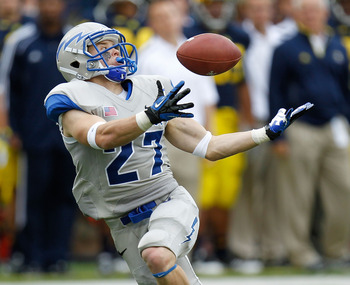 Gregory Shamus/Getty Images
Though Air Force is currently only a one-point favorite over the Rice Owls, the final score will be much more lopsided than that. Rice is going to allow Air Force to run all over it, and the Owls will be out of the game midway through the third quarter.
Air Force will rush for a season-high 500 yards against Rice.
Keep Reading