SEC Football: 5 Assistant Coaches Who Will Be Head Coaches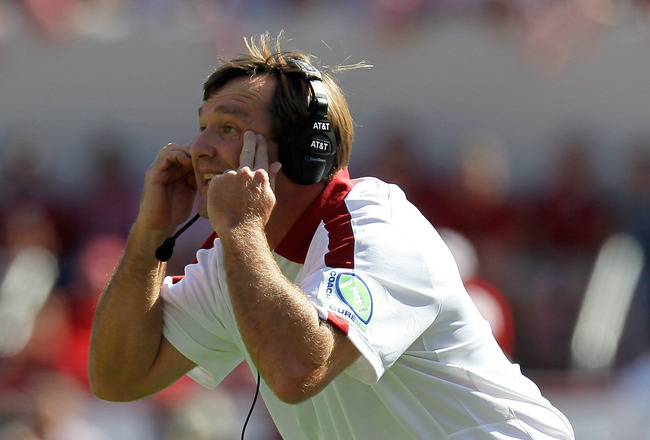 Kevin C. Cox/Getty Images
While head coaching positions continue to open across the country, athletic directors and school presidents are on the lookout for the next great head coach in college football.
As these schools with openings conduct their searches, many will look to find a candidate in the ranks of the SEC, a conference that has won the last six BCS National Championships.
Though it will be nearly impossible to pull a head coach of an SEC school away from his current position, there are a number of qualified assistants throughout the conference.
Here are five SEC assistant coaches who will soon be leading their own programs.
Mike Bobo: Offensive Coordinator, University of Georgia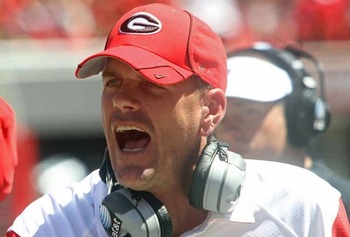 According to Chip Towers of The Atlanta Journal-Constitution, Mike Bobo is earning some consideration for head coaching positions around the country. If you have been watching the Georgia offense over the past few seasons, you can understand why.
Bobo, a former UGA quarterback, had been on Mark Richt's staff since 2001, but was promoted to the position of offensive coordinator in 2007. During his time as OC, he has helped turn Georgia into one of the most prolific scoring offenses in the country.
This season, Bobo has been responsible for an offense that averaged over 37 points per game and he's been credited with the development of Aaron Murray, Georgia's quarterback, who is ranked No. 2 in the nation in passing efficiency.
In addition to Murray, Bobo was also a key part in the development of Matthew Stafford and D.J. Shockley, who both had outstanding careers at Georgia before moving on to the NFL
After being named a finalist for the 2012 Frank Broyles Award, it's apparent that people are taking notice of Mike Bobo's accomplishments in Athens. Now, it's simply a matter of time before a school gives him the opportunity to lead his own program.
Kirby Smart: Defensive Coordinator, Alabama Crimson Tide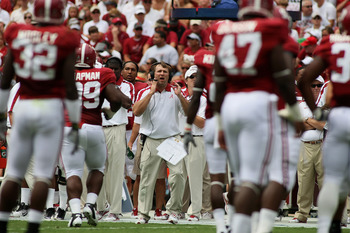 Greg McWilliams/Getty Images
It seems like anytime there is an opening for a head coach at a major program, Kirby Smart's name pops up. In the past month, Smart was considered to be one of the leading candidates for the head coaching position at Auburn and interviewed for the position before the Tigers ultimately hired Gus Malzahn.
Things like that happen when you are the coordinator of a defense that has been one of the most dominant in college football over the past five years.
Is there an assistant coach in the country who has been more successful over that time frame than Kirby Smart?
During his five seasons as defensive coordinator under Nick Saban, Smart has won two BCS Championships (Alabama will play for a third on January 7), received the Frank Broyles Award as the nation's top assistant coach in 2009 and has helped create a defensive unit that regularly leads the nation in scoring defense.
Smart has also proven his value in being one of the best recruiters in the SEC and his personal ties to the state of Georgia give the Crimson Tide a great opportunity to recruit the Atlanta area.
His success at Alabama also allows him the opportunity to wait for the perfect head coaching position to open before he leaves Nick Saban's program. Once there is an opening he's interested in, he won't have any trouble getting an interview.
Kliff Kingsbury: Offensive Coordinator, Texas A&M Aggies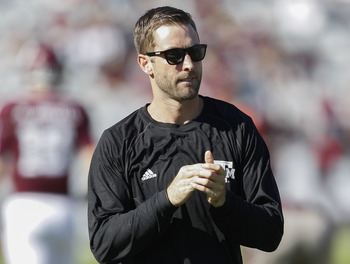 Bob Levey/Getty Images
Climb aboard the Kliff Kingsbury bandwagon while there is still room. The former Texas Tech quarterback is a rising star among the coaching profession and will find a head coaching position in the near future.
Although he is only 33, Kingsbury already has the distinction of coaching a Heisman Trophy winner (Johnny Manziel) and being named a finalist for the 2012 Frank Broyles Award.
Kingsbury's experience coaching under Dana Holgersen and Kevin Sumlin has helped him create one of the most exciting offenses in the country. His "Air Raid" spread offense helped lead the Aggies to a 10-2 record in their first season in the SEC.
After Tommy Tuberville's announcement that he'd be leaving Texas Tech to become the new head coach at Cincinnati, Kingsbury's name is already surfacing as a potential candidate for the opening at his alma mater.
Dan Quinn: Defensive Coordinator, Florida Gators
Al Messerschmidt/Getty Images
With his NFL experience and the results he has already produced at Florida, Dan Quinn has quickly become one of the top assistant coaches in the country.
Quinn is only in his second year as defensive coordinator of Will Muschamp's team, but he's helped create a defense that has ranked in the Top 10 of most major statistical categories during both of his seasons.
Prior to arriving in Gainesville, Quinn spent 10 seasons in the NFL. His ability to work with college players to help them develop for the next level will also serve as a valuable resource in recruiting.
After being named as a finalist for the 2012 Frank Broyles Award, it's clear Quinn has earned the respect for what he's helping to build at Florida.
Soon, he will have the opportunity to build his own program.
Lorenzo Ward: Defensive Coordinator, South Carolina Gamecocks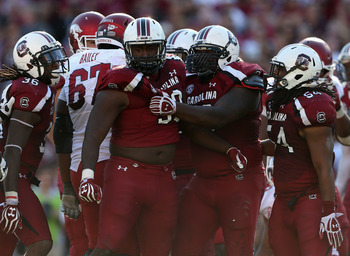 Streeter Lecka/Getty Images
When Ellis Johnson left South Carolina last year to become the new head coach at Southern Mississippi, many expected the Gamecocks defense to take a step back. Instead, Steve Spurrier promoted Lorenzo Ward and he has helped lead the defense to another level.
In his first year as a defensive coordinator in the SEC, Ward helped lead the Gamecocks to a 10-2 record behind one of the best defensive units in the country.
His defense was built around explosive playmakers and athletes who could overwhelm their opponents.
Next year, South Carolina is expected to again have one of the best defenses in the nation, led by All-American Jadeveon Clowney.
Ward might not currently be a big name in coaching circles, but expect his stock to continue to rise.
Keep Reading