College Football: Top Five Bowl Games to Watch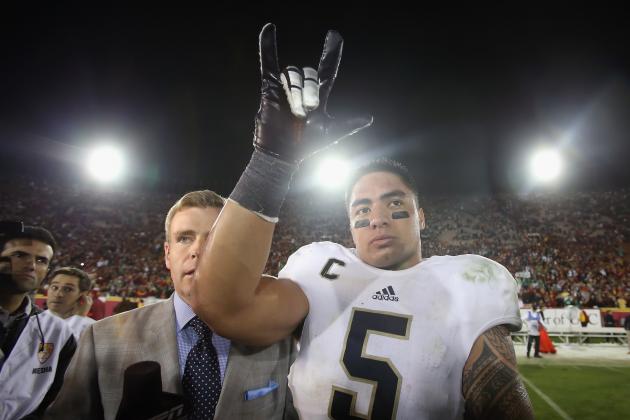 Jeff Gross/Getty Images

As much as I may despise the BCS and its current bowl system, I'll probably be one of the suckers to stick around and watch a good majority of these bowl games this year.
The college football world was shocked when the BCS match ups were announced on Sunday night, most notably with the team that will be facing Florida State in the Orange Bowl, but don't lie: You'll probably want to see if that team from the MAC will take down the almighty Seminoles.
But the intriguing battle of Northern Illinois and Florida State, obviously, isn't the only game to look out for while fans somehow digest 35 bowl games within two and a half weeks. But there are actually some decent games to look out for as the time ticks down until the new college football playoff system that I still don't understand.
Right now, let's take a look at the five bowl games to watch while you celebrate the holidays, and possibly scratch your head on the absurd number of sponsors that are with these bowl games.
Enjoy. Or at least try to.
Begin Slideshow

»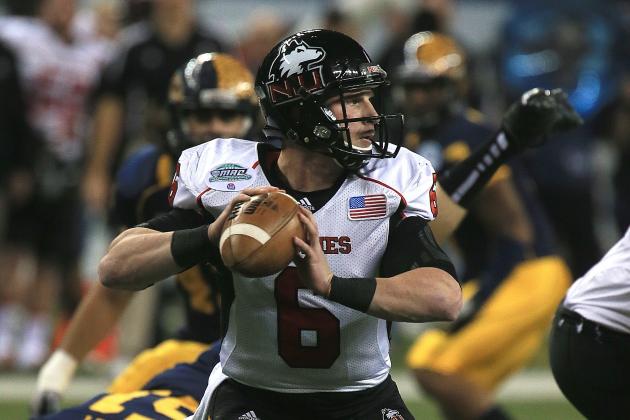 Dave Reginek/Getty Images

If you haven't been following the MAC this year with all the excitement that's been going on, all you need to do is go on Twitter and search for #MACtion.
Say what you will about whether Northern Illinois deserves to be in a BCS game or not, and say what you will about the body of work, or lack thereof, that the Huskies had this year.
But ponder for a brief moment: If it weren't for a one-point loss to Iowa on opening day, this team would be 13-0. Let the arguments about whether or not the one-loss Boise State teams deserved to be in a major game for all these years begin.
The only way that this pick is validated is if Northern Illinois can pull off the upset against an uninspired, yet still talented, Florida State team, who comes in after winning by only six to a Georgia Tech team in the ACC Championship that got in by default.
What makes this matchup so significant isn't just the game itself, but the battle at the quarterback position.
It'll be the senior EJ Manuel from Florida State, going against a relative unknown, but talented passer in his own right, Jordan Lynch from Northern Illinois, who threw only five interceptions this year.
Whichever quarterback can make the least amount of mistakes will decide this exciting matchup, and perhaps gives a proper sendoff to the BCS as we know it.
That's what makes this game so much fun.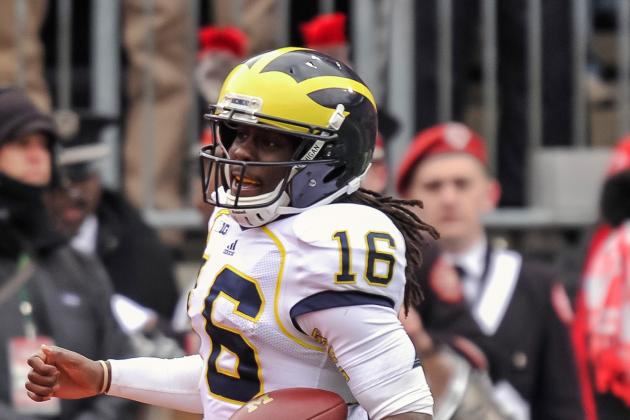 Jamie Sabau/Getty Images

I know what you're thinking: With no Marcus Lattimore for South Carolina, what's the point in watching this?
Truth be told, the Gamecocks have found ways to win even without one of the best running backs in the country running the ball, and any team coached under Steve Spurrier will make the game a good one.
But the key to look out for here is this Michigan team that took too long to find its identity. Denard Robinson is playing almost every position except for kicker or punter. In his place at quarterback, Devin Gardner has shown flashes for Brady Hoke's Wolverines.
This game is a classic case of athleticism vs. athleticism, with Michigan's high-powered offense against the athletic and fast front seven of South Carolina, and as always, Robinson will be the X-Factor.
It's not the drop-off that the Wolverines were looking for after winning the Sugar Bowl last season, but the blue and gold couldn't have had a better draw to close out the season than another shot against an SEC team.
This could also go a long way in determining Shoelace's draft stock.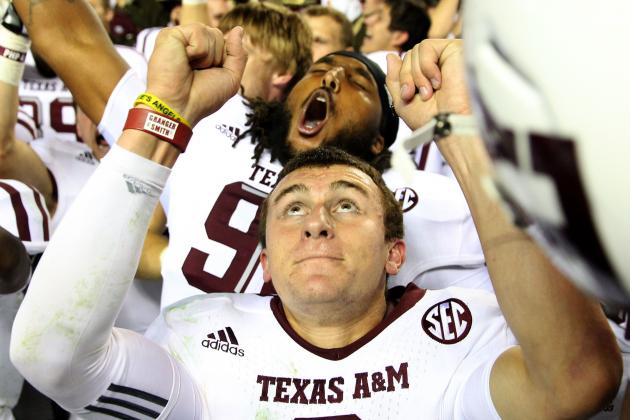 Mike Zarrilli/Getty Images

An appearance in the Cotton Bowl against a former conference rival is a good way to cap off a quarterback's freshman season.
But as we've already established, Johnny Manziel isn't an ordinary quarterback.
The Heisman Trophy finalist could become the very first freshman ever to win the most illustrious award in college football, and Johnny Football can cap off the historic season if Texas A&M takes down Oklahoma in the Cotton Bowl.
The argument can be made that one of these two teams deserve to take the spot that Northern Illinois currently possesses, but since I'm one of the many who call the Cotton Bowl the other BCS game, I'm not complaining.
How big of a statement would it be by the Aggies to take down one of the top dogs in a conference that they left this year? It could very well happen.
Oklahoma's defense has not lived up to Bob Stoops' expectations, and since the tough loss to LSU, Texas A&M has averaged just a shade over 47 points per game. You think that kind of defense can contain the only 3,000-yard passer and 1,000-yard rushing freshman quarterback ever?
Exactly. Just imagine when he gets older and plays for National Championships.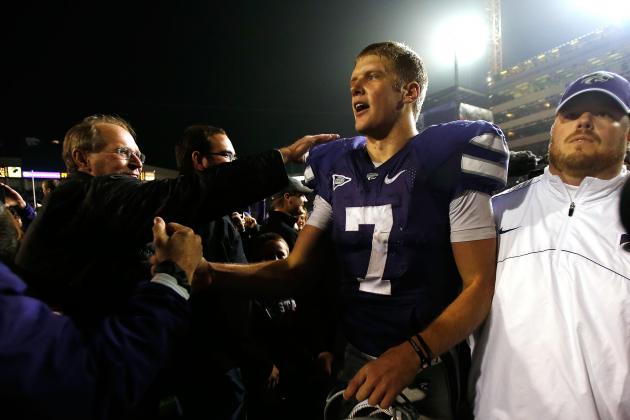 Jamie Squire/Getty Images

I suppose there's no other way to settle which one of these two teams is the better one.
Both Kansas State and Oregon went down in the same week, dashing any National Championship hopes and preventing one of them to face Notre Dame in Miami.
Who's not going to love this game? It's Collin Klein vs. Oregon's tough defense, and the Wildcats' offense, who just gave up a ton of yards and points to Baylor a couple weeks ago, is going against Chip Kelly's dynamic speed offense of the Ducks.
Klein is still very well alive in the Heisman race, but his chances took a huge hit in the loss to Baylor. Now, the senior quarterback has a chance to impress scouts a great deal. Scouts call him the next Tim Tebow, but a better passer.
If he can lead K-State to a win over Oregon and that defense, what is to say about where he ranks among a limited quarterback class in the 2013 draft?
Most of these games will determine draft stock, and Klein will have the spotlight under him. I haven't seen much of him, but I'll be seeing what he does against Oregon.
Was there any doubt as to what would be the top game to watch?
There are storylines aplenty going into this classic clash between the Fighting Irish and the Crimson Tide.
It's the inspirational play of Manti Te'o and Notre Dame going against the reigning National Champions, led by the almighty Nick Saban-coached defense.
You have a freshman quarterback with the opportunity to etch his name into the lore of Notre Dame history, if he can defeat Alabama.
Then there's the Crimson Tide, who can look to officially seal their spot into college football immortality by winning three National Championships in four seasons.
Brian Kelly has done a terrific job, coming from a program in Cincinnati that was all about offense, to turning Notre Dame into a program that is relied on toughness rather than finesse.
Saban also has a chance to do what not many coaches have done in college football: win four National Championships, especially with all four coming in the SEC.
Again, is there any doubt?