SEC Football: Grading Each Coaching Staff's Performance in 2012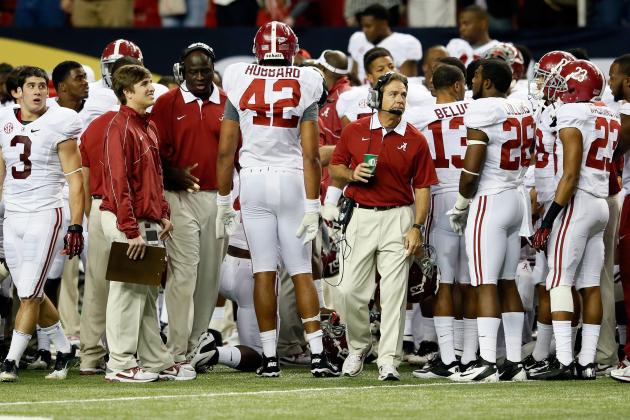 Kevin C. Cox/Getty Images

If you didn't already know, the SEC is very productive when it comes to college football. The conference has a team in the BCS National Championship Game for the seventh straight time and nine of the 14 teams became bowl eligible this season.
The college football regular season has recently come to an end, but just because the season is over doesn't mean we act like it never happened.
It is now time to turn to begin handing out awards to the coaching staffs. While the players receive majority of the attention on the field, it is the coaches that make everything work in the end. All of the talent doesn't necessarily mean you are going to win a lot of games. A few teams in this conference actually learned that the hard way.
Let's now take a look at the best coaching staffs in the SEC and see who was able to produce on the sidelines this year.
Begin Slideshow

»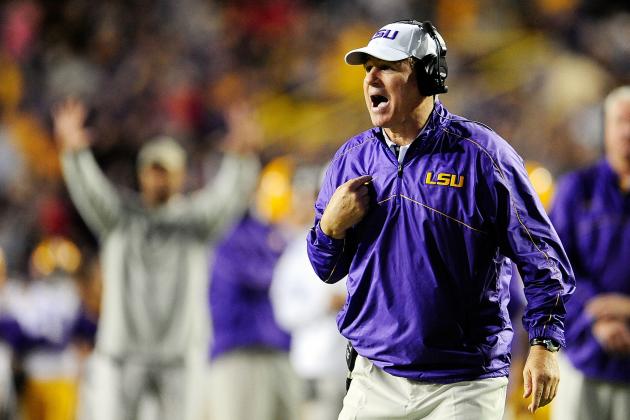 Stacy Revere/Getty Images

6. Vanderbilt: Two seasons under head coach James Franklin and his team reaches a bowl game once again. The Commodores finished the regular season with eight wins, which is the most since 1982. Who would have thought? Grade: B-

7. LSU: The Tigers fell just short of a BCS bowl game, but this team was supposed to be more talented than last year's club. Many LSU fans may consider this season a minor disappointment. Grade: B-

8. Ole Miss: Did you expect six victories under Hugh Freeze in his first season? The Rebels were a surprise team this year. Grade: C+
9. Mississippi State: Dan Mullen got off to a fast start with seven straight victories, but then lost four of the last five games. The Bulldogs are still struggling to take that next step in this tough conference. Grade: C

10. Missouri: The Tigers just missed out on a bowl game in their first season in the SEC. Next season should be an improved year now that they got their feet wet. Grade: D+

11. Tennessee: There is a reason head coach Derek Dooley was fired after two years of missing a bowl game. Grade: F

12. Kentucky: Does John Calipari know anything about the game of football? Grade: F

13. Arkansas: It shouldn't matter if it was a first-year head coach. With all of that talent, a 4-8 record for the Razorbacks is a disgrace. Grade: F

14. Auburn: A 3-9 overall record really speaks volumes to how horrible this season was for the Tigers. Grade: F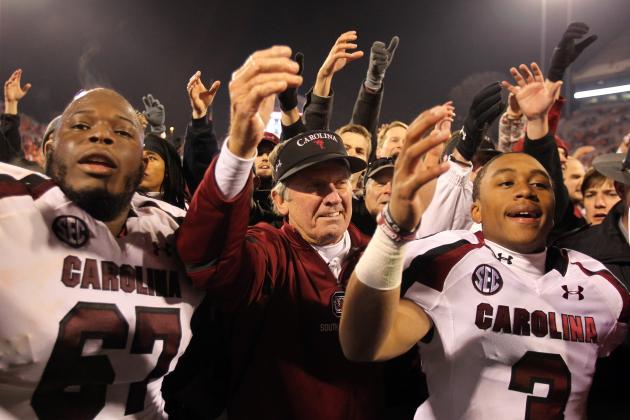 Streeter Lecka/Getty Images

Head coach Steve Spurrier was able to do it again.
The guy who apparently had lost his coaching magic was able to lead the South Carolina Gamecocks to double-digit victories for the second year in a row and first time in school history.
Thanks to defensive coordinator Lorenzo Ward and superb athleticism on defense, South Carolina was ranked fourth in the SEC on that side of the ball. Quarterback coach G.A. Mangus really helped turn Connor Shaw into a solid signal-caller that improved greatly in his second year as a starter.
The team also had to overcome another injury to running back Marcus Lattimore. Running back coach Everette Sands was able to go with a running back by committee that helped produce over 100 yards on the ground in each of the last four games.
With so many terrific coaching staffs in this conference, South Carolina may often get overlooked. However, you can't deny the success the Gamecocks were able to put together this season.
Grade: B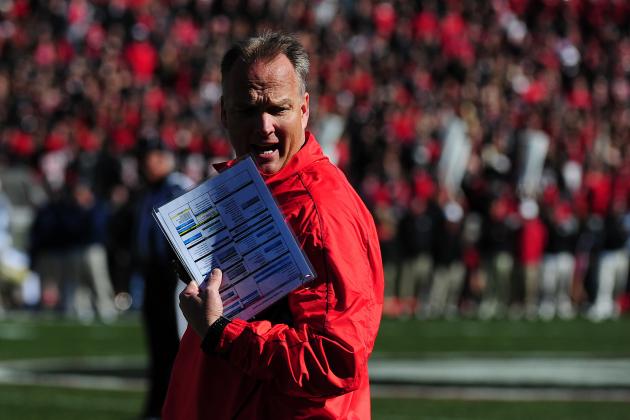 Scott Cunningham/Getty Images

Georgia has been picked on for the lack of quality opponents on its schedule this season, but that does not mean that there haven't been challenges for this coaching staff.
You had the issues with former running back Isaiah Crowell. There were suspensions throughout this defensive unit that forced the staff to get creative on that side of the ball. Then there were a large amount of injuries that took place throughout the season, particularly to key players such as receiver Marlon Brown.
The Bulldogs were still able to win 11 games, which is the most since the 2007 season.
Offensive coordinator Mike Bobo had a scoring-offense that ranked 18th in the country, while defensive coordinator Todd Grantham did the best he could with the players he had on the field.
Overall, for this team to be just one possession away from a national championship appearance is pretty impressive.
Grade: B+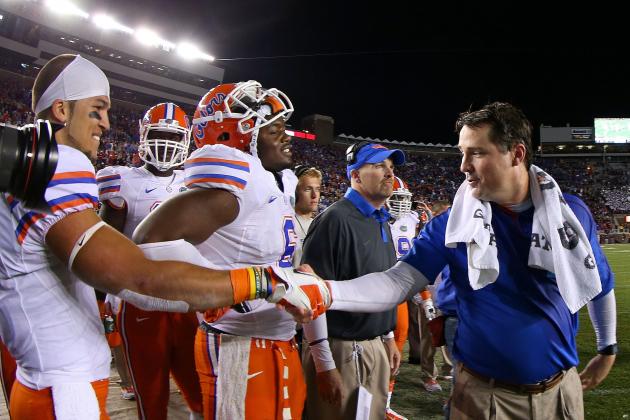 Mike Ehrmann/Getty Images

What makes the Florida Gators staff rank third on this list is the fact that it is a group of coaches that was put together overnight.
Head coach Will Muschamp is only in his second season, as well as defensive coordinator Dan Quinn. As for offensive line coach Tim Davis and offensive coordinator Brent Pease, this is their first season with Florida.
Even with all of the new faces on the staff and many question marks heading into the year, the Gators have reached a BCS bowl and finished the regular season with an 11-1 record.
Muschamp has shown that he may in fact be the right guy for this program, while Davis has turned the offensive line into one of the better units in the country. This has allowed Pease to open up the play calling a bit and help put together a running game that is ranked 35th in the country.
This also doesn't include Quinn and his defense that is sitting pretty at fifth in college football.
There aren't many people out there that had Florida in a BCS bowl this season, and that is why this staff deserves a bunch of credit for this year's success.
Grade: A-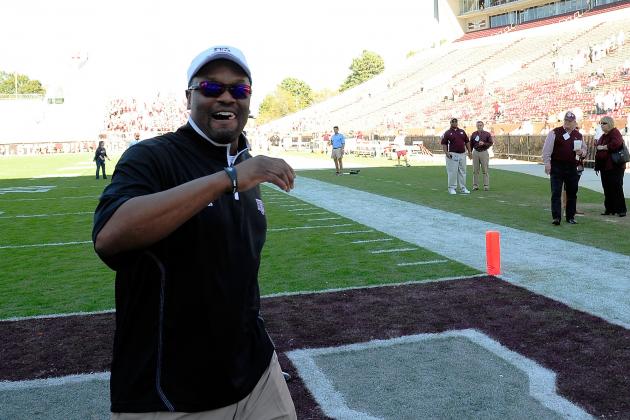 Stacy Revere/Getty Images

If it weren't for an undefeated season and a coach pretty much saving a program from going under, Kevin Sumlin would be my Coach of the Year.
Just be honest, you didn't have the Texas A&M Aggies doing much of anything this season. You laughed when the team switched from the Big 12 and joined the SEC. You fell on the floor laughing when the staff named a freshman quarterback to be this year's starter.
That quarterback is now a Heisman candidate in Johnny Manziel and the Aggies won 10 games in their first year.
Sumlin has shown he can succeed at the big program and now the recruiting is at an all-time high. And once he left Houston, he brought nearly an entire new staff with him that includes first-year coaches at offensive coordinator, defensive coordinator and offensive line.
It is amazing what this team has done in a short amount of time and just shows that another great team is now in the SEC West.
Grade: A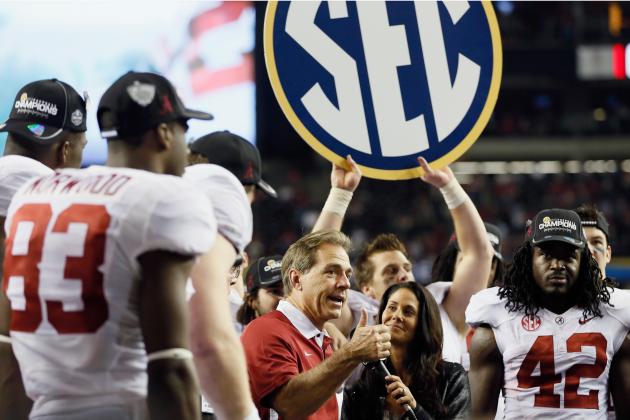 Kevin C. Cox/Getty Images

It is really hard to argue with three national championship appearances in four years. What makes this season that much more special is that the defense lost six starters from a year ago, forcing many to believe that this was going to be a step back.
Instead, the defense is ranked first in scoring, run, pass and total defense in the SEC. The unit may give up a big play every now and then, but Saban and defensive coordinator Kirby Smart have done a terrific job of putting together another top squad.
Offensively, quarterback AJ McCarron has done a better job of managing the offense and making more plays with his arm. Because of the effective play calling of offensive coordinator Doug Nussmeier, Alabama is averaging about four more points a game than last year.
Whether you can't stand the Crimson Tide or can't get enough of the success, you can't deny that the staff that Saban has put together is the best in the SEC. The SEC Championships and national titles really speak for themselves at this point.
Grade: A+