Important Lessons We Learned from the 2012 College Football Season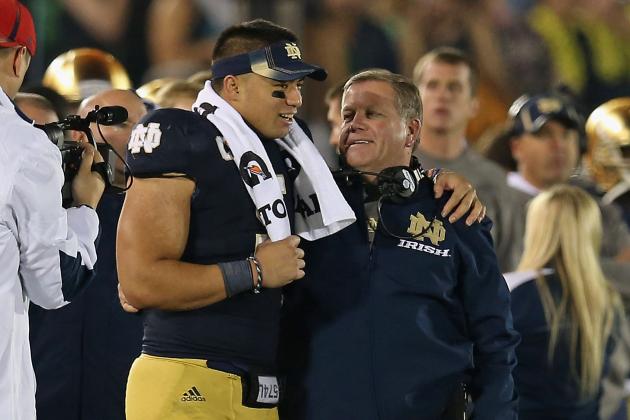 Jonathan Daniel/Getty Images
Manti Te'o and Brian Kelly have turned Notre Dame back into a championship caliber team
The 2012 college football regular season has now officially come to a close.
It was certainly another exciting year filled with plenty of great action, excitement and surprises, and it's one that taught us a lot.
Here's a look at the most important lessons we learned from the 2012 season.
Begin Slideshow

»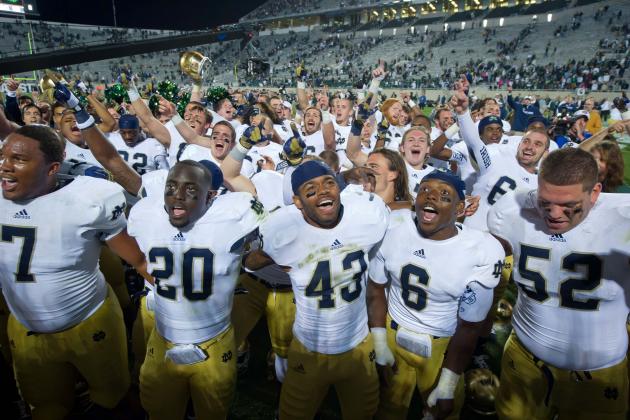 Matt Cashore-US PRESSWIRE

Notre Dame head coach Brian Kelly went into the 2012 season knowing full well there was pressure on him to pile up victories following consecutive mediocre 8-win seasons in both of his first two years at the helm.
The Irish have played one of the most grueling schedules in college football this year, yet they've still managed to ride their suffocating defense to a 12-0 record and a BCS championship game berth.
The critics and naysayers who said Notre Dame was no longer an upper-echelon team have been forced to eat their words this year. The Irish are once again one of college football's premier programs.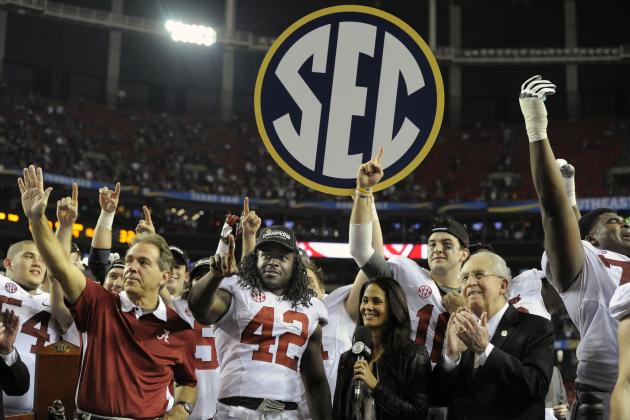 USA TODAY Sports

Alabama lost a bunch of key players from last year's national championship-winning team, including eight players that were selected in the 2012 NFL draft. However, Nick Saban's squad has simply reloaded and once again come out on top of college football's most competitive conference.
The Tide rolled through a 12-1 season this year, beating opponents by an average score of 38-10.
If Alabama beats Notre Dame in the BCS championship game, it will be the team's third national title in the last four years.
Can you say dynasty?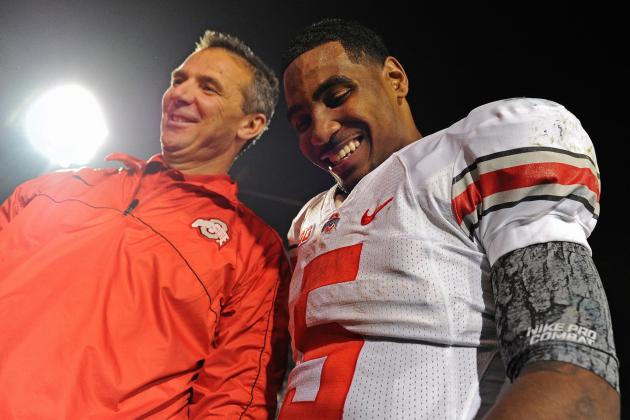 Patrick Smith/Getty Images

Ohio State's disappointing 6-7 campaign last year was one of the worst seasons that the Buckeyes have had in decades. Luckily, though, Urban Meyer was the perfect choice to come in and restore the team back into a national power.
Meyer turned out to be a terrific fit in Columbus. Not only did he turn QB Braxton Miller into a star Heisman candidate, he also guided Ohio State to a perfect 12-0 season in just his first year at the school.
With the way Meyer's been recruiting, it looks like the team has the chance to be a national title contender on an annual basis for as long as Meyer's in charge.
The Buckeyes may not be eligible for the postseason this year, but they'll definitely enter the 2013 season ranked in the top 5 of the national polls, and possibly even No. 1 overall.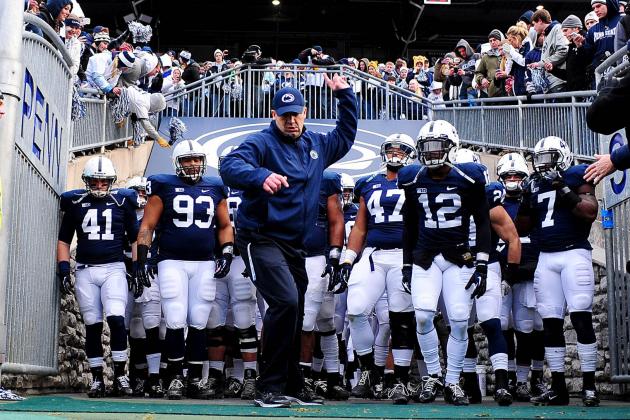 Evan Habeeb-US PRESSWIRE

Bill O'Brien's first season as head coach at Penn State got off to a rocky start. The Nittany Lions lost their first two games of the season to Ohio and Virginia. However, O'Brien's team didn't panic whatsoever.
After an 0-2 start, Penn State won eight of its final 10 games to finish the season with a surprisingly strong 8-4 record.
There certainly weren't many analysts that believed O'Brien could lead the team to a winning season, given all the off-the-field distractions they had to deal with in the offseason. But the rookie head coach did a remarkable job of keeping his players focused. He definitely deserves to be the 2012 National Coach of the Year.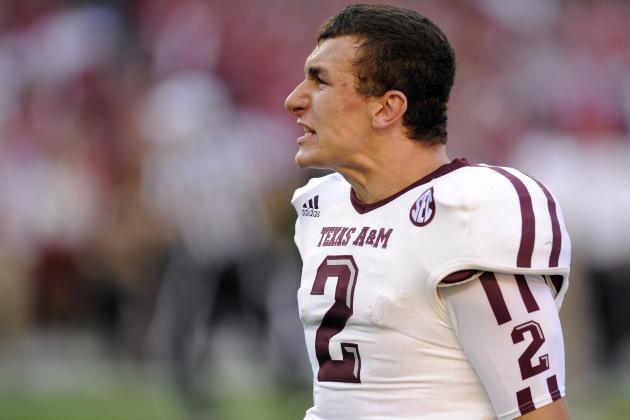 John David Mercer-US PRESSWIRE

No freshman player has ever won the Heisman Trophy. But that will likely change this year. Freshman sensation Johnny Manziel has taken the sport by storm this season, and he's proven that he is the most deserving candidate for college football's most prestigious award.
Manziel has thrown for over 3,400 yards rushed for over 1,100 yards and accounted for 43 total touchdowns during his eye-opening breakout campaign.
The explosive dual-threat quarterback is truly one of the most exciting players in college football.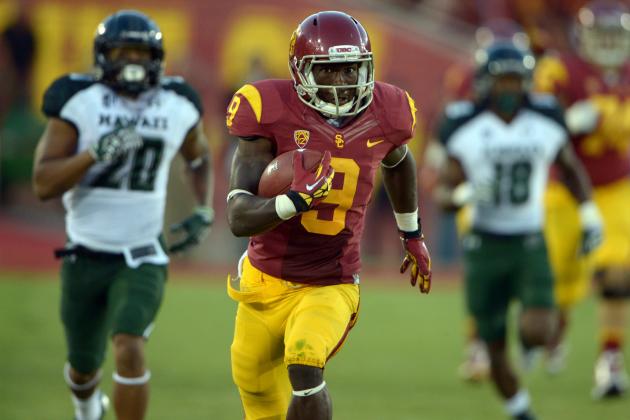 Kirby Lee-US PRESSWIRE

Johnny Manziel may be the top Heisman contender, but he's not the best offensive player in the country.
That title belongs to USC WR Marqise Lee, who has put together a sensational sophomore campaign this season.
Lee finished the regular season as the national leader with 112 catches for 1,680 yards and he hauled in 14 touchdown passes.
QB Matt Barkley may have been the Trojans player who received all the preseason press and publicity. But it was his top receiving target who turned out to be the most worthy of recognition this year.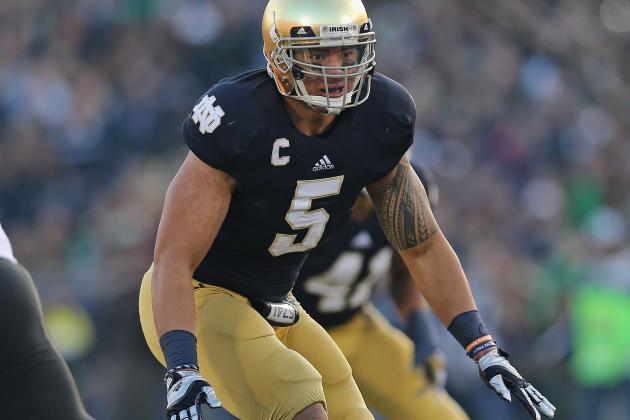 Jonathan Daniel/Getty Images
Manti Te'o
Manti Te'o bypassed the chance to be a first-round pick in the 2012 NFL draft in order to return to Notre Dame to handle some unfinished business. It's turned out to be one of the best decisions that Te'o will ever make in his life.
The intimidating inside linebacker has been the leader and the face of one of the most dominant defenses in the country.
He's played a key role in the team's run to a national championship.
The defensive difference-maker has racked up over 100 tackles for the third time in his collegiate career, and he's solidified his status as a top-10 pick for the 2013 NFL draft.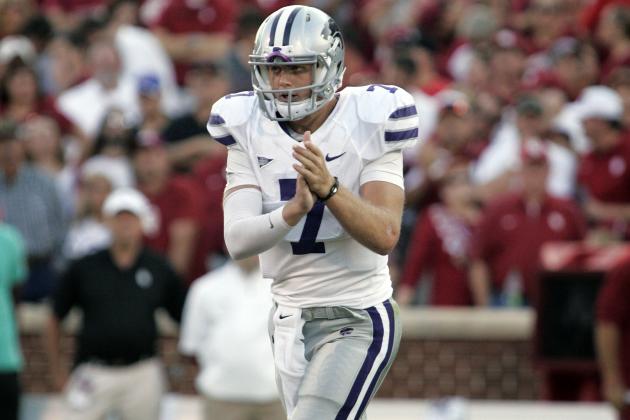 Brett Deering/Getty Images
Collin Klein
Oklahoma and West Virginia were built up to be the Big 12's top two contenders during the offseason. But once again, Kansas State proved that it was underrated, surpassing modest preseason expectations and winning 11 games and a conference championship.
The Wildcats may not have been able to live up to their No. 1-ranking in a loss to Baylor. But they still proved that they were one of the top teams in the country by beating some of the conference's most notable names such as Oklahoma, Texas, Oklahoma State and West Virginia.
QB Collin Klein turned out to be the MVP of the league, and he was one of the premier playmakers in college football.
It will be fun to see Bill Snyder's squad take on Oregon in the Fiesta Bowl on Jan. 3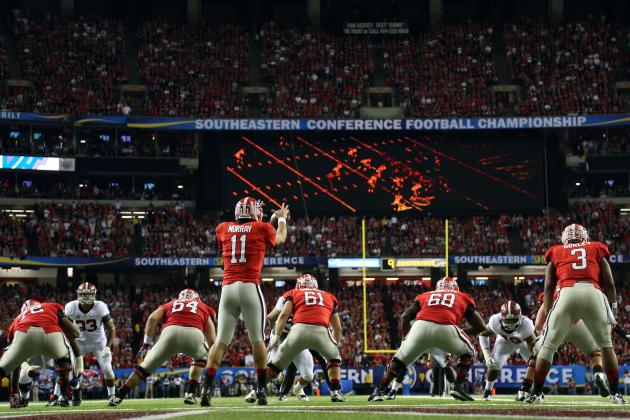 Mike Ehrmann/Getty Images

There were some great games in 2012, but you can make the argument that the most entertaining contest of the year was the SEC championship game tilt between Alabama and Georgia.
The two teams entered the game ranked No. 2 and No. 3 in the polls, and they definitely looked like two of the best teams in the country.
The back-and-forth affair came down to the final play. But in the end, Alabama made the plays it needed to make to come away with a 32-28 victory in what ended up being an instant classic.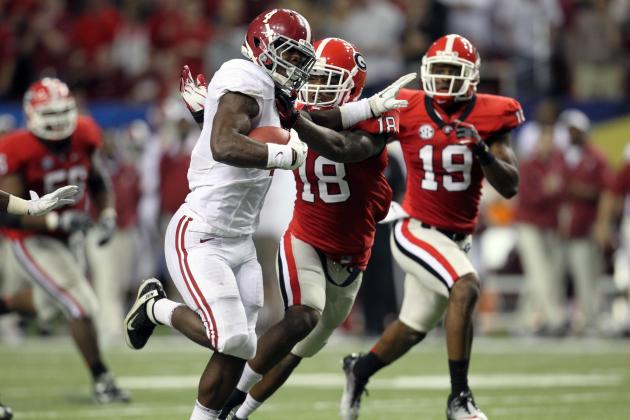 USA TODAY Sports

Two of the best players that were on display in the mega-matchup between Alabama and Georgia were freshman running backs T.J. Yeldon and Todd Gurley.
Yeldon and Gurley both enjoyed terrific first seasons in the SEC.
Both showed the type of flashes of greatness that you rarely see from college backs.
The two players combined to rush for 2,260 yards and 27 touchdowns in 2012.
The arrival of the two players is reminiscent of when both Michael Dyer and Marcus Lattimore entered the league back at the same time back in 2010. Hopefully, both players can stay healthy and reach their full potential, because they should have some great battles for the SEC rushing title in the years to come.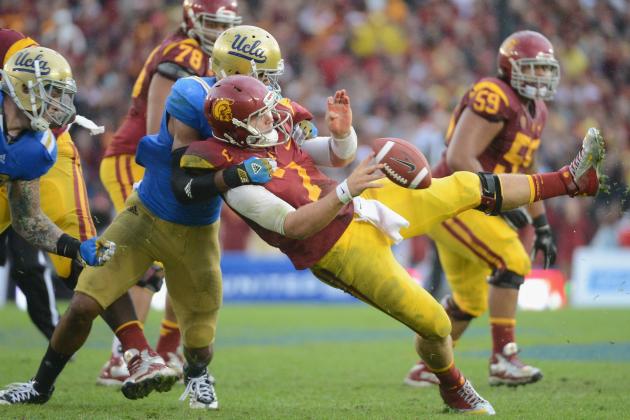 Harry How/Getty Images

USC started off the season as one of the most hyped up teams in college football. But it was actually crosstown rival UCLA which proved that it was the best team in town in 2012.
The Bruins marched to a 9-4 overall record and a 6-3 record in league play during Jim Mora's first season. The most important victory of the year was undoubtedly a 38-28 win over the Trojans in the Rose Bowl on Nov. 17.
Not only did it send a message that UCLA is no longer USC's whipping boy, it also helped propel the Bruins to a Pac-12 South division title.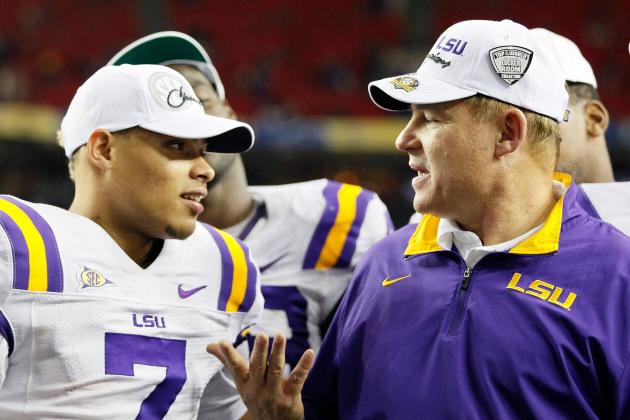 Kevin C. Cox/Getty Images

LSU seemed to play with a special type of swagger and attitude during last season's 14-0 run through the regular season. However, the Tigers appeared to be lacking in that department in 2012. It's a key reason why the team finished just 10-2 and failed to capture the SEC West division title again.
The offseason dismissal of star cornerback Tyrann Mathieu obviously changed the complexion of the team's defense, but the offense looked lackluster at times as well.
The Tigers had just as much talent as any other team in the country this season, but they just weren't able to use all that skill to bring home another conference championship.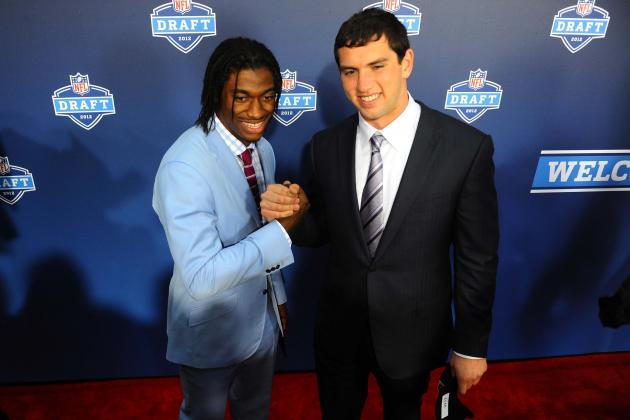 James Lang-US PRESSWIRE

The 2012 NFL draft featured two of the most exciting and coveted quarterback prospects that we've seen in years, Andrew Luck and Robert Griffin III.
Griffin and Luck dazzled onlookers throughout the 2011 season, finishing one and two in the Heisman voting, and they also ended up going one and two in the draft as well.
This year's quarterback class does not feature a prospect comparable to either Luck, Griffin or even 2010 No. 1 overall pick Cam Newton.
West Virginia's Geno Smith, Arkansas' Tyler Wilson, USC's Matt Barkley, San Jose State's David Fales and Oklahoma's Landry Jones, Georgia's Aaron Murray, Tennessee's Tyler Bray and NC State's Mike Glennon all have the potential to be starters in the NFL. But none of them have proven that they are worthy of being a top-5 pick like Griffin and Luck.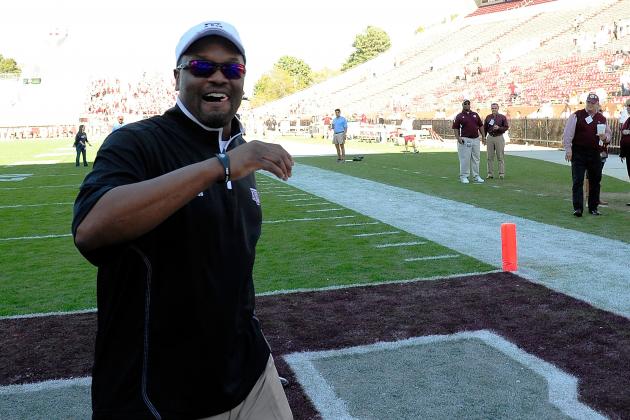 Stacy Revere/Getty Images

During the offseason, many fans wondered how Texas A&M would fare in its first season after making the move from the Big 12 to the SEC. The Aggies had a new coach, Kevin Sumlin, and an unproven quarterback, Johnny Manziel. But as it turned out, Sumlin and Manziel gave the team the type of boost it needed to succeed in its new league.
Manziel turned out to be one of the most electric playmakers in college football, and he helped lead A&M to a 10-2 overall record.
It now appears that the Aggies will be a legitimate contender in the loaded SEC West division for the foreseeable future.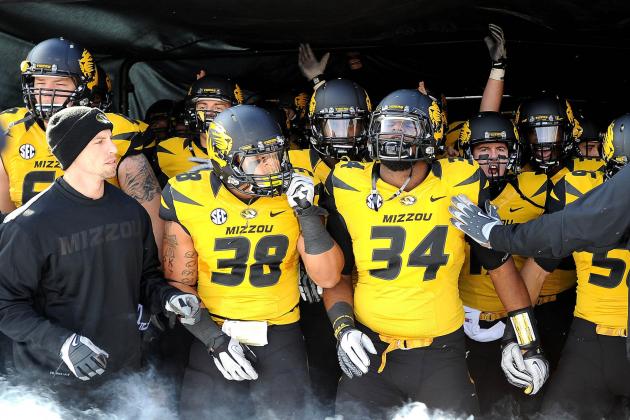 Dak Dillon-US PRESSWIRE

Texas A&M may have been ready for the SEC. But the other team that joined the league in 2012, the Missouri Tigers, certainly didn't look prepared for the step up in competition.
Gary Pinkel's squad won just five games this season and had just two victories in league play.
In fairness to the Tigers, they did have to play an absolutely brutal conference schedule, which included matchups with five top 10 teams: Alabama, Florida, South Carolina, Georgia and Texas A&M.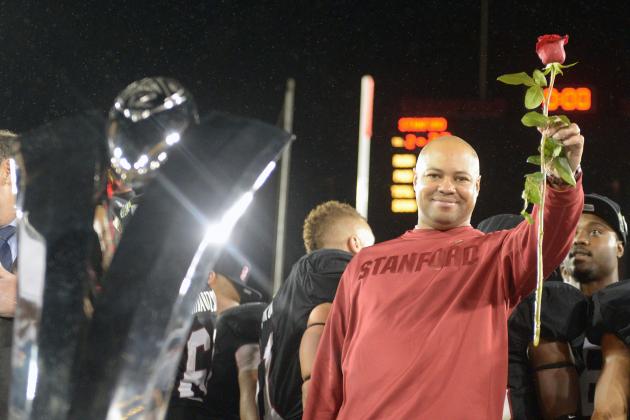 Kirby Lee-US PRESSWIRE

There weren't many fans or analysts who gave Stanford much of a shot to compete with Oregon in the Pac-12 North division before the season started. Mainly because the Cardinal had to replace star quarterback Andrew Luck, who was arguably the best player in the program's history, as well as two of the best offensive linemen in the country, David DeCastro and Jonathan Martin.
You have to give head coach David Shaw a ton of credit for the way that he was able to rally his players and lead the team to an 11-2 record, a Pac-12 title and a Rose Bowl berth.
Shaw definitely proved that he belongs in the conversation with some of the other top young head coaches in the sport.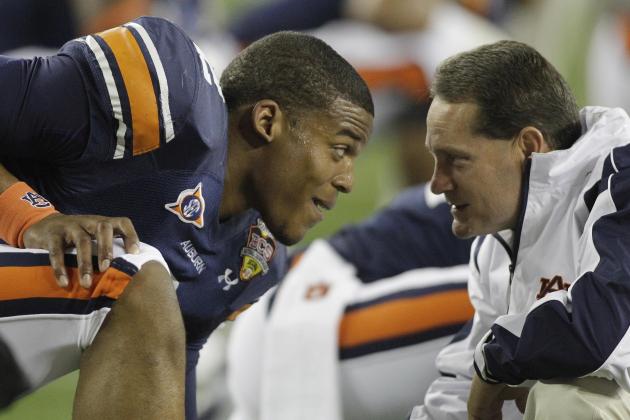 John Reed-USA TODAY Sports

Back in 2010, Auburn went 14-0 and won a BCS championship, largely thanks to the play of Heisman-winning QB Cam Newton. Now, just two years later, the Tigers have gone 3-9 and looked like a completely different team.
The team's poor performance this season ended up costing head coach Gene Chizik his job.
If you take away the year Chizik had Newton as his quarterback, he has just a 24-38 overall record as a head coach.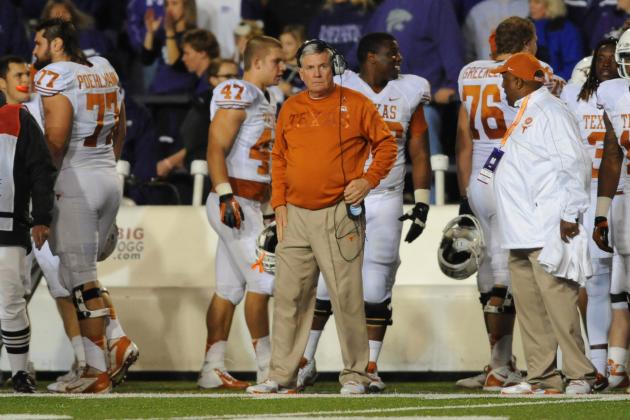 Denny Medley-US PRESSWIRE

Great ground attacks don't mean what they used to in college football, especially in the Big 12, where high-powered passing attacks are the trademark of most of the top-tier teams in the league.
Texas has come to find that out the hard way over the last three years, as mediocre play at the quarterback position has caused the team to become just another also-ran in the conference.
After starting off the season ranked No. 15 in both major polls, the Longhorns managed to go just 8-4 this season and they got blown out by the top two teams in the league, Oklahoma and Kansas State.
Following another mediocre campaign, many fans are now wondering if Mack Brown, who is one of the highest paid coaches in college football, is really the right man for the job at this point.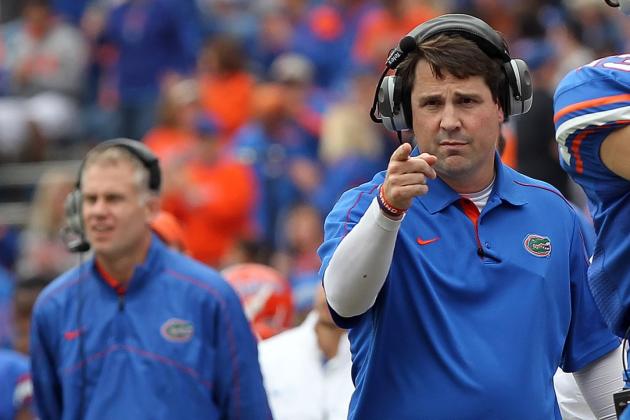 Kim Klement-US PRESSWIRE

Florida had one of the least productive offenses in the SEC this season, yet the Gators still managed to go 11-1 and beat highly ranked teams such as LSU, South Carolina and Florida State.
A big reason for the team's success in 2012 was the play of its dominant defense. The unit finished the regular season ranked third in the nation in scoring defense and fifth in total defense, giving up an average of just 12 points and 286 yards per game.
Will Muschamp has truly proven that he is indeed one of the best defensive minds in all of college football.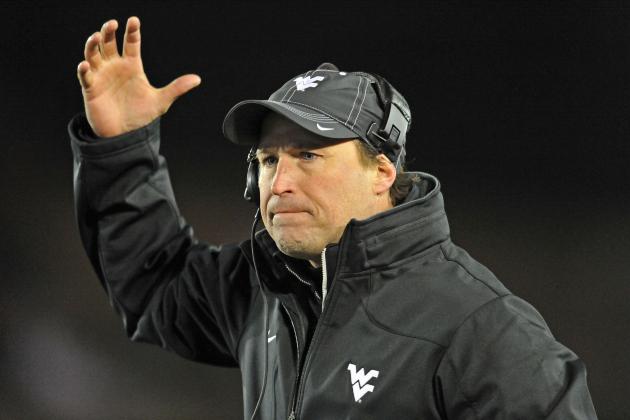 Peter G. Aiken-US PRESSWIRE

West Virginia started off the season 5-0 and moved all the way up to the No. 5 ranking in the polls. But the Mountaineers then got exposed when they had to face some of the Big 12's best teams, and they ended up losing five straight games.
The team's offense, led by QB Geno Smith and his dangerous receiver duo of Tavon Austin and Stedman Bailey, featured one of the most lethal passing attacks in the country. But it's defense just did not look ready to handle Big 12 competition.
The Mountaineers finished the season ranked 111th in the nation in total defense and 116th in scoring defense, giving up an average of 38 points and 469 yards per game.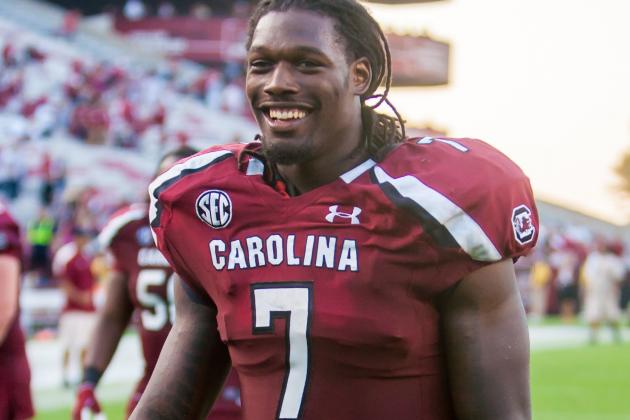 Jeff Blake-US PRESSWIRE
Jadeveon Clowney
Jadeveon Clowney arrived at South Carolina last year as one of the most highly touted high school football recruits of all time. Clowney had already graced the cover of prominent sports magazines and been the subject of Sportscenter features before he ever even took a college snap.
As a freshman, the explosive edge-rusher showed glimpses of his enormous potential. But it wasn't until this year that Clowney showed the college football world what he was really capable of.
The star sophomore was an absolute defensive force for the Gamecocks, finishing the regular season tied for the national lead with 13 sacks. He also racked up 21.5 tackles for loss and forced two fumbles.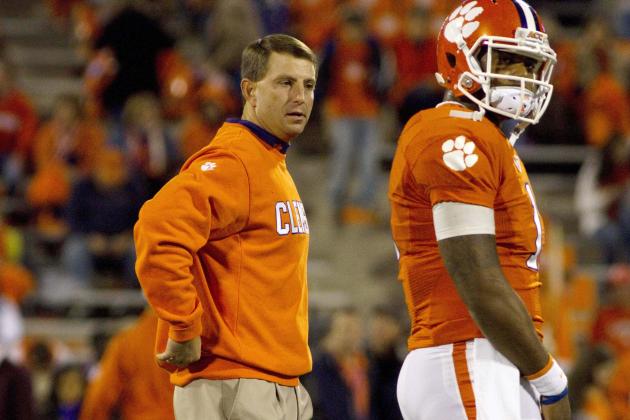 Joshua S. Kelly-US PRESSWIRE

Clemson finished the regular season with a 10-2 record and a top-15 national ranking. However, the Tigers failed to win the ACC and failed to make it back to a BCS bowl game due to the fact that they were unable to win the two games they needed to win the most.
Dabo Swinney's squad was unable to get the job done against Florida State and South Carolina, the only two ranked teams that the Tigers had to play this season.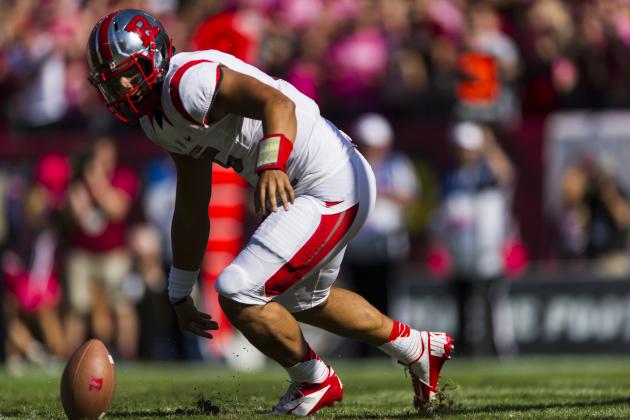 Howard Smith-US PRESSWIRE

Another team that blew an opportunity to win its conference and make it to a BCS bowl game was Rutgers.
All the Scarlet Knights had to do was win one of their final two games to capture the Big East title, but they ended up losing both games, including a heart-breaker at home to Louisville in the season finale.
Rutgers may have put together a surprisingly successful 9-3 campaign in Kyle Flood's first season. But their collapse in the second half against the Cardinals definitely puts a damper on an otherwise strong season.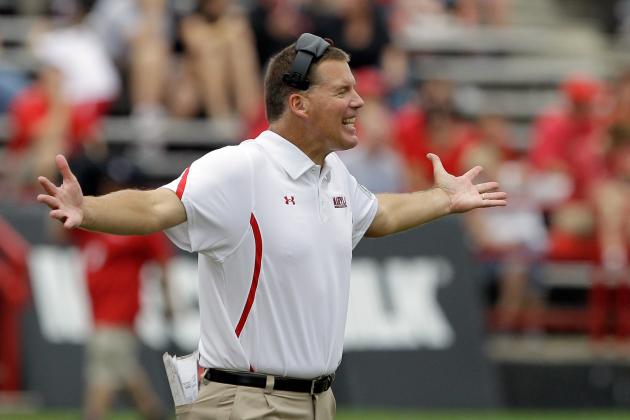 Rob Carr/Getty Images

2012 wasn't exactly a banner year for either the ACC or the Big East. The two conferences had just three teams in the final BCS top 25, and neither league was offered an at-large BCS bowl bid.
The ACC looks like it should be able to get stronger in the years to come with the addition of an up-and-coming Louisville program. But there's a good chance that there might not even be a Big East in a few years.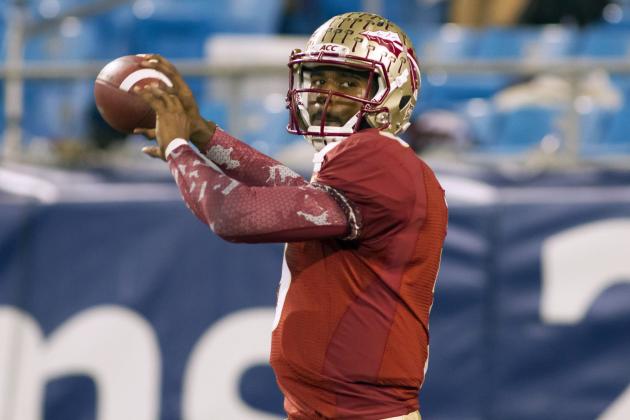 Jeremy Brevard-US PRESSWIRE

Florida State finished the regular season with an 11-2 record, an ACC championship and a berth in the Orange Bowl. But it's still tough to tell just how good the Seminoles actually are.
The team clearly has plenty of talent on both sides of the ball. However, Florida State has beaten just one ranked team all season long, and the team's schedule certainly left a lot to be desired.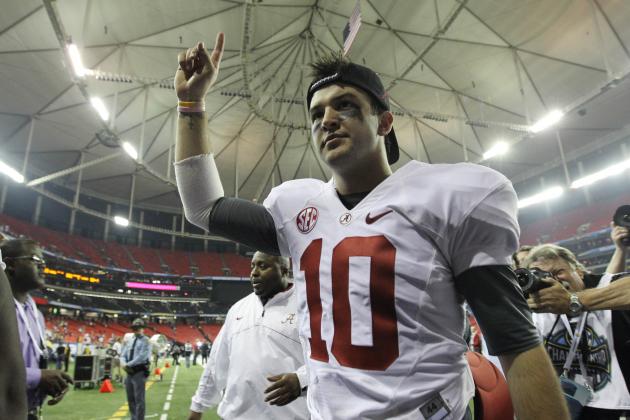 USA TODAY Sports

QB AJ McCarron seemed like he was just along for the ride during Alabama's run to a national championship last season. This year, however, McCarron has stepped up and become the true offensive leader that the Tide needed him to be.
The second-year starter has completed 66 percent of his passes for over 2,600 yards and he's thrown 26 touchdowns compared to just three interceptions in 2012.
McCarron has truly played a critical role in Alabama's run back to the BCS championship game.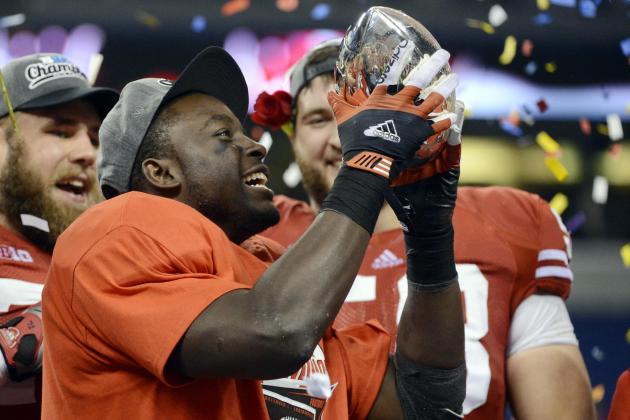 Richard Mackson-US PRESSWIRE

Montee Ball shocked pretty much everyone when he announced that he would bypass the chance to be a high pick in the 2012 NFL draft in order to return to Wisconsin for his senior year.
Early on this season, it looked as if Ball might have made a mistake. He got off to a slow start and struggled to find running room behind an offensive line that had three new starters. However, he really picked his game up in the second half of the season, as he helped lead the Badgers to a Big Ten championship and their third straight Rose Bowl.
Ball won't win the Heisman this year, but he definitely showed NFL scouts that he's got what it takes to be a difference-maker at the next level. The star senior rusher finished the regular season with over 1,700 rushing yards and 21 touchdowns.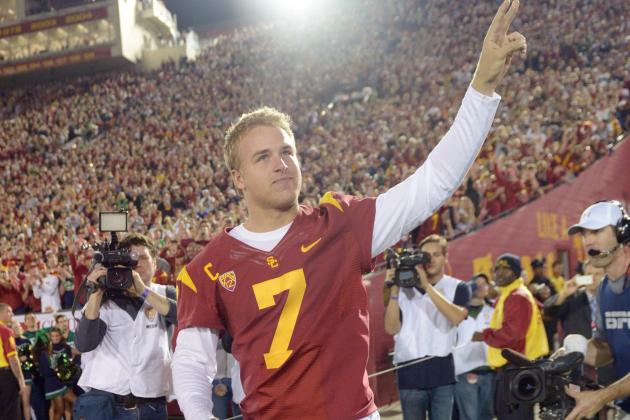 Kirby Lee-US PRESSWIRE

USC QB Matt Barkley is another high-profile player who made the decision to return to school for his senior year. However, unlike Montee Ball, he's likely really regretting his decision to come back.
Barkley was the "it" quarterback of the offseason, as the media built him up to be the preseason Heisman favorite and the frontrunner to be the No. 1 overall pick in the 2013 NFL draft. Sadly, though, the Trojan signal-caller was not able to live up to expectations.
USC went just 7-5 after starting the year ranked in the top 3 of both major preseason polls, and Barkley did not have the type of big senior campaign that many were expecting.
Although he may not leave college with a Heisman Trophy or a BCS national championship, the talented senior quarterback should still be a top-15 pick in the 2013 NFL draft.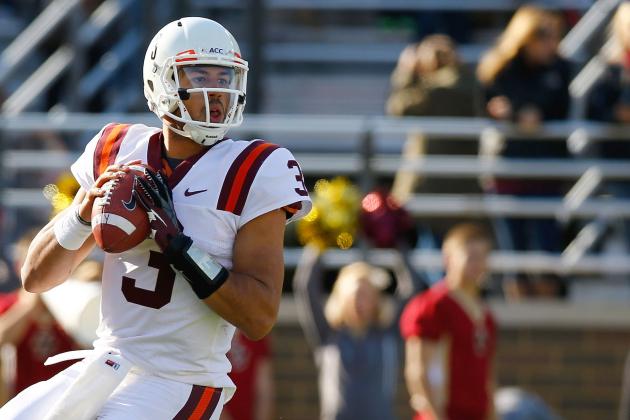 Jared Wickerham/Getty Images

Another highly touted quarterback who did not live up to expectations this season is Virginia Tech's Logan Thomas. Before the season started, Thomas garnered comparisons to Cam Newton based on his rare combination of size and athleticism. But the big junior signal-caller proved that he's just not an NFL-caliber passer at this point in his development.
Thomas struggled with accuracy issues and decision-making problems all season long, completing just 52 percent of his passes and throwing 14 interceptions.
He may end up being a second-round pick in the 2013 NFL draft if he decides to declare simply based on his potential. However, it seems like the best thing for Thomas to do would be to return to Virginia Tech for his senior year and try to repair his damaged draft stock.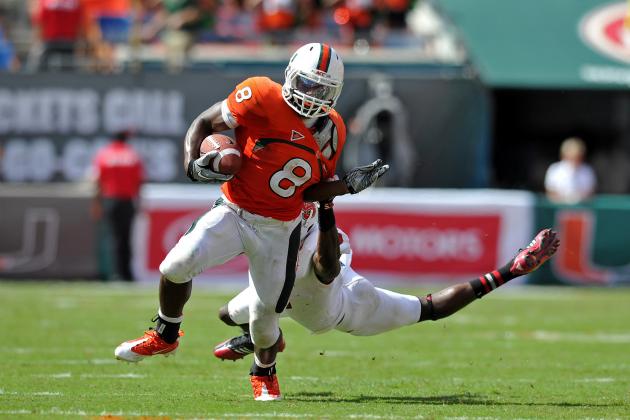 Steve Mitchell-US PRESSWIRE

An ongoing NCAA investigation into the highly publicized NCAA scandal didn't seem to have a big effect on Miami this season. The Hurricanes were able to put together an encouraging 7-5 campaign and finished tied for the top spot in the ACC Coastal division, even though they had young, inexperienced players at almost every key position.
Al Golden deserves a lot of credit for what he's been able to do with the program in his first two years. The future in Coral Gables certainly looks bright, even with possible NCAA sanctions looming.
Golden has assembled plenty of talent in his short time at Miami, including one of college football's biggest rising stars, RB Duke Johnson.
The Hurricanes will definitely be an intriguing team to watch next season.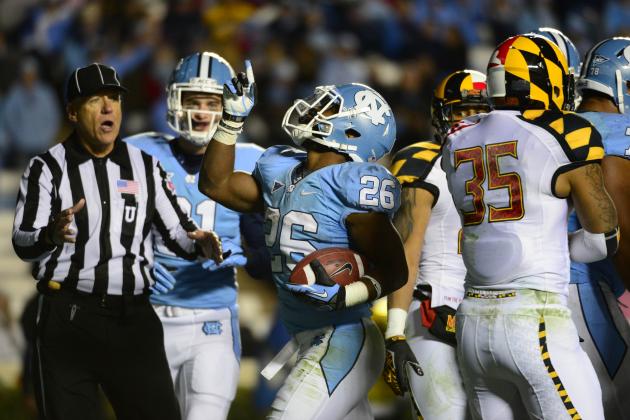 US PRESSWIRE

One player who deserved a lot more national attention than he actually got this season is North Carolina RB Giovani Bernard.
Bernard was one of the most productive offensive players in college football in 2012, and he proved that he is truly a special playmaker.
The 5'10'', 205-pound redshirt sophomore averaged 171 all-purpose yards per game, which was the highest average in the country, and he also ranked eleventh nationally in scoring with 19 total touchdowns.
It will now be interesting to see if Bernard chooses to enter the 2013 NFL draft. He's definitely got a great chance to be the first running back taken if he does declare.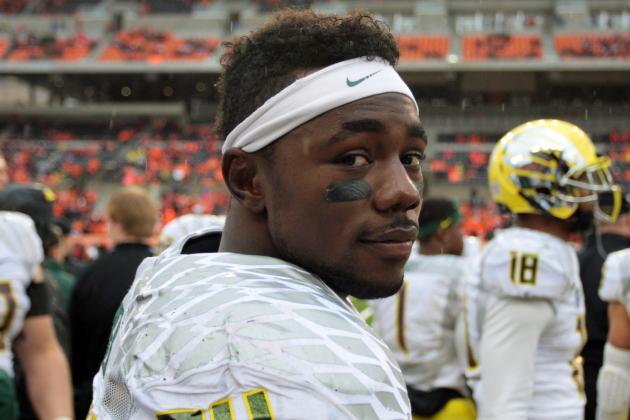 Scott Olmos-US PRESSWIRE

This year, Oregon had to replace explosive running back LaMichael James, who was one of the top rushers in the country during his three years spent as the main man in the team's backfield. Luckily for the Ducks, however, they had the luxury of having a more-than-capable replacement in Kenjon Barner.
Barner took the rushing reins from James and became a breakout star in 2012.
The senior speedster rushed for over 1,600 yards and scored 22 touchdowns, as he helped Oregon win 11 games this season.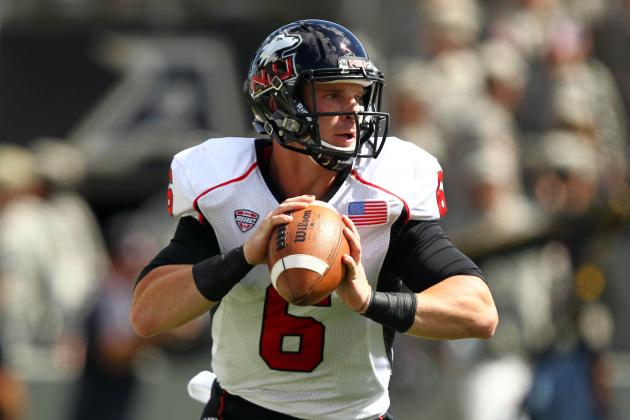 Danny Wild-US PRESSWIRE
Jordan Lynch
Pretty much everyone considers the Mountain West to be the best non-AQ conference in college football. But another league that deserves a lot of respect now is the MAC.
This year, the Mid-American Conference had four different teams ranked in the top 25 at some point in the season, including two teams, Northern Illinois and Kent State, who finished the season ranked in the final BCS top 25 standings.
The Huskies were the cream of the conference crop this season, finishing the year 12-1 and earning a berth in the Orange Bowl.
Although some fans may scoff at Northern Illinois' schedule, make no mistake about it, this is a team that is definitely capable of giving Florida State a tough challenge down in Miami Gardens on New Year's Day.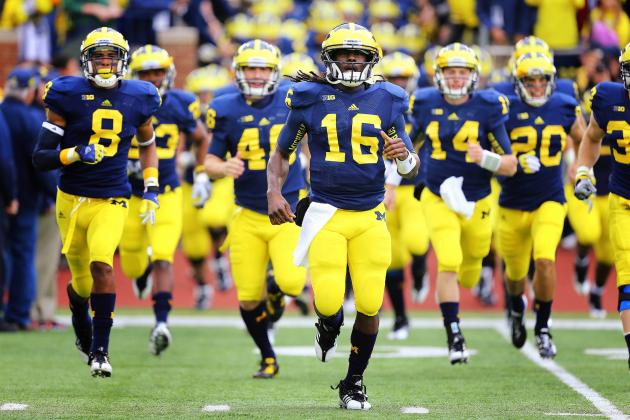 Mike Carter-US PRESSWIRE

Michigan and Michigan State both started off the season ranked in the top 15 and both were considered to be two of the top contenders in the Big East conference. However, it didn't take long for both teams to be exposed this season.
The Wolverines and the Spartans combined to lose 10 games in 2012, and neither team came close to living up to preseason expectations.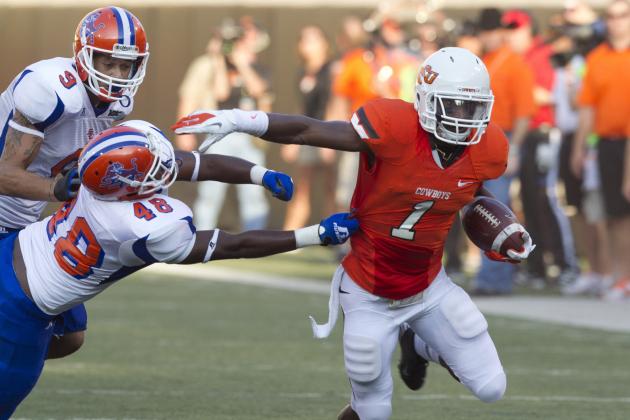 Richard Rowe-US PRESSWIRE

The growing trend of FBS teams giving FCS teams a nice six-figure payday to basically just show up and get blown out is something that absolutely has to be stopped.
This season, it seemed as if most of the first month of the season was filled with boring blowouts, as many of the top teams in the country decided to pad their non-conference schedules with cupcake opponents.
It's something that makes the sport look bad, and it's nothing but a ripoff of the fans.
There are now 124 teams at the FBS level. There's no reason a big school has to go out and play a team like Savannah State, Western Carolina or Nicholls State. It's simply ridiculous. The athletic departments at the schools should be embarrassed for scheduling such farcical games and trying to steal fans' money.