Big Ten Football: Predicting Outcome of Every B1G Bowl Game
Kevork Djansezian/Getty Images
The Grandaddy is All There Is For BCS Bowls This Year
Thanks to some late season heroics by Purdue and Michigan State, the Big Ten reached seven bowl teams despite missing out on sure bowls for Penn State and Ohio State. That provides more opportunities than expected for the conference to either begin repairing the image of the conference, or for more unmitigated bowl season failure.
But let's not count out the Big Ten before we begin. The seven bowl matchups have been announced, and the schedule is brutal. However, Jim Delany insists that the conference wants to play in tough games and keep the fans entertained, which this bowl line-up in 2012-2013 will do.
Will the Big Ten achieve a winning record in the seven bowl games this season? Will the third time be the charm in Pasadena for Wisconsin? Let's take a look at each of the bowl game matchups and a preliminary look at how they might go.
Begin Slideshow

»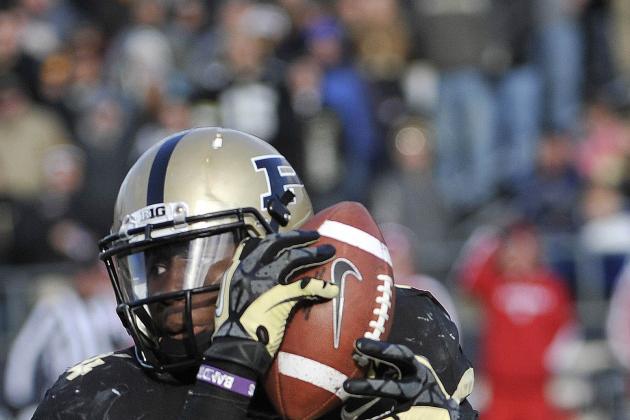 Sandra Dukes-US PRESSWIRE

Purdue finished on a hot streak by feasting on the weakest three teams in the Big Ten, but reaching six wins did not save Danny Hope from being fired. That leaves Caleb TerBush and Robert Marve in a tough spot as they have to act as true leaders of this team heading to Cotton Bowl Stadium for this battle on New Year's Day.
With the exception of hapless Illinois, every Big Ten team racked up pretty big offensive numbers against Purdue, which is bad news considering Oklahoma State brings the seventh best scoring offense into this game, scoring nearly 45 points per game.
Clint Chelf took over the quarterback job at midseason and has thrived, and he will find some openings against the Purdue defense. Of course, Oklahoma State could also play two other quarterbacks who threw for over 1000 yards this season.
If Hope were still employed at Purdue, the Boilermakers may have had a better shot to scheme up a game plan to stop the Cowboys. However, a team without a leader and without a good defense, cannot hope to stop Oklahoma State. Purdue will likely finish with a losing record thanks to this game.
Prediction: Oklahoma State 45, Purdue 21.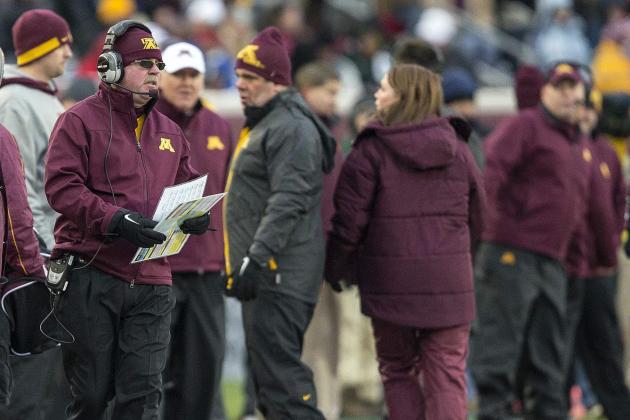 Jesse Johnson-US PRESSWIRE
Back in bowl season
Anybody remember the 2006 Insight Bowl?
Although neither team has the same coaching staff from that game, the fans of both teams likely remember Texas Tech coming back from a 31-point deficit to sneak past the Golden Gophers in one of the most recent bowl trips for Minnesota.
This will be the first attempt at a bowl for Jerry Kill, and this looks like a familiar Red Raiders team under Tommy Tuberville.
To that end, Texas Tech brings the second best passing attack into this game to test the Gophers secondary, but there is not a huge threat in the running game to worry about.
Senior QB Seth Doege will likely increase his passing numbers past 4000 yards and 40 touchdowns on the season in this game, so Minnesota will need to be sound to slow the Red Raiders' scoring.
Minnesota's struggling offense will have a month to get freshman Philip Nelson more experience, and he will find the going much easier against the terribly weak Texas Tech defense. Minnesota only scored more than 17 points once in Big Ten play, but expect much bigger numbers in this bowl game.
Despite Texas Tech losing four of the last five games this season, there is just too much offense here for Minnesota to keep up with. Nelson makes a couple mistakes in the second half that take a close game and make it look like an easy win for Texas Tech.
Prediction: Texas Tech 45, Minnesota 27.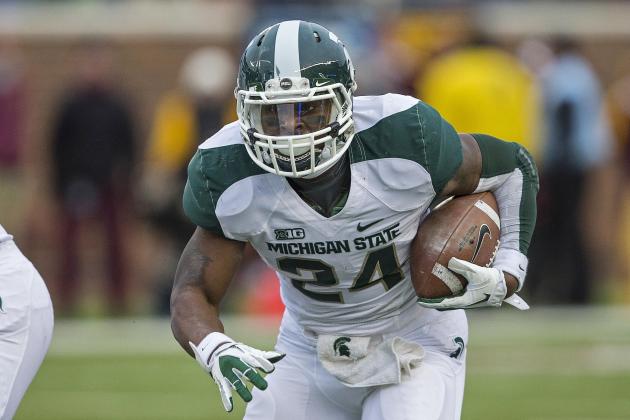 Jesse Johnson-US PRESSWIRE

Just two seasons removed from a Rose Bowl victory, TCU will fall to a lesser bowl game for the first time in three seasons as Gary Patterson's Horned Frogs scuffled through a tough first season in the Big 12. The Horned Frogs have an average offense statistically, but the numbers may look better thanks to some weak defenses in the conference.
Look for the ridiculously strong Michigan State defensive front to put a lot of pressure on freshman QB Trevone Boykin, who has started really since Big 12 play began for the Horned Frogs.
Boykin was supposed to play tailback for the Horned Frogs, but he has been more than serviceable. Still, the Horned Frogs will want to run the ball against Michigan State, which could be a hopeless endeavor.
Michigan State does not have the offense to blow anybody away, as proven by the tight games throughout Big Ten play. TCU has a strong defensive front that will test Le'Veon Bell if Michigan State relies too much on the run in this one.
The key will be which quarterback steps up and makes more plays, and Andrew Maxwell should be able to outperform a freshman.
Prediction: Michigan State 17, TCU 13.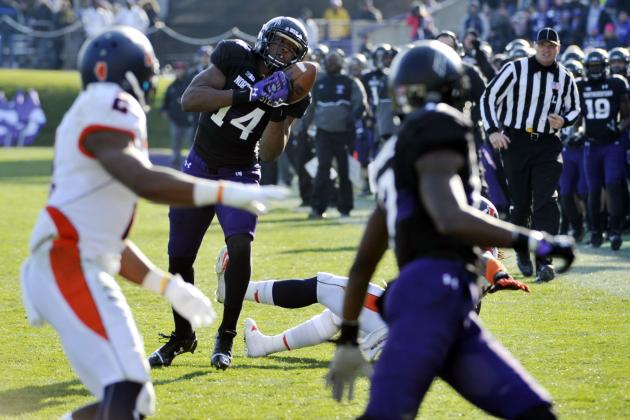 David Banks-US PRESSWIRE

The Gator Bowl may not have the sexy Florida vs. Ohio State game this season, but the annual trio of SEC vs. Big Ten games starts with what should be a good game here.
Northwestern dropped down a slot thanks to Wisconsin winning the conference championship game, but that may turn out to be fortuitous for a team looking for its first bowl victory.
Northwestern will look to spread out the Bulldogs defense, using Kain Colter and Venric Mark to test the open-field tackling for Mississippi State.
When the Bulldogs faced tough competition down the stretch after a 7-0 start, this defense folded and gave up nearly 40 points per game against the likes of LSU, Ole Miss, and Texas A&M.
The Wildcats have the offense to keep the bad times going for Dan Mullen's team.
Mississippi State did score 30 points per game this season, but the offense did struggle down the stretch like the rest of the team. QB Tyler Russell has a true deep threat target in WR Chad Bumphis, who has 900 yards and 12 touchdowns on the season. The Wildcats have been known to give up some big passing plays, and Bumphis could have a huge day to cap his season.
Nonetheless, this is the perfect matchup for Northwestern. If the Wildcats can't win this bowl game, then when will they?
Prediction: Northwestern 35, Mississippi State 24.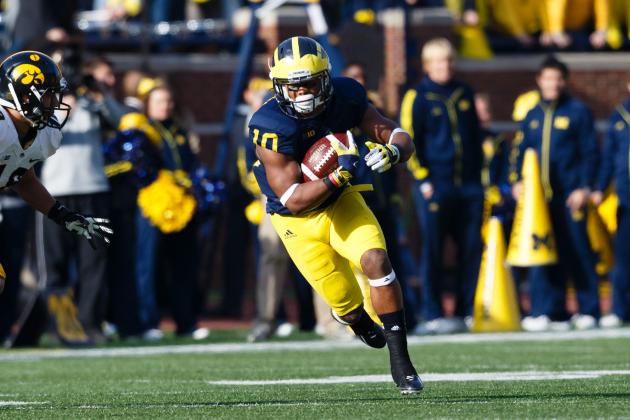 Rick Osentoski-US PRESSWIRE

Then the meat of the SEC comes knocking as Michigan drops down a bowl slot to play the Gamecocks, who finished a game behind Georgia and Florida in the SEC this season. The Wolverines may have four losses, but those losses were to possibly the best three teams in the country and Nebraska, when Denard Robinson went down to injury in the middle of a game.
Michigan will not have Fitzgerald Toussaint for this game, but Denard Robinson will step in like he did against Ohio State to give South Carolina's defense some tough plays to prepare for.
Robinson and Devin Gardner were stuffed by the Buckeye defense, and South Carolina has an even better defensive front to put pressure on the passing game while stifling the running game. Look for Jadeveon Clowney to really be a tough man to stop and a disruptive force throughout this game.
South Carolina will need to survive yet another bowl game without Marcus Lattimore, but Kenny Miles has stepped in and played moderately well in the final month of the season.
QB Connor Shaw played with a hurt foot for much of the final month, but he should be healthy for this game. Michigan should be able to stay in the game thanks to Lattimore's absence, but the Wolverines cannot afford the mistakes and conservative play calling that knocked them out of multiple games this season.
This will not be a blowout, as many may expect. Michigan will break a couple big plays to keep the game close, but the Gamecocks defense will make the important plays when it matters most to seal the victory.
Prediction: South Carolina 27, Michigan 24.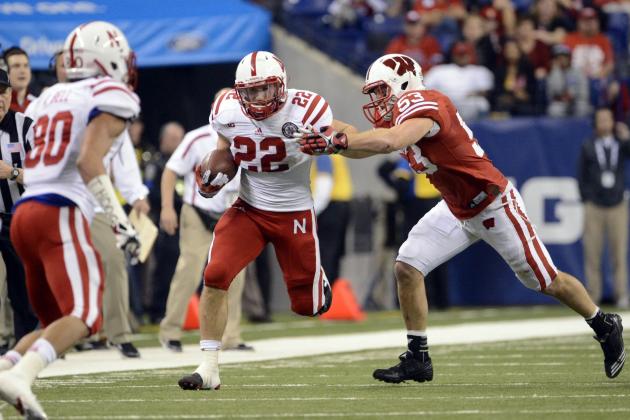 Richard Mackson-US PRESSWIRE

The Capital One Bowl invites two teams that lost in conference championship games on Saturday, as Nebraska and Georgia will need to console themselves with the trip to Orlando.
Georgia has to be steaming from coming up just five yards short of beating Alabama and playing in the BCS Championship, plus the snub from all BCS bowls thanks to the high ranking of Florida, a team Georgia beat.
Meanwhile, Nebraska is looking for answers following a shocking 70-31 beating by Wisconsin in Indianapolis.
The Cornhuskers bring one of the best rushing offenses in the country into this game, but Georgia should be ready to take on the triple threat of Taylor Martinez, Ameer Abdullah, and Rex Burkhead.
South Carolina proved that a strong defensive front can cause havoc with this running game a season ago, so expect Georgia to try and follow the same formula for success. If Taylor Martinez is forced to throw the ball, he will make mistakes as proven throughout this season.
Georgia has a pretty dynamic offense themselves for being in the SEC, as the Bulldogs gained over 450 yards per game and scored over 37 points per game. QB Aaron Murray has thrown for 31 touchdowns this season, and he will certainly see a lot of open receivers against a struggling Cornhuskers defense.
If Nebraska cannot figure out the problems revealed against Ohio State and Wisconsin, Georgia will rock them once again on a big national stage.
Nebraska will make a couple of plays to keep it close in the first half, but Georgia will pull away like South Carolina did a season ago. Georgia will come into this game more motivated than Nebraska as well, which is a dangerous place to be.
Prediction: Georgia 45, Nebraska 17.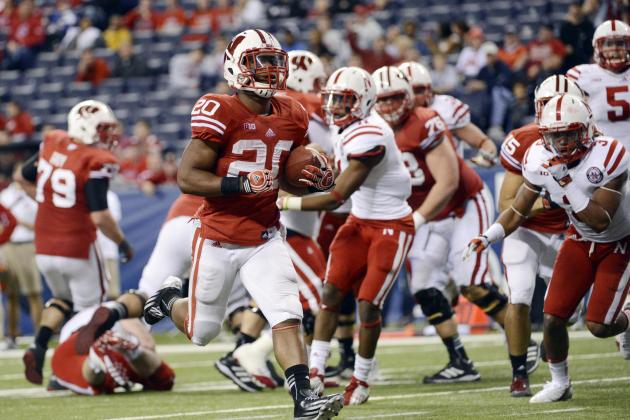 Richard Mackson-US PRESSWIRE

Here's guessing Stanford is not going to give up 70 to the Badgers in January.
Wisconsin becomes the first team with five losses to make the Rose Bowl in a third straight appearance, and only the third Big Ten program to achieve three straight Rose Bowl appearances (Ohio State and Michigan being the others).
After two straight losses to TCU and Oregon, Wisconsin will try their wares against Stanford, which was one of the victims when Ron Dayne won two straight Rose Bowl games in 1999-2000.
Similar to Wisconsin, Stanford has not been beaten in regulation since the last weekend in September, falling only in overtime at Notre Dame. The Cardinal bring one of the strongest defenses into Pasadena, holding opponents to only 17.5 points per game.
If Stanford can stop the dynamic runners at Oregon, you can bet they will be ready to slow down Montee Ball and James White.
Wisconsin will understand the team on the opposing sideline, as Stanford is also driven first by a running game led by senior RB Stepfan Taylor. Freshman Kevin Hogan has taken over at quarterback and has found some quick success, just like Joel Stave did in Madison.
Thus, this game will likely be played with nearly a continuously-running clock as both teams move with runs and long drives.
In a battle of strong defenses, one has to favor the team that did not drop three close games in overtime down the stretch. Wisconsin has all the Pasadena experience and more star power, but Stanford may have a better sense of how to win a close game, just like TCU was two years ago.
Prediction: Stanford 20, Wisconsin 17.
Total Big Ten Predicted Record 2012 Bowl Season: 2 Wins, 5 Losses (e.g., about the usual).

---------------------
Thanks for reading! Please let me know if you agree with this relatively grim assessment of the Big Ten bowl chances in the comments below, and keep the conversation going on Twitter.