College Football Bowl Picture 2012-13: 10 Non-BCS Matchups Fans Are Dying to See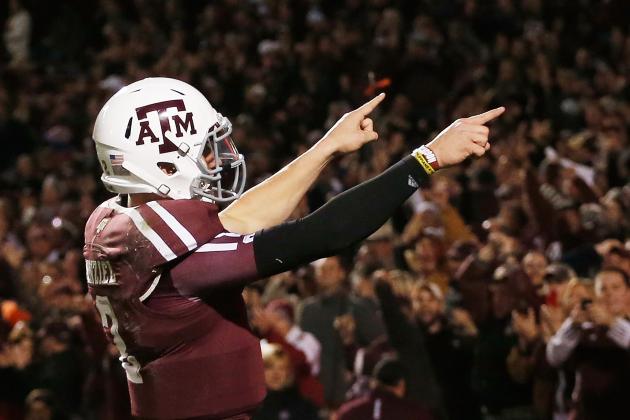 Scott Halleran/Getty Images

The BCS bowl games will get a majority of the hype leading into the bowl season, and rightfully so since they are the premier games of the college football postseason. However, there are other, and in some instances better, bowl games that will outshine the BCS games.
Some games will feature two seemingly unknown teams putting up huge offensive numbers, while other games will have elite players shining, making highlight-reel plays.
Here are 10 games that fans should be dying to see.
Note: All bowl games are projections from CBS Sports.
Begin Slideshow

»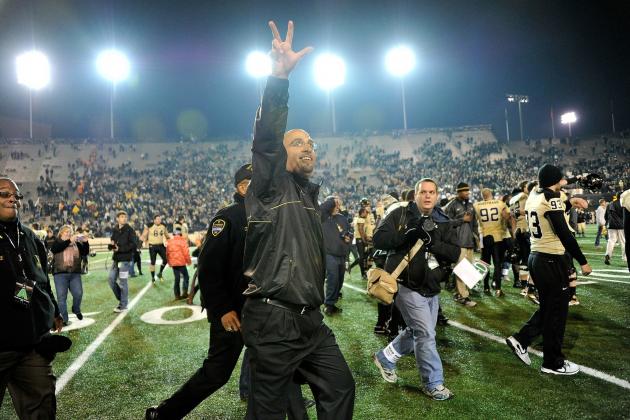 Frederick Breedon/Getty Images

Why would you want to sit down and watch two schools that are known more for their academics and basketball programs than football?
Because both schools have good teams that should put on a heavy hitting game that will be played in Vanderbilt's backyard, Nashville, Tenn.
Duke will have sneaked into this game, as they went 6-6 in 2012. But this Blue Devils squad possesses a dynamic passing game that averaged 277.6 yards per game. On the other side of the ball, Vanderbilt has a stout defense that surrendered only 18.3 points per game.
Plus there's a bit of history surrounding this game, as this is the first time in school history that Vanderbilt has been to back-to-back bowl games, and this is Duke's first bowl game since 1995.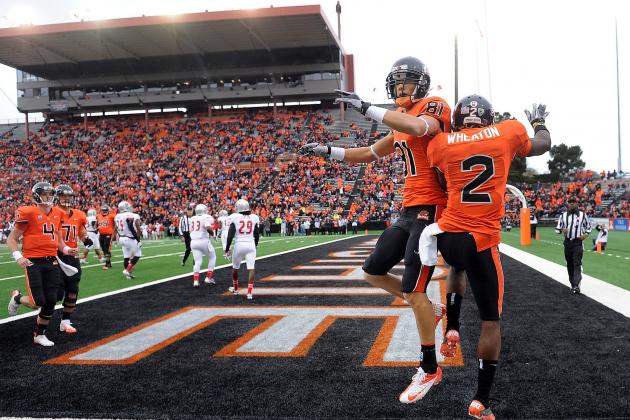 Steve Dykes/Getty Images

If you love offensive football, played indoors, on a turf field, then this game is right in your wheelhouse.
Both of these teams love to throw the ball and have done a great job of it in 2012. Oregon State was 19th in the nation, averaging 304.1 yards per game, while Oklahoma State was seventh, averaging 332.6.
On top of the passing games, both of these teams were able to put up points in bunches this year, with Oklahoma State eclipsing 40 or more points on five times, and Oregon State going over 40 points three times.
And these two teams showed no mercy when it came to running up the score this year.
Oklahoma State destroyed Savannah State 84-0 in its opening game, while Oregon State dismantled Nicholls State 77-3 in its season finale.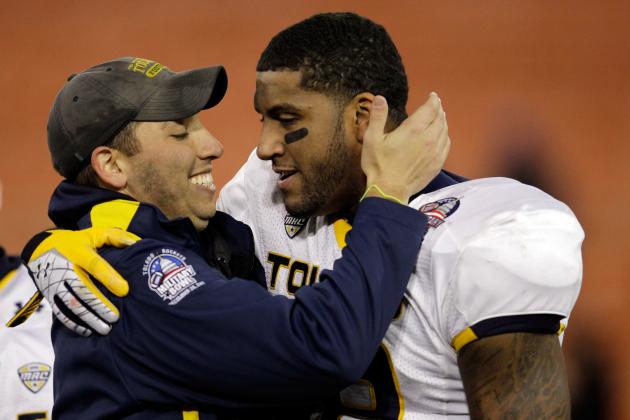 Rob Carr/Getty Images

This will kick the bowl season off on Dec. 15th, if these two teams do end up playing each other.
Both of these teams are very similar to each other.
Toledo finished at 9-3, while Utah State ended up at 10-2.
Toledo averaged 258.6 passing yards and 197.5 rushing yards per game, while Utah State averaged 268 passing and 191.7 rushing yards per game.
Toledo scored 32.9 points per game and held opponents to 27.3 points, while Utah State scored 34.4 and held teams to only 15.4 points per game.
Aside from the allowed points per game, it will be hard to pick a winner here—but if the defense holds up, the Aggies should come away with the first bowl victory of 2012.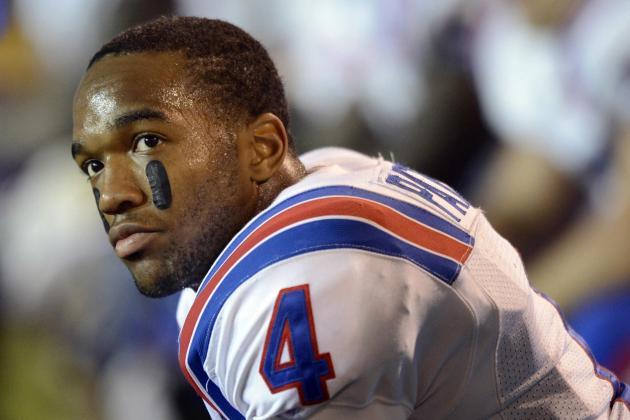 Bob Stanton-US PRESSWIRE

This one has two reasons as to why it will be a must-watch bowl game.
1. There's nothing better than two teams from the same state but in different conferences getting thrown together for a bowl game. Plus these schools are only separated by 37 miles, and according to Google Maps, it would only take you 38 minutes to get to either school.
2. Both of these teams love to score points.
Louisiana-Monroe averaged a respectable 35.5 points per game, however Louisiana Tech finished first in the nation in average points per game, averaging a whopping 51.5.
If it wasn't for two late-season losses for the Bulldogs, they may have ended up in a BCS bowl game.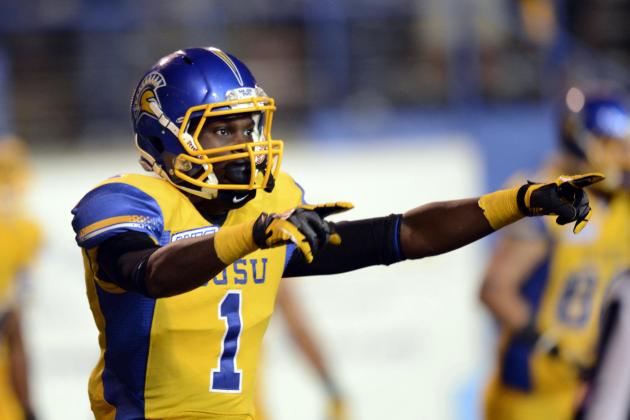 Bob Stanton-US PRESSWIRE

This will be a classic battle between a dynamic passing game and a punishing rushing attack.
After losing by only three to Pac-12 champion Stanford in its season opener, San Jose State has gone on to rip off 10 wins in 11 games. It has dominated its competition behind a dangerous passing game that has averaged 327.5 yards per game.
In fact, it has scored 40 or more points in four of its final six games.
For Ohio, they've beaten Penn State, at Penn State, and opened its season with seven straight victories.
However, the Bobcats have fallen on some hard times as of late, losing its final three games.
But the strength of this team is the rushing game, which has averaged 202.5 yards per game.
This is a matchup of two good teams that have either came close to or have beaten two BCS-caliber teams in their opening games of 2012.
David Banks/Getty Images

You wouldn't think of Northwestern being one of the best teams in college football this year, but they came within three fourth-quarter collapses from being undefeated in the regular season.
And if they could have held on against, Nebraska, Michigan and Penn State, we'd not only see the Wildcats playing for a Big Ten Championship, but they would be also threatening for a BCS title.
But instead, we'll get to see the talented Wildcats go up against one of the better teams from the SEC, South Carolina. This game should be a back-and-forth contest with Northwestern being able to hold onto a fourth-quarter lead to preserve a victory.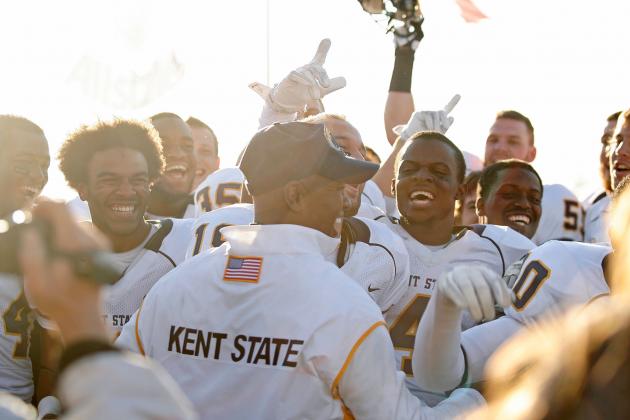 Kirk Irwin/Getty Images

This bowl game could be labeled the: "What could have been" bowl for Kent State.
As in, if it didn't lose to Northern Illinois in the MAC Championship game, then it would be heading to the Orange or Sugar Bowl to play either Florida State, should it win its conference championship game, or Florida.
However, the Golden Flashes and their great rushing attack averaging 228.3 yards per game are heading to Mobile, Alabama to play in the last bowl game before the BCS Championship Game.
Aside from that backstory, Arkansas State has its own dynamic rushing game that averaged 212.3 yards per game in 2012. Plus, the Red Wolves have won their last seven games by a combined score of 288-152.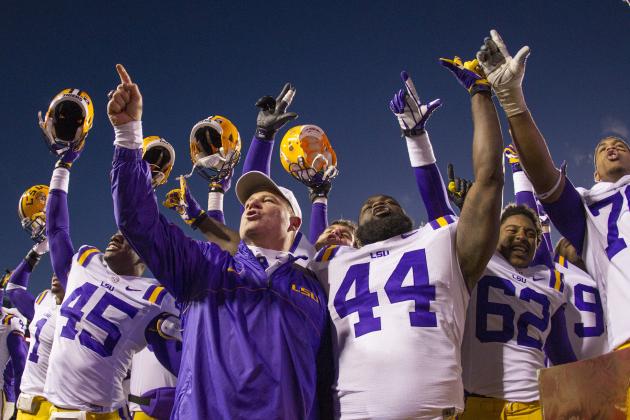 Wesley Hitt/Getty Images

The Cotton Bowl will feature two teams that have huge fanbases, legendary head coaches and teams with questionable quarterbacks but tremendous rushing games.
I would have personally liked to have seen Texas A&M take on Texas, as it would have been nice to see this rivalry continue for at least one more year. Plus, it would have been A&M's coming-home party to take on the team that drove them away from the Big 12.
But instead, we'll get a phenomenal game between two teams built on its rushing game that will have Cowboys stadium, and its 100,000-seat stadium, sold out.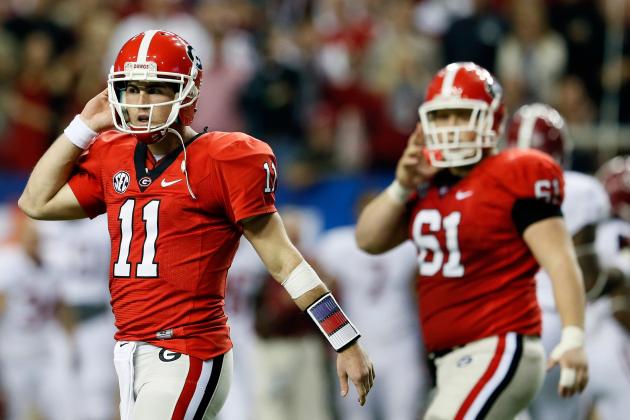 Kevin C. Cox/Getty Images

Georgia should head to the Chick-fil-A Bowl after its heartbreaking loss in the SEC Championship game to Alabama, 32-28.
They'll meet an explosive Clemson Tigers squad that averaged 42.3 points per game behind a passing game that threw for 319.8 yards per game.
If Clemson didn't play in the same division inside of the ACC as Florida State, then they would have played the Seminoles in the conference championship game, instead of being left out of a chance at playing in the Orange Bowl.
This game will showcase two great passing games and should test Georgia's defense that only gave up 17.7 points per game.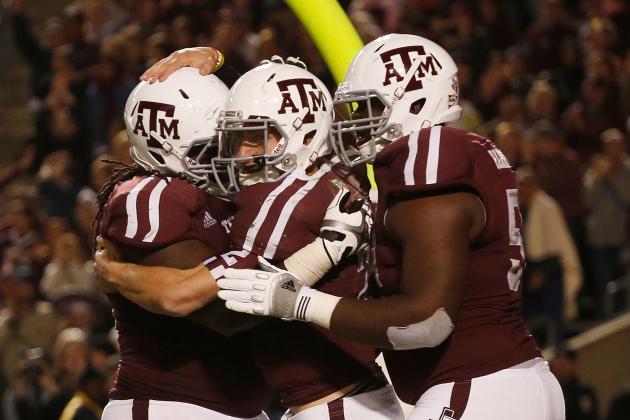 Scott Halleran/Getty Images

This is the game that college football fans should be dying to see, should these teams meet in the postseason.
Not only does this game feature two teams that have a dual-threat quarterback—Texas A&M Johnny Manziel, Michigan Devin Gardner—but it has two young coaches that should be very successful and at their programs for a very long time—Kevin Sumlin at A&M, Brady Hoke at Michigan.
The Capital One Bowl will feature a ton of points, as both teams should be able to go up and down the field at a breakneck speed.
Plus, this will be Michigan quarterback Denard Robinson's final game as a Wolverine and his final shot at taking down an SEC team before he leaves the program.