College Football Realignment: 10 Schools That Should Make a Change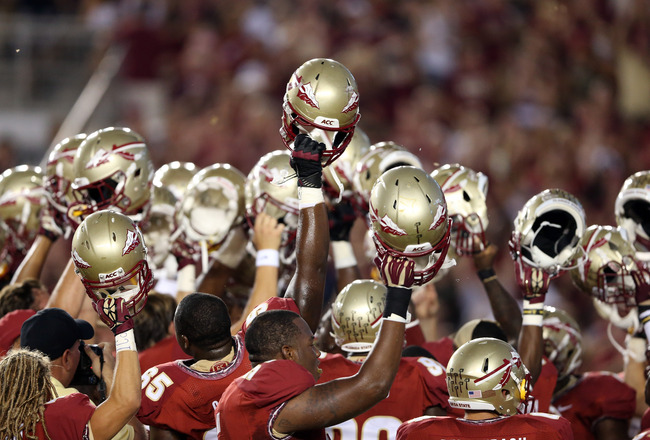 Now that we know that Maryland and Rutgers are off to the Big Ten and Louisville is ACC-bound, it's time once again to reignite the parallel universe that is conference realignment.
But for this session of an old-fashioned game of "domino effect," wouldn't it be interesting to discuss which schools need to change conferences as opposed to which institutions actually will?
It's an approach that honors the would-be, should-be hunter as opposed to the juicy, financially tasty hunted.
The following slideshow uses this approach and presents 10 schools that need to take advantage of the current realignment climate in college football to make a much-needed league change.
The presentation is richly illustrated with fine photographs for your viewing pleasure, and beyond the visual stimulation it may cause the intuitive reader to ever so slightly tweak his/her thought process regarding realignment.
Boise State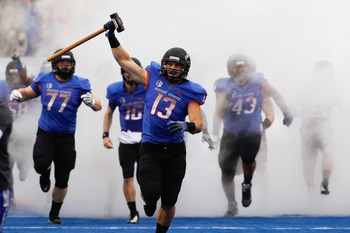 Though Boise State reportedly remains committed to its move (in football only) from the Mountain West to the Big East for the 2012 season, the Broncos still need to find a more suitable conference home.
What Boise State needs—and may deserve more so than any other non-AQ team remaining in the nation—is a league that can offer a bona fide BCS bid which includes a direct shot at the new mini-playoff scheme.
And while the Big East can dangle its tantalizing AQ carrot for new and old members for the 2013 season, after that it's lights out and back to the drawing board.
The way the new-look BCS will operate for 2014 and beyond is that the ACC, Big Ten, Big 12, Pac-12 and SEC will all have automatic bids while the Big East, Mountain West, Conference USA, MAC and Sun Belt conferences will fight over a single bid.
That's right; the highest-ranked champion among the five "other" conferences (a category into which the Big East will fall) will get a guaranteed bid to the big dance with no provisions for an opportunity at the new playoffs.
This all means that, while the Big East might be a short-term fix for the Broncos next season, after that it's only a marginal improvement over their previous status in terms of the BCS postseason.
Plus, they'll be dealing with far-off opponents, a divisional format and a conference championship game.
Boise State needs an offer from the Pac-12 or the Big 12 to seal its fate, a scenario that is less likely due to its geographic location outside of a major TV market.
You can file this under the tab of "sad but true."
Clemson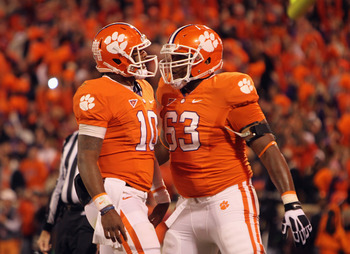 Clemson's need to leave the ACC has less to do with Syracuse and Pitt joining in 2013 and Louisville replacing Maryland for the 2014 season.
The Tigers need to leave what seems like a slow-sinking ACC ship because it offers its strong football members virtually no foundation on which to build a national championship-caliber program.
To illustrate, Clemson is currently 10-2 with losses to top-ranked Florida State and South Carolina, and this nets the Tigers a No. 14 ranking in the current BCS standings.
This doesn't start to smell of injustice until you review the list of 10-2 teams (with the exception of the Seminoles and the Gamecocks) that are ranked ahead of them: Nebraska at No. 12, Oklahoma at No. 11 (the Sooners are 9-2), Texas A&M at No. 9, Stanford at No. 8 and then LSU at No. 7.
What's the difference between Clemson's two quality losses and those of the Huskers, Sooners, Aggies, Cardinal and Tigers?
Well, how about a conference slate that is decidedly more treacherous, proving that not all 10-win seasons are created equally?
The diminishing returns in the ACC from a football standpoint make it an easier league to win but a much more difficult conference in which to make a case for a higher ranking or a shot at a national title.
Eventually, you have to figure that the ACC will become primarily a basketball league.
Clemson would fit perfectly with the SEC.
Cincinnati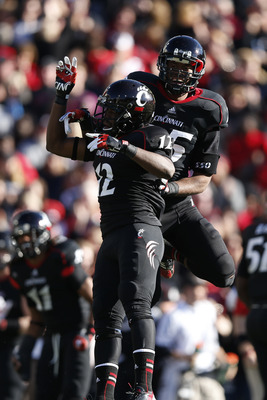 Attention University of Cincinnati: West Virginia, Pitt, Syracuse, Rutgers and Louisville have left the building; you should make a similar exit.
It's high time for the Bearcats to cash in on their status as the last remaining viable football program in the sinking ship that is the Big East and move on to another home that offers full AQ status.
As the Big East slowly morphs into a new form of the Conference USA, it's time to get out while the getting is still good.
Cincinnati has a solid football program and offers a somewhat desirable TV market, making it a realistic dance partner for the Big 12, ACC or another league that won't be relegated from a full-fledged relationship with the BCS and playoff in 2014.
BYU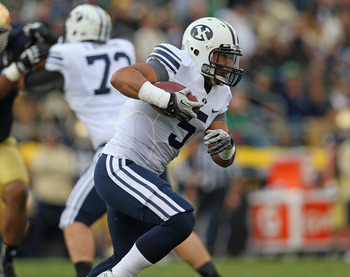 Though it's easy to respect and applaud BYU's decision to cast off the shackles of conference membership in 2011, the gig is up. Independence ain't what it used to be.
Yes, Notre Dame is both independent and bound for the BCS title game, but let's also remember that the Irish are the only league-less program that has a super-special deal in place with the BCS.
The "Notre Dame Rule" guarantees a BCS bid to the Irish if they finish in the top eight of the final BCS standings, a perk that is not afforded to any other independent football program.
And while BYU doesn't have to share its TV money or live with the decisions of a conference dominated by a couple of powerful programs, it also has no viable way of making anything beyond a lower-tier bowl game.
In fact, if the Cougars win six games and become bowl eligible, they have a prearranged marriage with the Poinsettia Bowl for 2012 and then the Kraft Fight Hunger Bowl in 2013—a deal which basically lets the air out of any thrilling buildup regarding how the season might end.
BYU has reportedly been back in cahoots with the Mountain West conference recently. This is a league that will at least have its foot in the BCS door beginning in 2014 by virtue of the new arrangement wherein the highest-ranked champion of the Mountain West, C-USA, MAC, Sun Belt or Big East will receive an automatic bid.
But what BYU really needs—and probably deserves—is a shot at a BCS league like the Big 12 or Pac-12, where it can have a clear path to something more than a "kind of" bid or a trip to the Hunger Bowl.
Miami (Fla.)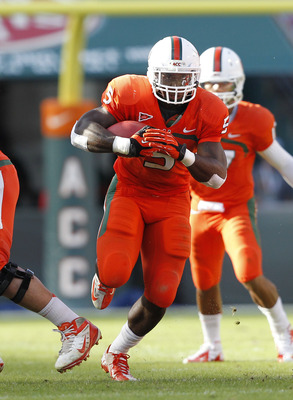 Despite the fact that the Hurricanes have basically dropped off the national radar since joining the ACC in 2004, they are still a viable football program that will eventually need a real gridiron home.
Miami hasn't even won a divisional title since hooking up with the ACC. If they ever do finally break back onto the scene in a major way—which seems realistic with Al Golden at the helm—they'll need a different conference mailing address.
The reason why the Hurricanes need a change is basically the same scenario that Clemson faces: If you win a bunch of games in the ACC, it's not the same as winning a bunch of games in the Big 12, Pac-12, Big Ten or SEC.
And no matter how you slice it, your 11-win ACC-based squad will be ranked lower in the BCS standings than teams with the same records from the other major conferences.
Again, if you have a big-time basketball program, then the ACC makes total sense; if not and you want a football championship, get out while you can.
The good thing for the Hurricanes is that they have a real edge over others in terms of media attractiveness and potential TV contract dollars.
Florida State
To wrap up the conversation on why the ACC is not the place for a football program seeking a BCS championship, we present the case of Florida State.
The 2012 Seminoles offer perhaps the best illustration for our hypothesis, and by playing a simple game of "what if," it's easy to get the picture.
What if Florida State stopped N.C. State on its final drive and won that game but still went on to lose to Florida in the finale?
Now Florida State is 11-1, with a single loss to a Top 10 team, and primed to be in the BCS title mix after taking care of business in the ACC championship…right?
No, because even at 12-1 after beating unranked 6-6 Georgia Tech for the league crown, the Seminoles are ranked below Alabama (12-1 after knocking off Georgia in the SEC title game), Oregon (11-1) and K-State (11-1).
Why?
Well, the Seminoles' run through a weak ACC, or even a strong ACC, doesn't match up to a similar streak through the SEC, Pac-12 or Big 12.
And if Nebraska hadn't lost to UCLA and finished 12-1 after winning the Big Ten title, the Huskers would be ranked above FSU as well.
The ACC puts its football champion into the position of a king's fifth son, or No. 5 in line for the throne.
Again, though the ACC might be an easy place to earn wins, it's a horrible destination if you want to do more than make the Orange Bowl.
Florida State would be a great fit for the Big 12 and would be an attractive package in tandem with Miami (Fla.).
Army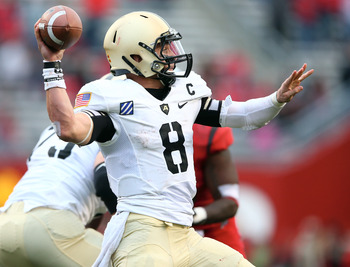 Though Army has been an independent for the bulk of its storied football history, the Black Knights where members of the Conference USA from 1998-2004.
And despite the fact that Army more than likely won't add to its five national championships any time soon, the entire Black Knight football program would benefit from joining a conference.
Why?
Well, Army does play for the Commander-in-Chief's Trophy, and it ends each season with the epic game vs. Navy. But other than that, what are these guys playing for?
If Army was to hook up with a league—any league—then they'd be competing for a conference championship (an honor they've never received), and with the new BCS format in 2014, if they did win a title they'd have a shot at the BCS.
How thrilling would it be to see the likes of Army or Navy (the Midshipmen are still set to join the Big East in 2015) in the Orange, Sugar, Rose or Fiesta Bowl?
Conference membership might be just what Army football needs to slowly return to national prominence beyond the honor and awe it warrants as a military academy.
And if you are looking to move or join a new league, the time is now.
South Florida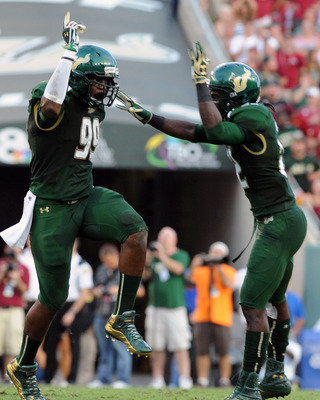 South Florida has only been playing institutional football since 1997, but it's still notable that its 3-8 mark with one game remaining will match the worst record in program history.
USF is an ambitious start-up football entity that has experienced phenomenal growth and results in its brief 15-year history.
The Bulls hit the field in 1997 as a Division I-AA (FCS) independent, moved up to the Division I-A (FBS) ranks in 2001, were Conference USA members from 2003-04 and finally landed a place in the Big East in 2005.
USF is 111-77 all-time and holds a 4-2 record in bowl play that includes a 31-26 win over Clemson in the 2010 Meineke Car Care Bowl.
So, why should such a young team that has done so well be anxious about leaving the Big East for a better conference home?
Well, it's fairly obvious that the aim of Bull football is to move onwards and upwards until USF becomes a BCS-caliber program.
And this makes more sense when you consider that South Florida sits smack dab in heart of some of the most fertile recruiting ground in the nation; if you build it, they will come (or stay home).
Therefore, if the Bulls are to continue trending upwards at a rapid pace, the Big East is no longer a long-term home for what South Florida wants and needs.
It needs a big-time, full-AQ conference.
As to where USF fits, the ACC makes perfect sense—especially if you draw up a scenario that includes either Miami (Fla.) or Florida State fleeing for a more football-centric home.
Northern Illinois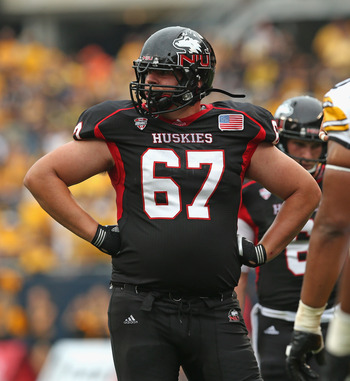 With three consecutive 11-win seasons, Northern Illinois is a program that is moving in the right direction.
The Huskies have been MAC members twice in their 113-year history, the first stint coming from 1973-85 and the second beginning in 1997 and lasting till now.
Though Northern Illinois is somewhat on the fringe, it fits into MAC from a geographic standpoint because it's the closest league home other than the Big Ten.
What doesn't fit, especially moving forward, is the fact that when only one BCS bid is handed out among the highest-ranked champion of the Big East, C-USA, Mountain West, MAC or Sun Belt, the MAC may not offer the launching pad necessary to move on.
If you were to power rank the five leagues that will vie for one BCS berth in most years, the MAC would be No. 4.
This means that a strong team from the MAC may never have higher aspirations than a league title and the best conference tie-in bowl game.
At this juncture, that game is the Little Caesars Pizza Bowl in Detroit, where the No. 1 MAC team is supposed to take on the No. 8 team from the Big Ten.
If a program such as Northern Illinois aims to continue a football revolution, then the new-look FBS/BCS may mean a move to the C-USA, Mountain West or Big East is necessary.
Houston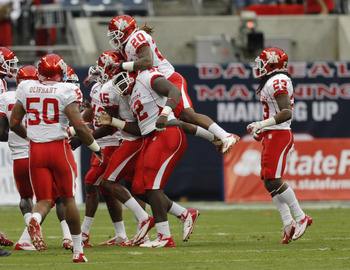 Houston's fate with a BCS system that wasn't even on the radar yet was sealed in 1996, when the Southwest Conference broke up and the Cougars were relegated to Conference USA.
Though Houston is still slated to join forces with the Big East in 2013, the Cougars—like Boise State—will only enjoy the benefits of AQ membership for one season before the system is altered once again.
From 2014 onwards, it really doesn't matter if Houston is in the C-USA or the Big East from a BCS admission standpoint, with the exception of the East perhaps offering a higher level of competition (which would help in the standings).
This could put the champion of the Big East in a better position to be ranked higher than the victor of the C-USA, MAC, Sun Belt or Mountain West and therefore grasp the golden ring of a BCS bid.
Regardless of all the schematics, Houston is a program that has done well enough historically—and sits in one of the biggest TV markets in the nation—to take a step up via a realignment move.
Though you could argue that the city of Houston is saturated with Aggie and Longhorn fans, the city and state are both big enough to make the Cougars a viable big league program.
Especially if Houston started playing TCU, Texas and Oklahoma instead of Tulane, UTEP and Tulsa.
If the University of Houston doesn't strike while the iron is hot, then its athletic programs—especially football—are set to compete at a lower level than may be desired.
Houston is a perfect suitor for the Big 12, where rivalries won't need to be generated because they already exist; they've just been in hibernation for 16 seasons.
Keep Reading