College Football: 9 Players, Coaches and Teams Bound to Choke in Bowl Season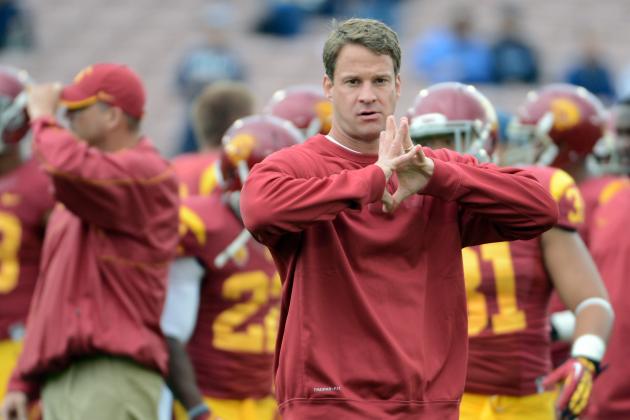 Harry How/Getty Images

Choking is never fun, particularly during bowl season.
Yet every year, we see college teams, players and coaches stroll into bowl season only to frantically look for a metaphorical Heimlich before their program falls to the turf, gasping for air.
The 2012 college football season has seen its fair share of ups and downs, and we're not done quite yet. With bowl season just around the corner, you can bet we'll see more upsets, egg-laying and epic choke jobs before all is said and done.
So which players, coaches and teams are most likely to choke this bowl season?
Funny you should ask...
Begin Slideshow

»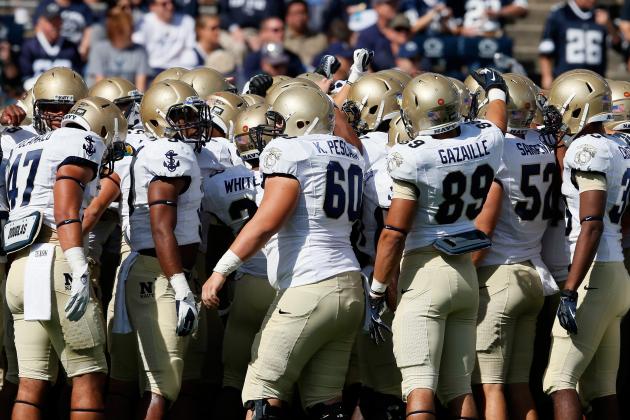 Rob Carr/Getty Images

Navy is headed back to a bowl game this season after a somewhat surprising 5-7 in 2011.
But even though the Midshipmen will be bowling, the 2012 Navy team is a far cry from those teams of nine or 10 wins we saw just a few years back (Navy was 43-19 from 2003 to 2007).
The Midshipmen have a prearranged tie-in with the Kraft Fight Hunger Bowl, and they will be headed to Navy-friendly San Francisco on December 29 to face a Pac-12 opponent yet to be determined.
It's the Pac-12 part that has us believing Navy is destined to be sunk.
Defenses all across the Pac-12 are built to stop the run, and even Navy's sneaky brand of running won't be enough to fool even the least of the bowl-eligible Pac-12 teams.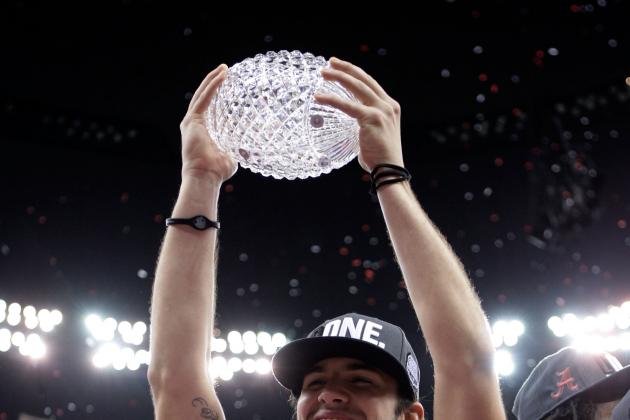 Andy Lyons/Getty Images

Kickers.
Any coach worth his salt knows that you should never put the game in the hands—or on the foot—of a kicker.
Throughout the history of college football, there are countless examples of kicks gone wrong that cost a team the game. There are so many things that can happen during a field-goal attempt, and so many of the unpredictable outcomes are bad.
Very bad.
Kickers don't often cost a team the game, but when they do, it's always a big one.
The Crimson Tide still need to take care of Georgia in this weekend's SEC Championship Game, but if Alabama does punch its ticket to Miami to face Notre Dame, you can bet that points will be at a premium.
Alabama and Notre Dame are, after all, sitting one-two in scoring defense in the FBS (giving up just 9.3 and 10.3 points per game, respectively). Expect both Brian Kelly and Nick Saban to take points whenever they can, however they can—even if it means kicking.
But isn't Jeremy Shelley a perfect 10-of-10 this season on field goals, and 60-of-60 on extra points?
That's exactly the kind of streak that worries us.
Shelley has, over his entire career in Tuscaloosa, missed 11 field goals and three extra points. With such perfection on the line in what could be the biggest moment of his collegiate career, couldn't a missed attempt come due?
OK. So that's like kind of expecting to win the lottery because you lost the last 50 times you bought a ticket. But Shelley missing a crucial kick against Notre Dame is still a better bet than that Powerball ticket you have in your pocket.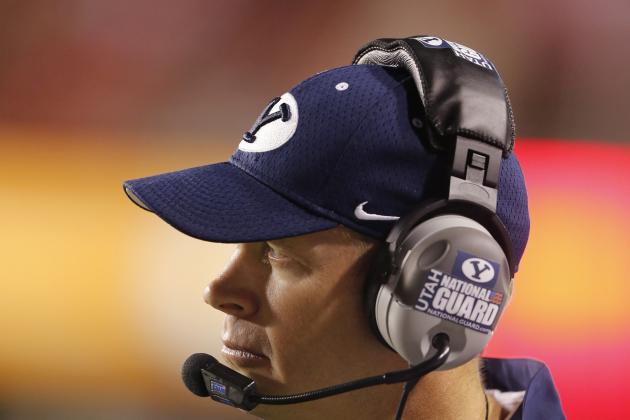 George Frey/Getty Images

It's hard to know what to expect from Bronco Mendenhall and his BYU Cougars this season.
Way back in August, there were high hopes out in Provo about the 2012 season. BYU received votes in preseason polls, and after Week 2 even made an appearance in the AP Top 25 with a No. 25 ranking.
Things sure look a lot different at the end of November.
The Cougars are 7-5 and will face San Diego State in the Poinsettia Bowl in San Diego on December 20.
So far this season, the Cougars have been very streaky, losing games in spurts. Part of the problem for BYU has been a struggling offense which currently ranks 57th in the FBS in total offense.
All of the talent seems to be in place for BYU, and the Broncos had a relatively favorable schedule this season, so what's up?
Mendenhall's tenure at BYU has been remarkably absent of signature wins, and 2012 will be another such season. Even if BYU manages to pull of a win in the Poinsettia Bowl, it will be against a team that doesn't carry a lot of weight, prestige-wise.
Let's not forget that San Diego State is 9-3 this year, either, and beat Boise State—in Boise, no less; more than we can say for BYU.
The Aztecs may be easy to underestimate, and considering Mendenhall has admitted to doubting opponents in the past, it's easy to see how this one could sneak up on him.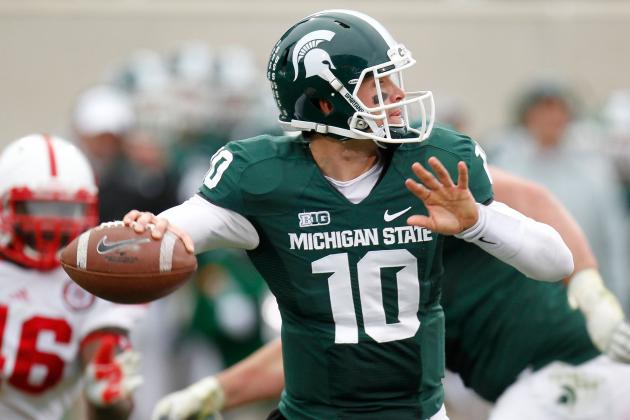 Gregory Shamus/Getty Images

Just when it looked as if the program was ready to turn the corner from "little brother" to perennial Big Ten contender, 2012 comes along and smacks down the Spartans.
Hard.
Michigan State has returned to the ways of old, losing all the close games, many to subpar opponents. With the exception of now-No. 1 Notre Dame, Michigan State did not lose a single game this season by more than four points.
The Spartans barely made it to bowl eligibility this season, finishing 6-6, but thanks to a sanction-laden Big Ten, MSU is all but assured a bowl invite. But that's a far cry from where Michigan State could have, and perhaps should have been this time of year.
A favorite in the Legends Division, MSU fell well short of any goals the team had set for itself, and we can only imagine how difficult is has to be to get up for a game like the Pizza Bowl when the Rose Bowl was the objective.
Michigan State still has a vastly underpowered offense. While any team from the Big Ten should be favored against a potential MAC opponent in a bowl, it doesn't take too much imagination to see how Sparty comes up just short.
Again.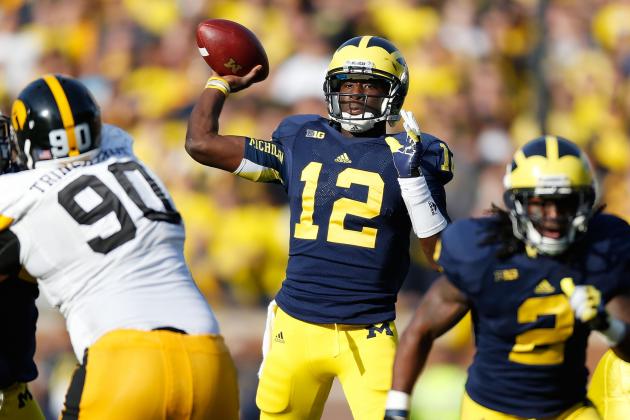 Gregory Shamus/Getty Images

Devin Gardner didn't throw a single pass in Michigan's first eight games of the season.
In the last four games, his passing has been fairly impressive, considering.
Maybe it's just the fact that he's not Denard Robinson.
Gardner has spent much of the year—and his career at Michigan—catching the ball as a receiver. When it comes to throwing the ball, this junior has shown to be prone to the reliability problems of any first-year starter.
The big problem is not only that Gardner is in his first year as a starting quarterback for the Wolverines but that he's only started four collegiate games. Ever.
Michigan's bowl destination outlook gets a boost from Ohio State and Penn State remaining at home due to sanctions. But before you go thinking that's a good thing, think about the opponent for a moment.
The SEC has as many as four or five teams that are BCS caliber this season. Thanks to the limitation of two BCS berths per conference, that means some of those Top 10 teams will wind up playing Big Ten teams in games like the Outback Bowl and Capital One Bowl.
Now, take Gardner with his four games of experience and put him against those defenses. He might choke less if he tries to swallow the football.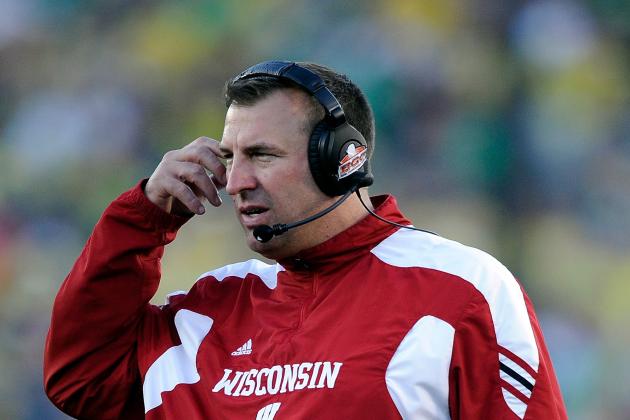 Kevork Djansezian/Getty Images

Bret Bielema and his Wisconsin Badgers weren't the only disappointment in the Big Ten this season.
The Badgers have backed their way into the Big Ten Championship Game. After a third-place finish in the Leaders Division, the Badgers get the nod only because of the ineligibility of both the first- and second-place teams.
Not exactly how you want to make a championship, but Wisconsin is heading for Indy nonetheless.
The Huskers will be rightfully favored on Saturday, but there's still an outside chance we could see Wisconsin in the Rose Bowl Game for the third straight year this season.
But regardless of the destination, we're putting Bielema on the choke alert list because—let's face it—he has a habit of asphyxiation in bowl games.
There was last season against Oregon. Or the year before against TCU.
How about the 2008 Outback Bowl? Maybe the 2009 Champs Sports Bowl?
All of these games have two things in common: Wisconsin lost, and the margin was by seven points, or less: the classic sign of a talented team choking.
The strike against Bielema is that he can't seem to win "the big game" if it's not played in Madison. His overall record is more than good enough to keep him employed, but until we see something more from his team in the postseason, we're going to keep checking his bowl game airway.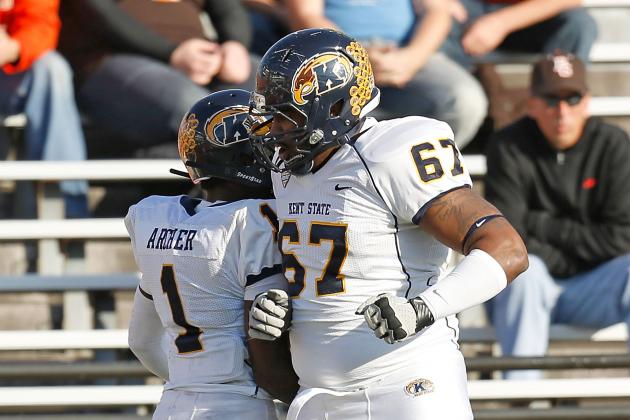 Kirk Irwin/Getty Images

Heading into Friday's MAC Championship Game in Detroit, the Kent State Golden Flashes are on the cusp of doing something no conference team has ever done: play in a BCS bowl game.
If Kent State wins, the Flashes will be the highest conference champion from a non-AQ conference. Additionally, Kent State will likely find itself in the top 16 when the final BCS ranking is released on Sunday.
That guarantees a BCS berth.
Crazy, right? Here's something even crazier: The MAC Championship Game featured two teams ranked in the AP Top 25—something the Big Ten and ACC can't claim.
It's worth noting that it's possible Northern Illinois could be BCS-bound if the Huskies win on Friday, given the right set of circumstances, so all of this applies to them as well.
If and when Kent State (or NIU) finds its way to whichever BCS bowl gets stuck... er, invites them to play, the spectacle of the biggest stage in college football may simply be overwhelming.
Commentators, reporters, columnists and pundits will all be reaching for game day programs muttering "who's No. 16" and "is he a senior" while the unknowns from the college no one can find on a map may be caught like a deer in the massively bright headlights of the BCS. It's more than a lot of teams could take. We won't blame Kent State for choking. But that won't stop it from happening.
This is, after all, the team that lost to 2-10 Kentucky by 33 points earlier this season.
Stacy Revere/Getty Images

LSU quarterbacks gave postseason choking a whole new meaning last season.
As difficult as it was for Tigers fans to watch the 2012 BCS National Championship Game, it probably won't be a whole heckuva lot easier to watch LSU lose in any other game. This year, it will fall to Zach Mettenberger to avoid a performance so anemic as to cost his team a victory.
Easier said that done.
Mettenberger hasn't exactly been the all-powerful quarterback destined to lead his team back to national championship glory this season. His early up-and-down performance has been replaced by a steady run of decent—but not great—games in the final month. Mettenberger has completed between 55 and 68 percent of his passes each game in November, far better than wild swings between 37 and 77 earlier in the year.
While the outcome may not hinge on Mettenberger's numbers (LSU defeated Texas A&M despite Mettenberger completing just 37.9 percent of his passes), he's shown that he can't always be relied upon to turn in the big performance when it matters most.
And what game matters more than a bowl?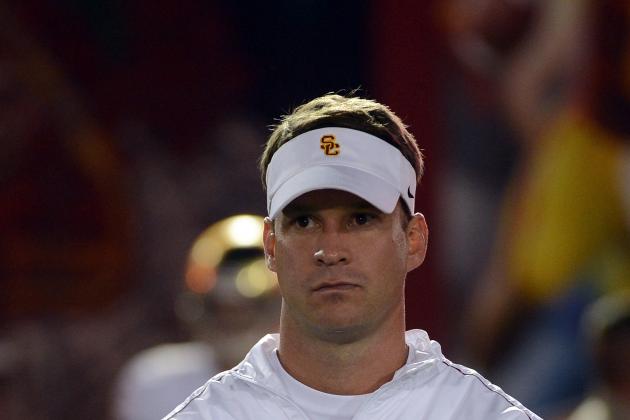 Harry How/Getty Images

Despite prognostications that Notre Dame would choke away their No. 1 ranking against USC, it was the Trojans coughing up a loss.
And USC fans have head coach Lane Kiffin to thank for that.
When you have four plays from the two, you shouldn't have to settle for three points. Just sayin'.
The good news is USC is finally headed back to a bowl this season. The bad news? It's not the BCS National Championship Game. It's not the Rose Bowl Game, either. Or the Alamo Bowl. Or the Holiday Bowl.
Quite a precipitous fall for the Trojans who began the season as the No. 1 team in the nation.
USC has constantly played down to the level of its opponents this season. Despite a plethora of talent about which other coaches can only dream, Kiffin has been unable to find ways around such "landmines" as Arizona.
And we haven't even talked about his bizarre behavior. Lying to the press and walking out on press conferences don't exactly fill us with confidence.
Neither do 7-5 records.