Power Ranking the BCS Top 5 Teams by Coaching Staffs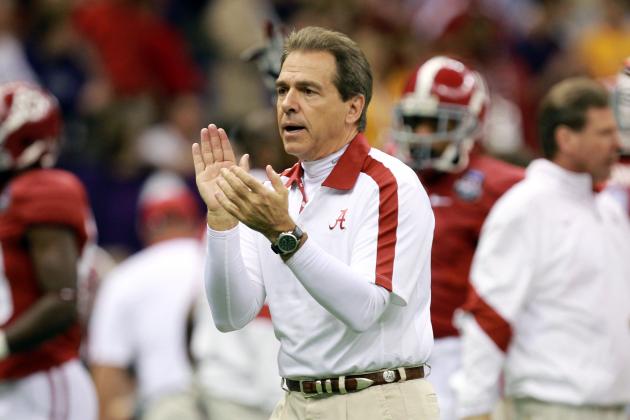 Ronald Martinez/Getty Images

The Top 5 teams in the BCS rankings won't change much in the next week, so it is now time to break down their coaching staffs.
The players on the field receive the majority of the attention throughout the season, but with the bowl games set to begin soon, this is the time of the year when the coaching staffs really make their money.
Talent on the football field only does so much, but if you don't have the staff to put those players in the best position to succeed, potential will only take you so far.
Just look at all of the talented teams this year that failed miserably due to poor coaching.
Each squad at the top of the polls has a staff that any team would be proud to have.
But which coaching staff is the best in all of college football?
Let's take a look.

Note: Rankings are put together on a combination of long-term success and the accomplishments of this season. All stats come from cfbstats.com unless otherwise noted.
Begin Slideshow

»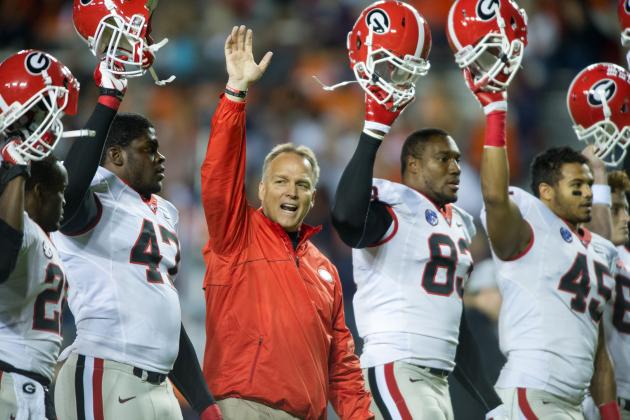 Michael Chang/Getty Images

Main Guys in Charge: Head coach Mark Richt, defensive coordinator Todd Grantham and offensive coordinator Mike Bobo
Say what you want about head coach Mark Richt, but he has won 75 percent of his games and has eight seasons with 10-plus victories.
This year, he has had to overcome many injuries and suspensions on both sides of the ball, yet he still has his team in the SEC Championship.
Ever since Todd Grantham left the Dallas Cowboys back in 2010, Georgia has become one of the best defensive squads in college football. Last year, the defense ranked fifth in the land, and has shown signs of being that good this season when all of his playmakers are on the field.
The Bulldogs also feature the third-best offense in the SEC and 24th-best in college football. A lot of that has to do with Mike Bobo calling the shots as offensive coordinator. He has held the position since 2006 and has produced three NFL quarterbacks since then, not including Aaron Murray, who will likely be the fourth signal-caller drafted.
Overall, the success is off the charts. Now this staff needs to win the big game to begin getting some major respect from the college football world.
Reason they're not higher: They have yet to win that big game to put this staff in the elite category.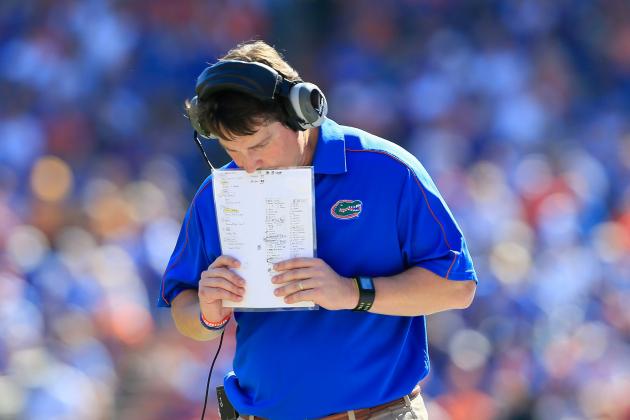 Sam Greenwood/Getty Images

Main Guys in Charge: Head coach Will Muschamp, offensive coordinator Brent Pease and defensive coordinator Dan Quinn
It only took Will Muschamp two seasons to put this Florida program back in the national-title picture after Urban Meyer got up and walked away.
The recruiting is at an all-time high and the team is playing some of its best ball in years. Brent Pease is an offensive coordinator who came over from Boise State and added some excitement to the playbook, mainly by turning the offense into one of the best running teams in the land.
Dan Quinn has only been on the job for two years as well, but the Florida defense has yet to take a step back, ranking in the Top 10 in both seasons. Offensive line coach Tim Davis also deserves some credit for quickly putting together one of the best units in the SEC this year. A unit that struggled last season is having very little trouble opening up running lanes for the backs this year.
This staff may be young, but after only a couple of years on the job, things are taking off for the Gators.
Reason they're not higher: Still very young, and also looking for that big matchup to be a difference-maker. A possible Sugar Bowl victory this year would do the trick.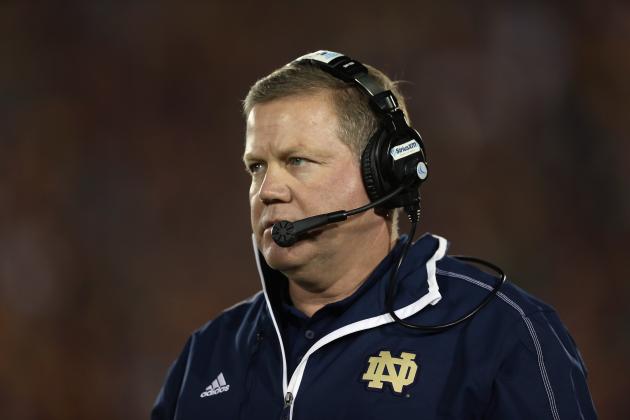 Jeff Gross/Getty Images

Main Guys in Charge: Head coach Brian Kelly, offensive coordinator Chuck Martin and defensive coordinator Bob Diaco

So much for the Irish needing to fire head coach Brian Kelly.
After two seasons of struggling to get the ball rolling, Notre Dame is now sitting pretty with an undefeated record and a spot in the national championship.
Kelly has done an amazing job of pulling the right strings at the right moments and inspiring his players each and every week.
Defensive coordinator Bob Diaco is one of the best assistant head coaches in the country, but has also put together the sixth-best defense.
As for Chuck Martin, he worked with the secondary last season and has now become the quarterback coach and offensive coordinator. In one season, Everett Golson has turned into a respectable quarterback, and the running game is averaging over 40 more yards than a year ago.
This coaching staff underwent a major shakeup during the offseason, with many new guys coming in or changing coaching positions. To have this team in the national championship in just one season is absolutely unbelievable.
Reason they're not higher: The staff was put together just last season. However, their success this year says a lot, and a victory in the national championship would earn this staff some serious consideration for No. 1.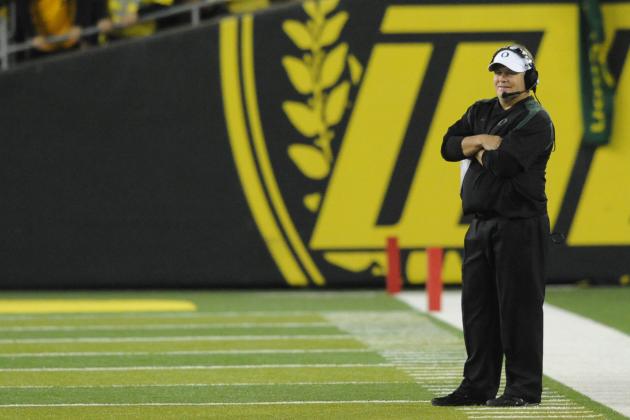 Steve Dykes/Getty Images

Main Guys in Charge: Head coach Chip Kelly, defensive coordinator Nick Aliotti and offensive coordinator Mark Helfrich
I don't think there is any other coach in the country as good as Chip Kelly at running a certain style of offense.
Kelly sticks to a rather basic form of the spread offense, but makes sure everything is so perfect that it is nearly impossible to stop. He also calls the plays, but Mark Helfrich has the title of offensive coordinator and has also had terrific success in improving the quarterback position, as well.
The Ducks have a bad reputation on the defensive side of the ball, but they have always been at the top of the Pac-12 in yards allowed per play. This season, Oregon is third in the conference, last year it was second and back in 2010 the team was first.
You can thank Nick Aliotti for being one of the more underrated defensive coordinators in the country.
Since this staff has taken over, Oregon has gone from a sub-par team to a powerhouse program overnight.
Reason they're not higher: Oregon has tons of success in the regular season, but is 1-2 in the last three BCS bowls. It also doesn't help that there is a staff ahead of the pack that has won two of the last three national championships.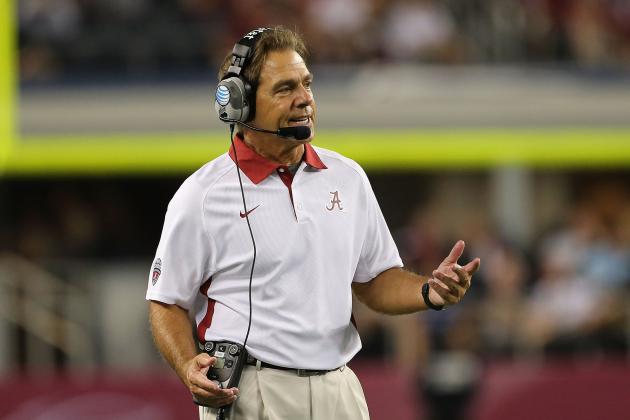 Leon Halip/Getty Images

Main Guys in Charge: Head coach Nick Saban, defensive coordinator Kirby Smart and offensive coordinator Doug Nussmeier
The three national championships speak for themselves when it comes to coach Saban.
Smart is a defensive coordinator who always has his team prepared and his unit playing some of the best football in the country. With his track record of terrific defense, it is only a matter of time before he makes the jump to become a head coach.
Nussmeier is an offensive coordinator who came over from Washington, but he has done a great job of making this Alabama offense one of the more balanced units in the SEC.
Another guy in this staff that doesn't get nearly enough credit is strength coach Scott Cochran. You can check out some of his work here to see why he is one of the best at what he does.
Overall, everybody on this staff does their job well, and their success over the years proves that Alabama has many top-notch coaches.