Penn State Football: Regular Season Grades for Every Ex-Lion Who Transferred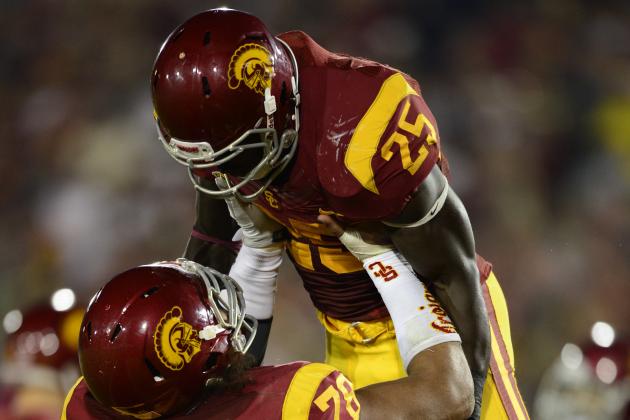 Robert Laberge/Getty Images

As Bill O'Brien and his team walked off the field in Happy Valley after an exciting overtime win against Wisconsin, it was tough not to think about how far this team had come.
After all that had happened with the Sandusky scandal and the firing of coach Joe Paterno, it seemed as though it couldn't much worse at Penn State.
Then came the controversial NCAA sanctions hit, allowing all players at Penn State to transfer and be eligible to play immediately at any school.
This is where it really hurt for O'Brien, as his staff and many seniors scrambled to hold the team together.
Now, as the final whistle has blown on Penn State's season, it has come time to look back at and grade the performances of those who left Happy Valley amidst the scandal and sanctions.
Begin Slideshow

»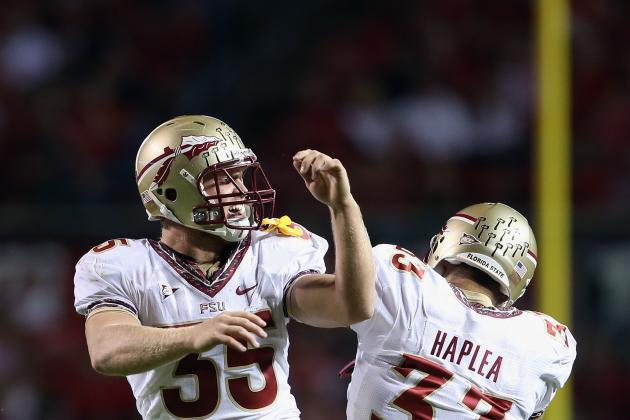 Streeter Lecka/Getty Images

In 2011, as a sophomore tight end at Penn State, Haplea had three catches for 21 yards and a touchdown; not exactly a breakout year.
Haplea was a middle of the depth chart tight end in a Penn State offense that was struggling to figure out who their quarterback was.
Before this season, Haplea left for Tallahassee, Florida to join EJ Manuel and the Seminoles.
But as the second string tight end, Haplea spent most of the season blocking rather than catching passes.
He finished the regular season with three receptions for 15 yards, and one touchdown while playing in all 12 games.
Grade: C+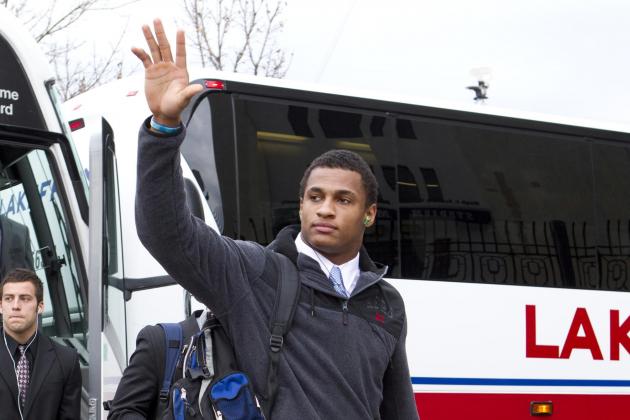 Greg Bartram-US PRESSWIRE

Fortt finished spring practice in Happy Valley last year listed as Penn State's co-starter at middle linebacker.
He played in 22 games at Penn State, while starting once in the past two years.
Coming into this season as a junior, Fortt was a promising linebacker set to start in Happy Valley but decided to take his talents to Berkley, California.
Fortt suffered a knee injury before the 2012 season began and has red shirted this year due to the knee injury.
Therefore, I can't give a grade for a player who hasn't seen the field yet.
Grade: DNP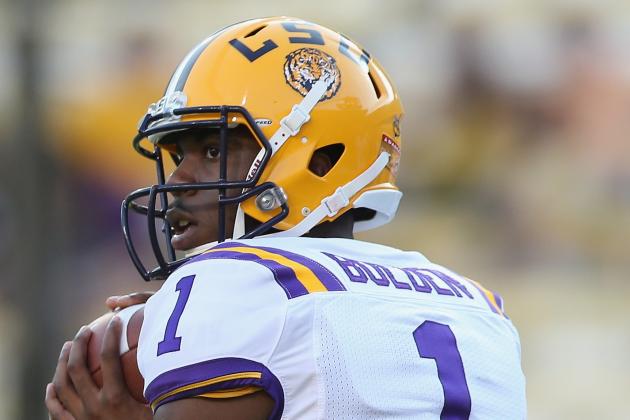 Ronald Martinez/Getty Images

Bolden's time in State College was trying at best. The quarterback came in as a freshman with high expectations and pressure on his shoulders, but simply couldn't deliver.
When the news came that Bolden was transferring to Louisiana State (LSU), it didn't exactly make the Penn State Proud nervous.
Last year Bolden threw for 685 yards and two touchdowns in 10 games, but this year he is third on the depth chart for Les Miles and hasn't played in a game this year.
Much like Fortt, I can't really give Bolden a grade for riding the pine. But unlike Fortt, Bolden doesn't have an injury keeping him on the sidelines.
Grade: DNP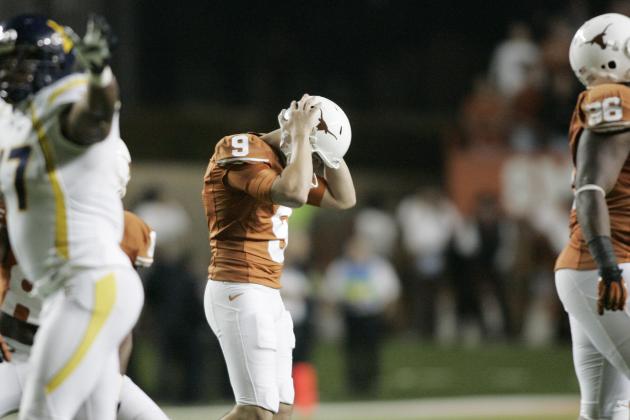 Tim Heitman-US PRESSWIRE

Anthony Fera's decision to move back to Houston and kick for Texas had more than football driving it. This past summer, Fera's mother was diagnosed with multiple sclerosis.
Obviously Fera has been missed at Penn State (see Sam Ficken), but at Texas, his impact hasn't been as big as Mack Brown may have hoped.
Fera is currently listed as the second-string punter and place kicker on Texas' depth chart, behind kicker Nick Jordan and punter Alex King.
He missed the Longhorns' first four games with a groin injury, and then saw his first playing time against West Virginia,
Fera hasn't punted yet, but is 2 of 4 kicking field goals, and has made 23 of 25 extra points.
Surprisingly, Ficken has outscored Fera 81 to 29.
Not a Lou Groza finalist type season, but for coming off an injury and dealing with family issues, Fera hasn't done too badly.
Grade: B-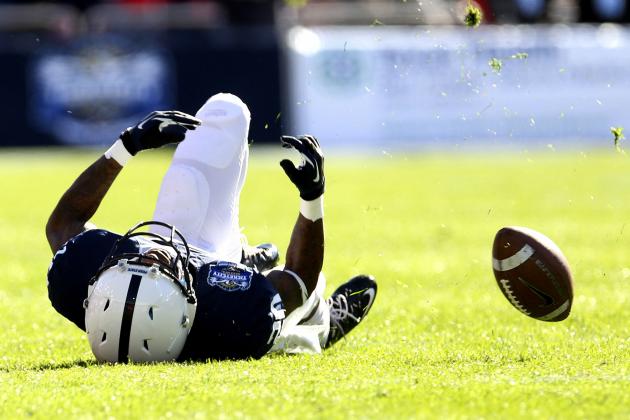 Kevin Jairaj-US PRESSWIRE

Although most Penn State fans may miss the lightning quick speed of the short receiver, they won't be missing his off-the-field issues.
Smith was reportedly dismissed from the team last season shortly before his transfer to Marshall this past summer.
Although he is on the roster at Marshall, Smith is not listed in the depth chart and didn't participate in any games.
Last year, Smith played in all 13 games and caught 25 passes for 402 yards with two touchdown catches. He also returned four kicks for 42 yards and three punts for 11 yards.
Once again though, Smith is another transfer that didn't play in 2012.
Grade: DNP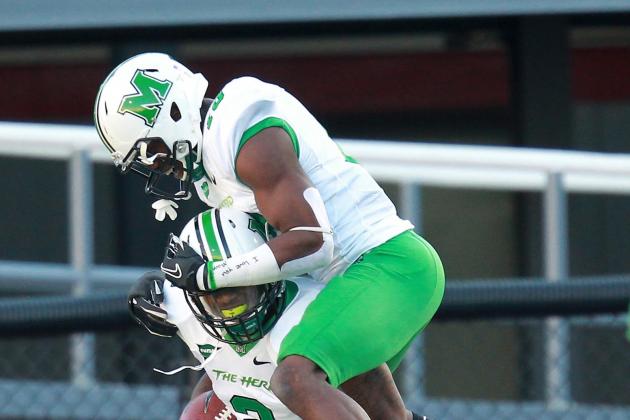 Marvin Gentry-US PRESSWIRE

In one of the quieter moves by a Penn State transfer, the junior defensive back also decided to go to Marshall.
Last year Thomas only appeared in nine games for the Nittany Lions, while recording four tackles.
This year for the Herd, Thomas has played in all 12 games while starting in eight of them. He has 53 tackles for the season, one pick and a fumble recovery.
Thomas had quite a turnaround from his sophomore season in Happy Valley.
He is one of the biggest surprises of this group of transfers.
Grade: A-
Brett Deering/Getty Images

For many fans the news of Brown really hurt; he was a senior and a returning letter winner for the Lions.
Last season Brown had 35 catches for 517 yards and two touchdowns. He also returned 27 punts for 220 yards.
This season for the Sooners, he has 62 catches for 795 yards and four touchdowns.
Currently Brown is the number two receiver behind Kenny Stills, the Sooners top threat at receiver.
But Brown has returned 20 punts for 306 yards, including a 90-yard return for a touchdown against Kansas.
Brown hasn't exceeded expectations by any means, and although his receptions nearly doubled, his yards receiving only went up by 278 yards.
Grade: B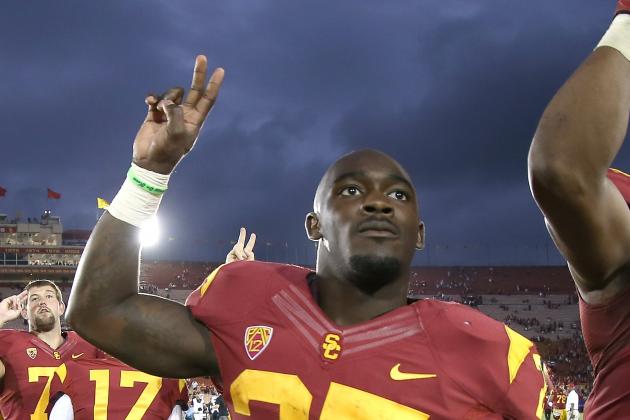 Stephen Dunn/Getty Images

The departure of Redd to Southern California may have been the biggest dagger in the Penn State football program - it left O'Brien without a proven running back.
This year Redd was named as a 2012 All-Pac 12 Honorable Mention back, rushing for 817 yards on 150 touches and scoring nine touchdowns on the ground. He also pulled in six catches for 99 yards.
This season Redd was listed at the top of the depth chart with the top back being Curtis McNeal OR Silas Redd.
Redd was by far the best performer of the group of Ex-Lions; that being said though, he was still out-rushed by Penn State's Zach Zwinak 1007 yards to 817.
Grade: A