Nebraska Football: Huskers' 8 Biggest Advantages over the Wisconsin Badgers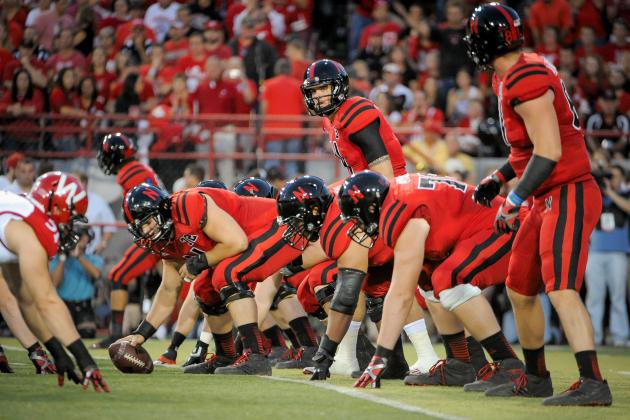 Eric Francis/Getty Images

The Nebraska Cornhuskers will take on the Wisconsin Badgers in their first ever Big Ten title game appearance this Saturday in a rematch of Nebraska's 30-27 win on Sept. 29 in Lincoln.
The Big Red will try to secure their first conference title since 1999 and change their poor fortune in their two previous conference championship game appearances under Bo Pelini. But this time they will enter the game as the clear favorite.
Although Nebraska suffered a couple crucial injuries this week to Justin Jackson and Baker Steinkuhler, let's look at the eight ways the Huskers have a distinct edge over Wisconsin.
Begin Slideshow

»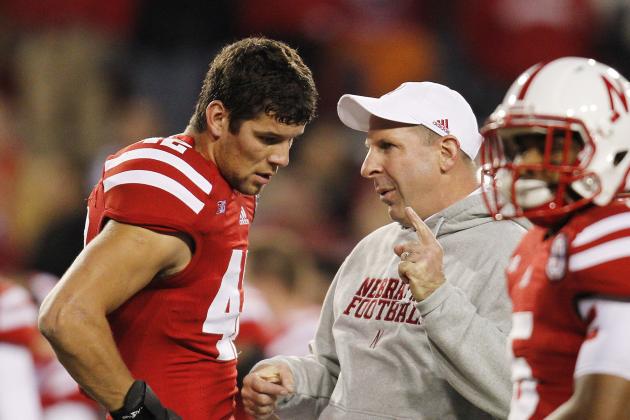 Bruce Thorson-US PRESSWIRE

After Nebraska beat Wisconsin back in September, everyone wanted to talk about the huge comeback, rightfully so. But what is often overlooked is that almost as strong as Nebraska's penchant to come on strong late in games is Wisconsin's to wither.
While Nebraska has given up 49 fewer points in second halves than first halves, Wisconsin has conceded 37 more in second halves than first halves (excluding points scored in overtimes). Of course, this could be attributed to preparedness for the game or Nebraska's incredible ability to come out flat. But, let's stay positive and call it better in-game adjustments.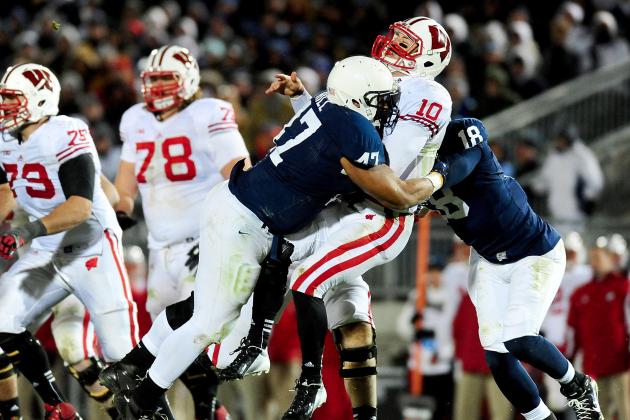 Evan Habeeb-US PRESSWIRE

Following the embarrassment Nebraska endured at the hands of Ohio State, Bo Pelini inspired many scoffs when he called for his Huskers to finish the year unbeaten. Well, a few weeks later Nebraska is riding a six-game winning streak and basking in the momentous return of Rex Burkhead.
Meanwhile, Wisconsin cannot be feeling too good about themselves. After losing yet another overtime game at Penn State, the Badgers are probably the third best team in their NCAA sanction-riddled division.
Their reward for finishing the highest of the eligible teams: a rematch with a Nebraska team that dominated them for the last half hour of their first meeting.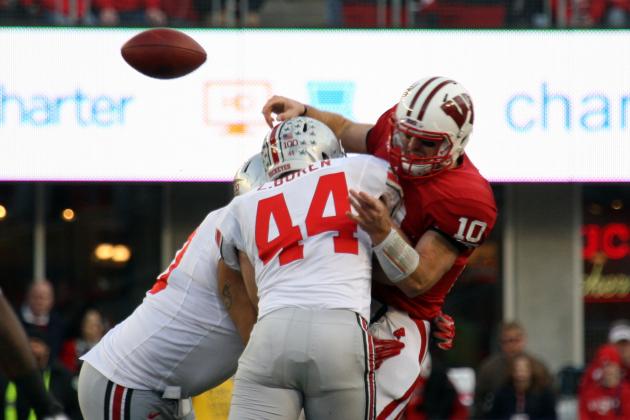 Mary Langenfeld-US PRESSWIRE

Truthfully, this is more about Wisconsin than Nebraska. Although Nebraska's Taylor Martinez was (very surprisingly) named to the All-Big Ten first team by the coaches and had a huge game against the Badgers in their last meeting, he wins this battle largely due to Wisconsin's shortcomings.
The quarterback position has been a revolving door for Wisconsin all year long. The second coming of Russell Wilson (Danny O'Brien) did not exactly pan out. And after injuries Curt Phillips now leads the Badger offense. Phillips has completely about 50 percent of his throws in his past two games and gets to take on the Blackshirts who rank second in the nation in passing defense.
Eric Francis/Getty Images

Wisconsin certainly has a lot of talent at the "skill positions." Jared Abbrederis has had another outstanding year, Montee Ball is breaking NCAA records and that is not to mention Ball's backup, James White, another quality back who has accumulated almost 700 yards this season.
But the Huskers simply have more firepower. Nebraska boasts arguably the best wide receiving corps in the conference with speedsters Kenny Bell and Jamal Turner, along with the big, strong Quincy Enunwa. Then there is the backfield, which mixes quickness and power with Rex Burkhead and Ameer Abdullah. This is not to mention Taylor Martinez, maybe the fastest quarterback in the nation, at the helm. Nebraska just has more weapons than Wisconsin.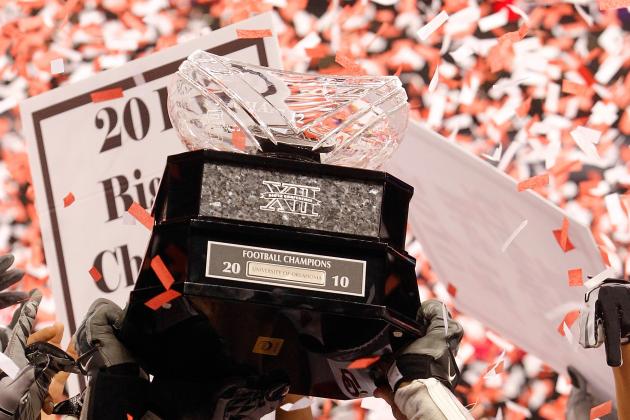 Tom Pennington/Getty Images

Admittedly, any questioning of a team's motivation going into a conference championship game should be met with skepticism. But there is no denying this one means a little more to Nebraska.
The Badgers are the two-time defending Big Ten champions and are playing for their third consecutive trip to the Rose Bowl. Meanwhile, Nebraska is competing for its first Big Ten title and first trip to Pasadena as the Big Ten representative. Simply put, Wisconsin has been there and done that. But Nebraska still feels the pain of Oklahoma's comeback two years ago and the ghost second that allowed Texas to snatch away a title three years ago. If one team wants this one more, it has to be Nebraska.
Reese Strickland-US PRESSWIRE
Who was the home team here again?
The motivation the players have heading into this game carries over to the fans. While last year's Big Ten title game may have been a hot ticket for Wisconsin fans, after a lackluster season and an asterisk-laden divisional title, one cannot expect the Badger faithful to be as energized to make the trip to Indy.
But the exact opposite will be true for Husker Nation, which will likely make a strong showing at Lucas Oil Stadium. After the strong contingent of Husker fans that traveled to new Big Ten venues like Northwestern and Iowa, expect the Big Red fan base to make another strong showing at a much more exciting stadium to visit.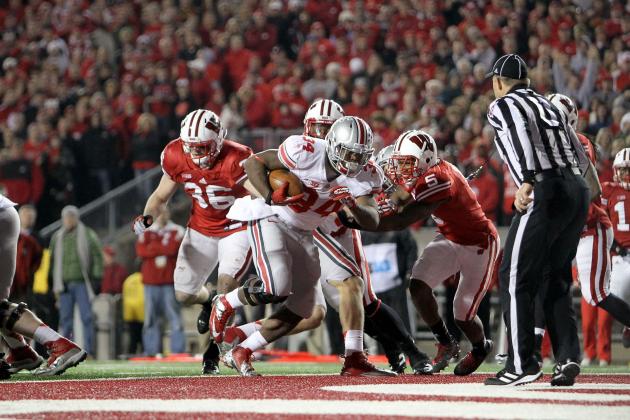 Mike McGinnis/Getty Images

Similar to Nebraska and Wisconsin's first- and second-half tendencies outlined earlier, their performances in clutch situations are equally different.
Nebraska has built a reputation as the king of the comeback, trailing in every Big Ten game except one. Wisconsin, on the other hand, has lost every Big Ten game decided by 20 points or fewer. Three of those four losses came in overtime, two of which were at home. If Wisconsin is forced to make a big play late in this game, the advantage definitely goes to Nebraska.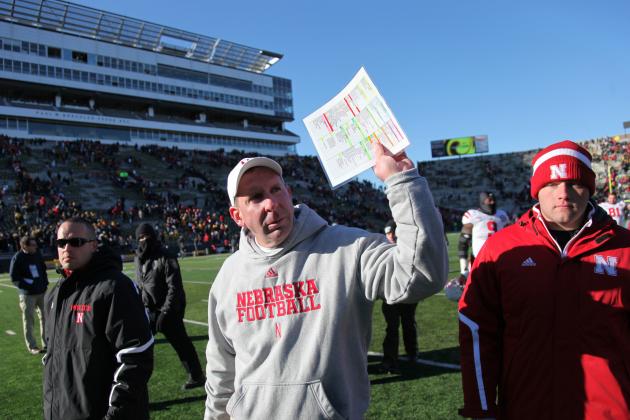 Matthew Holst/Getty Images

This is really scratching the bottom of the barrel. But, for the sake of optimism, let's remember that Nebraska will have one more day of rest before Saturday's game.
It is doubtful this will really make any difference. At best, this means that Nebraska's Rex Burkhead will have another day to nurse his nagging injury. Wisconsin did have to play an emotional overtime game at Penn State last Saturday. Maybe they will be a little more worn out from such a taxing contest? Probably not. But if anyone benefits from the schedule in a small way, it definitely is Nebraska.