Alabama vs. Georgia: Breaking Down Coaching Battle of Mark Richt vs. Nick Saban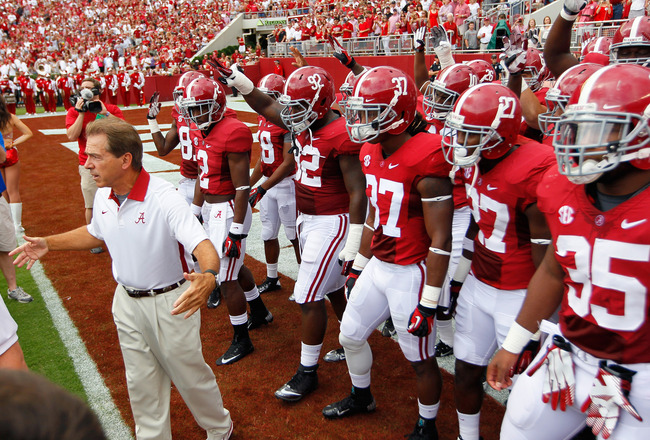 Kevin C. Cox/Getty Images
The conference championship game that everybody will have their eyes glued to this weekend is the one that includes the two teams from the SEC. The big matchup between the Alabama Crimson Tide and Georgia Bulldogs will determine who plays the Notre Dame Fighting Irish in the BCS National Championship Game.
It should be the best game of the weekend, as both are Top Three programs in the latest BCS rankings, and both are amazing defensively. There is a ton of NFL talent between these two teams, and you will certainly have spent your time wisely when tuning into this matchup at 4 p.m. ET on CBS.
But the coaching battle is always worth talking about, as both Georgia and Alabama have successful guys running its team. When you combine the accomplishments of both head coaches, you end up with three national titles, five SEC titles and 12 division crowns.
Let's break down both of these successful SEC coaches and see who will have the advantage come Saturday.
Mark Richt This Season
Kevin C. Cox/Getty Images
Before you go on and laugh at the schedule of Georgia this season and accuse the Bulldogs of having a cakewalk to the SEC championship, it is important to know that everything has not come so easy.
Georgia began the first several games of the season without key defensive players, which forced Richt to take playmaking wide receiver Malcolm Mitchell and put him on the defensive side of the ball. This then removed one of the more explosive receivers in the SEC from an offense that already had a fair share of issues.
Isaiah Crowell was dismissed from the team during the offseason, which led to playing two true freshmen at running back. Wide receiver Michael Bennett suffered a season-ending injury after five games of being the Bulldogs' leading wide receiver.
The team also had to improve an offensive line that allowed 33 sacks last season. The answer was starting freshman John Theus at tackle and moving a few players around to different positions, which has improved the Bulldogs drastically up front.
Despite the schedule that included only two ranked teams all year, this is easily one of Richt's best coaching performances of his career.
Nick Saban This Season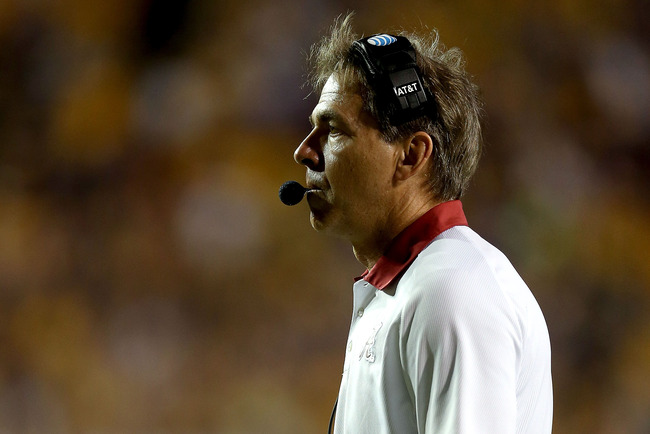 Matthew Stockman/Getty Images
Saban is known throughout the college football world as being a brilliant defensive mind and somebody who pays great attention to detail. Both of those positive traits came in handy when the Crimson Tide lost six defensive starters from a year ago, leaving many questions on that side of the ball.
By working closely with defensive coordinator Kirby Smart during the offseason, Alabama once again has the top defense in all of college football, as they were able to mature young talent quicker than most and prepare them for big games on Saturdays.
You really couldn't tell that there are three new players in the secondary and that the linebacker corps consisted of mainly sophomores.
Offensively, Alabama has taken the handcuffs off of A.J. McCarron a little bit, which has helped this offense become more balanced than it was a season ago. Despite being thin at the running back position, Saban has done a remarkable job of splitting playing time between Eddie Lacy and freshman T.J. Yeldon.
Overall, this is just another day at the office for Coach Saban, who has actually surprised many who thought Alabama didn't have the talent to reach the SEC championship in 2012.
Mark Richt Accomplishments in Big Games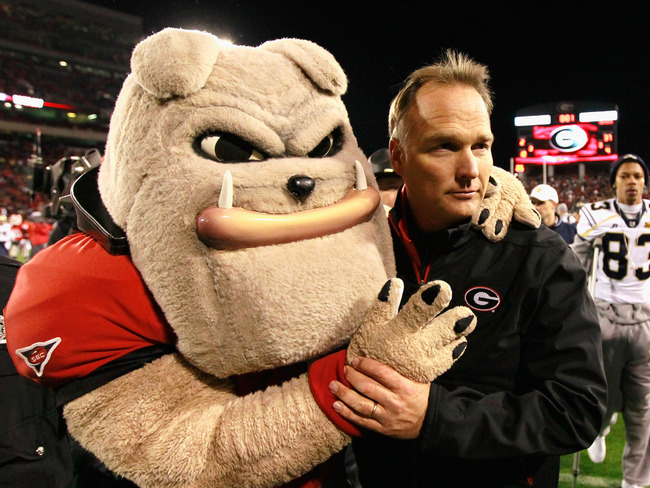 Kevin C. Cox/Getty Images
Two SEC championships
Six SEC East Division titles
A 7-4 record in bowl games
Mark Richt has done a fabulous job of coaching in the regular season, as you can see with his six division titles in his 12 years at Georgia. He has also won 75 percent of his games, but his performances in big matchups have always been his downfall and something that has driven Bulldogs fans crazy over the years.
Under Richt since 2009, the Bulldogs are a combined 4-12 against ranked opponents, which isn't a good thing going into the SEC championship games. The two conference championships that were won came back in 2002 and 2005, which were both won by a combined score of 64-17.
The Georgia head coach has had eight seasons of double-digit victories and has done a great job of winning the games he is supposed to, but the track record against ranked opponents isn't exactly a positive sign going into this contest.
Nick Saban Accomplishments in Big Games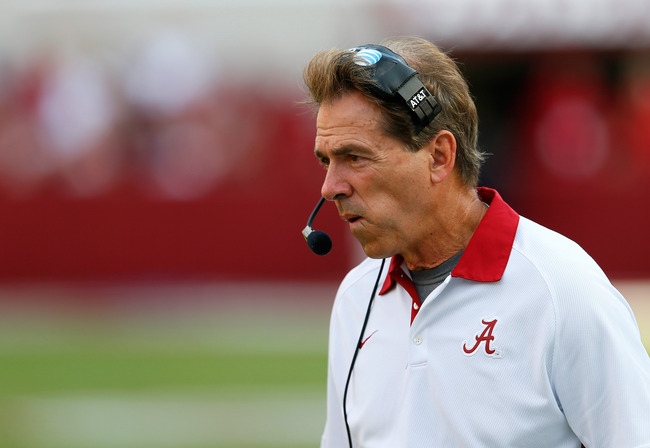 Kevin C. Cox/Getty Images
Three BCS national championships
Three SEC titles
Six SEC West Division titles
A combined 7-6 bowl record
I don't think much needs to be said about the performance of Nick Saban in big games. He has won a national championship with two different schools, including two of the last three championship games. He has also won four of his five bowl appearances with Alabama and has only lost one of the four SEC championship games he has been involved in.
It really goes without saying that Saban was built for the big stage, and all of the hard work he puts into each week really pays off.
Very few guys are capable of producing consistently under the bright lights, but Saban happens to be one of the elite that can get the job done more times than not.
Who Has the Advantage?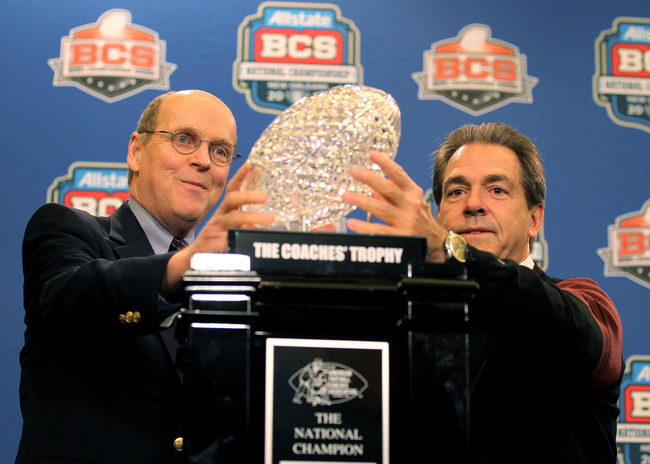 Andy Lyons/Getty Images
Probably the only coach I might pick against Nick Saban would be Urban Meyer, and last time I checked, he left the SEC a couple of years ago.
Mark Richt is a good head coach and has done wonderful things with Georgia, but Saban is a completely different type of guy.
The Alabama head coach makes sure his players know what time it is every Saturday and treats each game like it is a national championship game. There is very little goofing around, as you can tell Saban hates losing more than he enjoys winning. He has never had a losing record in his head-coaching career that dates back to 1990, and he loses very few big games.
With Richt, you are never quite sure which team is going to show up or how his team is going to perform. I know with Alabama that Saban will have his guys ready on the football field, and the Crimson Tide will treat this more as a business trip than a short vacation to Atlanta.
Very few coaches can out-coach Saban, and Richt is not one of them.
Keep Reading