Week 13 in college football is loaded with games so epic they carry names as dramatic as "The Civil War," "The Iron Bowl" or, simply, "The Game."
It's rivalry week, and that means big emotion and much intense action. Also, a whole host of captivating images.
Check out some of the best images from the week's biggest games.
Notre Dame's Semifinal Game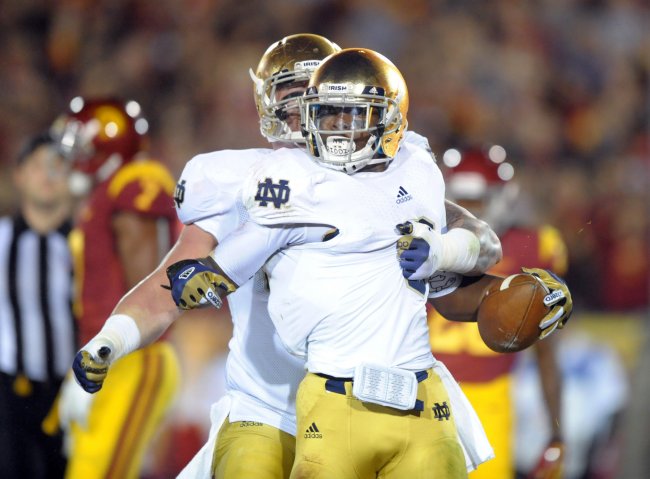 Kirby Lee-US PRESSWIRE
Notre Dame entered Saturday's contest knowing if it won it would be guaranteed a spot in the national championship game. Well the Irish rolled into the Los Angeles Coliseum and pulled out a 22-13 victory over USC.
As you will get a feel for in the next two pictures, Notre Dame dominated this game on the ground, which paved the way to its victory.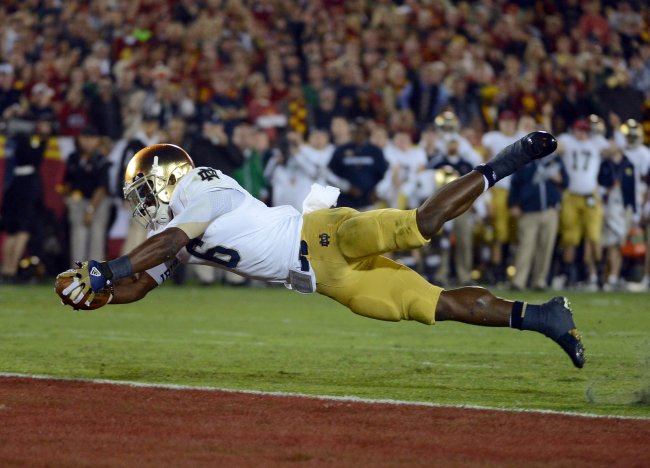 Harry How/Getty Images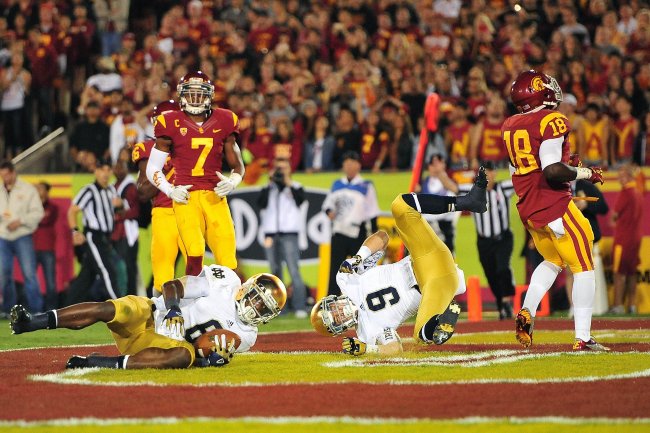 Gary A. Vasquez-US PRESSWIRE
Meanwhile, things are not so rosy for USC. After beginning the season as the nation's No. 1 team, they limp to the end of the regular season with a 7-5 record, and Lane Kiffin was left with this look on his face far too often.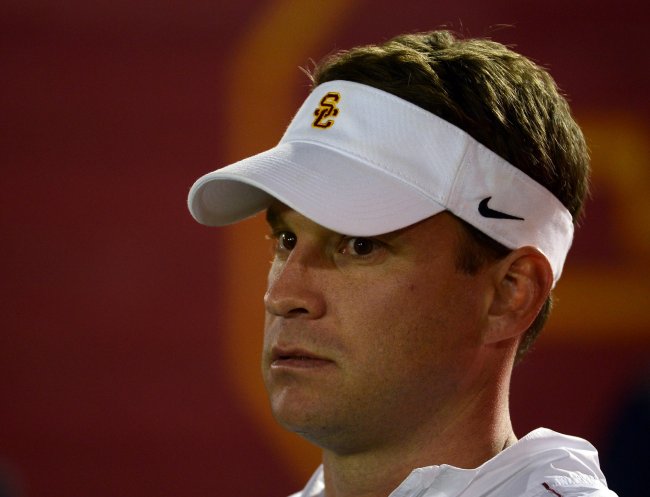 Harry How/Getty Images
The Civil War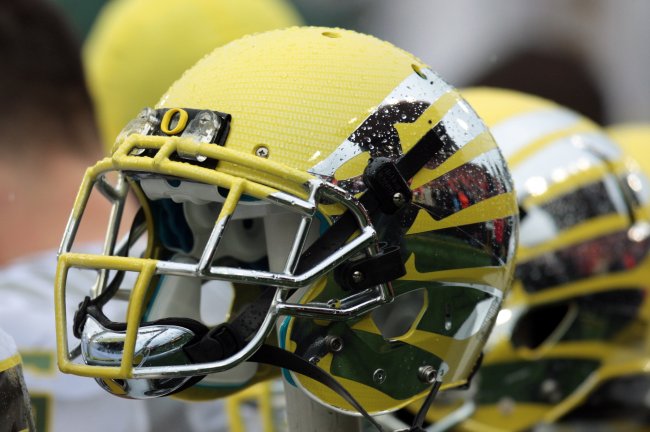 Scott Olmos-US PRESSWIRE
This rivalry game, featuring two teams ranked in the top 15 of the BCS standings, was close in the third quarter. The Beavers actually held a 20-17 lead after kicking a field goal early in the third.
However, that is when the Ducks took flight. Oregon scored the next 28 points and ended up winning, 48-24.
While these two teams have potent offenses, there was plenty of hitting going on. Like the two plays captured in these next images.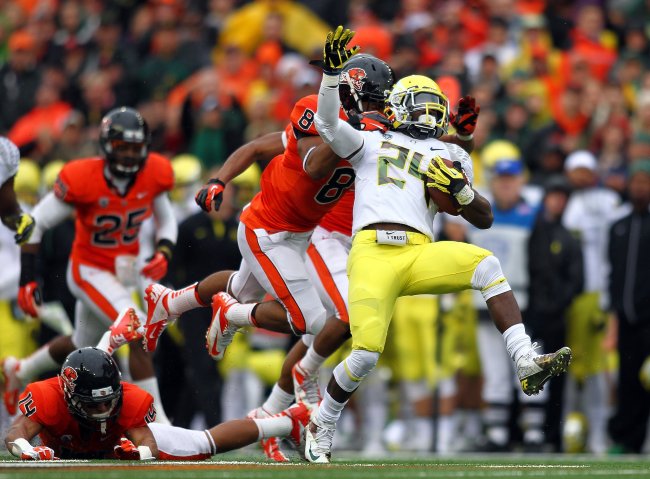 Jonathan Ferrey/Getty Images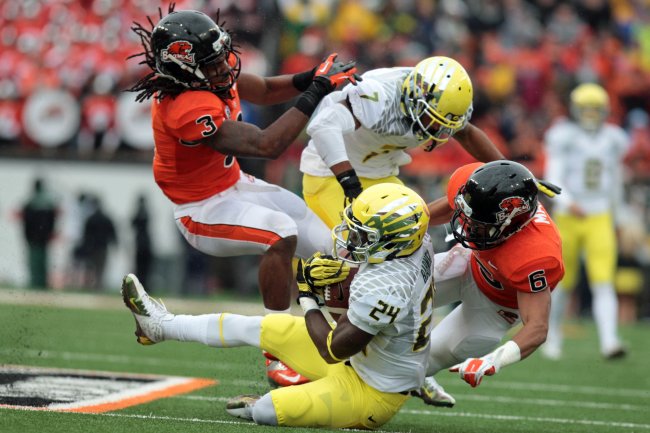 Scott Olmos-US PRESSWIRE
The Bedlam Rivalry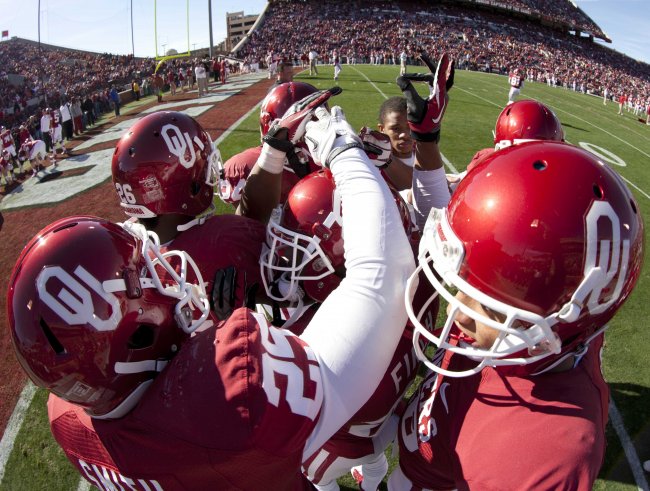 Richard Rowe-US PRESSWIRE
This game was expected to be high scoring and it did not disappoint. The Sooners won 51-48 in overtime.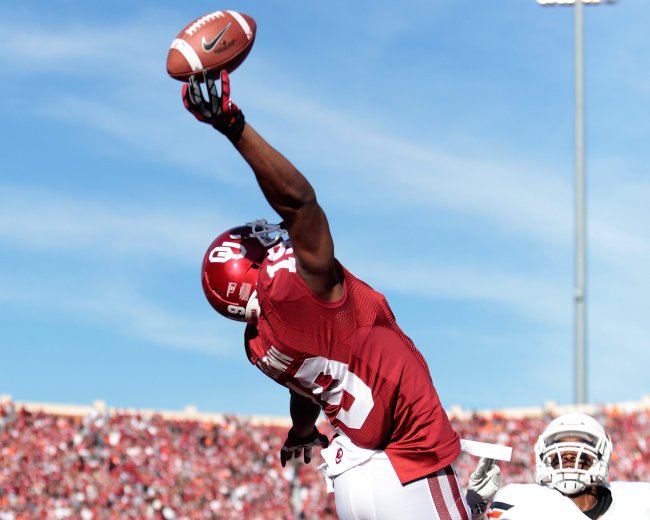 Brett Deering/Getty Images
This was a high-flying game, and no one was soaring more than Oklahoma QB Landry Jones, who threw for 500 yards.
Florida vs. Florida State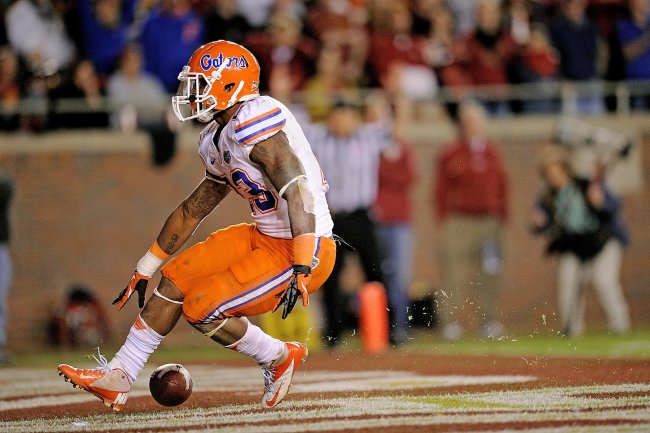 Kevin Liles-US PRESSWIRE
Does this game have a nickname I'm not aware of? If not, it needs one.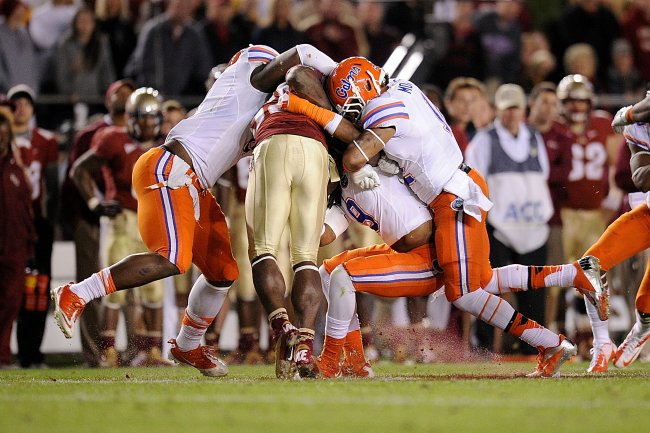 Kevin Liles-US PRESSWIRE
The two schools offered up another thrilling installment of this rivalry as Florida won, 37-26. The Gators outscored the Seminoles 24-6 in the fourth to ensure victory.
The Game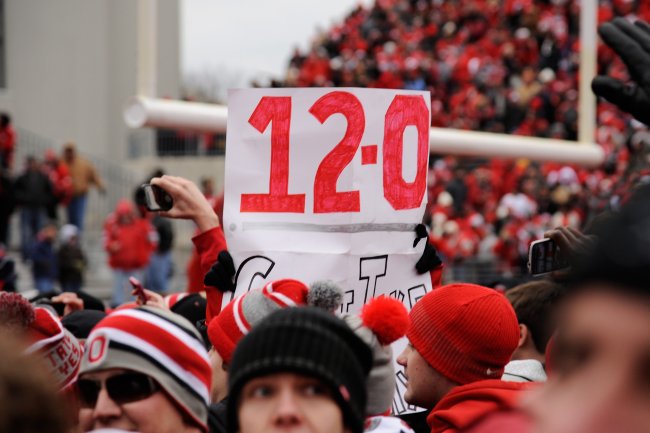 Jamie Sabau/Getty Images
Ohio State rolled into its epic rivalry looking to cap off a perfect season, and they did just that with a 26-21 win. Although they did have a hard time wrapping up Denard Robinson.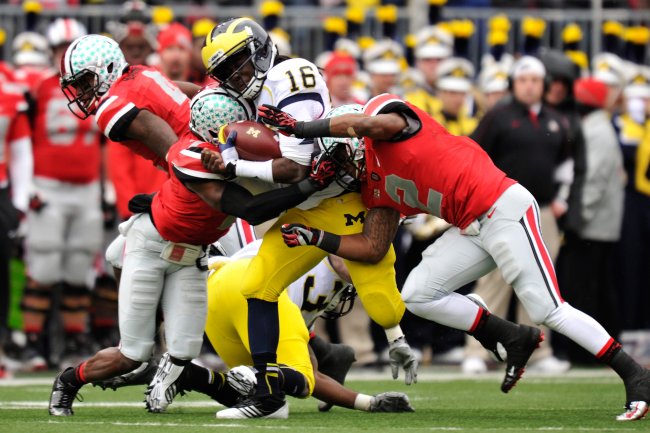 Jamie Sabau/Getty Images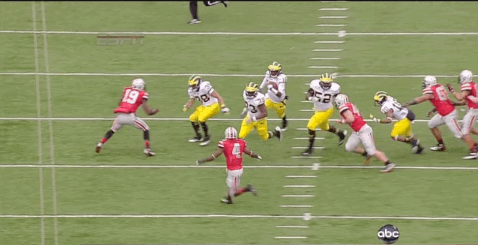 However, just like they have in every other game this season, Ohio State found a way to battle through.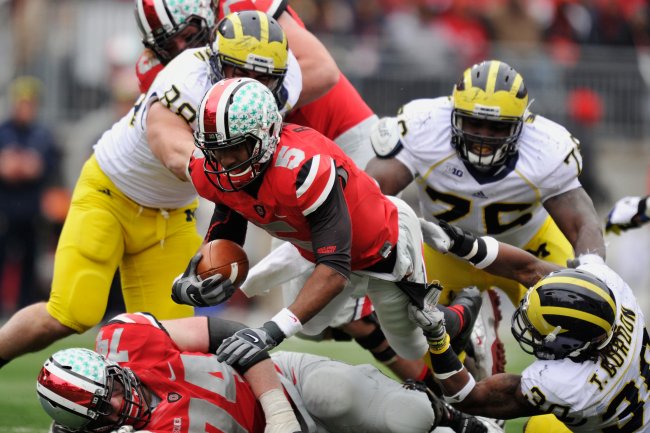 Jamie Sabau/Getty Images
The Duel in the Desert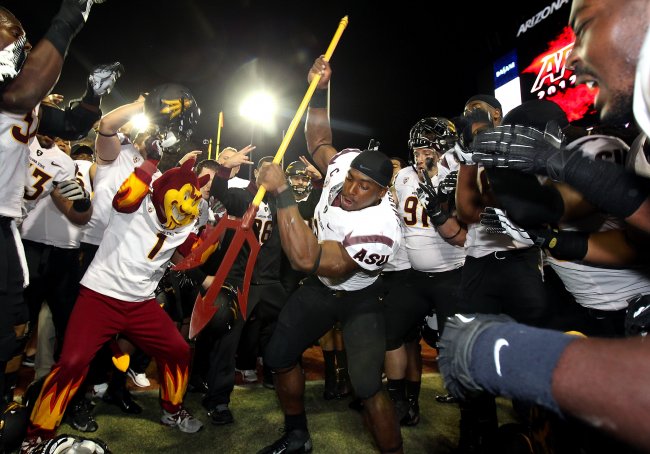 Christian Petersen/Getty Images
Arizona looked to have this contest in hand as they took a 27-17 lead into the fourth quarter, but the Sun Devils rallied and scored 24 in the fourth to take this rivalry game.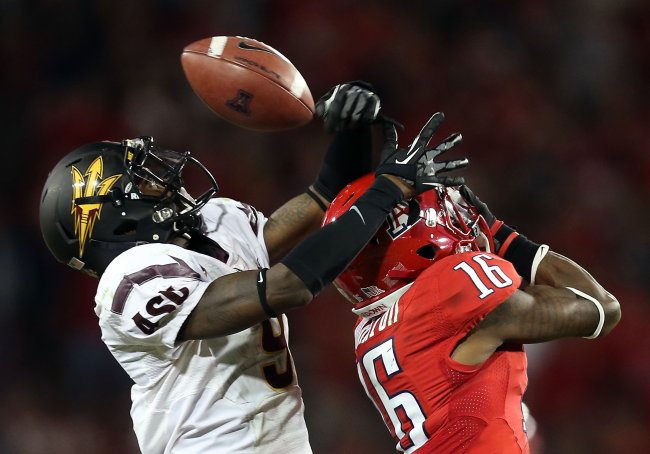 Christian Petersen/Getty Images
The Apple Cup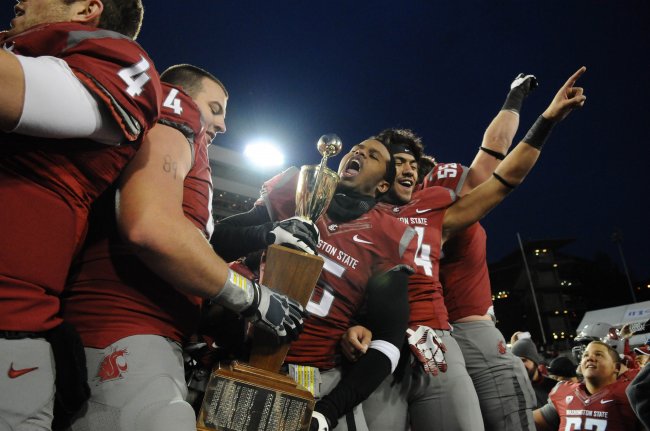 James Snook-US PRESSWIRE
The Washington State Cougars will end this season with just one win in the Pac-12, but they made that win count as they upset Washington, 31-28, in overtime.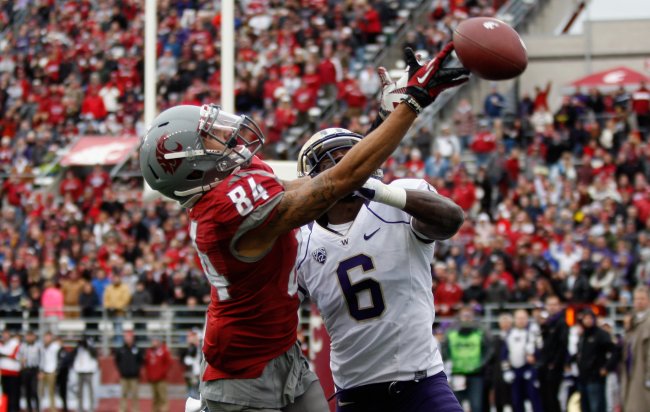 William Mancebo/Getty Images
This was entertaining game with many big plays, and some nice defense, like in the above and below pictures.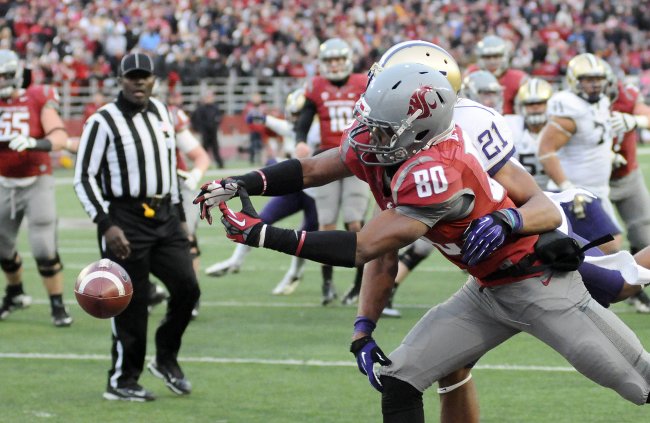 James Snook-US PRESSWIRE