LSU vs. Arkansas: Twitter Reaction, Postgame Recap and Analysis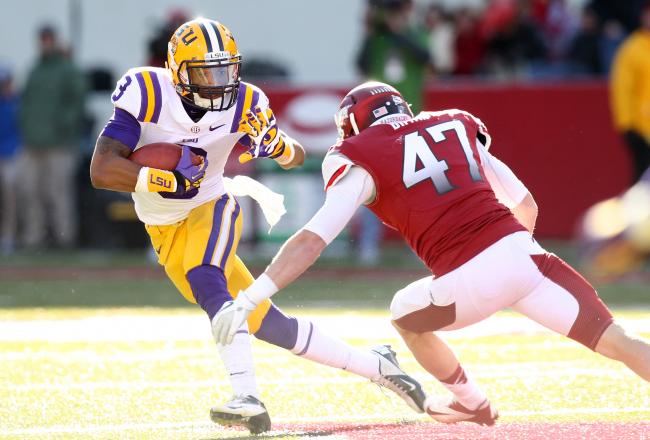 Nelson Chenault-US PRESSWIRE
The Arkansas Razorbacks' 2012 campaign may not have gone as planned, but at least they can say they went out fighting, as the team battled down to the very last second in a 20-13 loss to the No. 7 LSU Tigers on Friday.
Arkansas quarterback Tyler Wilson led a fantastic drive down the field in the waning moments of the game, but his last-ditch pass to the end zone went sailing over the head of his receiver as time expired.
While the game wound up being closer than expected, it did not start that way. The first half looked like we would be seeing the latest embarrassing loss in a season full of them for the Razorbacks.
Though the team looked good offensively, two turnovers kept Arkansas from putting points on the board and gave LSU its opening field goal in the first quarter. The second quarter wasn't much better, as strong drives went unfinished and Arkansas seemed to have a glass ceiling against the Tigers' bend-but-won't-break offense.
Things looked even bleaker after LSU scored a touchdown, giving the No. 7 team in the country a 10-0 lead. The touchdown came on a 22-yard pass from Zach Mettenberger to wide receiver Jarvis Landry, who made easily one of the best receptions of the season.
After a catch like that, it would have been hard to blame Arkansas for packing it in and being satisfied with a 4-8 record. Nevertheless, Arkansas came roaring back in the second half to turn this contest into a nail-biter.
A relatively score-happy third quarter followed the half, as both teams got into the end zone. LSU's Jeremy Hill went in for a one-yard score to push LSU ahead, 17-3, before Arkansas' Tyler Wilson promptly answered with a 28-yard strike to Mekale McKay to bring his team back.
However, perhaps the most pivotal play came in the fourth quarter. With a 4th-and-goal staring them in the face and a little less than 13 minutes remaining, the Razorbacks decided to kick a field goal rather than go for the touchdown.
The score brought Arkansas within four points, 17-13, but wound up coming back to bite the team when it needed a touchdown instead of a field goal on the final drive.
The victory keeps the Tigers in the hunt to play in a BCS bowl. This certainly wouldn't be the best team that Les Miles has ever taken to a January bowl, but it's one that has continually fought despite some glaring talent deficiencies.
As for the Razorbacks? Most in attendance were likely just happy that the season is ending. John L. Smith will reportedly not return as head coach (per ESPN's Edward Aschoff) and the school now has plenty of time to find a replacement.
Still, as a team that came into 2012 with high hopes, Arkansas' loss on Friday is a bitter end to one of the most disappointing seasons in school history.
Twitter Reaction
While Jarvis Landry's catch will undoubtedly go down as one of the best of 2012, Jacques Doucet of WAFB in Baton Rouge couldn't help but noting a little awkwardness in the celebration:
Holy Jarvis Landry! Remarkable grab, equally awkward celebration. #LSUroar #Ware

— Jacques

Doucet

(@JacquesDoucet) November 23, 2012
ESPN College Football's Twitter feed noticed the boo birds that came after John L. Smith's decision to kick the 17-yard field goal:
Shortest FG in college history? #Arkansas kicks 17yd FG among boos of fans who wanted to go for gusto on 4th down. #LSU up 17-13 #LSUvsARK

— ESPN

CollegeFootball

(@ESPNCFB) November 23, 2012
Despite the loss, the Razorbacks' Wilson had a phenomenal game. He went 31-of-52 for 359 yards and a touchdown against one interception, while also setting the school's career passing mark:
Tyler Wilson has broken UA career passing yards record with 7,495

— ARKTD2012 (@ARKTD2012) November 23, 2012
CBS Sports' Gregg Doyel had a rather interesting way of expressing his reaction to the Tigers' win:
Kiss 'em on the mouth RT @cbssports: No. 8 LSU escapes 20-13 over Arkansas cbsprt.co/LSUArkansas12

— Gregg

Doyel

(@GreggDoyelCBS) November 23, 2012
As for those who enjoy a good controversy, Fox Sports' Mike Pereira tweeted that there should have been one more play for Arkansas:
I can't figure out why Arkansas didn't get another play. Ball hit the ground with 1 sec on the clock. That's reviewable in college.

— Mike

Pereira

(@MikePereira) November 23, 2012
This article is
What is the duplicate article?
Why is this article offensive?
Where is this article plagiarized from?
Why is this article poorly edited?