Ohio State Football: Why Buckeyes Won't Play Tight Against Michigan
Use your ← → (arrow) keys to browse more stories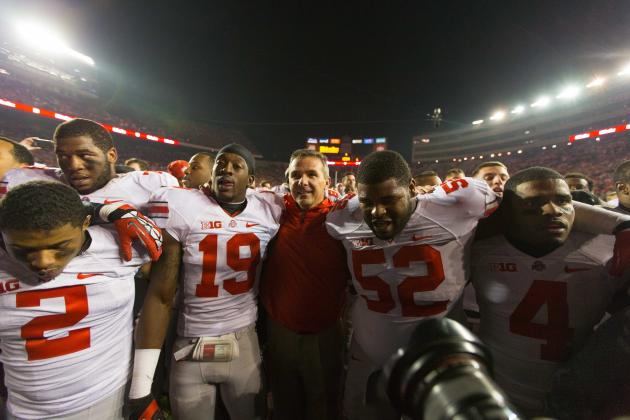 Jeff Hanisch-US PRESSWIRE
On Saturday the Buckeyes will look to sing Carmen Ohio to fans after wrapping up an undefeated regular season.
When a team comes into the annual Ohio State-Michigan rivalry undefeated, there is always concern from that team's fan base that the opposing squad will come in and ruin everything.
Take heart, Ohio State fans, because that won't be happening this year.
For what it's worth, the Wolverines actually have more riding on this game than the Buckeyes.
It is Michigan—not Ohio State—that has a chance to make it to the Big Ten title game with a loss by Nebraska to Iowa on Friday.
It is the Wolverines—not the Buckeyes—who have struggled in Columbus, last winning in The Shoe in 2000.
It is Brady Hoke's team—not Urban Meyer's—that may use its most dynamic offensive player at a position he has very limited experience at this season.
In short, Ohio State should be able to play pretty loose for a team that is one game away from finishing the regular season undefeated.
It isn't as if a loss will send the Buckeyes from national title contender to the Rose Bowl. This is it. Essentially, Michigan is Ohio State's national title game.
In addition, as a result of the Buckeyes' bowl ban, the nation will be more focused on a game taking place in Los Angeles later Saturday night.
To some extent, the Buckeyes have the media to thank for their relative "under the radar" status.
Since Ohio State is ineligible for postseason play, the AP poll has been reluctant to place the Buckeyes too high in the rankings. Consequently, Urban Meyer's squad was jumped by Georgia when the most recent poll was released this past Sunday, even though the Bulldogs had merely beaten FCS-member Georgia Southern.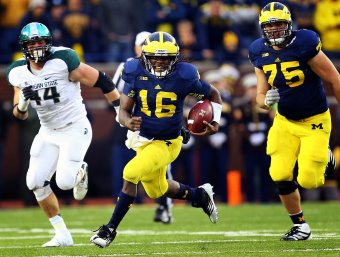 Mike Carter-US PRESSWIRE
It is as if voters for the poll are taking the steps necessary to assure they will not have to make the difficult decision to crown a national champion that wasn't allowed to play in a bowl game.
Say what you will about the Buckeyes' chances in such a game, but the fact that they are still No. 4 in the AP poll is motivation enough for the players in the locker room. Like the fans in the stands, they want to be as difficult as possible to ignore.
Taking it to "that team up North" in a convincing fashion would make them pretty hard to ignore.
This isn't to say the Buckeyes deserve to be the No. 1 team in the nation. It is simply to say Ohio State won't "choke" this Saturday, because the team is hungry. It won't be playing with something to lose. Rather, will be playing with something to prove.
This is in stark contrast to the only other undefeated team left in FBS-division college football.
There is some concern this weekend from fans in South Bend that Notre Dame could collapse under the pressure of the notion that if you win, you're in. Like "The Game" in Columbus, Notre Dame-Southern California is a rivalry.
But unlike the Buckeyes, the Fighting Irish don't need to prove anything. They've already done that. At this point, it's all about what is at stake.
What's at stake for the Buckeyes?
Perhaps the pride and honor of saying you were on an Ohio State football team that beat Michigan.
But never has pride and honor caused a team to play tight.
The Buckeyes cannot lose that pride and honor, even in defeat, as long as the players played to the final whistle and left everything they had on the field.
That is exactly what Urban Meyer will demand from his player on Saturday. Assuming they respond positively, Michigan will need to play its best game of the season on both sides of the ball.
Otherwise, Ohio State will emerge victorious.