The Top 5 Coaching Jobs in College Football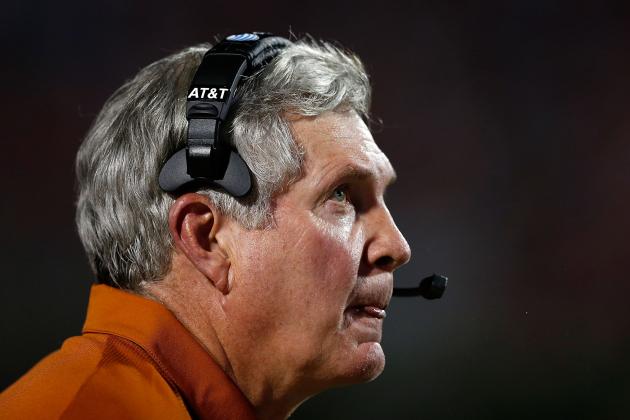 Scott Halleran/Getty Images
Texas head coach Mack Brown
Wouldn't it be great if we could all know what it's like to be head coach at our favorite college football program? Sure, there'd be plenty of pressure and most of us would be way over our heads, but imagine the satisfaction of leading your team to a national championship and being immortalized in college football lore, etching your name in history books beside giants such as Bear Bryant, Knute Rockne and Woody Hayes.
So, if you were to pick where to coach, what would your top five list of schools include? There are more than a handful of attractive, tradition-rich programs with considerable resources, so creating a group this narrow would be tough. But that's exactly what we're about to do.
Here are the top five most attractive head coaching positions in college football.
Begin Slideshow

»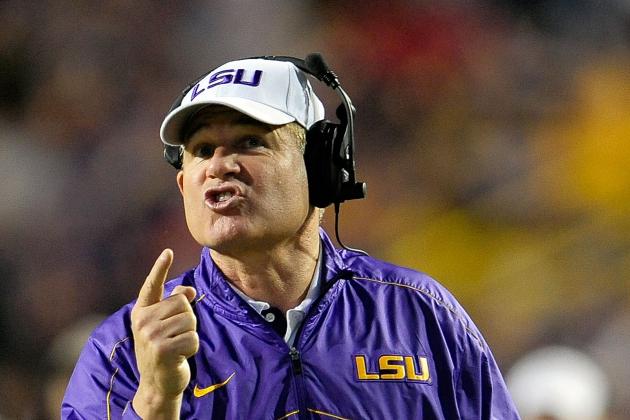 Stacy Revere/Getty Images
Les Miles
Death Valley is probably the most hostile environment in college football, and it is home to a supremely passionate Tiger fanbase. LSU has exploded in the past decade, winning two BCS championships and playing for a third. Les Miles has planted his team firmly in the top tier of the SEC, and expect the program to ride the momentum generated by him and his predecessor, Nick Saban, to sustain itself for years to come.
Playing in the most competitive conference and a region home to fierce recruiting battles, the Tigers routinely draw top-flight athletes. The team's place in the national spotlight and upper region of the BCS standings will continue.
Miles, along with his rival in Tuscaloosa, enjoys one of the top salaries in college football, and any man in his position will face considerable pressure, as well as attractive compensation.
Lastly, the university is situated in a culturally rich and unique region. Baton Rouge is a short distance from New Orleans, and who wouldn't love having access to Bourbon Street?
Without a doubt, being head coach at LSU comes with plenty of stress and little margin for error, but if one finds success, it offers one of the best jobs out there.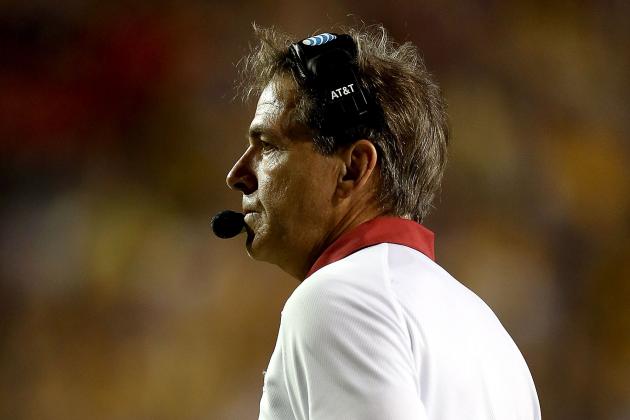 Matthew Stockman/Getty Images
Nick Saban
The Crimson Tide, holders of nine national championships (and possibly 10 before long) have one of the most tradition-rich programs in the nation, and Nick Saban has brought them back to the top of the college football world. Of course, he is a phenomenal coach, but his success there would not be possible without the incredible resources and powerful brand Alabama football enjoys.
For one, Alabama can get virtually any player it wants. Saban has put together superb recruiting classes in his tenure and takes advantage of an incredible pipeline that includes Alabama, Florida, South Carolina, Mississippi, Ohio, Georgia and Texas. He has his pick of the best players in the best football regions in the country.
Secondly, the Tide cultivate an incredibly loyal fanbase. Football is nothing less than king in the state and region, and when the Crimson Tide are playing, everybody watches.
Of course, one cannot overlook the financial aspect. And Alabama shines in that area. According to the Memphis Business Journal, Alabama football generated $76.8 million in revenue in 2010, second only to another team included in this list.
This prosperity has enabled Saban to enjoy a 2012 salary of just shy of $5.4 million (excluding bonuses), making him currently the highest-paid coach in the nation, according to USA Today. Additionally, the 'Bama coaching staff overall is the second-highest paid, also according to USA Today.
Currently, Alabama is ranked second in the BCS and has a clear path to Miami to play for yet another national title.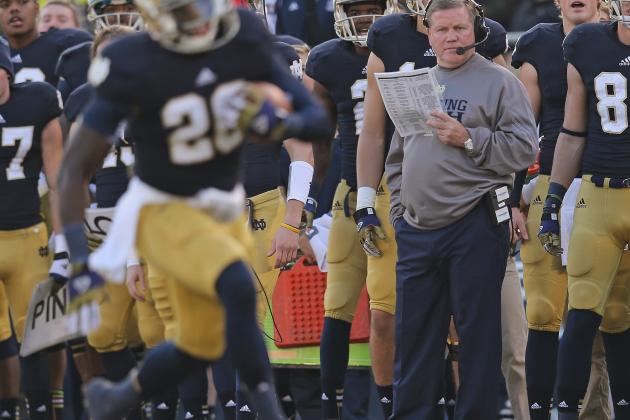 Jonathan Daniel/Getty Images
Brian Kelly
If "America's Team" is the Dallas Cowboys, Notre Dame is a close second. No other program in the United States boasts a national following at the level of the Irish. No other program effuses more tradition, either.
Indeed, countless athletes dream of donning the gold helmet, taping the "Play Like a Champion Today" sign and taking the field in in front of almost 81,000 loving fans. Whether you love them or find them annoying, you can't deny Notre Dame football is a microcosm of what makes college football so entertaining.
As head coach for the Irish, you'd have no problem getting marquee players; high school student-athletes all over the nation would drool at the chance to play under the watch of "Touchdown Jesus."
Another benefit is Notre Dame's independent status. Not being affiliated with a conference enables the Irish freedom in scheduling opponents and also frees them from the obstacle of a conference championship game.
And if you can manage to finish the season in the top eight of the BCS standings, you clinch a BCS bowl berth.
Brian Kelly, in only his third year leading the Irish, has his team at No. 1 and on the brink of a national championship berth. If Notre Dame can complete its storybook season with its first championship since 1993, the program will soar to new heights.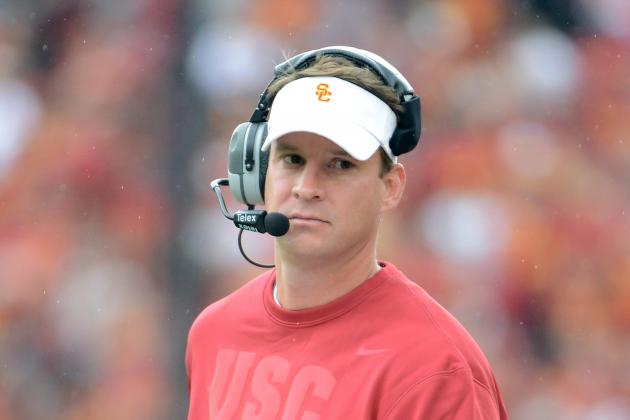 Harry How/Getty Images
Lane Kiffin
Although the Trojans have had an acutely disappointing 2012 campaign, coaching this team would be a dream for any ambitious coach. You'd have blue chip prospects aplenty, incredible resources and an immaculate climate in sun-drenched Los Angeles. The Rose Bowl would be right in your backyard.
It will be very interesting to see where the program heads in 2013 and beyond under Lane Kiffin's direction. Some are less than satisfied with his performance, and the team will have to adjust to life without Matt Barkley.
But USC is an eternally attractive brand, and the program will never be lacking in athletic ability. The only variables lie in the areas of experience and coaching.
Seriously, what more could you ask for as a head coach? You'd be in one of the most interesting areas in the world, have all the fresh footballs you could ask for and rarely have to worry about practicing inside. Not to mention the glory you would attain by fielding a successful football team. If you win a championship with the Trojans, consider yourself LA royalty.
Crosstown rival UCLA, however, is riding high after upending the Trojans for the first time since 2006. We could be in for a shift in the power structure in the greater LA area. Jim Mora and the Bruins should give the Trojans a dogfight for regional supremacy. Emerging victorious in this rivalry, after all, earns one considerable bragging rights.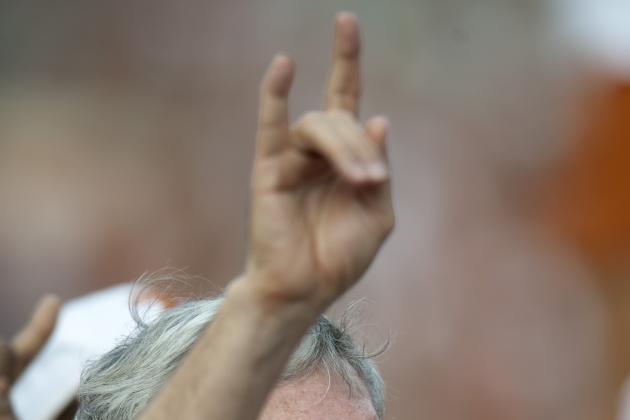 Cooper Neill/Getty Images
Mack Brown
The Longhorns, according to the Memphis Business Journal rankings, have the highest revenue of any football program in the nation (as of 2010), generating an astonishing $95.7 million in 2010. Mack Brown is right behind Saban in total salary, and his staff overall is the highest-paid in the nation (as of 2010), according to the USA Today poll.
Additionally, UT's recruiting capabilities are as good as any other program's in the country. Texas has arguably the best high school football players in the country, and Mack Brown gets to pick the best of the best. Even archrival Oklahoma can't resist the allure of Texas recruits; a solid chunk of the Sooners roster each year hails from Texas.
And why wouldn't the Horns draw top recruits year after year? They are a perennial powerhouse (save a few anomalous campaigns as of late) and have one of the strongest national followings and brands in college sports. Arguably, Austin is home to the best college athletic program in the nation.
It will be interesting to see who succeeds Mack Brown in this incredibly attractive position. Brown has done an impressive job of turning the 2012 season around after a rough start, but he seems to be in the twilight of his career. Whoever is next in line at UT will inherit incredible resources, but with that come incredible responsibility and pressure.