Heisman Watch 2012: What Top Contenders Have Left to Prove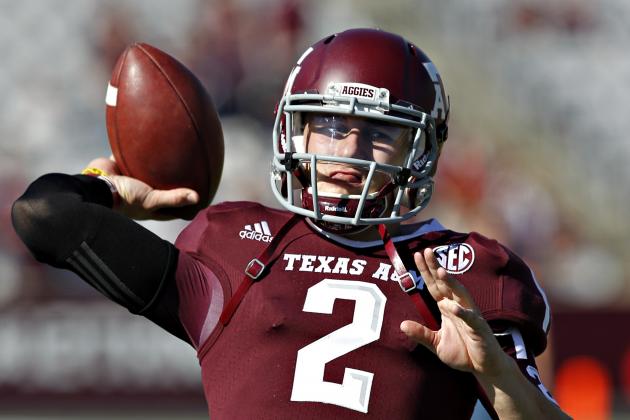 Bob Levey/Getty Images

With many of the top Heisman Trophy candidates having just one game left on the schedule, now is the time to leave their final imprint on the minds of voters.
The race for the Heisman has been a wild one, with many names entering and exiting the conversation each week. Sometimes the winner will appear out of nowhere and grab the award for college football's most outstanding player (see: Robert Griffin III in 2011). But as November inches closer to December, the top few contenders are unlikely to fall from their perch.
Let's take a look at what the top five contenders (per ESPN) have left to prove in their remaining games.
Begin Slideshow

»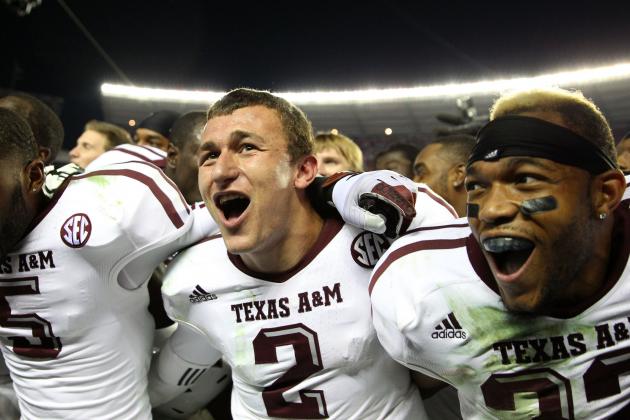 Mike Zarrilli/Getty Images

After an incredible performance against Alabama on Nov. 10, it's hard to imagine what else Johnny Manziel could do to impress the voters. His Texas A&M team has just one game left, a home game against Missouri, before it waits for bowl season to arrive.
Manziel's signature performance came against the Crimson Tide, and the Heisman favorite needs to simply do to the Tigers what he's been doing to everyone else and he'll arrive in New York as a favorite.
What could hurt Manziel's chances is a poor performance on Saturday. The final week is usually the most important week of the race.
If Manziel can prove he has the ability to close out the season with another great performance (and nothing tells us he CAN'T do this), he'll have done everything he can in pursuit of the award.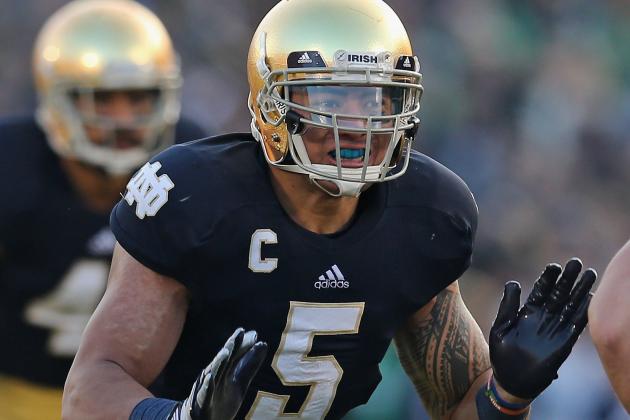 Jonathan Daniel/Getty Images

Manti Te'o has the most to gain with another impactful performance on Saturday as the Fighting Irish travel to Los Angeles to take on the USC Trojans, the best passing offense they'll have faced all season.
The Trojans boast the best pair of receivers in the country in Marqise Lee and Robert Woods. If Manti Te'o can tackle Lee and Woods in space, he'll prove that he's able to do what most linebackers have been unable to do. If he adds an interception or two, his Heisman hopes will only grow.
What hurts Te'o is that the Trojans will be starting freshman Max Wittek (via USCFootball.com's Ryan Abraham) and if the Trojans struggle, many will point to their QB situation as opposed to Notre Dame's defense as the cause.
In any case, Te'o can cement his legacy and give himself an excellent shot at the Heisman with a big game on Saturday.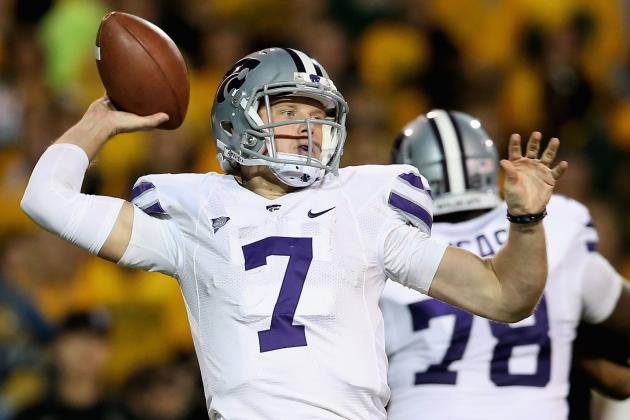 Ronald Martinez/Getty Images

As a former Heisman Trophy favorite, Collin Klein must prove he has bounce-back ability in the wake of the Wildcats' loss to Baylor on Saturday. He'll get his chance to revitalize his Heisman hopes against the suddenly streaky Texas Longhorns on Dec. 1.
Texas has allowed nearly 30 points per game and a porous defense could be the perfect remedy for Klein's recent woes. Of course, the Bears had an even worse defense and Klein threw three interceptions.
With Klein's stock taking a hit, winning the award may not be entirely up to him. But closing out the season with a vintage performance through the air and on the ground can certainly give him a chance.
But with another poor game, his plane tickets to New York could be given to somebody else.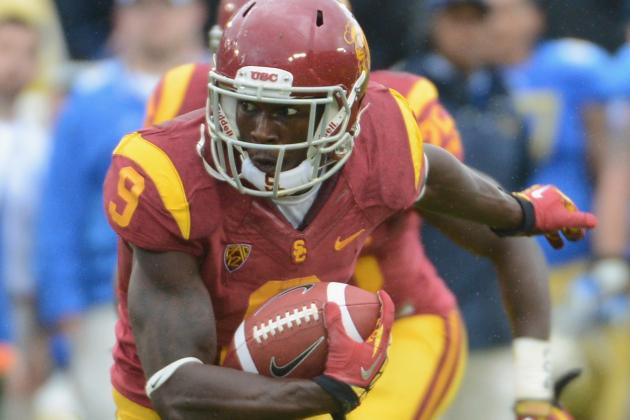 Harry How/Getty Images

Marqise Lee is the most dynamic player in the game.
In his last four games, he has 47 catches for 821 yards and six touchdowns. Yes, you read that correctly. But he plays for a team that has underachieved all season and, fair or not, that hurts him in the Heisman Trophy race.
Fortunately for him, Lee's Trojans are facing perhaps the stiffest defense in the land next Saturday. If Lee can replicate recent success against the stifling defense of Notre Dame, it'll be very hard to ignore his entire body of work.
Should Lee accomplish what nobody else has done and dominate Notre Dame, he'll jump right into the discussion of Heisman favorites.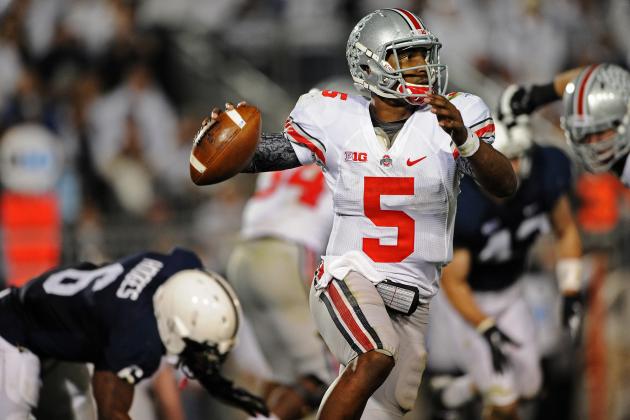 Patrick Smith/Getty Images

Lost in the BCS title game discussion are the Ohio State Buckeyes and their star quarterback, sophomore Braxton Miller. The Buckeyes are on probation and ineligible to appear in a bowl game, but that hasn't stopped Miller from dominating the rest of the Big Ten.
His final test comes against the Michigan Wolverines in a game that will have national attention for several reasons.
The most obvious one is that it's one of the best college football rivalries in the country. But the Buckeyes can also polish off an undefeated season with a victory. The big stage gives Miller a chance to remind everyone how special he is.
His Heisman hopes are hurt when you compare his statistics with Johnny Manziel.
But his team is undefeated and if it stays that way due to another great performance from Miller, he may have a chance to win the award.