50 Key College Football Storylines to Watch Heading into Week 13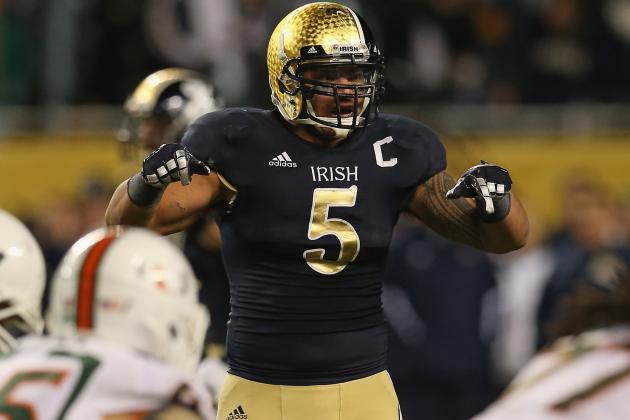 Jonathan Daniel/Getty Images

There are only two weeks left of the college football regular season, and while a lot can change between now and Dec. 1, the national landscape is starting to take shape.
This week, it is going to be very difficult to top the crazy weekend we just witnessed
With the Thanksgiving holiday, we have games all day Friday and Saturday, which should make for a very interesting weekend.
As always there are some key storylines to watch heading into Week 13.
Here are 50 of the biggest.
Begin Slideshow

»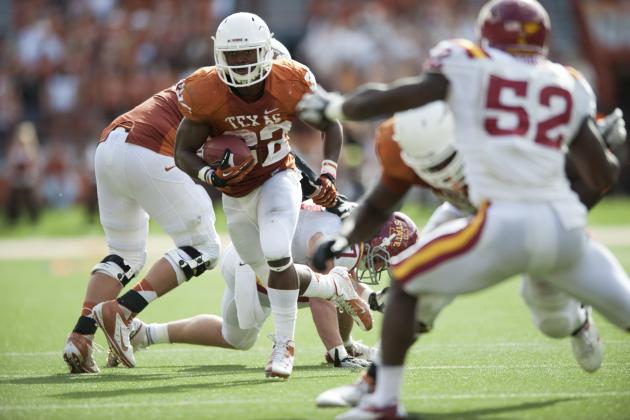 Cooper Neill/Getty Images

Thanksgiving is not only an NFL showcase, but for years has also been a football day for the entire state of Texas with Texas and Texas A&M doing battle.
This year will be a little different as the 8-2 Longhorns take on the 6-4 TCU Horned Frogs with Texas A&M having moved on to the SEC.
The game has huge implications for not only the Big 12, but also the bowl landscape.
What better way to end a nice Thanksgiving than by tuning into this one.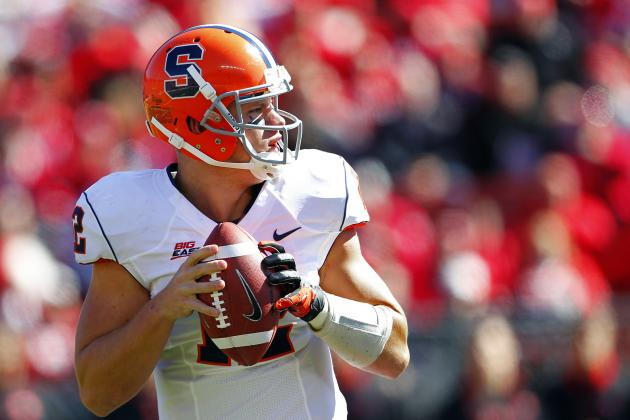 Rich Schultz/Getty Images

Syracuse quarterback Ryan Nassib has seen his draft stock rise dramatically over the past few weeks, and he has a chance to prove himself even more in the season finale against Temple.
The senior has passed for 3,404 yards with 23 touchdowns and nine interceptions, while completing nearly 64 percent of his passes.
He is not the biggest guy but has all the tools to be successful at the next level. For those who have not had the chance to watch him, Friday morning on ESPN2 is a perfect opportunity.
Kirk Irwin/Getty Images

In what has turned into a very competitive MAC, Ohio will travel to Kent State on Friday morning for the season finale.
The Golden Flashes have finally cracked the BCS Top 25, coming in at No. 23 in the latest poll.
Ohio, on the other hand, is very talented, but has lost three of its past four games since making it into to the Top 25 in many major polls earlier in the season.
ESPNU will have the coverage of this one and it is definitely worth the watch.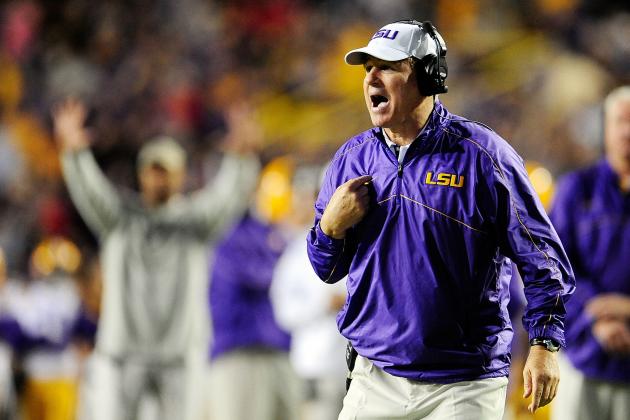 Stacy Revere/Getty Images

If LSU has any shot of reaching a BCS bowl game, the Tigers will need to beat Arkansas on Friday.
This game is certainly not as challenging as it looked at the beginning of the season, but there is still plenty of talent at Arkansas, particularly on offense.
It will be the final home game for Arkansas quarterback Tyler Wilson along with some other top-notch talent.
Tune in as there could be an upset in the making in this one.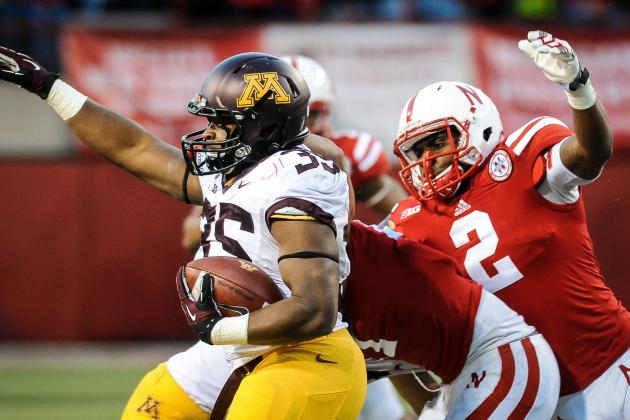 Eric Francis/Getty Images

Nebraska is a win away from clinching the Big Ten Legends Division and will travel to Iowa for a battle with the Hawkeyes on Friday.
The win will give them a spot in the Big 10 title game on Dec. 1 against Wisconsin.
If the Cornhuskers do slip up, Michigan will have a shot to stake claim to the Big Ten title.
Don't expect that to happen, as Nebraska has been very impressive in recent weeks.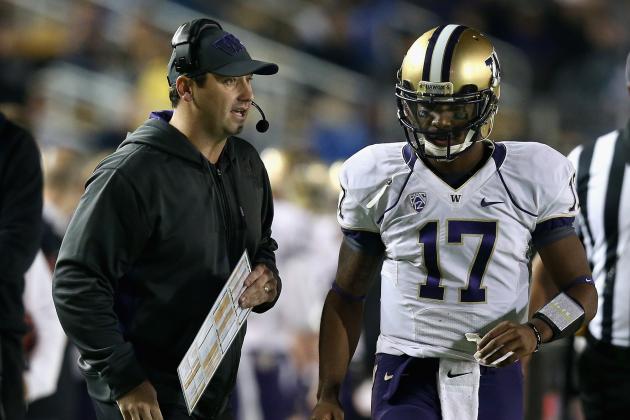 Ezra Shaw/Getty Images

The Battle for the Apple Cup will be taking place on Friday, and it looks like it will be a lopsided affair.
These teams are headed in a completely opposite direction. Washington has been hot lately and now ranks No. 25 with a 7-4 record.
Washington State, on the other hand, has been awful for most of the year.
The Cougars are 2-9 and have not won a Pac-12 game.
Do not expect that to come on Friday. The Apple Cup will likely remain with the Huskies.
Jason O. Watson/Getty Images

Even though both coaches are new to their respective programs, they will soon find out that this is one of the biggest rivalries in the Pac-12.
Arizona and Arizona State will hook up Friday night in the final game of the evening.
Both have similar resumes coming in and even though Arizona is ranked a little higher, this is going to be a close game.
New head coaches Rich Rodriguez and Todd Graham will be able to get their first taste of the competitive rivalry.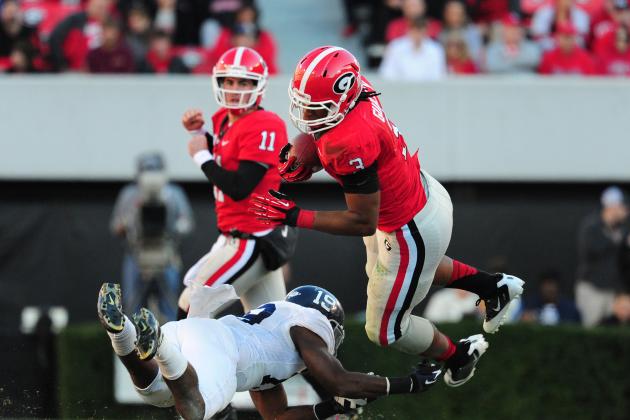 Scott Cunningham/Getty Images

Georgia not only has SEC title hopes, but also national championship aspirations.
As usual, the Bulldogs will be taking on in-state rival Georgia Tech the final game of the season, and a loss would drop them out of the national championship picture.
With a win, the Bulldogs will only be a victory against Alabama in the SEC Championship away from playing for all the marbles in Miami on Jan. 7.
The Yellow Jackets will be looking to play spoiler in this one.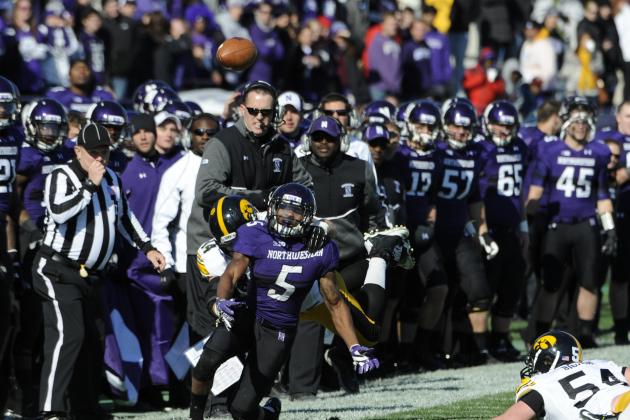 David Banks/Getty Images

Illinois and Northwestern take center stage on Saturday in a game featuring two teams with completely opposite records.
The Fighting Illini are 2-9 overall and 0-7 in Big Ten play. Meanwhile, the Wildcats are 8-3 overall and 4-3 in the Big 10.
Not many people expected Northwestern to have eight wins by this point in the season.
One more victory and the Wildcats will likely find themselves in a New Year's Day Bowl.
Illinois will be looking to play spoiler.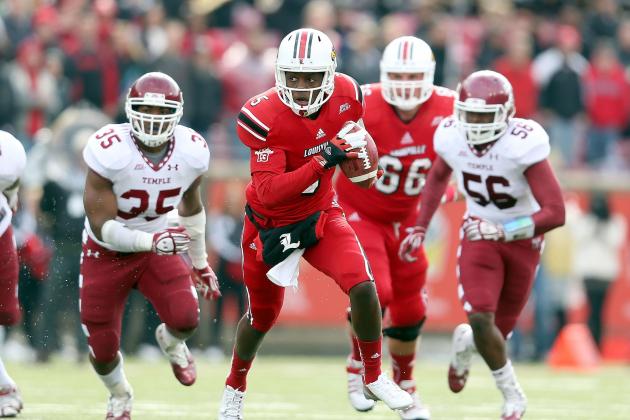 Andy Lyons/Getty Images

Louisville still controls its own destiny for the Big East Championship, but will have to beat Connecticut and Rutgers to close out the season.
The Cardinals are coming off a blowout loss to Syracuse, and, after a bye week, they certainly have some anger built up.
Quarterback Teddy Bridgewater and Company will likely take that anger out on Connecticut.
The Huskies are no pushover, however, and Louisville will have to show up on both sides of the ball to come out on top in this one.
Kirk Irwin/Getty Images

Not much more needs to be said as the Ohio State Buckeyes and Michigan Wolverines will square off in Columbus on Saturday afternoon.
This is arguably the greatest rivalry in college football. Once again, these are two of the best teams in the Big Ten.
Ohio State has a chance to polish off an undefeated season.
Urban Meyer will get his first taste of this rivalry on Saturday.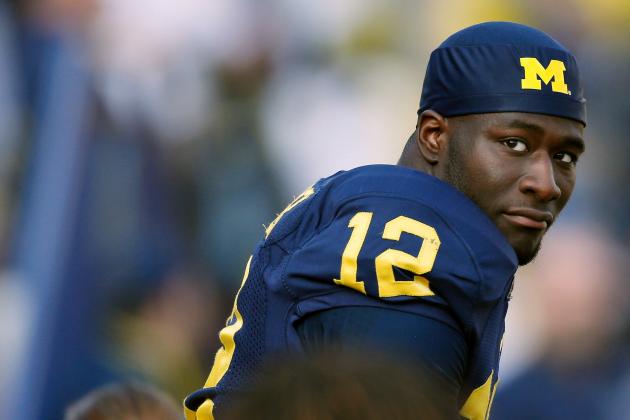 Gregory Shamus/Getty Images

Brady Hoke said during a press conference that the starting quarterback position is still up in the air for the Wolverines.
It is not known yet whether Denard Robinson and his injured elbow will be healthy enough to throw the football.
Wide receiver/quarterback Devin Gardner has done an admirable job filling in for Robinson, and the Wolverines might be better off using Robinson in more of a utility role.
Odds are Hoke is not going to commit and give a preparation edge to Ohio State.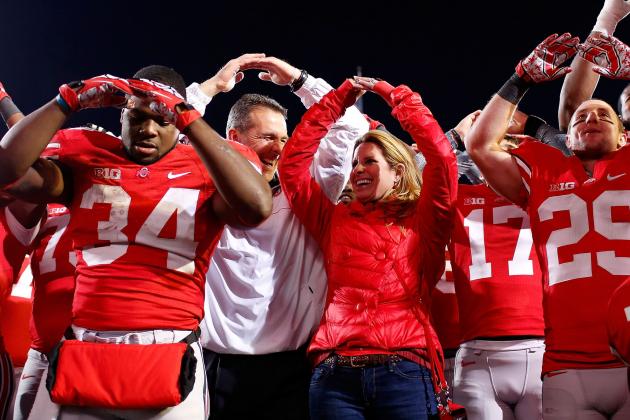 Kirk Irwin/Getty Images

Ohio State is a win away from completing an improbable undefeated season.
Not many would have suspected that to be the case before the season began.
The Buckeyes would be either No. 1 or No. 2 in the country if they were eligible for the BCS rankings and are far ahead of schedule.
Will they be able to complete the perfect season and finish 12-0?
It will be known by the middle of the afternoon on Saturday.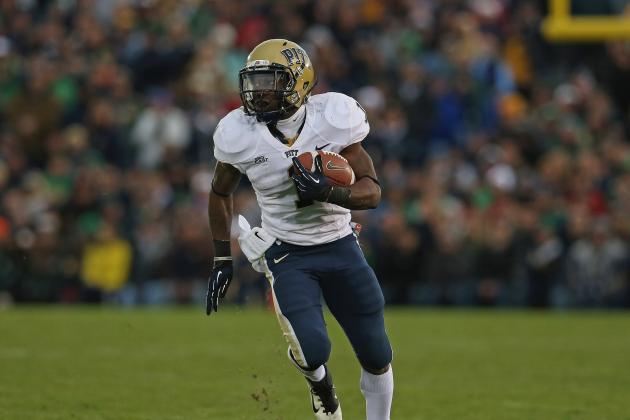 Jonathan Daniel/Getty Images

Pittsburgh running back Ray Graham and Rutgers linebacker Khaseem Greene are not only two of the best players in the Big East, but they are also half-brothers.
On Saturday, they will compete against each other for the last time, at least on the collegiate level.
Rutgers is trying to maintain its slim one-game lead in the Big East, and Pittsburgh is trying to maintain its bowl aspirations.
This one is going to be closer than some might expect. The Scarlet Knights should be on upset alert.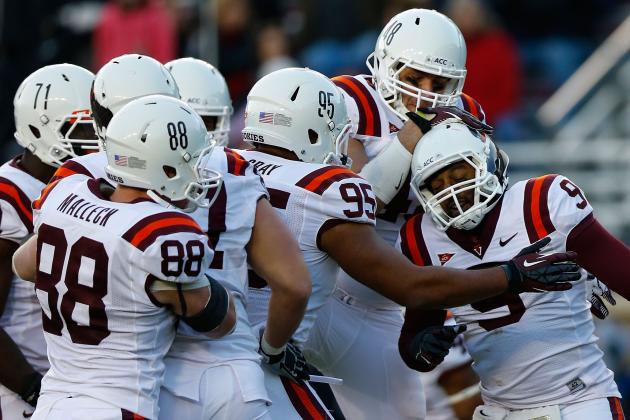 Jared Wickerham/Getty Images

Virginia Tech has been a staple when it comes to bowl games in recent years.
The Hokies have played in a bowl game every year since the 1993 season.
To get to one in 2012, they will need to beat in-state rival Virginia.
That may not seem like a challenging task, but with the way the Hokies have been playing lately, that is easier said than done.
It would certainly be a little odd if they missed out on a bowl bid.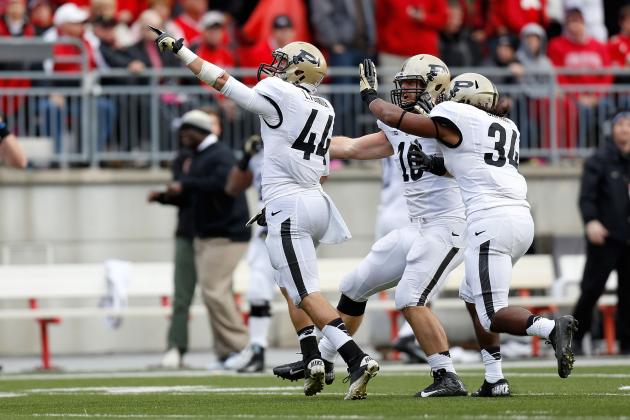 Kirk Irwin/Getty Images

Not many people thought Purdue had a chance to reach a bowl game after starting the season 3-6, but with a win at home over Indiana in the season finale, the Boilermakers will do just that.
Purdue has won its previous two games and in a rather weak Big 10, this is the perfect year for Purdue.
There was a point in time when Indiana came up in the Rose Bowl conversation, but at 4-7, this is just another down year for the Hoosiers.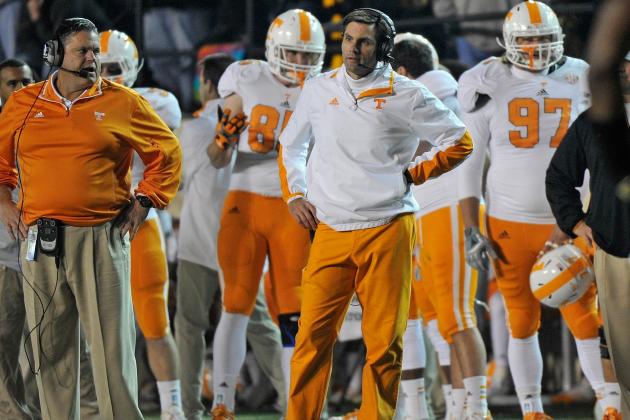 Frederick Breedon/Getty Images

The seasons for Kentucky and Tennessee will mercifully come to an end on Saturday as the two face off in Knoxville.
Kentucky head coach Joker Phillips is coaching his final game and Derek Dooley is already out.
Tennessee fired him after being dominated by Vanderbilt. Offensive coordinator Jim Chaney will be running the show for the Vols.
Neither of these teams has won a conference game, so something has to give.
Not many people will be watching, but it will be interesting to see who comes out with that elusive conference win.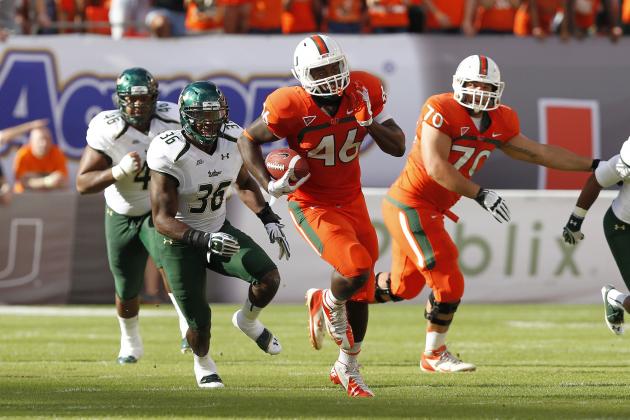 Joel Auerbach/Getty Images

According to the USA Today, for the second consecutive year the Hurricanes decided to self-impose a postseason ban.
This means Miami will not go to the ACC Championship game even if it finishes first in the Coastal Division by defeating Duke on Saturday.
Still, the Canes can grab momentum for next season by snatching their seventh win of the season on the road against a 6-5 Duke team.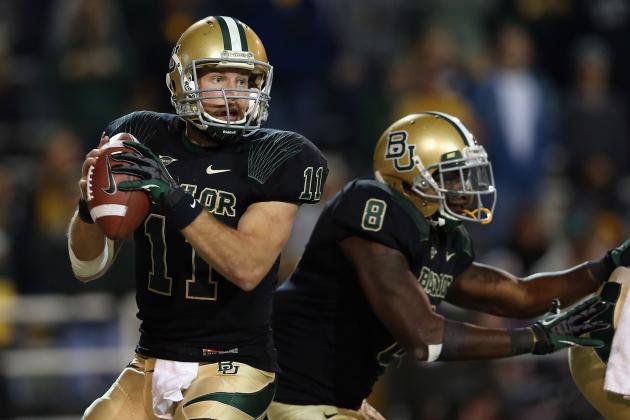 Ronald Martinez/Getty Images

Baylor pulled off a monumental upset on Saturday against No. 1 Kansas State, but still needs one more win to become bowl eligible.
That is not going to be easy to get as it closes out the season with games against Texas Tech and Oklahoma State.
The Bears have an offense that ranks fifth in the country, averaging nearly 44 points a game. The defense, however, leaves a lot to be desired.
The Red Raiders have been stumbling lately, but they could put it all together on Saturday.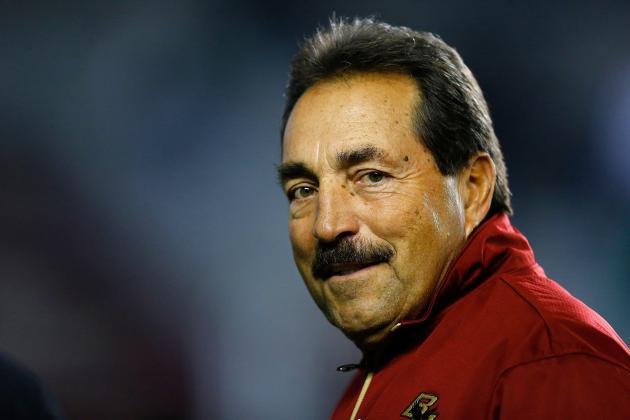 Jared Wickerham/Getty Images

There have been a lot of coaches on the college football hot seat all season, but maybe none more so than Boston College head coach Frank Spaziani.
The Eagles are having another down year and sitting at 2-9 right now. While a win over North Carolina State would certainly not save his job, it definitely would not hurt.
Even if he does win, there is a good chance this could be the last game he coaches for the Eagles.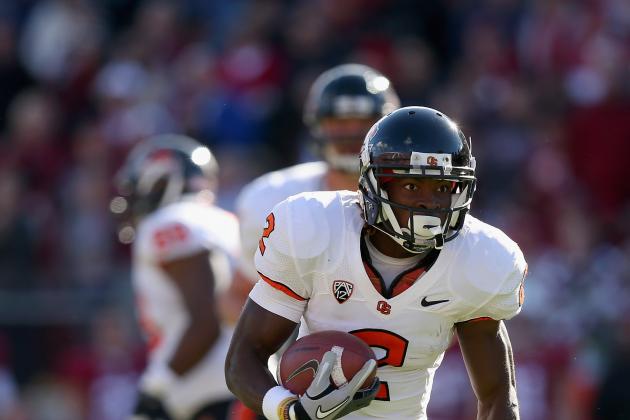 Ezra Shaw/Getty Images

The Pac-12 will once again take center stage as Oregon and Oregon State do battle in the annual Civil War.
The Ducks dropped to No. 5 in the BCS Standings, meaning they are not completely out of national championship contention.
No. 15 Oregon State has been rather impressive all season and could force a three-way tie atop the Pac-12 North Division with a win.
Not many would have expected this to even be a game before the season began. But, Oregon State has a talented defense and the Beavers are at home.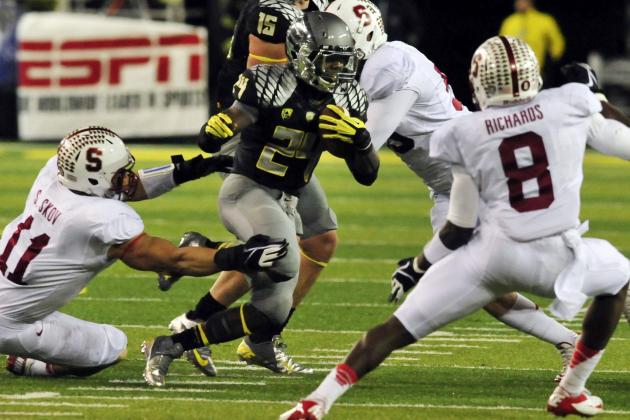 Steve Dykes/Getty Images

Oregon is coming off a devastating loss at home against Stanford. It will have to rebound quickly to beat a very tough Oregon State team.
Running back Kenjon Barner had an awful game, by his standards, and the Oregon offense is probably ready to play right now to get rid of the bad taste from last week.
A win by the Ducks would keep the Pac-12 title game within reach. A loss and and their BCS bowl hopes might be out the window.
There is a lot of on the line here, even if the national title is out the window.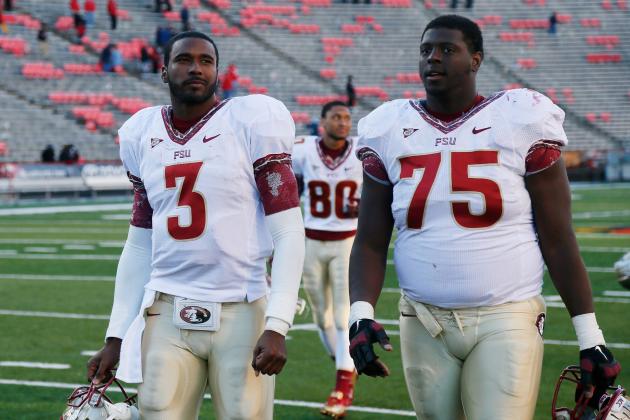 Rob Carr/Getty Images

In what is without question the biggest game of the day, the Florida Gators travel to Tallahassee to take on the Florida State Seminoles.
Florida could put itself in the national championship picture with a win. A loss and its BCS hopes are also likely out the window.
Florida State is ranked lower than it probably should be at No. 10 and could vault up the rankings with a win.
This is one of the best rivalries in college football when both teams are good. Right now that is the case.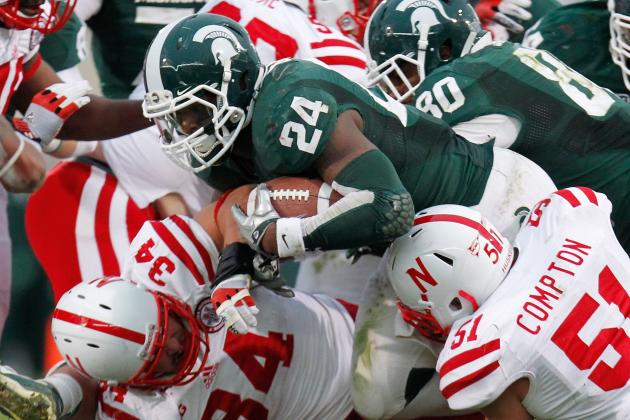 Gregory Shamus/Getty Images

Michigan State has suffered through a season of disappointment, but with a win at Minnesota on Saturday, the Spartans can punch their ticket for a bowl game.
At 5-6, they have lost five Big 10 conference games by a combined 13 points. No team in the country has suffered more bad breaks or had more bad luck than Sparty.
Minnesota is 6-5 and at home in this one, but Michigan State is clearly the better team and should be able to become bowl eligible.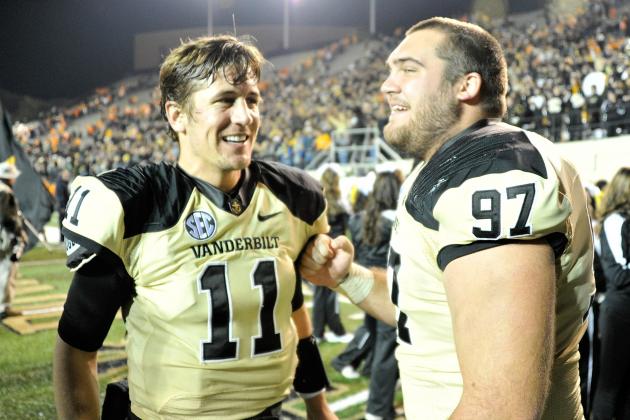 Frederick Breedon/Getty Images

Vanderbilt has not won eight games in a season since 1982, and if the Commodores can win Saturday at Wake Forest along with their bowl game, they will have their first nine-win season since 1915.
Head coach James Franklin has done a remarkable job since his arrival in Nashville.
Vanderbilt started the season with the hard part of its schedule, and since playing South Carolina, Georgia and Florida, the Commodores have really hit their stride, winning five games in a row .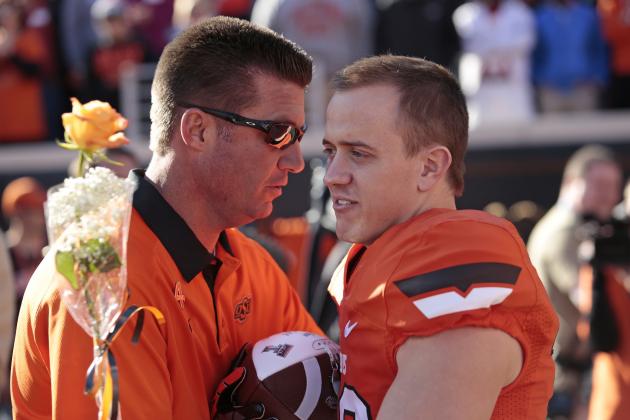 Brett Deering/Getty Images

Oklahoma State travels to Norman to take on Oklahoma in what could be an extremely high-scoring game.
The Sooners are 8-2 overall. With two wins in their final two games, the Sooners will likely be headed to either the Fiesta or Sugar Bowl.
Oklahoma State is trying to play spoiler and make the race at the top of the Big 12 even tighter.
Expect to see some points in this one.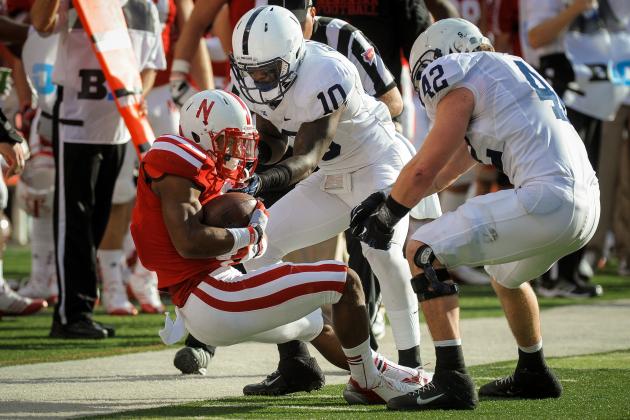 Eric Francis/Getty Images

Penn State has a chance on to finish the season 8-4. Nobody would have ever expected that to be the case when the season began.
The Nittany Lions will certainly have an emotional day with it being the final home game of the season.
Head coach Bill O'Brien has done an excellent job, and it is not certain if he will leave for a different job if an offer pops up.
With every win his name gets more enticing.
Eric Francis/Getty Images

On Saturday against Ohio State, Montee Ball tied the collegiate touchdown record held by Travis Prentice. With one more touchdown he will break the mark of 78.
The Penn State defense is one of the stingiest in the conference and is certainly not going to make it easy on Ball.
Ball was so close last weekend against Ohio State he could almost taste it.
Odds are he will be able to punch one in against Penn State and break the record that has stood for over 15 years.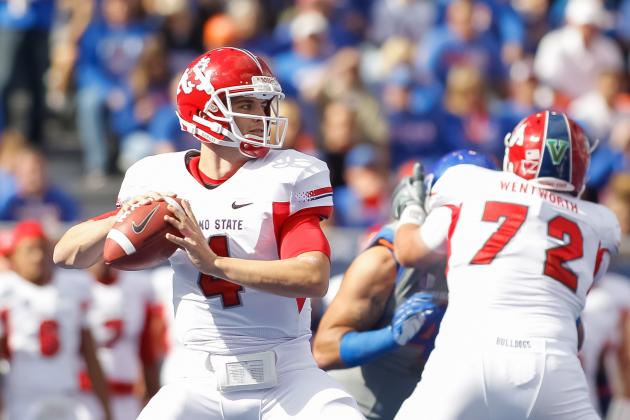 Otto Kitsinger III/Getty Images

The Mountain West has five solid teams, and two of them will meet on Saturday when Air Force travels to Fresno State.
The Bulldogs have one of the best-kept secrets in the country in quarterback Derek Carr.
Derek, the younger brother of David Carr, has already thrown 32 touchdowns on the season along with 3,290 yards.
What is remarkable about Carr is he has only thrown five picks and completed nearly 67 percent of his passes.
Air Force will certainly try to run the football and keep it away from the potent Fresno State offense.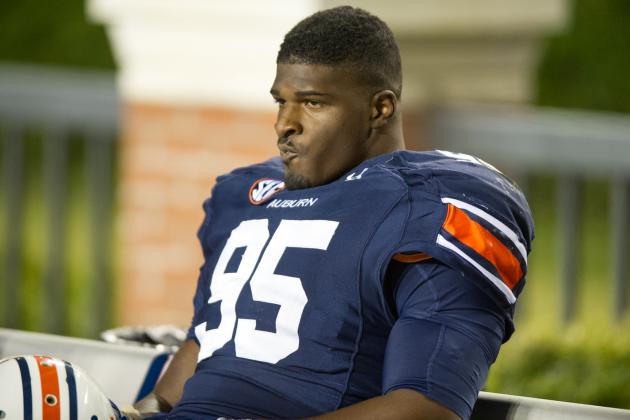 Michael Chang/Getty Images

Another of the greatest rivalries in college football will take place on Saturday as Auburn takes on Alabama on Saturday afternoon.
On paper this is a monumental mismatch. The Tigers have only won three games all season.
However, this is the Iron Bowl, and these two teams have a strong dislike toward one another.
Even though this game does not appear like it is going to be close, with the history of these two teams, that is never a certainty.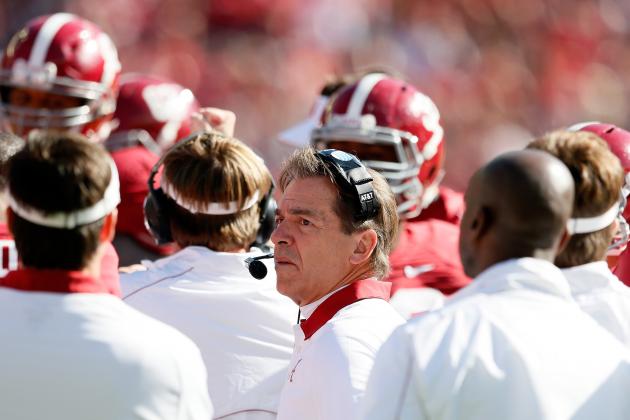 Kevin C. Cox/Getty Images

With losses by Kansas State and Oregon over the weekend, the Alabama Crimson Tide are in prime position to play for another national championship.
With wins over Auburn and Georgia, that is where they will end up.
Does Auburn have a chance to play spoiler, or would a bad showing against the Tigers possibly drop Alabama below Florida if the Gators dominate Florida State?
There is a lot more than meets the eye when Auburn and Alabama meet on Saturday.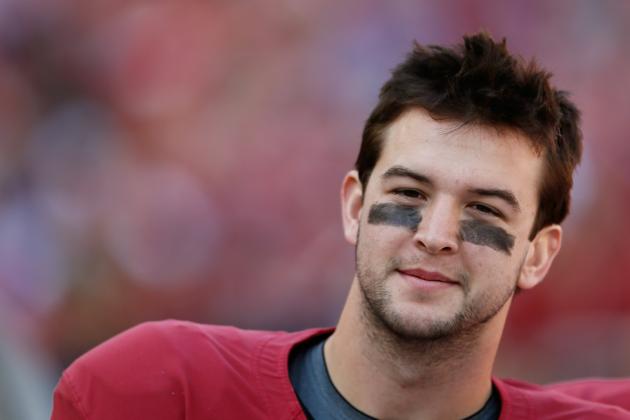 Kevin C. Cox/Getty Images

With what happened to Collin Klein and Kenjon Barner over the weekend, not many people are talking about Alabama quarterback A.J. McCarron as a legitimate Heisman contender.
With a few good games to end the season, he may end up right there.
The junior has thrown for 2,291 yards with 21 touchdowns and only two interceptions. He is still a Heisman sleeper, but don't count him out just yet.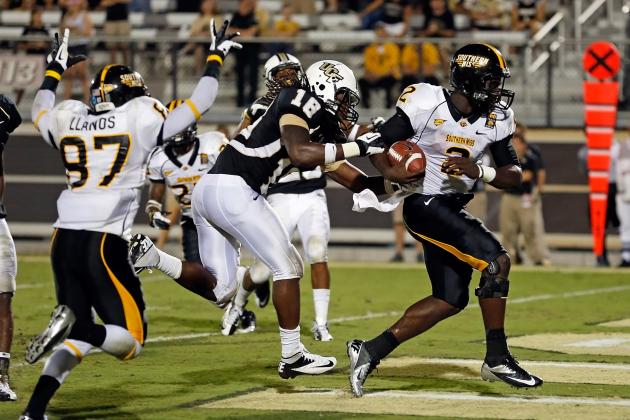 J. Meric/Getty Images

Southern Miss is the only FBS team in the country without a win, and its final chance to get one comes on Saturday at Memphis.
That is certainly a winnable game as the Tigers are only 3-8.
The Golden Eagles have come close on a few occasions, and something tells me this is the week they will finally come out with a victory.
A 1-11 record certainly sounds much better than 0-12.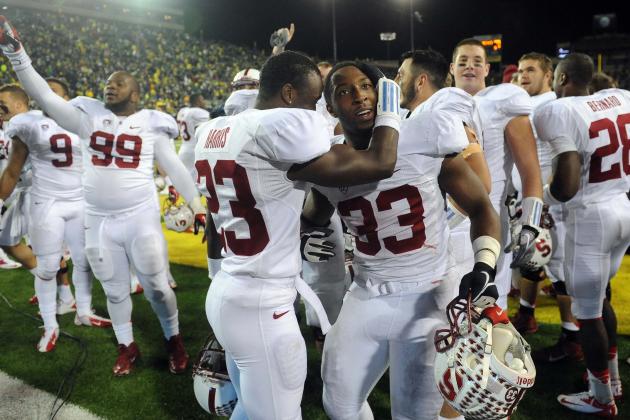 Steve Dykes/Getty Images

Stanford and UCLA are both in the driver's seat to meet next weekend in the Pac-12 title game. This week they square off in Southern California with a lot on the line.
A win by Stanford would force a rematch one week later for a Rose Bowl berth.
With a UCLA victory, Oregon will be the choice, if it can knock off Oregon State.
This is going to be a game that could be extremely low scoring and come down the the final possession.
What better way to end the Pac-12 regular season?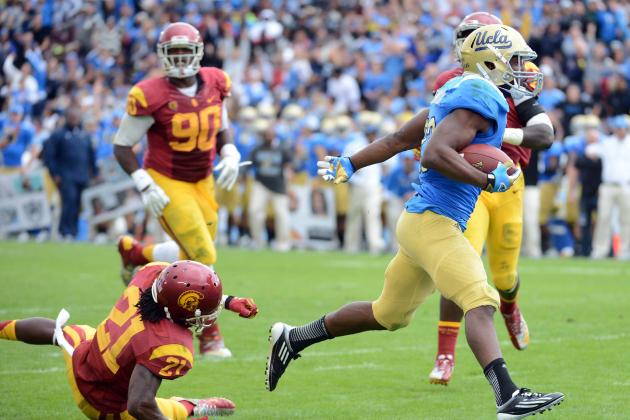 Harry How/Getty Images

The Pac-12 has a bevy of talented running backs, but two of the best will be featured in the Stanford-UCLA game.
Stanford running back Stepfan Taylor has already totaled 1,222 yards and nine touchdowns, while UCLA stud Johnathan Franklin has accumulated 1,441 yards and 10 touchdowns.
Whichever running back can help his team control the ball and put up some big numbers will likely lead his team to victory.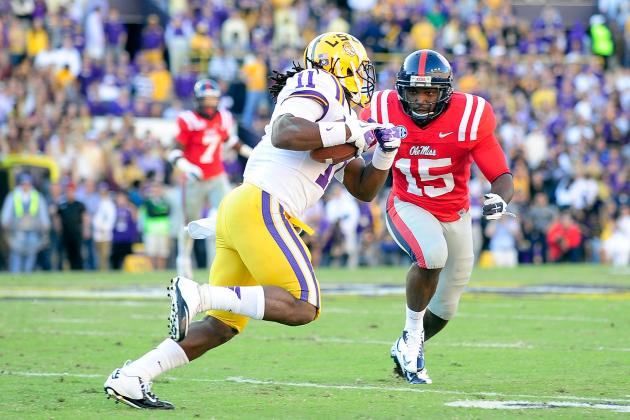 Stacy Revere/Getty Images

In a week filled with rivalry games, this is another of the good ones. When Ole Miss and Mississippi State do battle, there will be a lot more on the line than many thought heading into the season.
A win by Ole Miss and it is bowl eligible just a year after going 2-10 and 0-8 in conference play.
Mississippi State has a chance to finish near the top of the SEC.
This is a bitter rivalry between two schools very close in proximity and might be the best SEC game all day.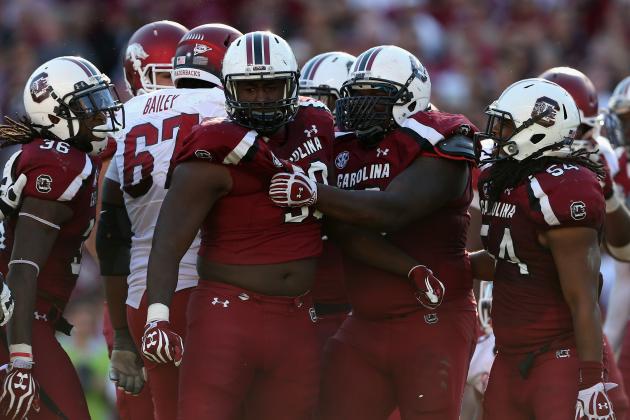 Streeter Lecka/Getty Images

This is about as evenly matched of a game you will see. The South Carolina Gamecocks are No. 12 in the country and sitting at 9-2 overall.
Clemson is No. 11 in the BCS standings and sporting a 10-1 record. A win by either team would keep alive BCS bowl hopes.
If the Tigers come out with a victory, they are almost a lock to play in the Sugar Bowl. A loss and a lot of money will potentially leave the pockets of the university.
This intense rivalry game should be one of the best games of the night.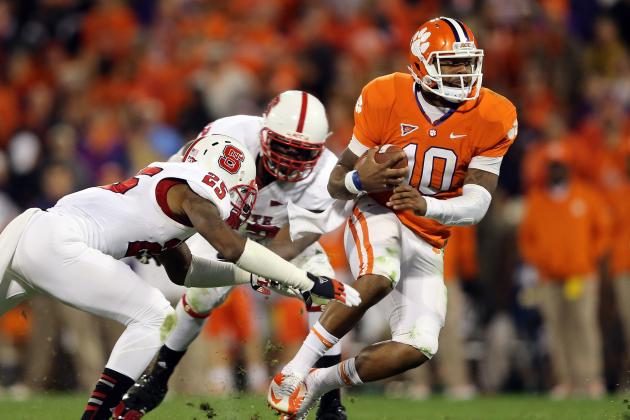 Streeter Lecka/Getty Images

With the way the Clemson offense is playing and how the Tigers are climbing in the rankings, it is a little odd that quarterback Tajh Boyd has not been mentioned in the Heisman conversation.
He has already passed for 3,367 yards with 33 touchdowns and 11 picks. Boyd has also rushed for eight touchdowns and 466 yards.
There are a lot of weapons on offense for Clemson, and if Boyd can put on a convincing performance, he may find himself in New York in a few weeks.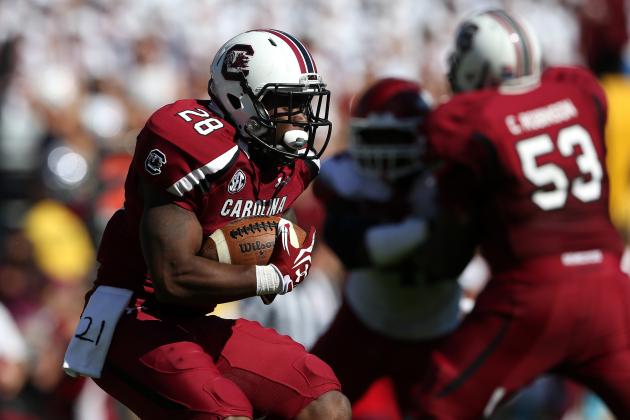 Streeter Lecka/Getty Images

South Carolina has done well since star running back Marcus Lattimore went down with an injury, but this will be the first real test it has had to endure.
While the Clemson defense is not its strong point, the Gamecocks are going to need to run the football to be successful.
That responsibility will likely hinge on the tandem of Mike Davis and Kenny Miles. Expect 30-plus carries from these two, and if that happens, South Carolina will have a good chance to come away with a victory.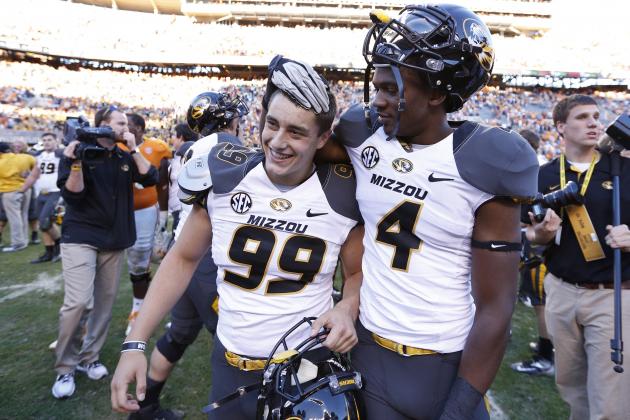 Joe Robbins/Getty Images

After a devastating loss in the home finale against Syracuse, Missouri now finds itself scrambling just trying to get to a bowl game.
The Tigers are standing at 5-6 right now with a very challenging road game against Texas A&M to close out the season.
There have been plenty of injuries for Missouri, particularly at key positions, and they have proved to be too much to overcome.
Bob Levey/Getty Images

The season of freshman Johnny Manziel has been well documented, and as it stands right now he is one of the front-runners for the Heisman Trophy.
Manziel has passed for over 3,000 yards and rushed for more than 1,000 on the season, becoming the first freshman ever to do that and only the fifth player in FBS history.
With a good performance to close out the season against Missouri, the Heisman Trophy is his for the taking.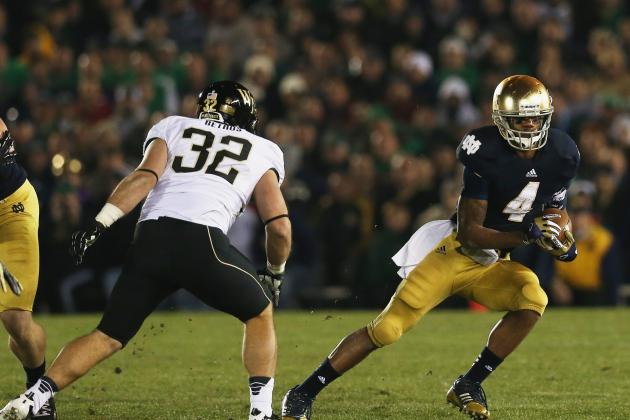 Jonathan Daniel/Getty Images

Notre Dame is the one team in the country that can punch its ticket for the BCS National Championship Game with a win at USC on Saturday night.
The entire college football world will be tuned in to check this one out.
Matt Barkley is not going to play for USC, so this should be a relatively easy victory for the Fighting Irish.
By midnight on Saturday, we will likely have one-half of the national championship picture figured out.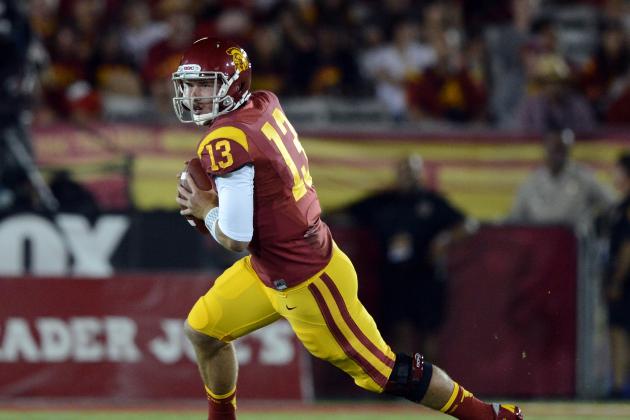 Harry How/Getty Images

With USC quarterback Matt Barkley unable to play on Saturday due to a separated shoulder, the hopes of the Trojans will hinge on freshman Max Wittek.
He has only seen action in a few games this season, completing 8-of-9 passes for 95 yards and a touchdown.
There is no question that he is a very talented quarterback, but he is going against a Notre Dame defense that is as good as it gets.
It could be a very tough day for Wittek and the Trojans.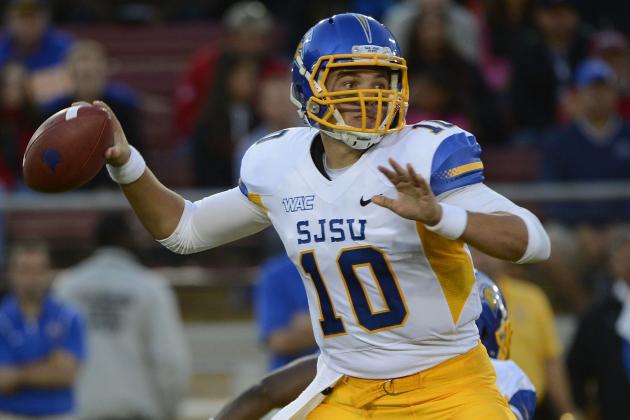 Thearon W. Henderson/Getty Images

One of the more intriguing games of the night features San Jose State and Louisiana Tech.
Both teams come into the game with identical 9-2 records and 4-1 marks in the WAC.
The Bulldogs are coming off a tough overtime loss against Utah State, and San Jose Sate just knocked off BYU.
This is a key game for bowl positioning, featuring two teams that are no strangers to putting points on the board.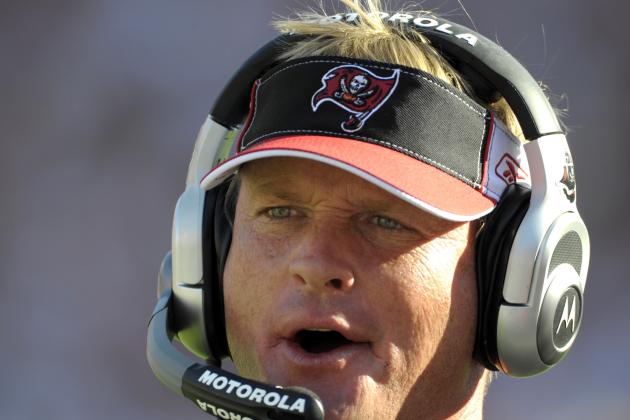 Al Messerschmidt/Getty Images

While there is not likely a lot to be known by the end of the week, there is speculation that Jon Gruden could be headed to either Arkansas or Tennessee.
The decision will not likely come for at least a few weeks, but this is a situation that is worth monitoring.
Both of these programs could certainly use a boost. Gruden would be the perfect guy for either situation.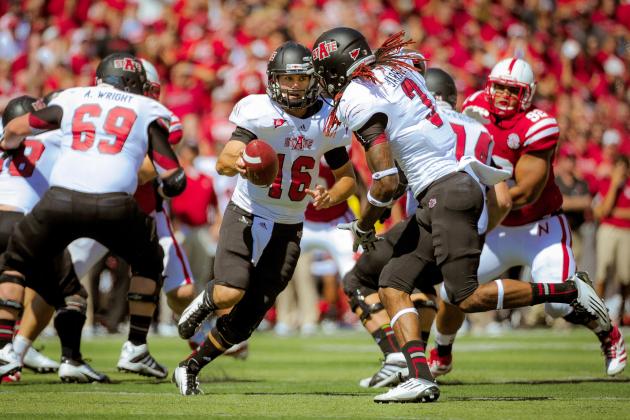 Eric Francis/Getty Images

The Sun Belt Conference race has turned into a very heated battle between four teams, and while there are still two weeks to play, Week 13 will go a long way toward determining which team might become the conference champion.
Troy travels to Middle Tennessee for one of the marquee matchups of the weekend.
A win by Troy and the Trojans are bowl eligible. If the Blue Raiders come out on top, they will play Arkansas State in the season finale for the conference crown.
A win by Troy and the league would have four teams with a shot at the title heading into the final week of the season.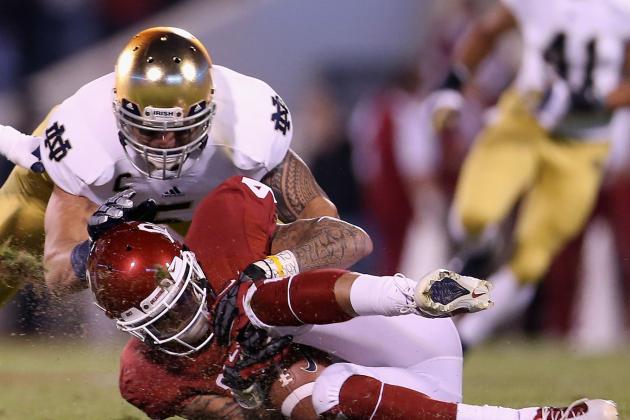 Ronald Martinez/Getty Images

With everything that has happened over the past few weeks along the college football landscape, Notre Dame linebacker Manti Te'o has sort of slid under the radar.
He was at one point talked about as a Heisman favorite, but right now is not mentioned too much.
While he is still a long shot, with the way teams are losing, he certainly has to be in the conversation, especially if he can help lead Notre Dame to the national championship game.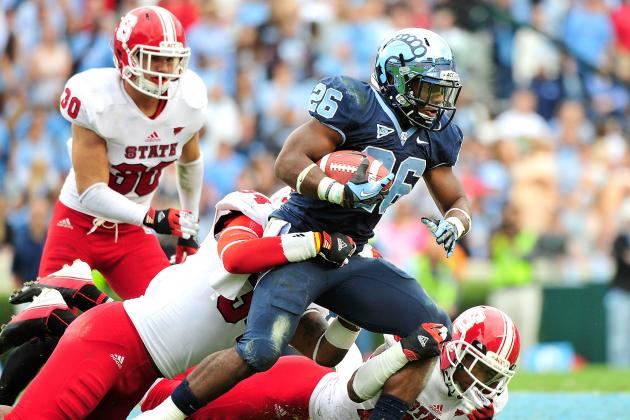 Grant Halverson/Getty Images

For three teams on NCAA probation, Saturday will be the end of the line.
North Carolina, Ohio State and Penn State are all having very impressive seasons, but will not be able to advance beyond the regular season due to NCAA sanctions.
All three teams are having one of their best seasons in recent memory, and for the most part it has come as a surprise to most.
Too bad for these universities, Saturday will be it.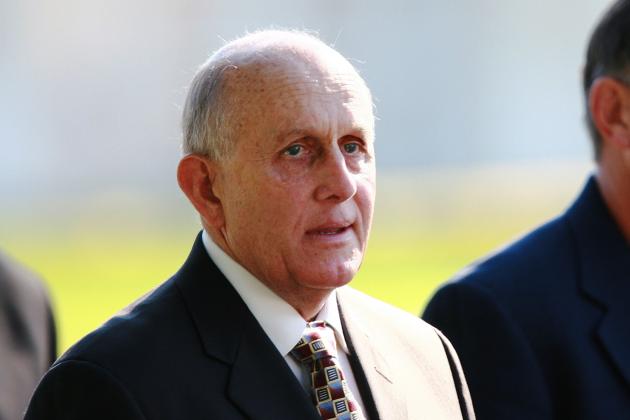 Doug Benc/Getty Images

Nobody could have expected UTSA to win eight games in its first season at the FBS level, but with a win over Texas State on Saturday, an 8-4 record will be the end result.
The Roadrunners are coached by former Miami Hurricanes head coach Larry Coker, and while not many people are too worried about what they do on Saturday, eight wins is rather impressive.
Only half of those wins will be against FBS schools and two of those are first-year FBS programs, but either way this is a great sign of things to come for the program.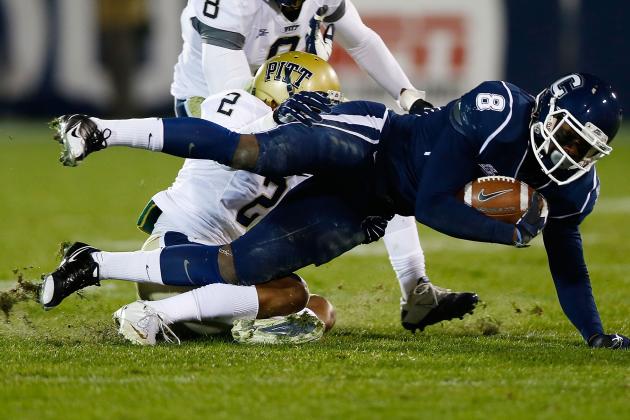 Jared Wickerham/Getty Images

News broke recently that Maryland and Rutgers were reportedly making the jump to the Big Ten.
Apparently, the conference carousel has started up again. It is looking like the ACC is interested in having Connecticut replace Maryland.
This would leave the Big East in a world of hurt. Stay tuned for more to come on this as it will continue to develop throughout the week and in the offseason.