BCS Rankings: 5 Lowest-Ranked Teams with the Best Shots at 2012 BCS Berths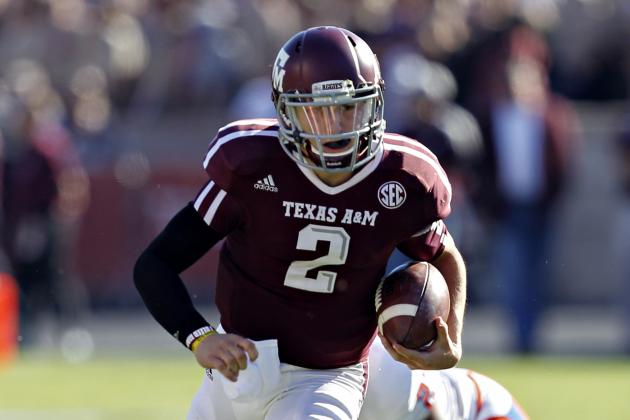 Bob Levey/Getty Images
Johnny Manziel
Just when we think we have the BCS picture figured out, another shakeup occurs and throws college football into chaos.
At this point, it's safe to say that Notre Dame and Alabama control their own destinies. That much we know.
Perhaps more interesting is the rest of the BCS field; there are numerous teams that could work their way into the mix, and many delicious matchup possibilities that await us.
In fact, it's a certainty that multiple teams currently outside the BCS Top Ten will be in BCS games. We can point to some with relative confidence; others are much more doubtful.
With that, let's take a look at the lowest-ranked teams with the best shot at making BCS bowls. The rankings reflect the latest BCS standings.
Begin Slideshow

»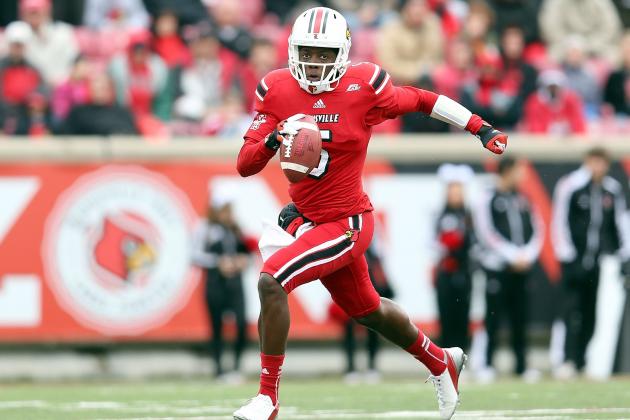 Andy Lyons/Getty Images
Teddy Bridgewater
Teddy Bridgewater and the Cardinals were flying high and undefeated until Syracuse derailed their storybook season at the Carrier Dome, 45-26. Granted, Louisville hasn't faced the stiffest competition, but it is poised for an Orange Bowl berth if it can win its two remaining games.
But let's not get ahead of ourselves. The Cardinals have a date with 18th-ranked Rutgers in Piscataway, NJ, in less than two weeks. The Scarlet Knights are 5-0 in conference play and, like the Cardinals, 9-1 overall.
Either Louisville or Rutgers will be Big East champions, and the champion will almost certainly be decided by this game, unless Louisville chokes against Connecticut. We should be in for a great game. Look for Bridgewater, who possesses a quarterback rating of 168.8 (fifth-best nationally) and has thrown for almost 3,000 yards this season, to lead his team to the BCS in a close one.
The Big East isn't tied to any specific BCS bowl, so the Cardinals could face a number of teams. They should have their hands full against whomever they play. But Charlie Strong's team has looked inspired all season, and we've seen plenty of upsets this season. Don't count out Louisville.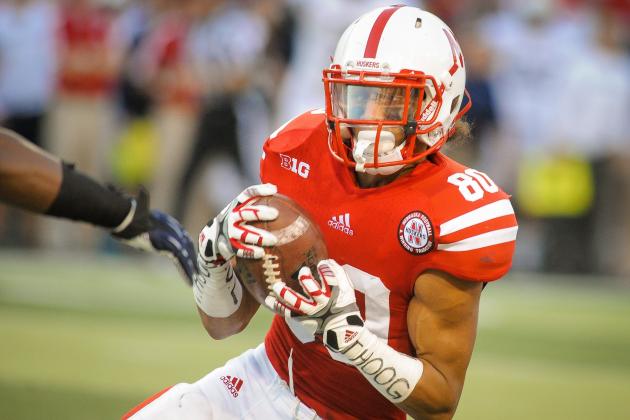 Eric Francis/Getty Images
Kenny Bell
They may not be in the spotlight, but the Cornhuskers are a victory away from their first Big Ten Championship appearance. Pending a victory over lowly Iowa, the Huskers will face Wisconsin in Indianapolis with a Rose Bowl berth on the line. Even if Iowa somehow tops Nebraska, Michigan would need to beat Ohio State to steal the BCS from the Blackshirts.
NU-UW should be be a great game. In the first matchup back in September, Bo Pelini's boys escaped with a 30-27 win. The real question for the upcoming matchup will be how motivated the Badgers are. Pending the result of its upcoming game against Penn State, UW will have either four or five losses heading to Indy, hardly indicative of a championship team.
Expect a hard-fought, low-scoring game in Indy. But if the Huskers take care of the ball and protect Taylor Martinez, we'll be seeing roses on the streets of Lincoln.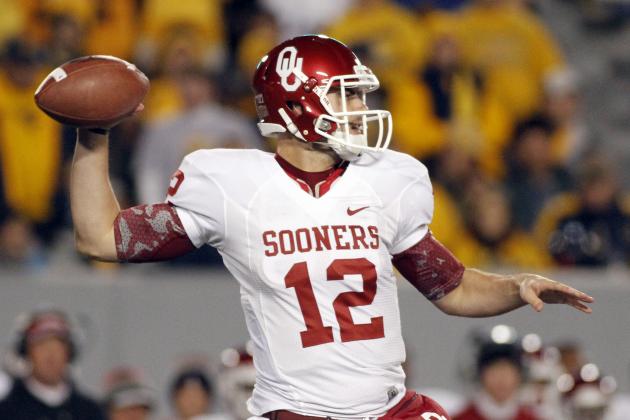 Justin K. Aller/Getty Images
Landry Jones
After somehow escaping Morgantown with a 50-49 win over West Virginia, Landry Jones and co. are sitting at 8-2 and in good position to land an at-large BCS berth and possibly more.
The Sooners are far from done; they face No. 21 Oklahoma State Saturday, followed by the season finale against TCU in Fort Worth. But if OU wins its last two games, it will have a solid résumé, with its only two losses coming to current-No. 1 Notre Dame and No. 6 Kansas State.
In fact, Oklahoma still has a fair chance of winning the Big 12 and earning an automatic Fiesta Bowl berth. If Kansas State loses its final game to Texas and the Sooners win out, Bob Stoops will capture his eighth conference championship as the head man in Norman.
Another BCS bowl would also be Landry Jones' chance to end his college career on a high note. The senior, who already owns a bundle of school records, could become the first OU quarterback to win two BCS bowl games.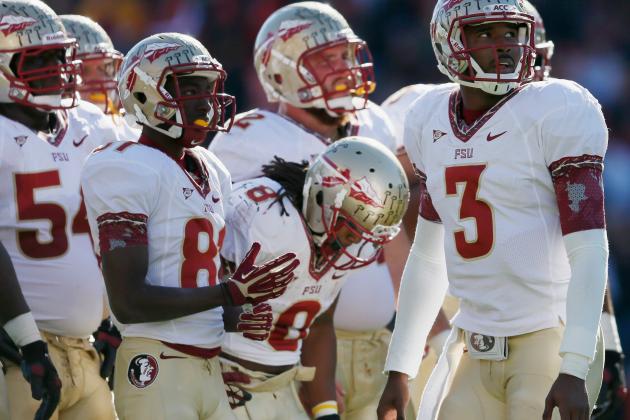 Rob Carr/Getty Images
EJ Manuel and the Noles offense
The Noles looked like national title contenders early in the season, only to stumble in Raleigh, falling 17-16 to NC State. FSU has been under the radar ever since, but Jimbo Fisher's squad is by no means out of the picture at 10-1.
Strength of schedule is not something to brag about for the Seminoles, however. Besides beating Clemson, which is also 10-1, there really aren't any wins the team can brag about. Virginia Tech, usually a BCS contender, sits at a head-scratching 5-6.
FSU has already clinched a spot in the ACC Championship, where it will probably face Georgia Tech. As long as the Noles take care of business against the Yellow Jackets, they will head to the Orange Bowl.
But EJ Manuel and his teammates aren't thinking about that right now. They're focusing on the annual showdown with No. 4 Florida in Tallahassee. Although the outcome won't have any impact on FSU's automatic berth prospects, it should be a great game and give fans an idea of how two of the premier programs of 2012 stack up against each other.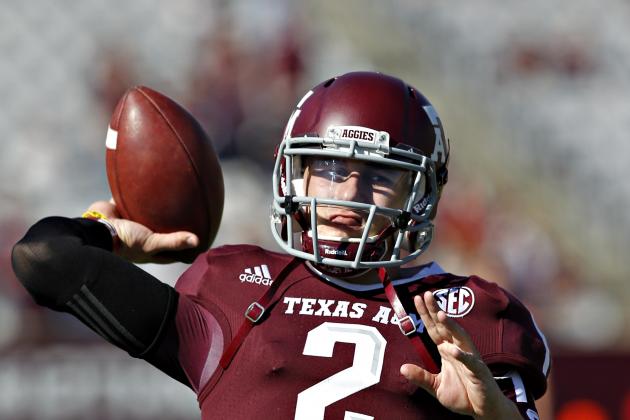 Bob Levey/Getty Images
Johnny Manziel
What a year it's been for Kevin Sumlin's bunch. After widespread skepticism about the Aggies' prospects in the SEC, in walked a confident redshirt freshman quarterback named Johnny Manziel. All "Johnny Football" has done is lead his team to an upset of then-No. 1 Alabama in Tuscaloosa and guide the Aggies to a 9-2 record. Oh yeah, he's also a serious contender in the Heisman Trophy race.
Not a bad start to a collegiate career.
The Aggies aren't in contention for the SEC Championship, but they have a great chance to earn an at-large BCS berth. A&M has a large fanbase, a tradition-rich program, and, currently, one of the hottest and most talked-about players in the game. The team's two losses, to top-tier teams LSU and Florida, came by a combined eight points.
All of these factors will make the Aggies a compelling choice for BCS officials.
It is interesting to ponder potential bowl matchups for this team. When Manziel is on his game, the Aggies can play with anybody. It's truly amazing to think Manziel could finish his freshman season with, potentially, a Heisman Trophy and a BCS bowl win.