Power Ranking All 124 College Football Teams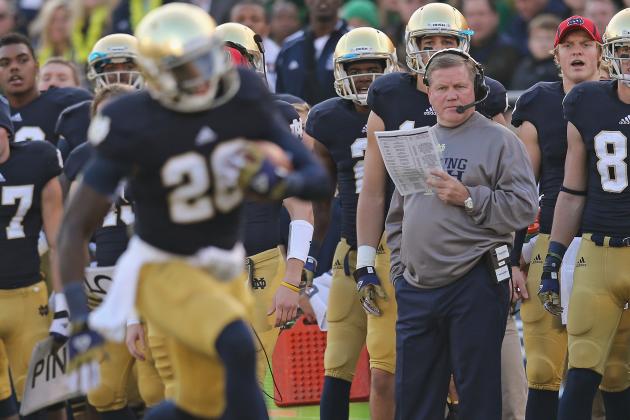 Jonathan Daniel/Getty Images

The 2012 season has been crazy, and things are not over yet. This past weekend, both No. 1 Kansas State and No. 2 Oregon went down in different fashions and opened the door back up to the SEC to get into the national title game.
Along with the top two teams losing, Notre Dame jumped up to grab the top spot, and the Fighting Irish are a win away from heading to the national championship.
Before we get ahead of ourselves, here is a look at this week's power rankings of all 124 teams in the FBS division.
Begin Slideshow

»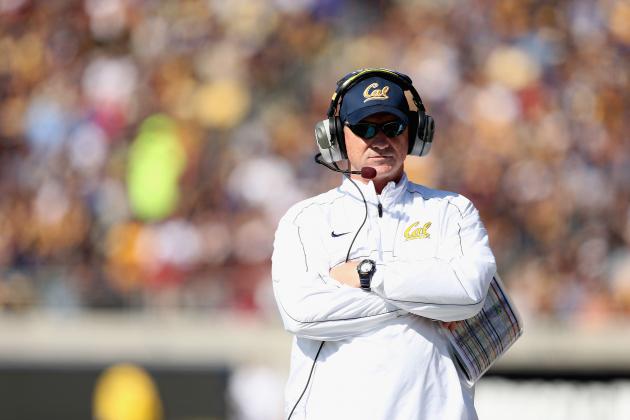 Ezra Shaw/Getty Images

No. 124: Southern Miss
No. 123: Akron
No. 122: Massachusetts
No. 121: Idaho
No. 120: New Mexico State
No. 119: Colorado
No. 118: Hawaii
No. 117: Kansas
No. 116: South Alabama
No. 115: UNLV
No. 114: Eastern Michigan
No. 113: Army
No. 112: Tulane
No. 111: Illinois
No. 110: Boston College
No. 109: Kentucky
No. 108: Texas State
No. 107: Florida Atlantic
No. 106: FIU
No. 105: Washington State
No. 104: Colorado State
No. 103: UTEP
No. 102: UAB
No. 101: Memphis
No. 100: South Florida
No. 99: North Texas
No. 98: Cal
No. 97: Western Michigan
No. 96: Buffalo
No. 95: Miami (OH)
No. 94: Auburn
No. 93: Houston
No. 92: Indiana
No. 91: Iowa
No. 90: Pittsburgh
No. 89: Virginia
No. 88: Connecticut
No. 87: Temple
No. 86: Maryland
No. 85: Arkansas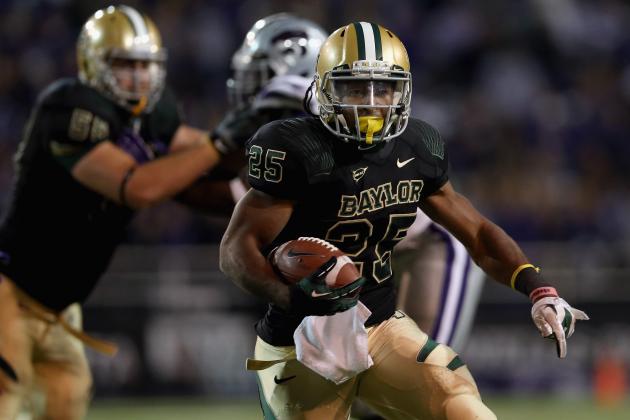 Ronald Martinez/Getty Images

No. 84: Troy
No. 83: Missouri
No. 82: Tennessee
No. 81: New Mexico
No. 80: Wyoming
No. 79: Ole Miss
No. 78: Central Michigan
No. 77: Utah
No. 76: Marshall
No. 75: Purdue
No. 74: Michigan State
No. 73: Rice
No. 72: West Virginia
No. 71: Virginia Tech
No. 70: Wake Forest
No. 69: Western Kentucky
No. 68: SMU
No. 67: Louisiana Lafayette
No. 66: Air Force
No. 65: BYU
No. 64: Arizona State
No. 63: Minnesota
No. 62: Navy
No. 61: Syracuse
No. 60: Iowa State
No. 59: TCU
No. 58: UTSA
No. 57: Vanderbilt
No. 56: East Carolina
No. 55: Baylor
No. 54: Duke
No. 53: Miami
No. 52: NC State
No. 51: Washington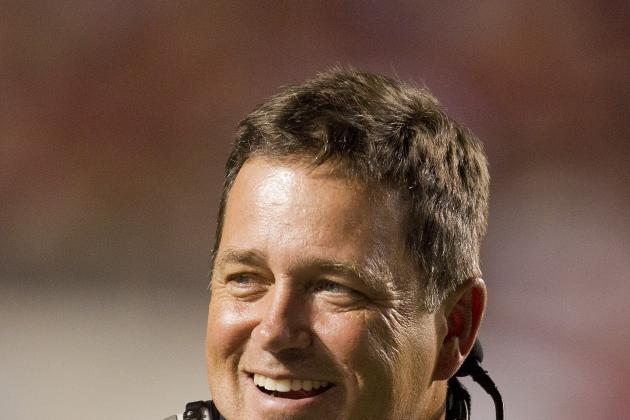 Wesley Hitt/Getty Images

After two straight losses derailed Louisiana-Monroe's season, the Warhawks got things back on track this past week with a win over North Texas.
The win improved Louisiana-Monroe to 7-4, and regardless of how this season comes to an end, the Warhawks truly turned some heads in the 2012 season.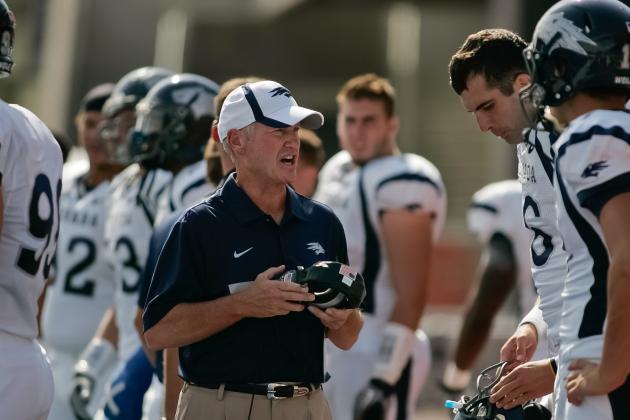 Otto Kitsinger III/Getty Images

The three-game losing streak finally came to an end this weekend, as Nevada was able to earn its seventh win with a victory over New Mexico.
This season the Wolf Pack have been haunted by poor defensive performances and the inability to get off the field on third down.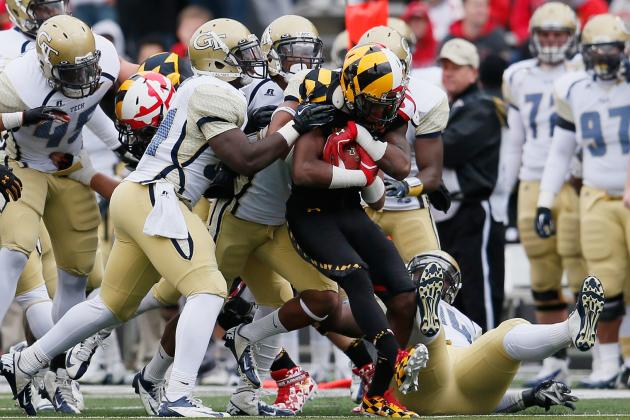 Rob Carr/Getty Images

After a brutal 2-4 start to the year, Georgia Tech has gotten things turned around and is currently 6-5 on the season.
With their third straight win coming this past weekend, the Yellow Jackets got themselves bowl eligible and have a shot at salvaging a down year for Paul Johnson's program.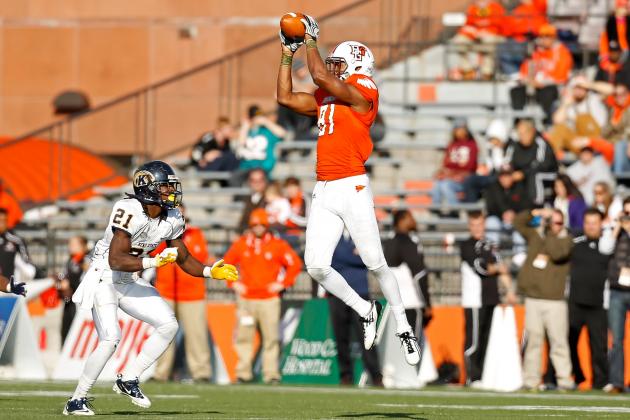 Kirk Irwin/Getty Images

In their big matchup with Kent State this past weekend, Bowling Green came out on the losing end of things and are on the outside looking in for the MAC title.
Despite the loss, the Bowling Green defense has played outstanding and is a group that this program can build off of.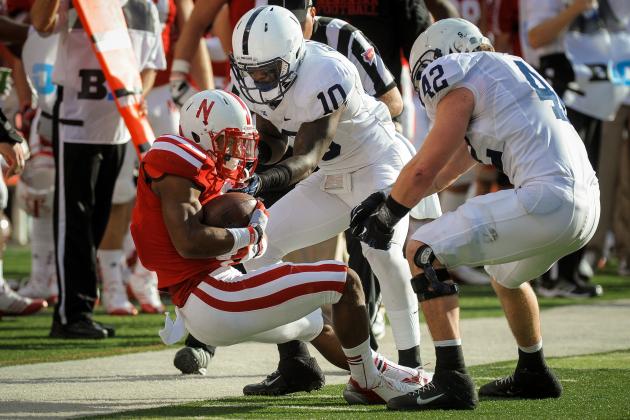 Eric Francis/Getty Images

After a tough loss at Nebraska, Penn State has bounced back this past week to move to 7-4 with a win over Indiana.
For a program that has been ravaged by transfers, winning seven games in the first season has been a major accomplishment for Bill O'Brien and his staff.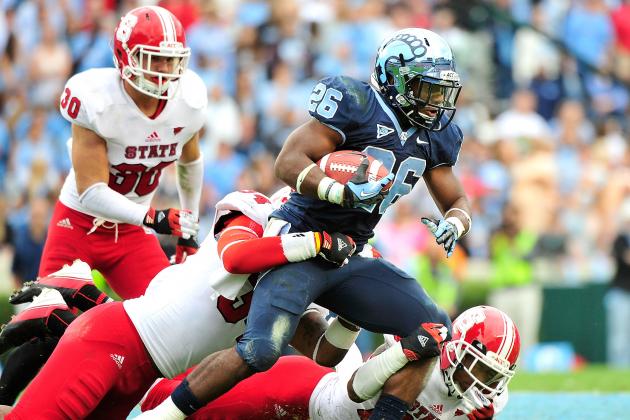 Grant Halverson/Getty Images

The up-and-down end to the season continues for North Carolina, as it has now gone 2-2 in the last four.
Like much of the rest of the year, North Carolina has not been able to string together solid defensive performances, which has caused the team to be wildly inconsistent throughout the season.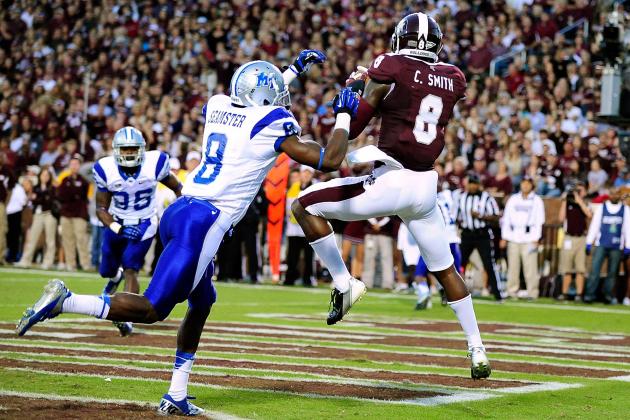 Stacy Revere/Getty Images

Middle Tennessee is a team that is surpassing preseason expectations, as the Blue Raiders have gotten out to a 7-3 start with two weeks to go.
While the team hasn't been overly impressive on either side of the ball, Middle Tennessee has been consistent, which has done it quite well.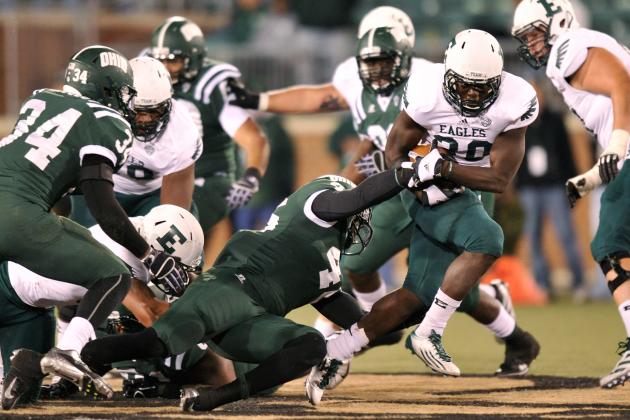 Jamie Sabau/Getty Images

There was a time that Ohio was 7-0 and may have had thoughts of a dream season. That seems like a lifetime ago, as the Bobcats are now 8-3 and completely out of the running to head to the MAC championship game.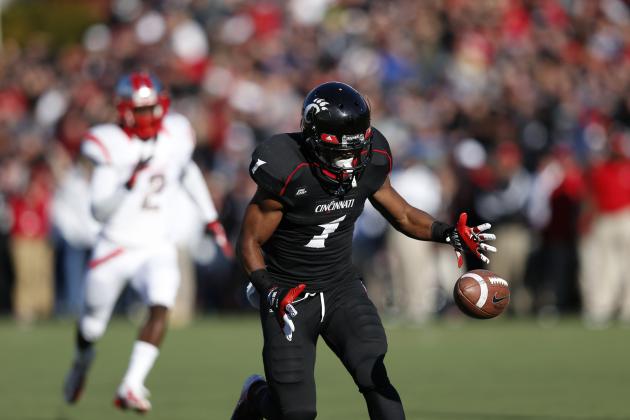 Joe Robbins/Getty Images

Cincinnati had a great start to the season but have fallen off when playing its bigger games. This past week, the Bearcats had a chance to remain in the Big East hunt, but a blowout loss to Rutgers finalized their fate in the conference.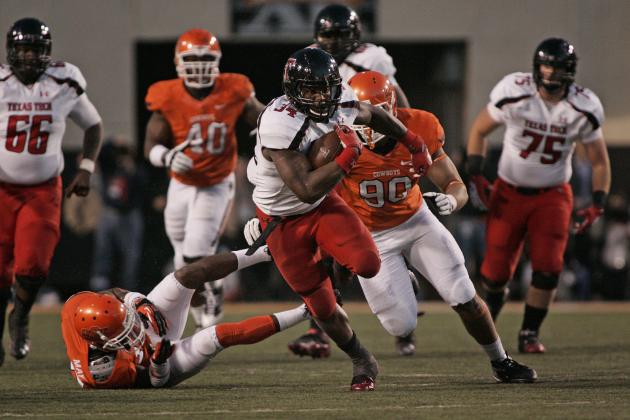 Brett Deering/Getty Images

After needing overtime to beat Kansas a couple of weeks ago, Texas Tech came out and got bombed against Oklahoma State this past weekend.
The loss dropped the Red Raiders to 7-4 and showed that they are still having issues putting together consistent performances week after week.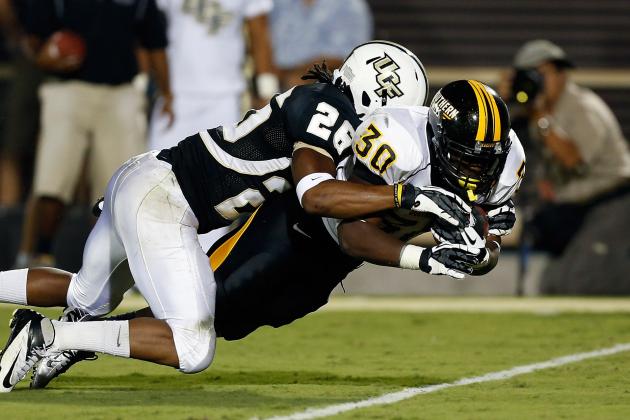 J. Meric/Getty Images

This past weekend's loss to Tulsa was rough for UCF, as it lost by two points and dropped to 8-3 on the year with this being its first conference loss.
Despite the loss, it appears that the Knights will have time to make up for this bump in the road, as they will likely be heading to the Conference USA title game.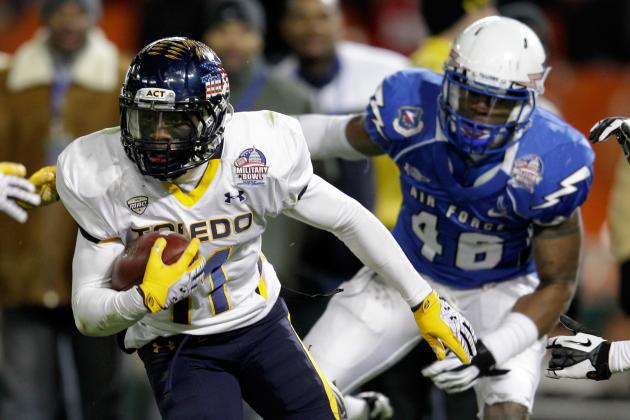 Rob Carr/Getty Images

As promising as this season looked to be for Toledo, two straight losses have completely derailed its goals for the 2012 season.
During the past two weeks, the defense has failed to show up and make big stops when counted on, and ultimately, the offense was put in a hole it couldn't dig the team out of.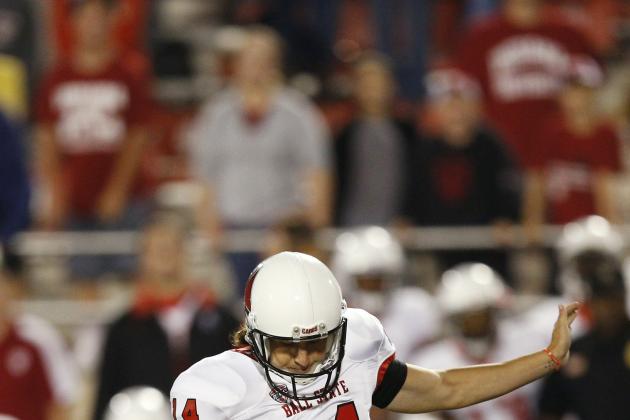 Joe Robbins/Getty Images

Despite the fact that Ball State may come up short on heading to the MAC title game, the team has been one of the bigger surprises this year, turning in an 8-3 season so far.
Based off of last year's performance, this team is truly improving—but time will only tell if it can make it last.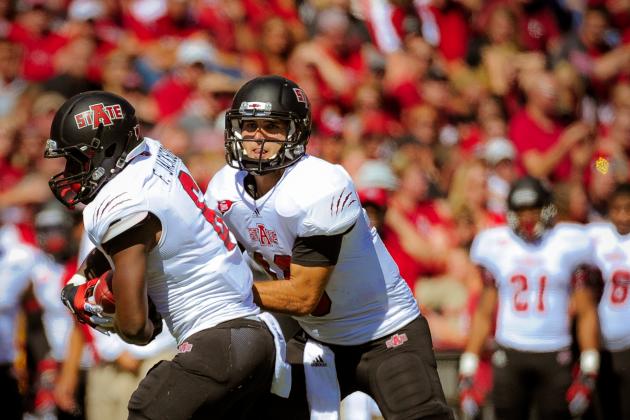 Eric Francis/Getty Images

With its win over Troy this past weekend, Arkansas State remains out in front in the Sun Belt with only Middle Tennessee remaining on the schedule.
Throughout the year the Red Wolves have shown great balance on offense, and it appears that it will guide them all the way to a conference title.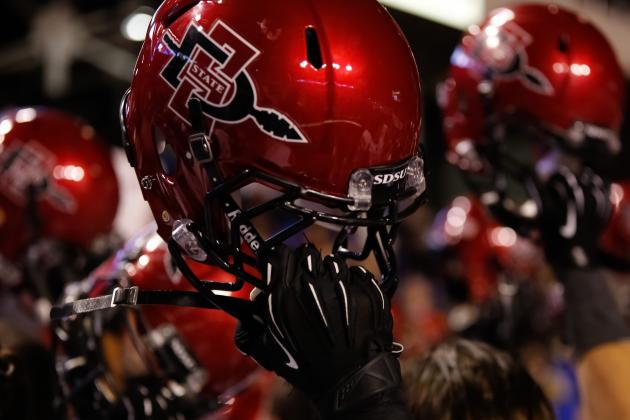 Otto Kitsinger III/Getty Images

At 8-3, San Diego State is surprising some people with how strong of a season it's having. Along with the 8-3 record, the Aztecs only have one loss in conference and are showing signs of building toward a bright future.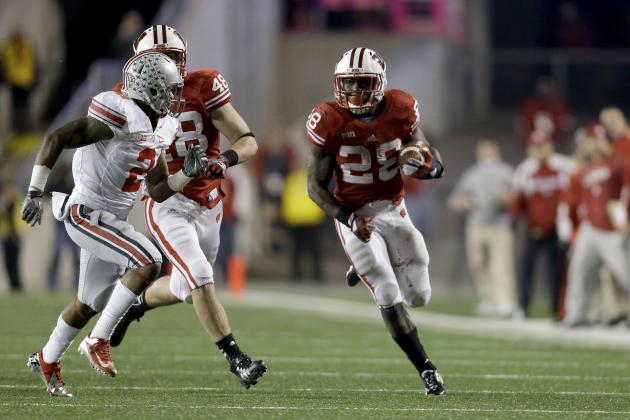 Mike McGinnis/Getty Images

Wisconsin has had an up-and-down sort of year, and this past weekend was no different. The Badgers took on Ohio State this weekend but ended up falling short, 21-14, in overtime.
With all of the change that occurred last offseason, it is no surprise that the Badgers are struggling and will need time to get back to competing for Big Ten titles.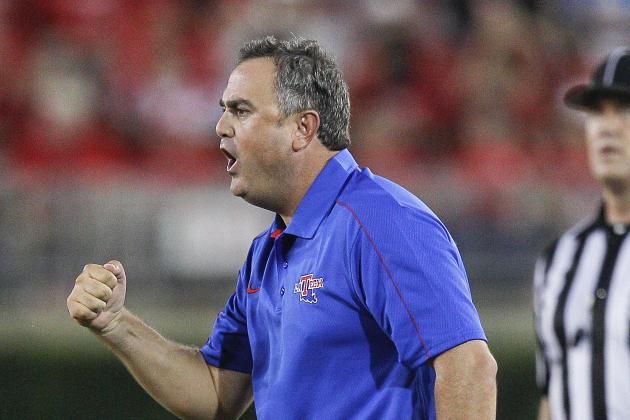 Bob Levey/Getty Images

This past weekend it seemed as if Louisiana Tech had all of the momentum, scoring 17 unanswered points against Utah State but still coming up short.
With the loss, Louisiana Tech will likely finish second in the WAC and short of its goals.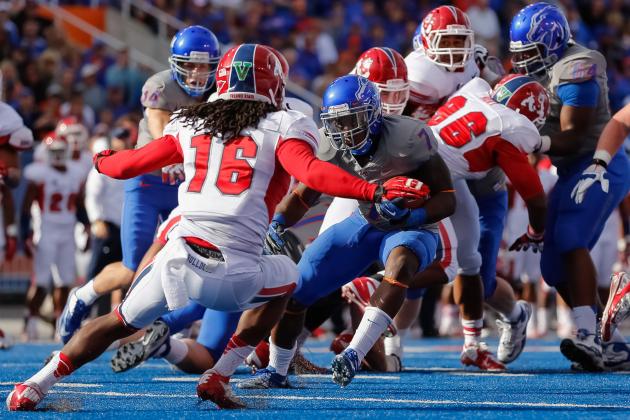 Otto Kitsinger III/Getty Images

Last year at this time, Fresno State was in the bottom quarter of teams in the nation. This year, it has turned things around and is a huge competitor in the Mountain West Conference.
As the season wraps up, the Bulldogs are 8-3 and should move to 9-3 with a very winnable game remaining against Air Force.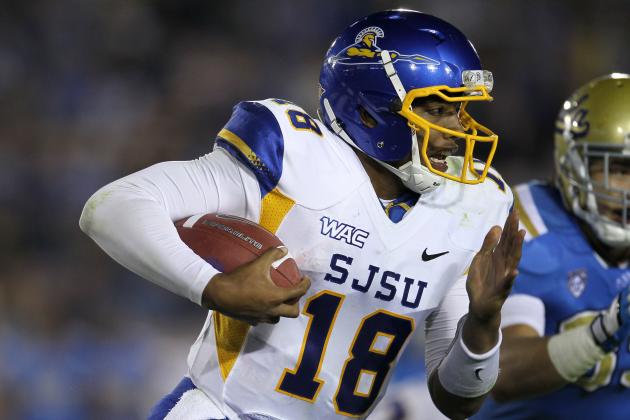 Stephen Dunn/Getty Images

San Jose State has been a true surprise this year, as it has gotten things completely turned around and is now 9-2 with Louisiana Tech remaining on the schedule.
Between the balance that the Spartans have shown on offense and defense, they are a hard team to match up against and could give the Bulldogs some trouble.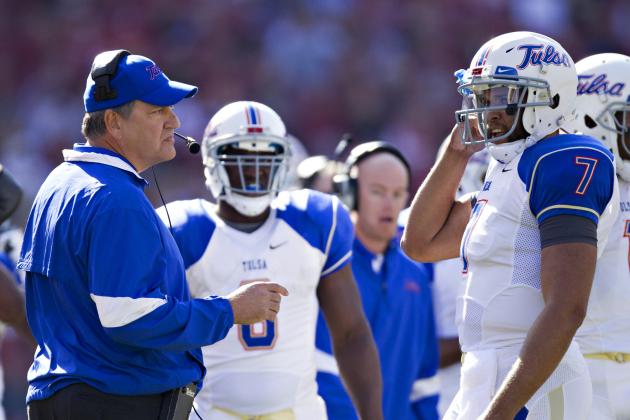 Wesley Hitt/Getty Images

In a head-to-head game with UCF, Tulsa found a way to come out on top and remain in control in Conference USA play.
With only SMU remaining on the Golden Hurricane schedule, Tulsa will likely be playing for the conference's championship.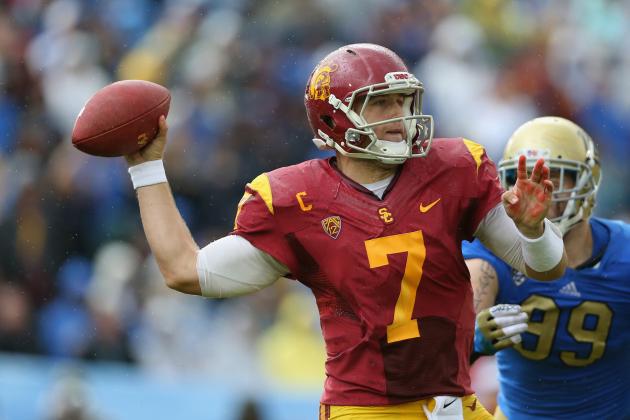 Jeff Gross/Getty Images

For a team that had so much preseason hype, the Trojans have fallen flat and lost for the fourth time this past weekend when UCLA defeated them and clinched the Pac-12 South title.
With only one game remaining, the Trojans have a huge test against the Irish. With everything they came into this season no longer there to play for, the Trojans need this game to salvage their year.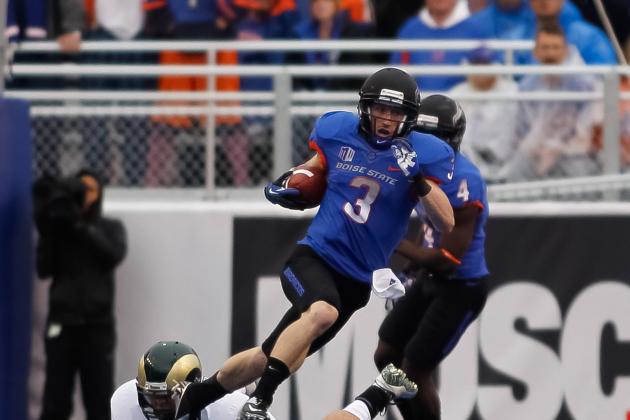 Otto Kitsinger III/Getty Images

While is hasn't had much national attention this year, Boise State is still on top of the Mountain West Conference and is having a good year despite losing as much offensive talent as it did.
Despite the conference success that it is having this year, it will be interesting to see if Chris Petersen can get this team back on the national stage.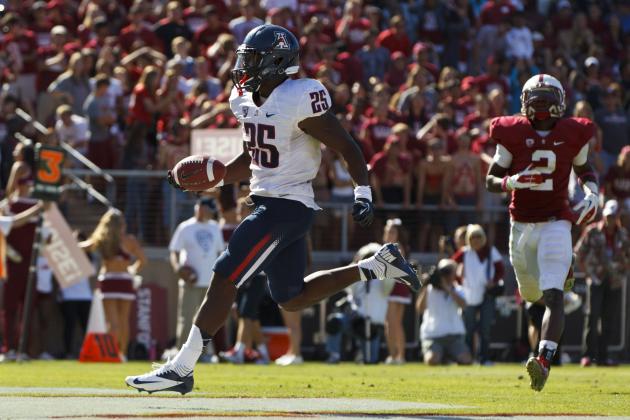 Jason O. Watson/Getty Images

A few weeks ago Arizona saw control of the Pac-12 South slip through its fingers when it lost to UCLA. Since that loss, the Wildcats have bounced back with two straight wins.
The Wildcats hope to continue that momentum into this week as they take on in-state rival Arizona State.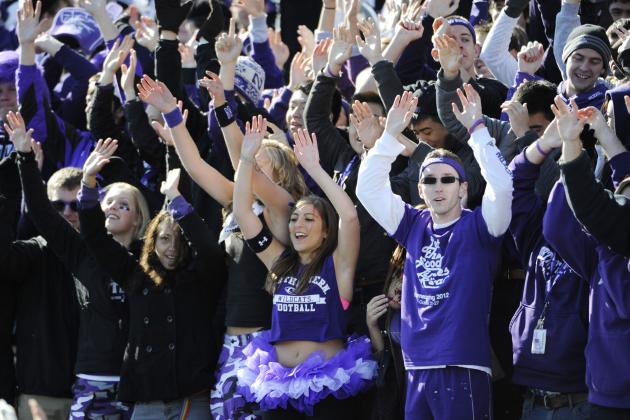 David Banks/Getty Images

After failing to finish the deal against Michigan a couple of weeks ago, Northwestern rebounded well this past week with a huge win over Michigan State that pushed the Wildcats to 8-3.
The win was huge for the Wildcats, as they continue to surpass expectations and have a shot at ending their bowl-win drought this year.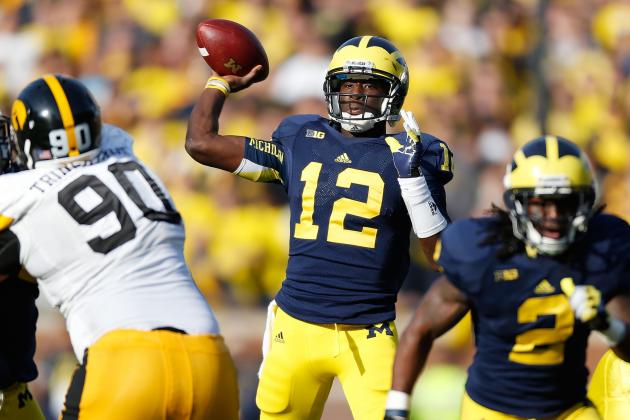 Gregory Shamus/Getty Images

Michigan continues to keep the heat on Nebraska as it continues to win. This past week, the Wolverines earned an impressive win over Iowa.
With the win, Michigan now must beat rival Ohio State on the road and hope for Nebraska to trip up if the team wants to head to the Big Ten title game.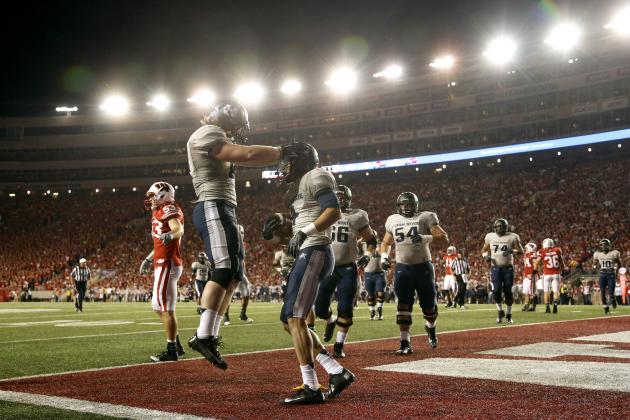 Tom Lynn/Getty Images

With control of the WAC on the line, Utah State appeared to be giving away a game to Louisiana Tech until it snapped back, woke up and finished the job against the Bulldogs in overtime.
Due to the win, Utah State grabbed control of the WAC, and the only thing standing between it and a conference title is a win over Idaho.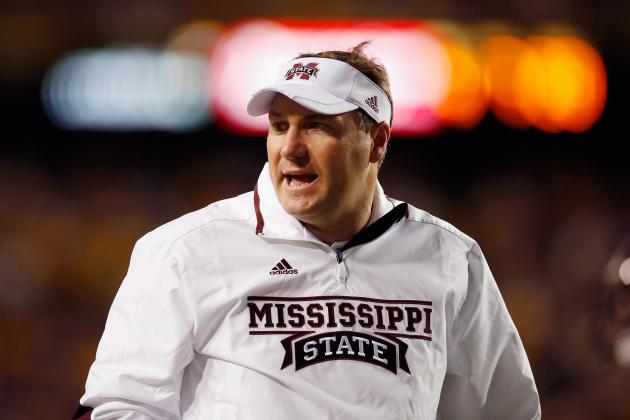 Chris Graythen/Getty Images

Mississippi State finally got the bleeding to stop and ended the three-game losing streak with a win over Arkansas this past week.
The win saw both the offense and defense get back on track for a great combined-effort victory. Fans hope that continues as the team takes on in-state rival Ole Miss this weekend.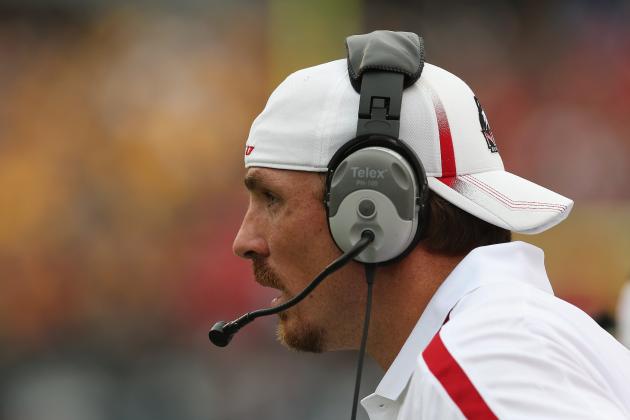 Jonathan Daniel/Getty Images

Northern Illinois continues to impress as it remains undefeated in the MAC, earning a spot in the MAC title game.
With the run that the Huskies have had, they are an interesting matchup with Kent State, and those two teams will give the viewers a heck of a game.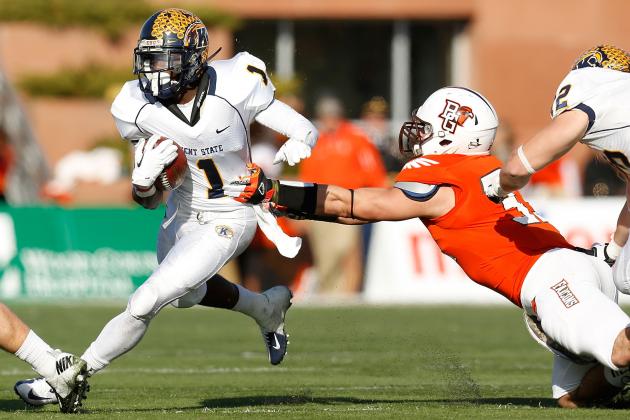 Kirk Irwin/Getty Images

Not many people may know this, but Kent State is 10-1 and rolling through its MAC schedule this year. This past week the Golden Flashes earned a huge win over Bowling Green, and it allowed them to remain in control and earn a spot in the MAC title game.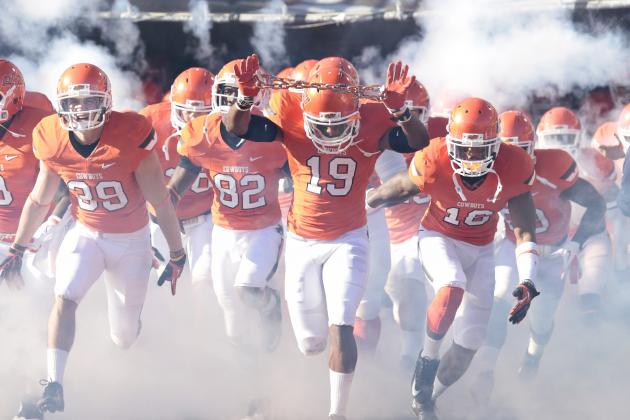 Brett Deering/Getty Images

Oklahoma State has bounced back well from its loss against Kansas State a few weeks ago, with back-to-back 50-point outputs and wins.
With the offense clicking and the Sooners coming up on the schedule, the Cowboys could have another big day on offense in a huge rivalry game.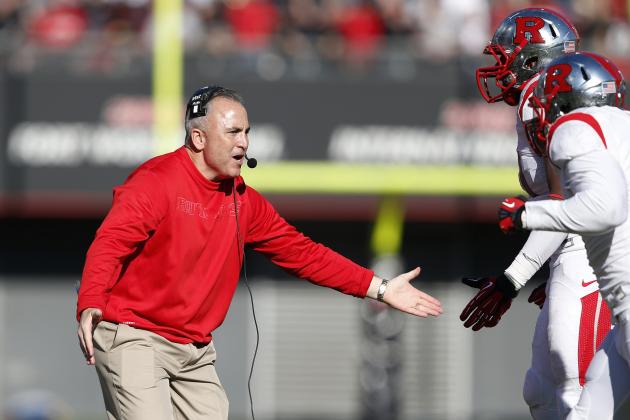 Joe Robbins/Getty Images

Rutgers faced a huge test this past week and passed it with flying colors when it took down Cincinnati. With the win, Rutgers remains in control of its own destiny in the Big East but will need to win both of the remaining games against Pitt and Louisville.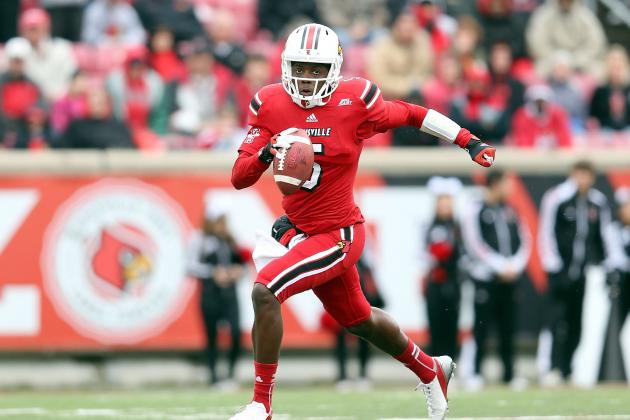 Andy Lyons/Getty Images

After its loss to Syracuse, Louisville had this past week off and will head back to the field this week against Connecticut.
While the game against the Huskies should not be that challenging, the Cardinals must make sure that they remain focused with Rutgers up next on the schedule.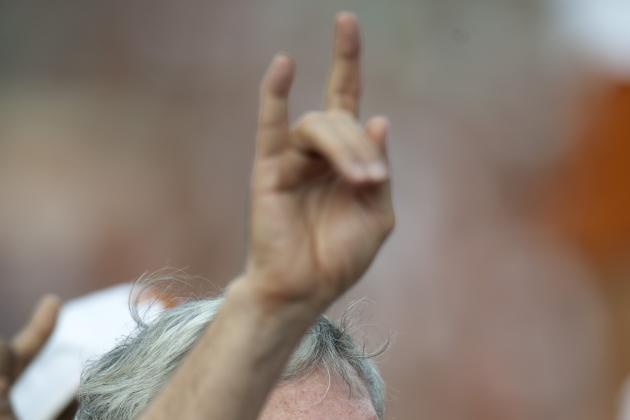 Cooper Neill/Getty Images

Texas has continued to play some outstanding football, following through with a win over Iowa State this past weekend.
Since their win over Baylor, the Longhorns defense has really turned things around and made this a more complete team. With two games remaining, the Longhorns still have a shot at a 10-win season, which many wouldn't have seen coming.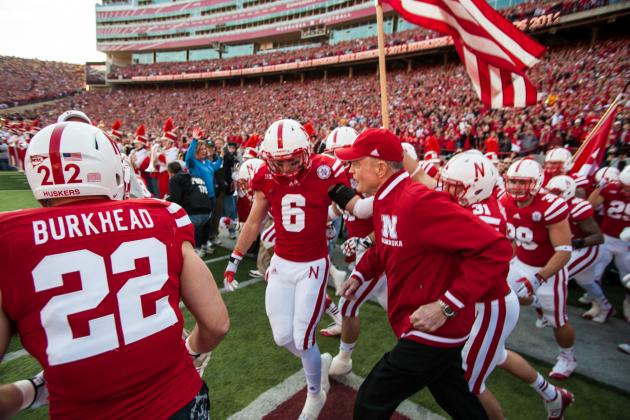 Eric Francis/Getty Images

Nebraska earned a big win over Minnesota and are now a victory away from winning its division and heading to the Big Ten title game.
With only Iowa in the way, Nebraska should have no issues earning its ticket on its own—but if Michigan loses against Ohio State, it will also earn a spot in the title game.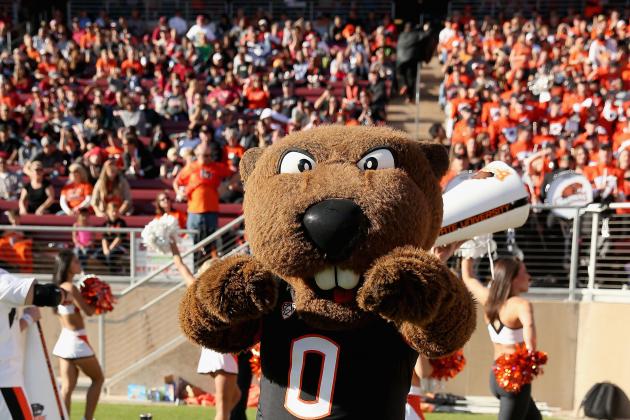 Ezra Shaw/Getty Images

Oregon State continued to impress this past week as it dismantled Cal and won big. With the win, the Beavers head into the Civil War with an impressive 8-2 win and could earn even more respect if it is able to take down Oregon.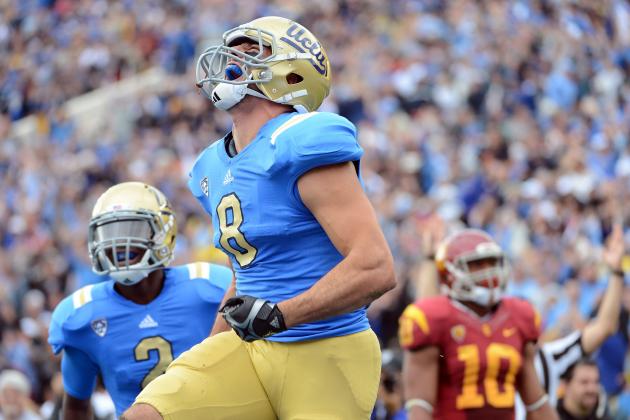 Harry How/Getty Images

UCLA has come along in Jim Mora's first season, and regardless of what happens this week against Stanford, the Bruins will be playing for the Pac-12 title for the second straight year.
If the Bruins win this week, they will be playing at Oregon—if they lose, they will have a rematch of this week's game at Stanford. Either way, this has been an impressive year for UCLA.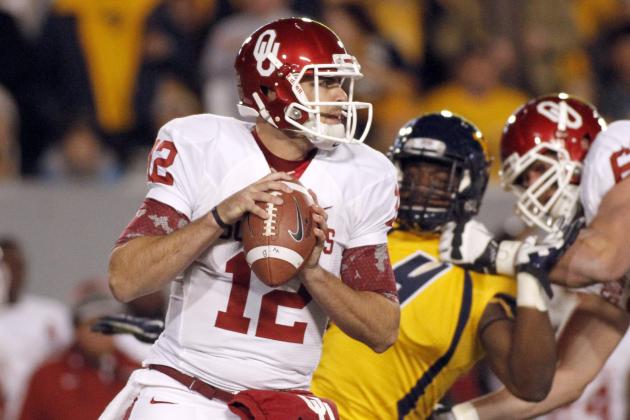 Justin K. Aller/Getty Images

It was a barn-burner this past week when Oklahoma headed on the road to take on West Virginia, earning a 50-49 win.
As of late, the defense has been allowing some big point totals, and if it hopes to win the final two conference games, it must improve.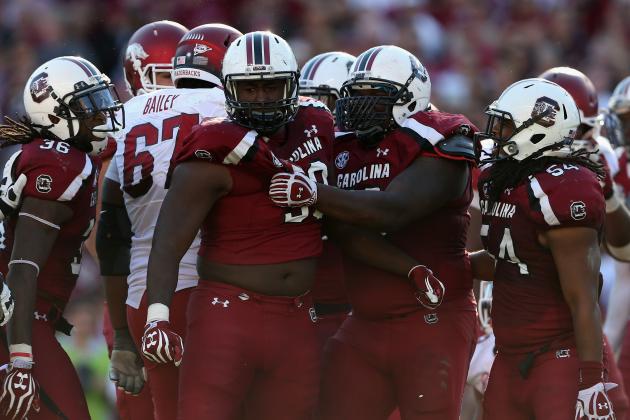 Streeter Lecka/Getty Images

Despite playing Wofford, South Carolina only won the game 24-7 and didn't look particularly impressive in the victory.
This week the Gamecocks will have their hands full as they take on Clemson on the road. The Tigers offense has been on fire as of late, and the Gamecocks will need to bring their best if they hope to slow them down.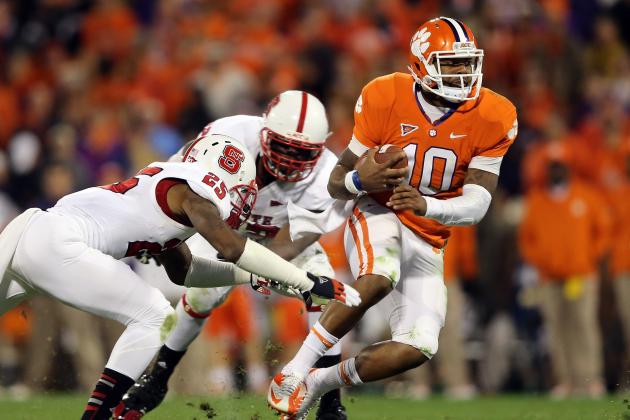 Streeter Lecka/Getty Images

While things may have been interesting throughout its game against NC State, Clemson's offense was able to continue to pile up the points and ended up closing the ACC conference schedule with a win.
This week South Carolina will provide the Tigers with a huge test, and a win could go a long way to the Tigers earning an at-large bid in the BCS.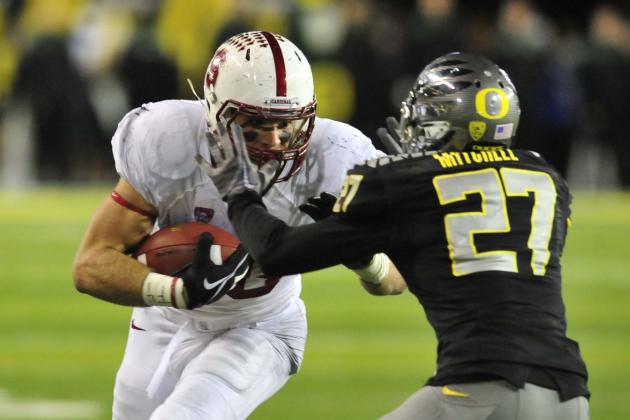 Steve Dykes/Getty Images

No team made a bigger statement than Stanford did with its overtime win over Oregon. The Cardinal were able to head into Eugene, shut down the Ducks offensive attack and leave with a victory.
With the win, the Cardinal now hold control of the Pac-12 North. With a win over UCLA this week, they will secure their spot in the conference title game.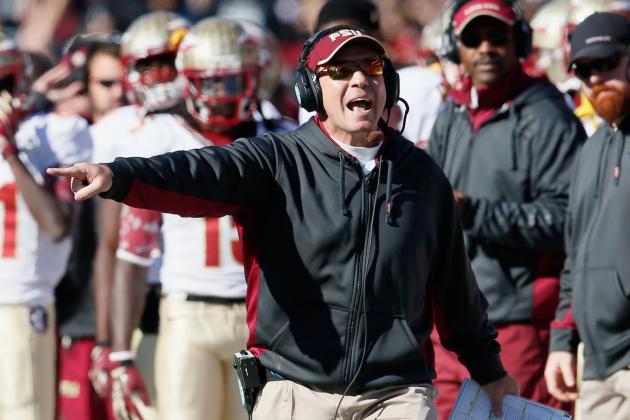 Rob Carr/Getty Images

Florida State defeated Maryland and wrapped up a spot in the ACC title game.
This week, the Seminoles will take on the Gators in a huge rivalry game and one that will feature a ton of talent. With all of the potential chaos that could occur in the BCS, the Seminoles need to win this game.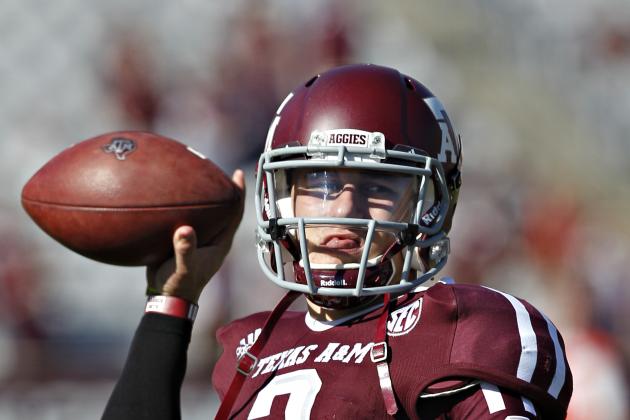 Bob Levey/Getty Images

Texas A&M was another SEC team to participate in a lackluster week of scheduling, but that didn't stop the team from looking good throughout.
In the final week of the season, the Aggies will take on the other SEC newcomer and should have no issue getting past Missouri.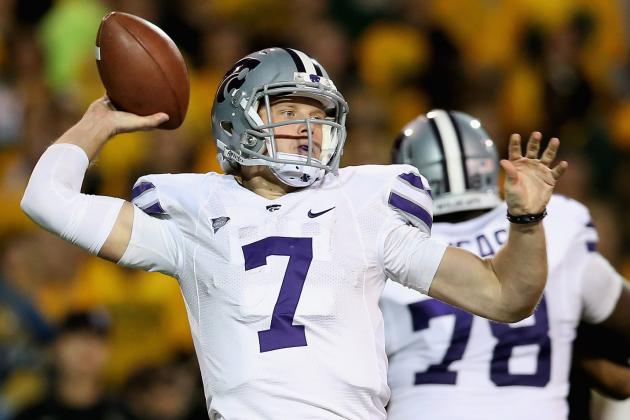 Ronald Martinez/Getty Images

With the No. 1 ranking in its hands, Kansas State saw it all go horribly wrong this past week when it was crushed on the road by Baylor.
Despite the loss, Kansas State still has the opportunity to win the Big 12 and head to a BCS bowl game, but many Wildcats fans will be left wondering what if.
Stacy Revere/Getty Images

Despite its two losses, LSU still is a great team that has played a rough schedule and has remained in the Top 10 in the nation. With the offense picking up as of late, this team could be even more dangerous if the offense can be consistently effective.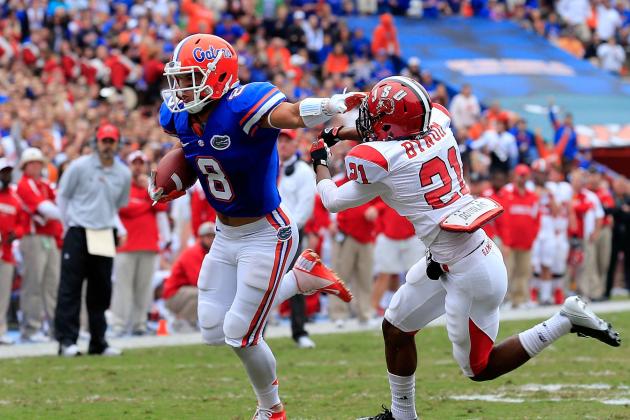 Sam Greenwood/Getty Images

Despite having a great season, Florida is on the outside looking in for the SEC championship and the national title picture.
This week, the Gators will be taking on the Seminoles in a huge rivalry matchup in which the winner will head into postseason play with a huge victory.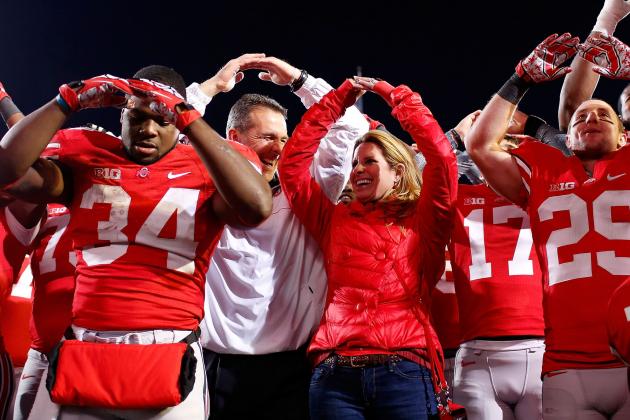 Kirk Irwin/Getty Images

While the offense was not clicking the way that it's used to, it got the job done in overtime, as the Buckeyes were able to earn a road win over Wisconsin and remain undefeated.
With the win, the Buckeyes continue to dominate but will want to make sure the season ends that way as they finish up with Michigan.
Michael Chang/Getty Images

Much like Alabama, Georgia was a huge beneficiary of the losses by Oregon and Kansas State. The formula to the national title is simple for the Bulldogs: Win out and you will likely be playing for the national title.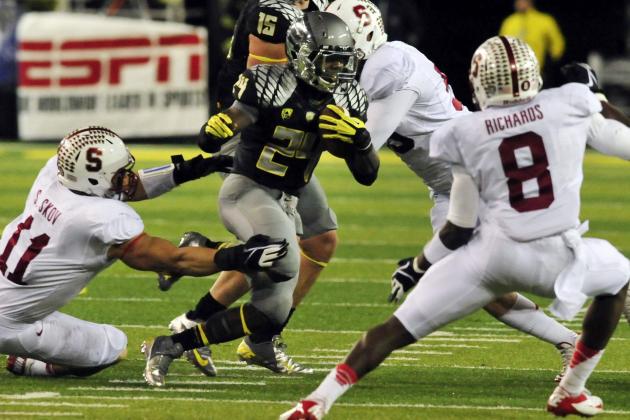 Steve Dykes/Getty Images

With a path to the national title game out in front of them, the Ducks saw those hopes slip away when Stanford converted on its overtime field goal.
Now with one loss in conference play and overall, Oregon will need to defeat Oregon State this week and hope for UCLA to take down Stanford if it hopes to get a chance to defend its conference title.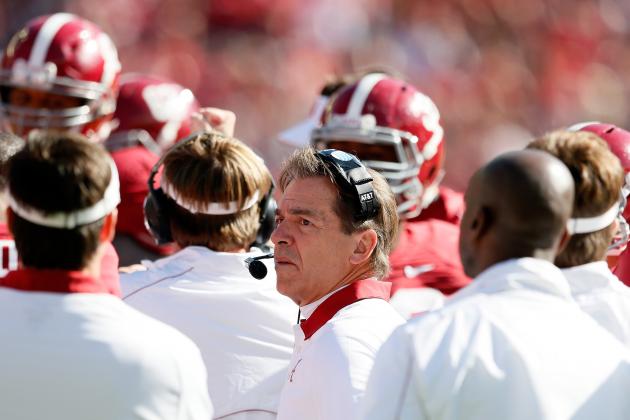 Kevin C. Cox/Getty Images

Just when it had looked like all was lost for the SEC and Alabama, both Oregon and Kansas State lost this past weekend and gave new life to the Tide.
With games against Auburn and Georgia remaining, the Tide are two wins away from getting a chance to defend their national title.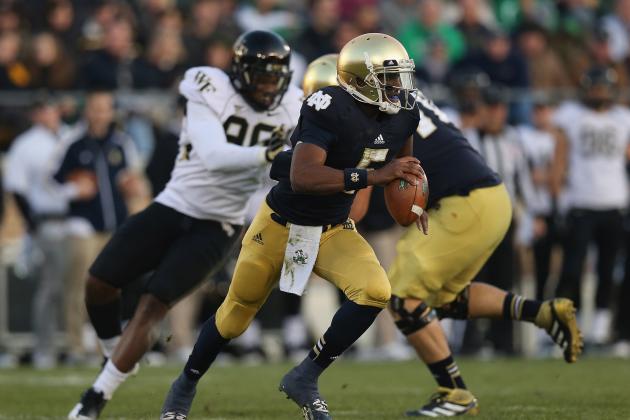 Jonathan Daniel/Getty Images

Notre Dame has survived week in and week out and now finds itself in a position that if it can win at USC, the team will be playing for the national title.
As the Fighting Irish head to California, it appears that the Trojans will be without QB Matt Barkley, and that gives the Irish a huge advantage.