AP College Football Poll 2012: Winners and Losers from Week 13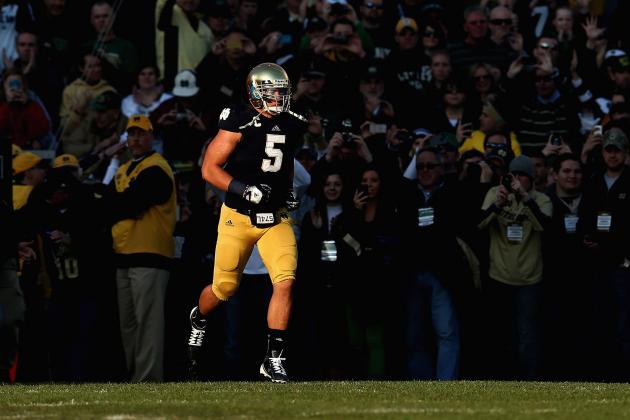 Jonathan Daniel/Getty Images

With the latest Associated Press poll now out, there are plenty of things to comb over and dissect concerning the winners and losers in the new rankings.
There are plenty of reasons why certain schools won and others lost in the latest AP poll, and there are a few teams that just missed being on this list.
For example, a winner that just missed out was Boise State, whom the AP did not vote back into the Top 25. The Broncos are 9-2 after a 42-14 win over Colorado State, but they haven't beaten a ranked team all year.
And a loser that just missed out on this list is Oregon State, who dropped a spot in the rankings even after a dominating 62-14 win over Cal. The Beavers should have at least stayed at No. 15 since they're 2-1 versus ranked teams in 2012.
Here are the rest of the winners and losers from Week 13's AP poll.
Begin Slideshow

»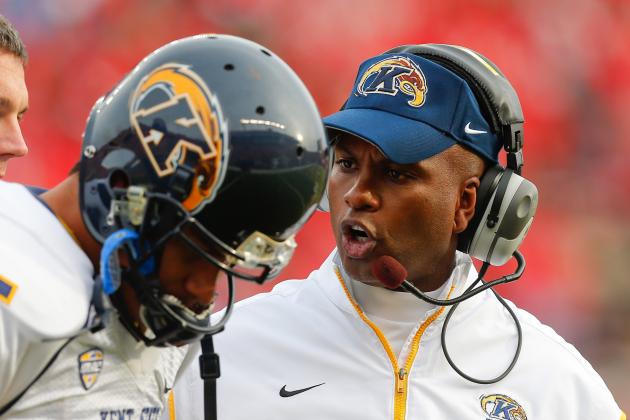 Jim O'Connor-US PRESSWIRE

The Mid-American Conference has not one, but two teams in the latest AP poll. With No. 23 Kent State and No. 24 Northern Illinois both at 10-1, it was hard to keep these teams out.
On top of sharing the same record, both of these teams have beaten schools in BCS conferences—Kent State beat Rutgers, while Northern Illinois beat Kansas.
They've both won their respective divisions in the MAC conference, setting up a huge conference championship game on Nov. 30 between these two MAC powerhouses.
It's good to see the AP voters recognizing these schools instead of opting for a two- or three-loss BCS school on the fringe of the poll.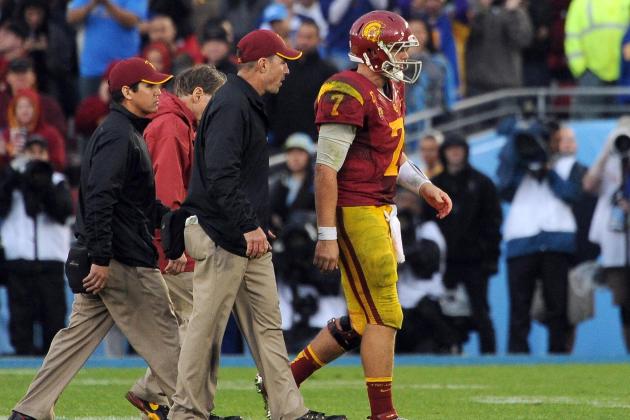 Jayne Kamin-Oncea-US PRESSWIRE

How the mighty have fallen, as USC went from the preseason No. 1 team in the AP to being left off 13 weeks later after its 38-28 loss to UCLA.
With the loss, USC fell to 7-4 on the season and lost any chance at playing for the Pac-12 championship in two weeks.
On top of all that, it looks like USC may be without quarterback Matt Barkley for the remainder of the regular season. Barkley hurt his right shoulder late in the fourth quarter and, according to CBS Los Angeles, has a separated shoulder.
What started as a promising season has become a nightmare for this USC Trojans program.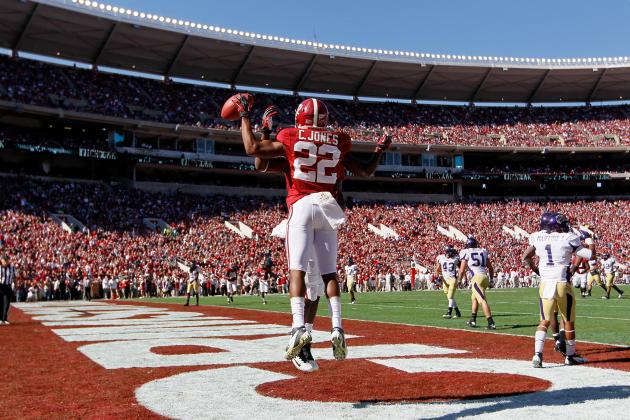 Kevin C. Cox/Getty Images

The SEC has seven of its 14 teams in the latest AP poll. That's the most among all BCS conferences and is an insane stat when you consider that out of those seven teams, only No. 25 Mississippi State has three losses.
Five of the seven teams are in the Top 10: No. 2 Alabama, No. 3 Georgia, No. 6 Florida, No. 8 LSU and No. 9 Texas A&M. South Carolina sits at No. 13, and the Bulldogs round out the Top 25.
With Georgia and Alabama the only two teams out of these seven left to play each other, it looks like the SEC will be able to keep up this impressive run.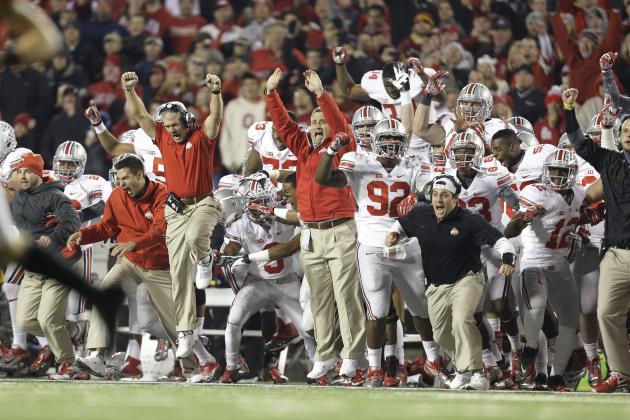 Mike McGinnis/Getty Images

Because of NCAA sanctions, Ohio State will not be playing in any postseason bowl games and is not in contention for the BCS title. However, the Buckeyes are still eligible for the AP championship should they be voted at No. 1 at the end of the year.
However, instead of the undefeated Buckeyes being at No. 2, behind fellow 11-0 Notre Dame, they are stuck at No. 4.
Maybe it's because Ohio State has won four of its last five games by only single-digit margins. Or maybe it's because the Buckeyes have no shot at the BCS title, so putting them at No. 1 or 2 wouldn't help them.
Either way, the Buckeyes should be in one of the two top spots, and not at No. 4.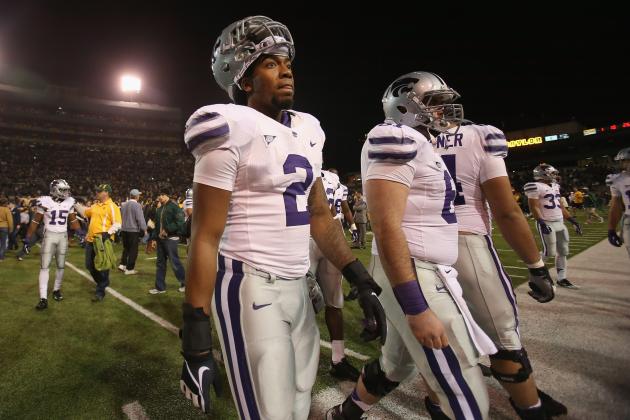 Ronald Martinez/Getty Images

After Kansas State's 52-24 loss at Baylor, the voters in the AP Poll could have dropped the Wildcats completely out of the Top 10. However, they showed mercy on Kansas State by only dropping them from No. 1 to 7.
This will help the Wildcats stay inside of the Top 10 when the next BCS standings are released.
And by staying in the Top 10, even after a 28-point blowout loss, Kansas State's slim BCS title hopes are still alive. As we've seen this season, teams are prone to upsets, which could open the door for the Wildcats.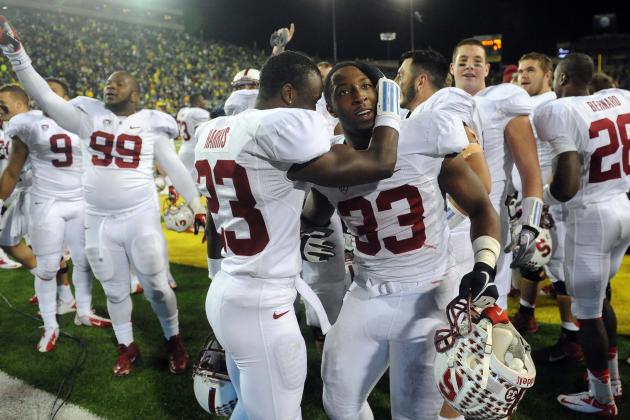 Steve Dykes/Getty Images

Stanford came into Week 12 against Oregon at No. 14 in the AP; however, after its 17-14 overtime win at then-No. 2 Oregon, the AP voters only felt that the Cardinal deserved to be moved up three spots.
So why were they positioned behind No. 10 Florida State?
If anything, the Cardinal should have been placed ahead of the Seminoles, since Florida State has beaten only one ranked team all season. Stanford's victory over Oregon was its third over a ranked school.
In fact, Stanford's victory was its second over a team that was ranked No. 2—they beat No. 2 USC on Sept. 15, 21-14.
Florida State does have a better record at 10-1, but they have had an easier road to get there compared to Stanford.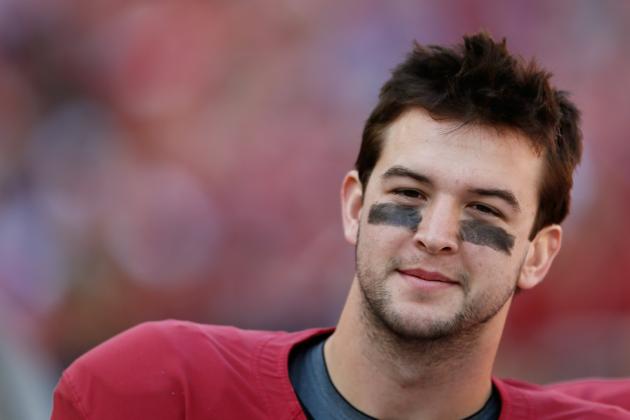 Kevin C. Cox/Getty Images

Let me be the first to say, "Welcome back to the top of the AP poll, Alabama." The Crimson Tide did fall to No. 4 during their one-week absence from the top spot of the poll. They are back into No. 1 contention with the losses by Oregon and Kansas State.
If Alabama can win big over Auburn, the Crimson Tide could get some votes for No. 1.
However, if Alabama can beat Georgia in the SEC Championship Game, then it should threaten Notre Dame's spot at No. 1, should the Fighting Irish still be there.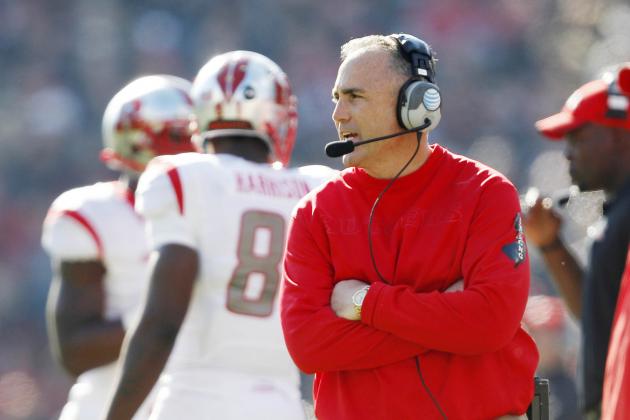 Frank Victores-US PRESSWIRE

When you're ranked in the 20s, it really doesn't make a difference whether you're at No. 20 or 21. However, in this instance, 9-1 Rutgers should be ranked ahead of an 8-3 Michigan squad.
Instead, Michigan is at No. 20 while Rutgers is at No. 21, even after the Scarlet Knights' impressive 10-3 victory over 7-3 Cincinnati.
The Scarlet Knights have one of the best defenses in the country, allowing only 13.4 points per game. What's even more impressive is that against Big East conference members, Rutgers is allowing only 8.8 points per game.
The AP voters should have given the nod to Rutgers over Michigan in the latest poll.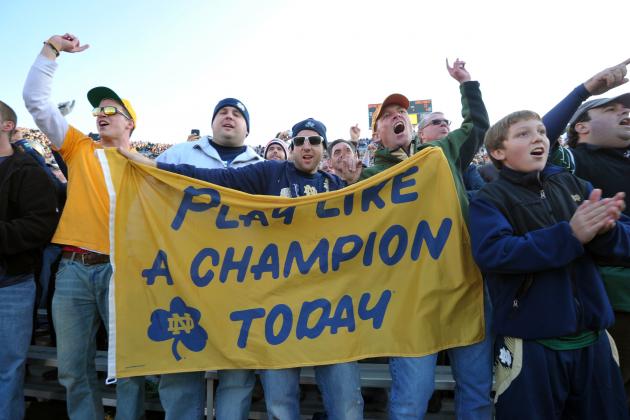 Matt Cashore-US PRESSWIRE

Notre Dame is your new undisputed No. 1 team in the AP poll. They are the last bowl-eligible team (see the Ohio State slide for more explanation) that is undefeated, and with an under-performing USC up next week, it looks like they should finish the regular season at No. 1.
With the top spot in the latest AP poll, the Fighting Irish should also find themselves at the top of the next BCS standings.
The Fighting Irish are having a great season, and being No. 1 is just another accomplishment.