College Football Week 12 Betting Picks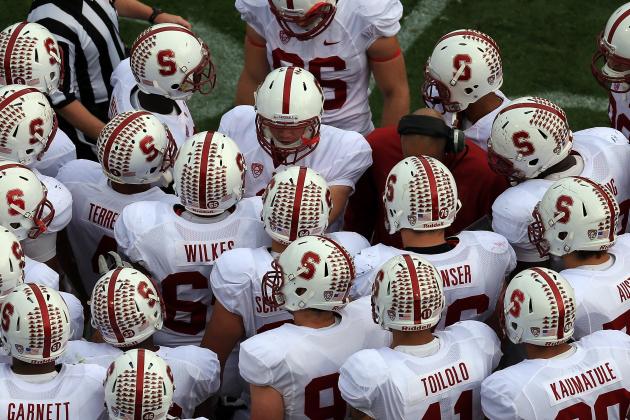 Doug Pensinger/Getty Images
Will the nations number one team fall in back to back weeks? This time Stanford has a chance to shake up the BCS picture when they take on No.1 Oregon.
It is Week 12 of the 2012 college football season. We had another shocking week of football recently, as my game of the week pick of Texas A&M beat the mighty Crimson Tide of Alabama. Currently sitting with another winning week, let's first recap Week 11.
Reports that Heisman frontrunner K-State's quarterback Collin Klein was hurt made many people second guess this game. I knew Klein was going to be under center when the first whistle blew though. Klein started and threw for 145 yards with one pick and gained 50 yards rushing with two touchdowns. Kansas State was leading 23-0 heading into the fourth quarter when TCU showed a little life, scoring 10 points before losing 23-10. K-State covered the spread.
One of the best offenses in the nation took on one of the worst teams in the FBS, as Louisiana Tech played FBS newcomer Texas State. Tech's running back Kenneth Dixon scored five touchdowns, setting three single season NCAA freshman records, but Tech's defense failed to hold Texas State. The Bulldogs of Louisiana Tech won the high scoring affair 62-55, failing to cover the -25 point spread.
In the Game of the Week pick, we saw yet another SEC showdown, this time Texas A&M and their freshman phenom Johnny "Football" Manziel took on Nick Saban's No.1 ranked Crimson Tide. Texas A&M started the game off hot putting up 20 points in the first quarter and holding Alabama to zero. Going into half time Alabama was able to score two touchdowns off a pair of two-yard runs by T.J. Yeldon and Eddie Lacy.
The third quarter only had a three points on the stat sheet as Jeremy Shelley of Alabama nailed a 28-yard field goal to bring Alabama's deficit down to only three. The fourth quarter was epic as A&M scored nine points against 'Bama's seven. A&M won 29-24 and did not trail the entire game. Manziel threw for 253 yards and two touchdowns, while gaining 92 yards on the ground.
Let's keep the money train rolling as I dish out my Week 12 picks. As always thank you for spending your valuable time reading my picks/articles and best of luck!
2012 Record ATS
23-15 ATS (10-2 Game of the Week Picks)
Week 11 Results
No. 3 Kansas State 23, TCU 10 (+7) Win
No. 19 Louisiana Tech 62, Texas State 55 (+25) Loss
Game of the Week Pick
No. 15 Texas A&M 29, Alabama 24 (-13.5) Win
Begin Slideshow

»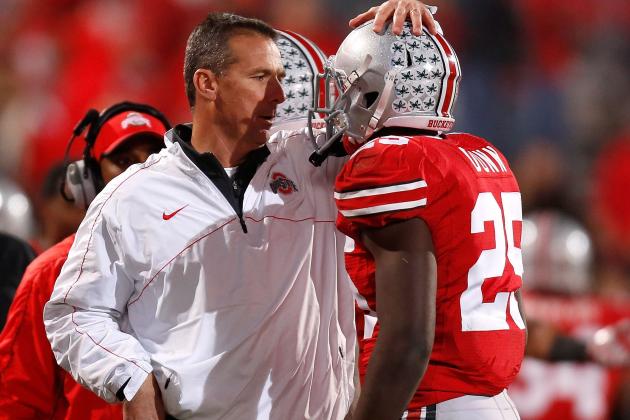 Kirk Irwin/Getty Images

Date: Saturday, November 17
Time: 3:30 p.m. ET
Current Line: Wisconsin -2.5
The Story:
The Ohio State Buckeyes hold a 10-0 record heading into Madison, Wisconsin, but due to former coach Jim Tressel's misjudgment (Ohio State players broke rules and got to play in the Sugar Bowl with Tressel having full knowledge of the situation) the NCAA hit Ohio State with a one-year bowl ban. The Buckeyes have the 33rd-best offense and 39th-best defense, giving up 107.9 yards rushing and 259.7 passing yards.
Wisconsin comes into this game trying to clinch the Big Ten Leaders Division. The Badgers have had quite a disappointing season. The Badgers were projected to lose only two games by many experts, but an upset loss by Oregon State on September 8 and two close conference losses to Nebraska and Michigan State deflated Badger nation.
The Badger offense is led by senior running back Montee Ball, who has rushed for 1,226 yards with 16 touchdowns.
The Badgers boast the 15th-best defense giving up 103.4 yards rushing (13th) and 206.2 yards passing (34th). Besides Ball, the Badgers offense is in shambles. Starting quarterback Joel Stave is out for the season due to a shoulder injury. The Badgers have the 76th best offense in the nation rushing an exceptional 218.8 yards on the ground (17th) but a despicable 166.8 yards through the air (111th).
Recent Trends:
Ohio State is 5-5 ATS this season.
Wisconsin is 5-5 ATS this season.
Ohio State is 3-0 ATS when playing against a team with a winning record this year and 12-4 ATS in the last three seasons.
Wisconsin is 5-1 ATS this year against conference opponents.
Wisconsin is 1-1 ATS versus Ohio State over the last three seasons, but 1-0 ATS at home.
Wisconsin is 9-7 ATS versus Ohio State since 1992
The Pick: It's unfortunate that first-year Buckeye head coach Urban Meyer has a talented team and cannot compete for the BCS National Championship. Ohio State wants to make a statement this season and go undefeated. With the Badgers' struggles in the passing game, the Buckeyes will stack up against Ball and win this game straight up and cover. Take the Scarlet and Grey to survive at Camp Randall Stadium.
Ohio State +2.5
Ohio State 31, Wisconsin 21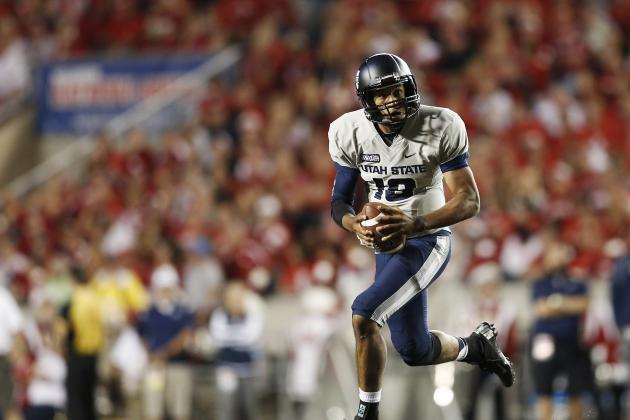 Tom Lynn/Getty Images

Date: Saturday, November 17
Time: 4:00 p.m. ET
Current Line: Louisiana Tech +3
The Story: In what will be the WAC's biggest game of the year, the Aggies of Utah State travel down south to Ruston, Louisiana to go to battle against the No. 19 Bulldogs of Louisiana Tech.
A balanced offensive and defensive attack has been the key for the Aggies this season. Utah State has the 25th-best offense in the nation and 12th-ranked defense. Quarterback Chuckie Keeton has thrown for 2,671 yards with 23 touchdowns. The Bulldogs give up an average of 337.8 yards per game (117th). Expect Keeton to throw the ball well and often.
Utah State's defense will have a tough task Saturday as they will square off against the Bulldogs' No. 1-ranked offense. The Bulldogs average 333.0 passing yards per game (eighth) and 243.5 rushing yards (12th).Yet to throw a interception, Bulldogs quarterback Colby Cameron looks to keep the hot streak alive and add to his Heisman-worthy 2012 season. Cameron has 3,283 yards passing and 27 touchdowns. Running back Kenneth Dixon needs to get the ball rolling against Utah State tough rushing attack. If Dixon can do this, Cameron will be able to get his passing game going.
Recent Trends:
Utah State is 9-0 ATS this season.
Louisiana Tech is 5-4 ATS this season.
Utah State is 8-0 ATS when playing on turf and 11-1 ATS in the last three seasons.
Louisiana Tech is 2-0 ATS as an underdog this year and 13-4 ATS in the last three seasons.
Utah State is 5-0 ATS in road games this season and 12-4 ATS in the last three seasons.
Louisiana Tech is 1-2 ATS in home games this season and 7-7 ATS in the last three seasons.
Louisiana Tech is 2-0 ATS versus Utah State in the last three seasons and 5-2 ATS since 1992
The Pick: The Aggies have covered every game this season and are bound to lose, but based on Tech's inability to put away weak Texas State last week, I believe the Aggies defense will hold the Bulldogs from scoring many points. The Aggies will win this game by double digits and cover the spread. Take Utah State to cover.
Utah State -3
Utah State 38, Louisiana Tech 17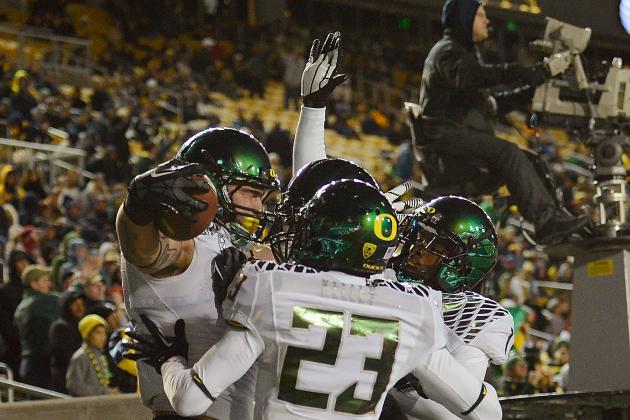 Thearon W. Henderson/Getty Images

Date: Saturday, November 17
Time: 8:00 p.m. ET
Current Line: Oregon -20.5
The Story: With Andrew Luck leaving Stanford, his alma mater had to search for a new QB. They found Josh Nunes. His statistics aren't sexy at all, but he's had a decent 2012 campaign. Nunes has thrown for 1,643 yards with 10 touchdowns and seven interceptions.
After a Fiesta Bowl appearance last season, the Cardinal find themselves this year sitting with a 8-2 record (ranked 14th in the nation), the 81st ranked offense, 17th best defense in the nation and the chance to play in the Pac-12 championship game. Stanford has the chance to play spoiler and really shake the BCS up when they take on the high-flying Ducks of Oregon at Autzen Stadium in Eugene, Oregon.
This game will be the toughest opponent the Ducks have fared up against all season. You can argue that the trip to the Los Angeles to take on an ailing USC Trojan team was a tough match, but the Cardinal aren't down in the dumps unlike USC back on Nov. 3. Stanford is coming off a huge 27-23 victory against Oregon State last week. Stanford coaches David Shaw's team overcame sloppy play as the Cardinal managed to put up six points in the fourth quarter to win 27-23.
The stakes will be high for Oregon, who are currently residing as the No. 1 team in the nation and in search for their first chance at a BCS National Championship. Ducks coach Chip Kelly has relied on his third ranked offense the entire season. Currently the Ducks average an astonishing 325.1 rushing yards per game (third) and 237.5 passing yards (58th).
The Ducks offensive attack is led by freshman quarterback Marcus Mariota, who has thrown for 2,164 yards and 28 touchdowns. The Ducks' impressive backfield is led by a solid committee in Kenjon Barner (1,360 rushing yards and 19 touchdowns) and the speedy De'Anthony Thomas (521 rushing yards and seven touchdowns).
Only one problem will occur for the Ducks' speedy and lethal offense. That problem is the Cardinal defense. Oregon has yet to face a top-25 defense this season. Sitting pretty as the 17th-best defense in the nation, the Cardinal have only given up an average of 58.8 yards rushing, which ranks best in the nation. The only problem the Cardinal will endure in this game will be their passing attack, which ranks 96th in the land giving up an average of 261.9 yards per game. Mariota can very well be able to open up the Ducks run game, if he can exploit the weak pass defense of Stanford, which should give Oregon the ability to cruise to an easy victory.

Recent Trends:
Stanford is 6-4 ATS this season.
Oregon is 6-4 ATS this season.
Stanford is 3-1 ATS in road games this year and 11-3 ATS in the last three seasons.
Oregon is 3-3 ATS in home games this year and 10-9 ATS in the last three seasons.
Stanford is 2-0 ATS as an underdog this year and 3-1 ATS in the last three seasons.
Oregon has covered the spread their last five game.
Stanford has covered the spread in four of their last five games.
Oregon is 2-0 ATS versus Stanford over the last three seasons and 12-6 ATS since 1992.
In games played at Oregon, Stanford is 4-5 ATS since 1992.
The Pick: Oregon is an amazing team and has a lot to play for.
Stanford comes into this game with a lot to play for themselves. After enduring two tough losses at Washington on September 27 (13-17) and Notre Dame in an overtime thriller on October 13 (13-20), the Cardinal are riding a four-game win streak and are still alive for a Pac-12 championship game berth.
The storyline will be Stanford's top-ranked defense against Oregon's high-flying offense. With the line being at almost three touchdowns, I find it hard to say Oregon will win this game by that much. Last week I called Texas A&M upsetting Alabama and A&M did just that. This week though I don't see Stanford beating the Ducks. It will be a close game, but Oregon will survive. Oregon wins straight up but fails to cover the spread. Take Stanford.
Stanford +20.5
Oregon 44, Stanford 31
All lines are subject to change based on the line movement. All lines are from ScoresandOdds.com.
Follow me on Twitter @SMcDermott29