Kenjon Barner vs. Stepfan Taylor: Breaking Down Top Pac-12 RBs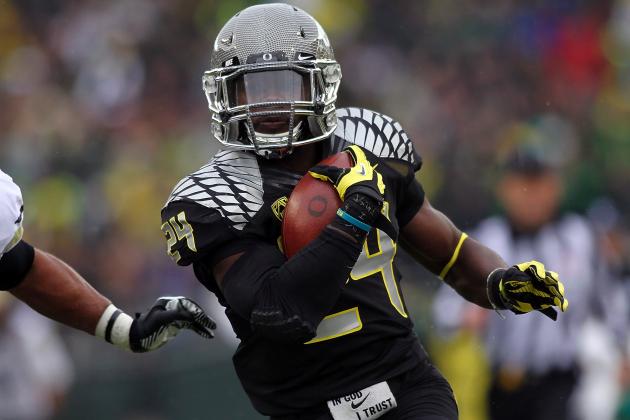 Jonathan Ferrey/Getty Images

If form holds true this weekend when the Oregon Ducks host the Stanford Cardinal at Autzen Stadium (5 p.m. PST, ABC), running backs Kenjon Barner and Stepfan Taylor will be highly visible.
Oregon's Barner and Stanford's Taylor are two of the top running backs in the nation. Barner is currently ranked No. 6 in rushing yards with 1,360 (6.8 average yards per carry), and Taylor is ranked No. 19 with 1,061 (4.7 average yards per carry). For the record, Johnathan Franklin of UCLA is currently ranked No. 7 with 1,270 yards, and Arizona's Ka'Deem Carey is No. 4 (and leads the conference) with 1,381 yards.
If you are a budding running back reading this now, you should watch this game on Saturday. You just might see an RB clinic.
Barner leads Taylor so far this season in both total yards and average yards per carry. Let's look at how they compare in other categories.
Begin Slideshow

»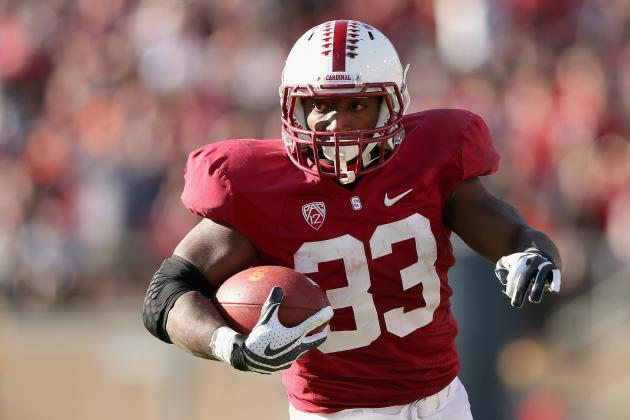 Ezra Shaw/Getty Images

Senior Stepfan Taylor has been a rock for Stanford since he arrived. With a career total of 3,831 yards, Taylor is closing in on Stanford's career rushing leader, the fabulous Darrin Nelson, whose record stands at 4,033 yards.
Taylor also has the distinction of putting together three straight 1,000-plus-yard seasons.
Also a senior, Kenjon Barner has finally come out from behind LaMichael James' shadow and has a career total of 3,216—not bad for a backup RB. That total puts Barner—you guessed it—second to James, who has a gaudy 5,318 career yards on Oregon's all-time rushing list.
Taylor wins the career yardage total, as well as hitting 1,000-plus for three straight years, but it must be noted that Barner labored behind James for most of his Oregon career.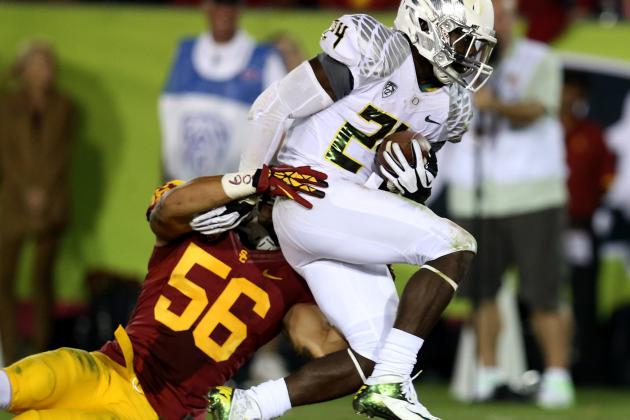 Stephen Dunn/Getty Images

In his year as the starting running back for the Ducks, Barner has scored 19 rushing touchdowns, which ties him for second in the nation among active RBs. For his career, Barner has 39 rushing TDs.
Stepfan Taylor has only nine touchdowns this season, and 36 total for his career. It should be noted here, however, that Taylor's first three years were during the Andrew Luck era, and Luck threw just a few TD passes.
Barner's ostentatious 19 TDs (so far) this season, and overall rushing TDs, are the winner in this category.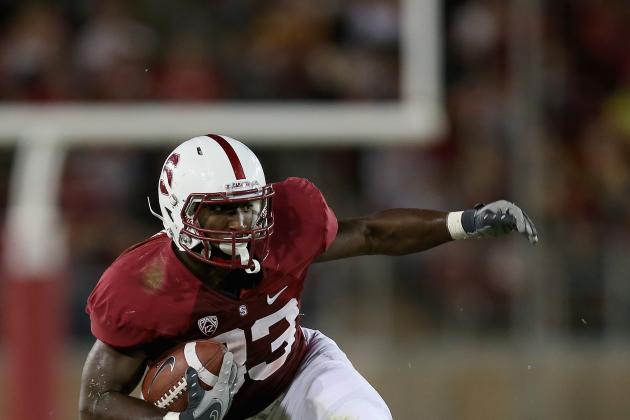 Ezra Shaw/Getty Images

In a word, yes. Both Taylor and Barner are excellent receivers.
This season, Taylor has 28 receptions for 184 yards and two touchdowns. His longest reception was 40 yards. For his career, Taylor has 675 total receiving yards with five TDs.
Barner is no slouch at receiver either. So far this season, Barner has 219 total receiving yards and one touchdown. Over his career, Barner has 554 receiving yards and barely tops Taylor in touchdowns with six. Barner's longest reception in 2012 went for 48 yards.
Barner has more receiving TDs than Taylor and more total yardage over his career, but Taylor has one more touchdown than Barner this year.
It's a toss-up in receiving.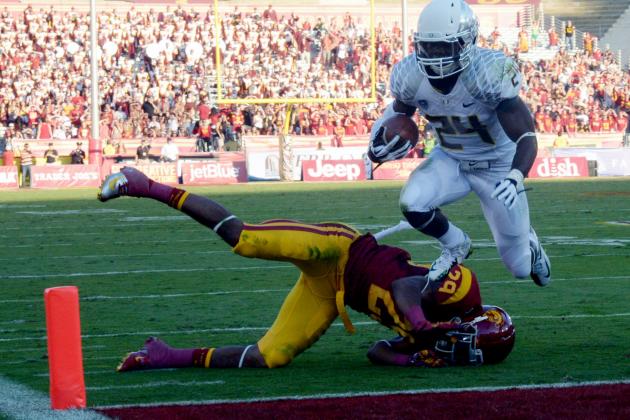 US PRESSWIRE

Both Taylor and Barner are capable of breaking a game wide open every time they touch the ball.
Barner has been more explosive this season than Taylor. Part of that is due to the fact that the Ducks have so many offensive weapons that it's difficult for defenses to focus exclusively on Barner. His longest run from scrimmage so far this season is 80 yards.
Taylor is more of a workhorse back, but he has moments of explosion too. His longest run this year is 59 yards.
With Barner's 19 rushing touchdowns this season compared to Taylor's nine, the game-breaking edge goes to Barner.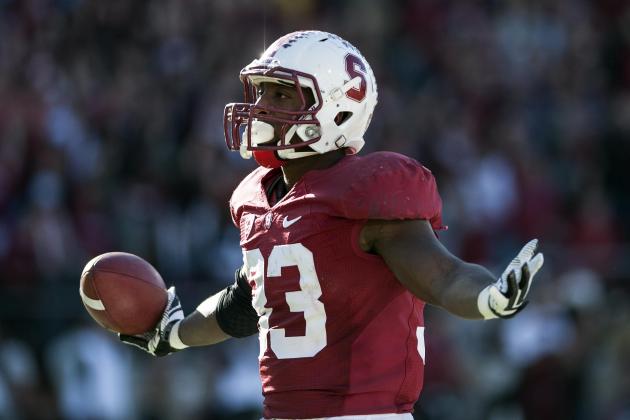 Ed Szczepanski-US PRESSWIRE

So, we know that Barner and Taylor can run and catch the ball, and they both are a threat to score with the ball in their hands.
What about the other stuff that makes a good running back great? Much of what follows is my own opinion having observed these two great players for four years.
Taylor has always impressed me with his durability and motivation. Any RB who runs for 1,000-plus yards in three consecutive years is clearly durable. Taylor also never shows up and plays at less than his full ability. Somewhere deep within him, he always looks motivated to be the best he can be.
There are stories about Taylor's humor at practice and in the locker room. He has the ability to cut any tension his teammates may be feeling. To me, that's a sign of leadership.
The day after LaMichael James left for the San Francisco 49ers, Barner assumed control of his team. He is a leader both on and off the field. Barner has taken the younger Ducks under his wing and showed them how Oregon does it, especially important with a freshman QB. He is vocal during the games when his team needs him to be.
Also known for his vision, Barner is terrific at finding cracks in the defense and dashing through them. He is a very explosive runner, frequently showing short-burst acceleration. Most of the Ducks are fast, and I'm not sure Barner gets enough attention for his quickness.
Taylor is more of a physical runner than Barner. But Barner is a silky, deceptive runner. Both RBs are well-rounded and versatile players. Taylor is probably a better blocker than Barner, but only because his blocking is more important to Stanford's offense than Barner's to Oregon's.
Once again, this category is a toss-up.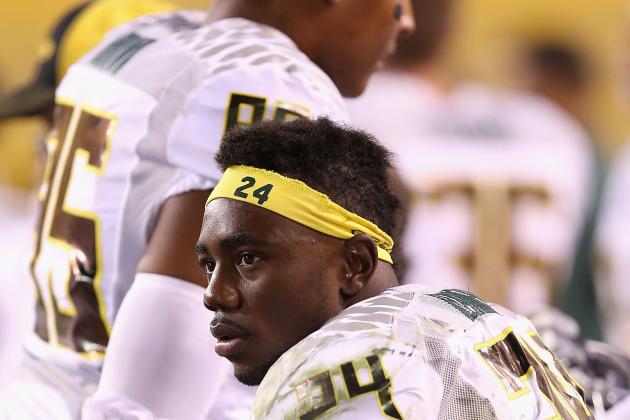 Christian Petersen/Getty Images

Off the field, there has never been a whiff of trouble about either Barner or Taylor that I recall.
Barner cites the importance of family and faith in his life. His family is close-knit and very supportive of him.
Coming out of high school, Taylor received All-District academic honors and a proclamation from the mayor of his hometown for his success on and off the field. His major at Stanford is information science and technology in society, which gives me a headache just thinking about it.
Both players are humble in their approach to life and their football success. Based on what we know now, Taylor and Barner are decent human beings and will be successful at whatever they choose to do in life.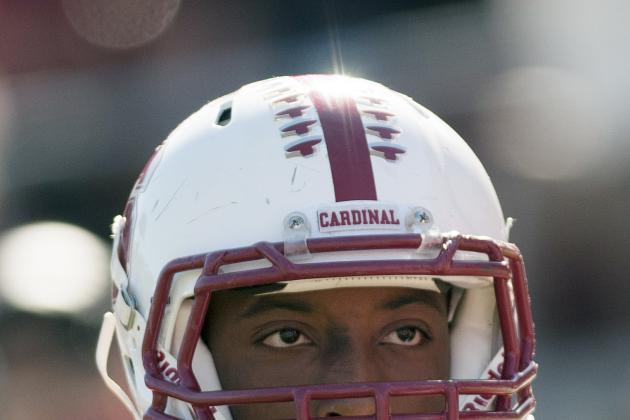 Ed Szczepanski-US PRESSWIRE

I see both Taylor and Barner getting drafted next year.
The question on Barner is: Is it Oregon's system or Barner himself that accounts for his exceptional production this year? And will his work in a flashy spread offense translate to the pro style?
NFL.com analyst Bucky Brooks, who watched Barner in his spectacular game against USC in the Coliseum, believes that Barner's game is ideally suited for the pros. Brooks cites Barner's explosiveness, body control and vision as evidence that he will fit in perfectly.
Based on Barner's performance against USC, he was No. 1 on the NFL Draft Prospect Watch list, according to NFLDraftScout.com. He is currently projected to be the No. 8 running back selected, but his stock is also on the rise. Oregon's continued success and visibility can only help Barner state his case.
Taylor is currently rated the No. 3 running back in the class of 2013. Taylor is a more well-rounded running back, and that versatility should make him attractive to the NFL.
The scouting report on Taylor on WalterFootball.com lists his strengths as balance, durability and playing in a pro-style offense. The report also notes his receiving ability—runs good routes and has solid hands. Currently, Taylor is projected as a second-day pick.
I think the bottom line here is that the NFL scouts do not totally trust running backs that come out of Oregon's spread offense. I expect Taylor to be taken before Barner.
But it may be a case of he who laughs last, laughs best.
Kay Jennings is a member of the Football Writers Association of America.