Who Is the College Football Coach of the Year in Every BCS Conference?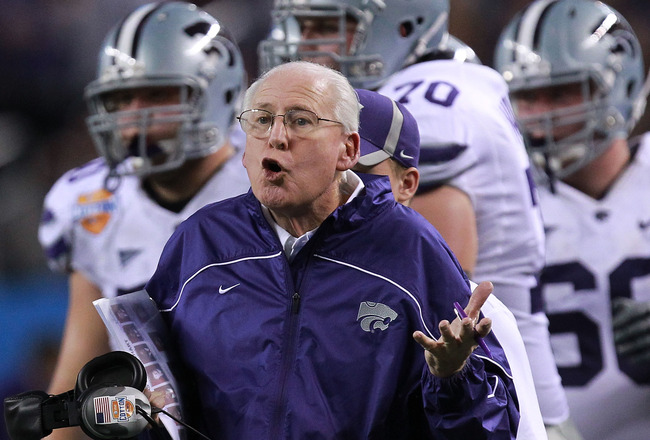 Ronald Martinez/Getty Images
There is still time for each coach to make a statement for being the best coach in the country, but from the body of work so far, everybody should have an idea of where each coach stands. This season's Coach of the Year award has some tough options, as there are many awesome stories to choose from.
Many of these coaches have turned a program completely around, while some guys have saved their jobs, others have saved their program from losing its edge and still others have come out of nowhere.
Regardless of which coach is your pick for the award, you could make a strong case for at least one from each conference. I personally like to go with the coaches that have done more with less to put their program on the college football map.
With the regular season quickly coming to an end, here is the Coach of the Year from each BCS conference.
ACC: David Cutcliffe, Duke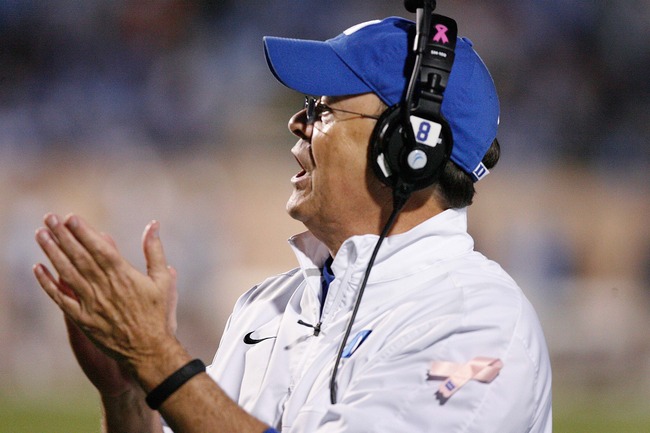 Mark Dolejs-US PRESSWIRE
I say Duke, you think basketball and legendary head coach Mike Krzyzewski.
David Cutcliffe, in just five years, has taken a school known for 15 Final Four appearances and four national titles and given it a respectable football program in the ACC. Well, at least for this season.
Duke was usually considered an easy win for nearly every team in the country, but the Blue Devils are qualified to appear in a bowl game this season for the first time since 1994.
Duke is now averaging 30 points per game on the offensive side of the ball and actually controls its own destiny in the Coastal Division. The football program still has a long way to go, but with the steps it is making under Cutcliffe, you can't help but be impressed with the progress.
Honorable Mention: Jimbo Fisher, Florida State
Big 12: Bill Snyder, Kansas State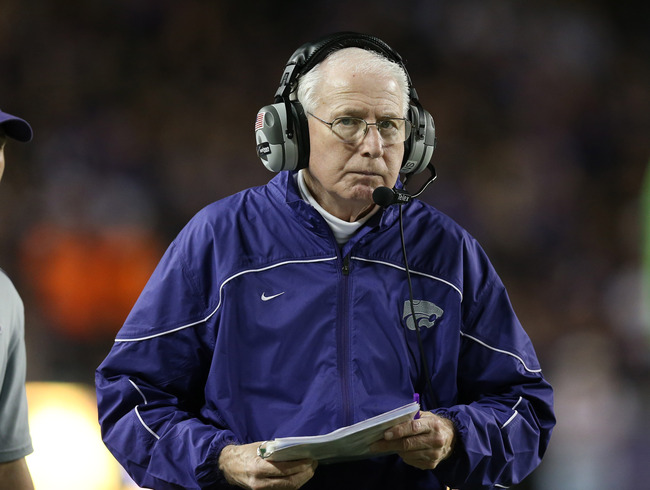 Matthew Emmons-US PRESSWIRE
Bill Snyder won't be just the Big 12 Coach of the Year; he should end up being considered the best coach in the country for the 2012 season. Snyder has made this Kansas State program what it is today, but it was never considered a national championship contender.
The 73-year-old coach has taken a school full of under-recruited players and turned it into the No. 1 team in the country in the BCS rankings. Kansas State has not won a bowl game since the 2002 season and is now on pace to run the table and compete for the ultimate prize in January.
The Wildcats were a surprise team last season, winning 10 games, but nobody expected for them to follow it up with the year they are currently having, especially with more talented teams such as Texas, Oklahoma and West Virginia competing in the Big 12.
What Snyder has done this season should be remembered for quite some time, and there is no question at least the Big 12 Coach of the Year award belongs to him.
Honorable Mention: Tommy Tuberville, Texas Tech
Big East: Kyle Flood, Rutgers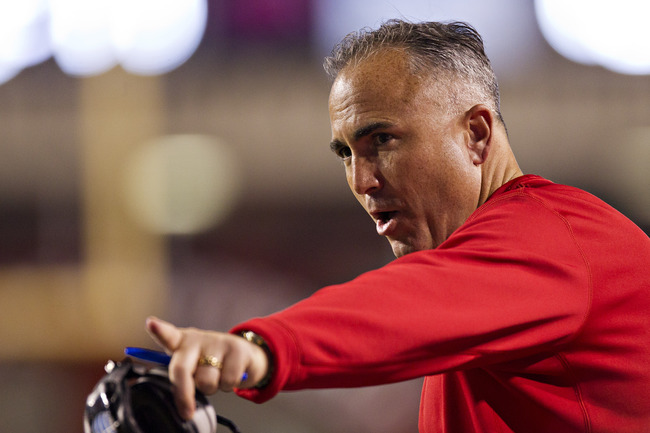 Wesley Hitt/Getty Images
Kyle Flood had the privilege of replacing former head coach Greg Schiano, a guy who led the program to five bowl victories and helped produce numerous NFL players. He was also taking over a team that was very young on the offensive side of the ball.
This is the first season Flood is a head coach of a program, and he has led the Scarlet Knights to an 8-1 record.
The team also controls its own destiny to win the Big East and earn a trip to the BCS Orange Bowl, something Schiano wasn't able to do in his 11 years with the program.
Flood was an offensive line coach for Rutgers since 2006, but with the immediate success he has had, it looks like he will remain the head coach for quite some time.
Honorable Mention: Charlie Strong, Louisville
Big Ten: Bill O'Brien, Penn State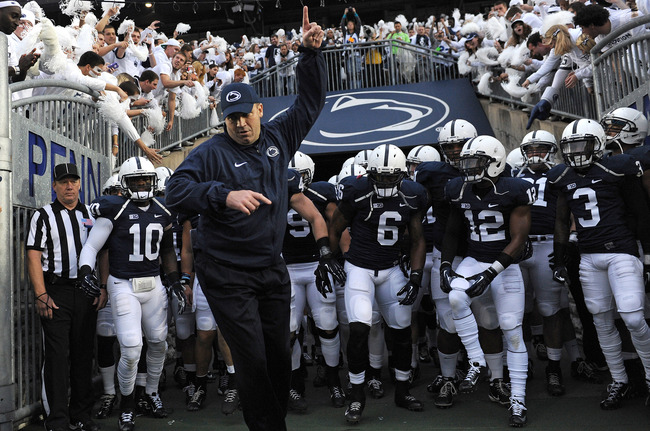 Patrick Smith/Getty Images
Look at everything Bill O'Brien has done since he took over the Penn State program.
The fans are coming together more than ever, he has made football matter again, and if the Nittany Lions weren't banned from the postseason with six victories, they would be bowl eligible.
I guess I forgot to mention that he left a nice little gig with the New England Patriots and decided to walk into one of the biggest messes in college sports to replace a legend in Joe Paterno.
O'Brien also lost many key players due to the NCAA sanctions, and Penn State was supposed to fall flat on its face immediately.
The first-year head coach has done a fabulous job of bringing the community together and doing what he can to make sure the program remains relevant. Even if the odds were stacked against him from day one.
Honorable Mention: Urban Meyer, Ohio State
Pac-12: Mike Riley, Oregon State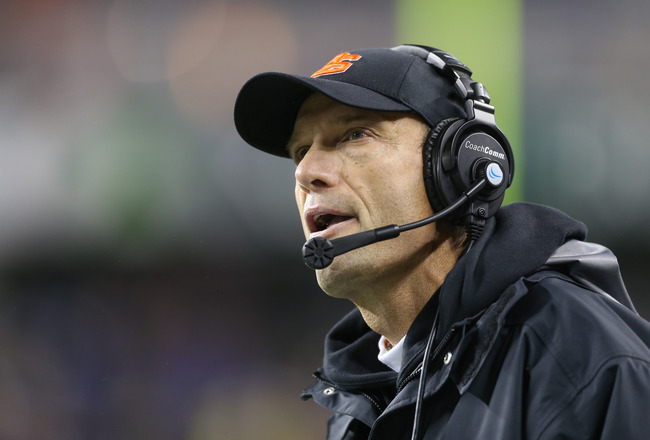 Otto Greule Jr/Getty Images
Simply put, the Pac-12 was supposed to only have two competitive teams in USC and Oregon. If you were a team such as Oregon State, you weren't on the radar before the season began, and nobody cared what you were doing during the offseason.
After early victories over Wisconsin and UCLA, the Beavers quickly got everybody's attention. And now that Oregon State has a 7-2 record and is ranked for the first time in two years, it has become the team that nobody wants to see on the schedule.
This is a team that began the season with quarterback issues, a lack of offensive line depth and a defense that wasn't nearly as good as it is now. With just one more victory, Oregon State will tie the amount of wins the school had in the last two seasons combined (eight).
Mike Riley won the Pac-10 Coach of the Year back in 2008, and it looks like he will have a new one that is labeled for the Pac-12.
Honorable Mention: Jim L. Mora, UCLA
SEC: Kevin Sumlin, Texas A&M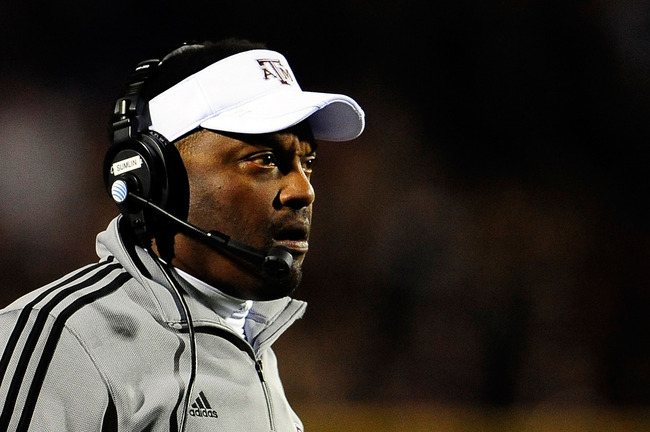 Stacy Revere/Getty Images
Texas A&M was laughed at for leaving the Big 12 and entering the SEC. Head coach Kevin Sumlin was teased for leaving Houston and heading into the toughest division in college football. On top of that, the Aggies stacked the odds against themselves, starting the season a freshman quarterback named Johnny Manziel.
It looks like the joke is on everybody else, as the Aggies are 8-2 in the SEC, which includes a victory over an undefeated Alabama squad.
The team could easily be undefeated considering it lost to Florida by just three points and LSU by only five.
Sumlin is a tough-nosed head coach that you just knew was going to do well, you just didn't think it was going to happen so fast. Now that this team has tasted success, the SEC West has gotten that much scarier for the rest of college football.
Honorable Mention: Will Muschamp, Florida
Keep Reading