Power Ranking 10 Best College Football Games of Week 12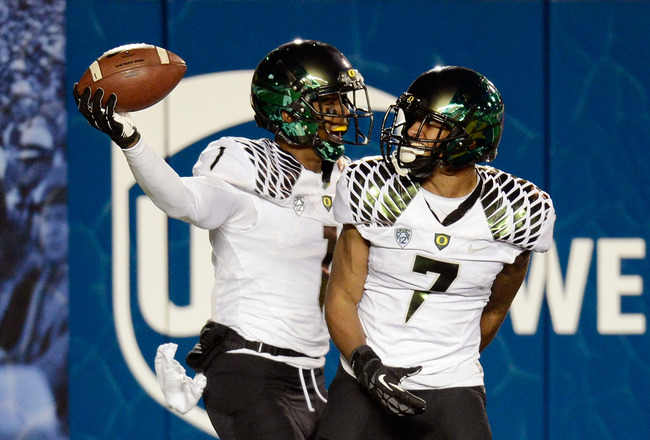 Thearon W. Henderson/Getty Images
The first major BCS shakeups have already begun, with the No. 15 ranked Texas A&M Aggies toppling the top-ranked Alabama Crimson Tide off their BCS throne, and opened up even more debate about the Crimson's Tide's National Championship hopes and the fates of the remaining three undefeated teams in Oregon, Kansas State and Notre Dame.
With this major shakeup, Week 12 holds other potential shakeups, and we will take a look at some of the best games college football nation should pay their minds to.
Iowa Hawkeyes vs Michigan Wolverines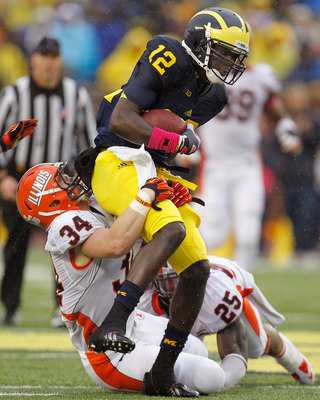 Gregory Shamus/Getty Images
The Wolverines suffered a setback in the Big Ten, with Denard Robinson struggling to keep the passing game alive to complement their good running ability. And now he's down as a result of injury, and Devin Gardner came back to his old position under center to pick up where Robinson left off, and he has kept the Wolverines afloat.
Sitting at 6-4, the Wolverines want to improve their bowl standing, and they can do so should they win against Iowa and Ohio State these next two weeks.
Minnesota Golden Gophers vs Nebraska Cornhuskers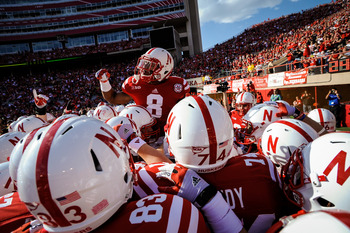 Eric Francis/Getty Images
The brightest spot in the Big Ten next to Ohio State Buckeyes are the Nebraska Cornhuskers, who have the best chance at nailing the only Big Ten spot in the BCS. Quarterback Taylor Martinez and this offense, predicated at running the ball in spread formations, has seen a resurgence, and to continue their streak, they must hold against the Minnesota Golden Gophers, who are looking to secure bowl eligibility.
California Golden Bears vs Oregon State Beavers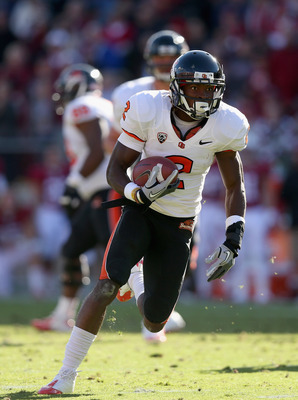 Ezra Shaw/Getty Images
The Oregon State Beavers have seen themselves set up as one of the best teams in the Pac-12 behind Oregon, Stanford and USC. Their prolific passing attack has been one of the best in the country, and it should be on display once again against the California Golden Bears, who gave the Oregon Ducks some early trouble with their deceptive speed, but key turnovers failed to keep the Golden Bears from achieving a BCS upset.
But they could have that chance against the Beavers, who are coming off a close loss against the Stanford Cardinals.
Texas Tech Raiders vs Oklahoma State Cowboys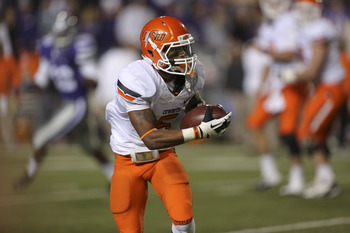 Ed Zurga/Getty Images
The Oklahoma State Cowboys have a shot to improve their bowl postseason standing when they host the Texas Tech Red Raiders, who have had a surprisingly good season and have gained notoriety for their offense, especially against West Virginia. Oklahoma State has taken a bit of a step back offense-wise, having to replace the production of former quarterback Brandon Weeden and former receiver Justin Blackmon.
But the Cowboys still have consistent enough of an offense to move the ball against most defenses, and Texas Tech has had its down moments on defense. Could be a fun game to watch.
Kansas State vs Baylor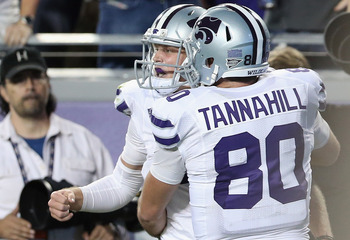 Ronald Martinez/Getty Images
Another unbeaten that can't afford to sleep are the Kansas State Wildcats, who will go on the road against the Baylor Bears.
A 4-5 team against a 10-0 team? Yes, it may look an undesirable matchup to watch, but Baylor has shown an ability to score points against opposing defenses, and were it not for its own porous defense, it might find itself in better contention in the Big 12.
The Wildcats are in serious contention for the national championship game, having bested the likes of West Virginia, Texas Tech, Oklahoma and Oklahoma State and giving themselves a serious resume to consider.
But the Baylor Bears are the last team who have a serious chance at an upset special and a last chance to spoil the chances of a Wildcats matchup.
Oklahoma Sooners vs West Virginia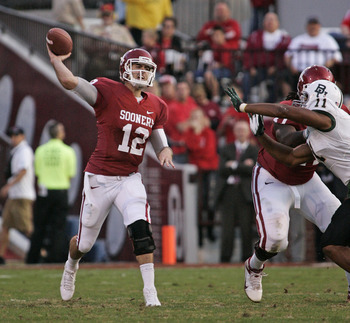 Brett Deering/Getty Images
The Oklahoma Sooners have been a close second behind the unbeaten Wildcats all season long, with that being their only conference loss, with their second coming against the Notre Dame Fighting Irish.
Their matchup against the West Virginia Mountaineers, who fell apart in the second half of the season, and are currently on a four-game losing streak, means they have a shot at some sort of redemption when they host the Sooners in Morgantown on Saturday. But with their current defensive woes, it may be another shootout between offenses.
This may be the kind of game where the last quarterback that has the ball could prove victorious.
NC State Wolfpack vs Clemson Tigers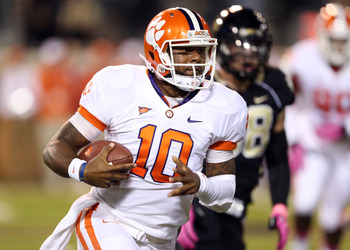 Streeter Lecka/Getty Images
This is the most pivotal matchup in the ACC in Week 12, when the NC State Wolfpack plays in Clemson, South Carolina in Death Valley against the Clemson Tigers.
With the ACC Atlantic division virtually sealed by Florida State, Clemson sits at 9-1, still seeking a BCS bowl bid and are easily within reach should it win out. The Wolfpack could be the upset that Clemson does not want to have.
The Tigers have one of the best offenses in the nation, and while their defense has been improving, the secondary is still very vulnerable, and Wolfpack quarterback Mike Glennon loves to throw the ball.
Ohio State vs Wisconsin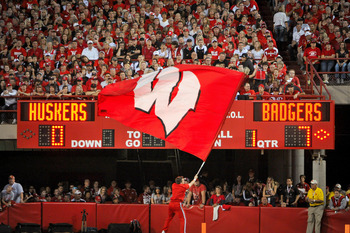 Eric Francis/Getty Images
A Big Ten battle between the Ohio State Buckeyes and the Wisconsin Badgers will unfold in Week 12. And with a weak Big Ten conference this year, why watch this game?
Well, due to sanctions, a currently unbeaten Buckeye team will miss out on postseason play, and the Badgers need a win to stay in contention to win their division and improve their postseason status, currently sitting at 7-3.
This game could be a tight one, as these two teams are arguably the best the Big Ten has to offer right now. This game also affects how Wisconsin can win its division and make it back to a BCS bowl, because as it stands right now, there's only enough room for one Big Ten team.
USC Trojans vs UCLA Bruins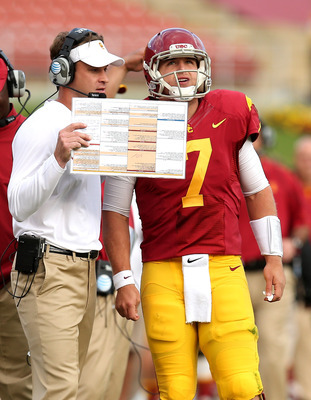 Stephen Dunn/Getty Images
The USC Trojans, once a big-time favorite, are one of many teams in the Pac-12 trying to improve their postseason standing against a resurging and rebuilding UCLA team under first-year coach Jim Mora.
The Trojans have faltered in the late stretch and look to stay in their division race. The Bruins could use a big morale boost in their rebuilding process, and a win against the Trojans will do just that in Mora's first year.
Stanford Cardinals vs Oregon Ducks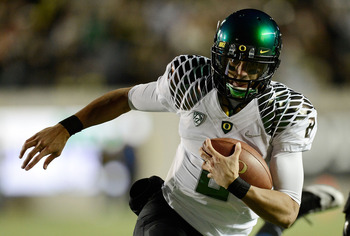 Thearon W. Henderson/Getty Images
The biggest matchup will undoubtedly be the Stanford Cardinals pitted against the fast-paced Oregon Ducks. Stanford is the most physical team in the Pac-12, and Oregon is the fastest. But Stanford stands in the way of an undefeated season for the Ducks, who are looking to get back to the national championship. And that means no losses for head coach Chip Kelly these next two weeks.
Keep Reading