10 Things We Learned About the Big Ten in Week 11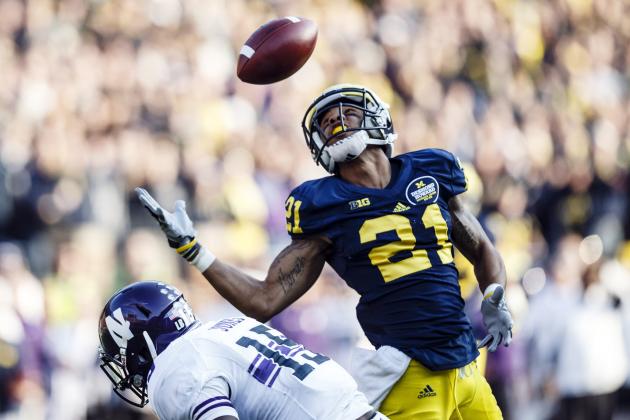 Rick Osentoski-US PRESSWIRE
Season in the balance...
Coming into week 11 of Big Ten play, nearly half the league still had aspirations for a Rose Bowl appearance and every team but Illinois and the sanctioned duo was still in the mix for bowl eligibility. Nebraska, Michigan and Wisconsin faced stiff tests to stay atop the conference.
Although none of these three teams ended up being upset, the Cornhuskers and the Wolverines made their games more than interesting.
The fans of both Legends Division leaders must continue to sit on the edge of their seats, even with seemingly easier opponents coming up on the horizon. A single loss could knock either Nebraska or Michigan out of the division championship.
In seemingly less important action, Purdue picked up their first win in a while and Minnesota kept Illinois reeling with a sixth consecutive loss. That keeps almost every team in the mix for a 6-6 record and a chance to continue practicing through December.
Every team has now played ten games and will play two more in the next two weeks. Before we turn to those full slates of games to close out the regular season, let's take a look at what we learned from week 11 in the Big Ten.
Begin Slideshow

»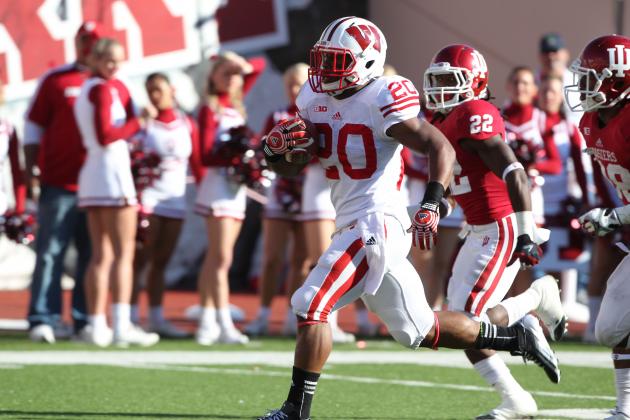 Brian Spurlock-US PRESSWIRE
Indiana, you are eliminated
With Ohio State and Penn State not officially being in the mix, the game between Wisconsin and Indiana turned out to be the biggest test for the Badgers in trying to return to Indianapolis to defend two consecutive conference championships. Once again, Wisconsin passed the test with flying colors in a 62-14 blowout in Bloomington.
Now Wisconsin holds a two game lead on the Hoosiers and the tiebreaker with two games to go, which means Wisconsin fans can already pack their bags for a December 1 game in Indianapolis. This will give the Badgers a chance at something that very few Big Ten programs have claimed: a third consecutive title and another trip to Pasadena.
Meanwhile in the Legends Division, no team was mathematically eliminated heading into Week 11, although Minnesota, Iowa, and Michigan State were clearly not going to win the division. Now each of those teams and Northwestern are all eliminated thanks to wins by Nebraska and Michigan to open a two-game cushion over the Wildcats and three games on the other teams.
Nebraska won the head-to-head game against Michigan two weeks ago, so the Cornhuskers are in the driver's seat going forward. Nebraska faces Minnesota and Iowa to close the schedule, while Michigan also plays the Hawkeyes before heading to Ohio State.
There will be no rematch of the Spartans and the Badgers this season, but the chase is down to three teams with two weeks to go.
Brian Spurlock-US PRESSWIRE
Brighter Days Ahead!
Two straight wins had the Indiana Hoosiers in a legitimate big November game for the first time in over two decades. With a win over Wisconsin, Indiana would claim the top spot in the standings behind only the ineligible Nittany Lions and Buckeyes.
However, Indiana finally threw up a real clunker of a game. For the first time in Big Ten conference play, Indiana was dominated from the opening gun as Wisconsin rolled up 605 yards of offense and only allowed 294 from the normally efficient Hoosier offense. Indiana was completely stuffed on the lines on both offense and defense, which let Wisconsin play keep away with the running game.
Although the final margin looks bad, this should not be surprising. The Hoosiers still have a long way to go on defense, but Kevin Wilson is seeing a lot of improvement on offense already in season number two at the helm. Indiana proved that the Hoosiers can hang with teams like Ohio State and Michigan State, and there's still an outside shot at a bowl if wins happen against Purdue and Penn State.
Sure, Indiana might not be ready for prime time in Indianapolis, but this program will get there if Kevin Wilson sticks around. Basketball isn't the only sport that can be played in Bloomington.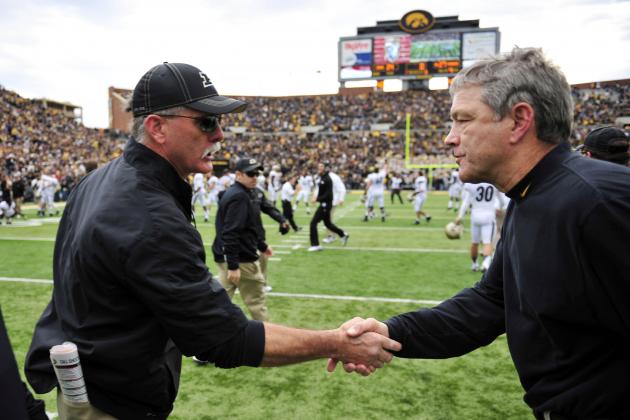 Byron Hetzler-US PRESSWIRE
Is the hot seat big enough for both of us?
When the Big Ten split into divisions before the 2011 season, each team had to be assigned a cross-division rival to keep that game on the schedule every season. This protects certain rivalries like Minnesota-Wisconsin, Ohio State-Michigan, Purdue-Indiana...and then the last two kids at the dance, Purdue and Iowa.
If this battle of the black-and-gold teams is going to be a rivalry, then Purdue is going to have to learn how to become a thorn in Iowa's side. As it turns out, they just might be on the right track after dominating the Hawkeyes in Iowa City for a 27-24 win, the Boilermakers' first road win there in 20 years.
With both teams reeling from losing streaks, Purdue came out with all of the fury and passion. They silenced the Iowa crowd and only kept Iowa in the game due to three turnovers. The win left both teams at 4-6, which means neither will likely end up playing in the postseason.
However, the loss is worse for Iowa City, where the Hawkeyes have fallen from a Big Ten title contender to the worst team in the Legends Division in just three years. If the struggles continue for a prolonged period of time, Kirk Ferentz might inherit Danny Hope's hot seat, providing Hope does not survive the firing season of 2012.
This is the worst Iowa team since 1999, and fittingly, it will be home for the holidays.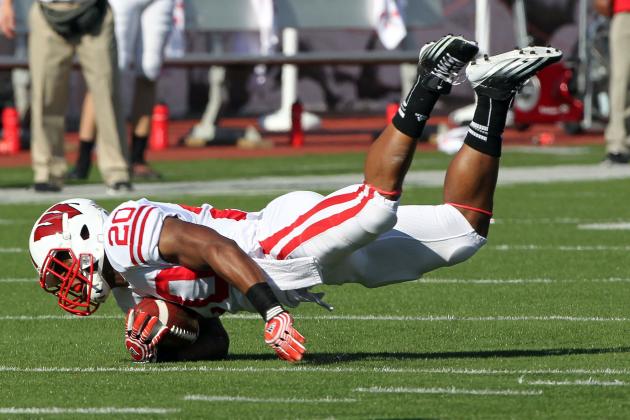 Brian Spurlock-US PRESSWIRE
Forearm counts as two knees, Mr. White
Meanwhile in the other division, Wisconsin (and some bad actors who used to live in Happy Valley and Columbus) have collectively knocked out nearly all of the Leaders Division from postseason play. Wisconsin sits at 7-3 and will likely be headed to a New Year's Day bowl game of some sort, even if the Badgers slump to a 7-6 finish.
But that will be about it.
Illinois is already eliminated at 2-8, while Indiana and Purdue both sit on the razor's edge at 4-6. These two teams play one another in the finale, so only one of them can qualify at a maximum. However, Indiana still has to play against Penn State and will likely be favored to knock off Purdue, even if the Boilermakers defeat Illinois.
So if the Big Ten fails to fill the bowl game obligations for 2012-2013, one only has to look at this division to find plenty of blame to go around. With no bowl practice for any team outside of Madison, the discrepancy between the divisions may stick around for 2013.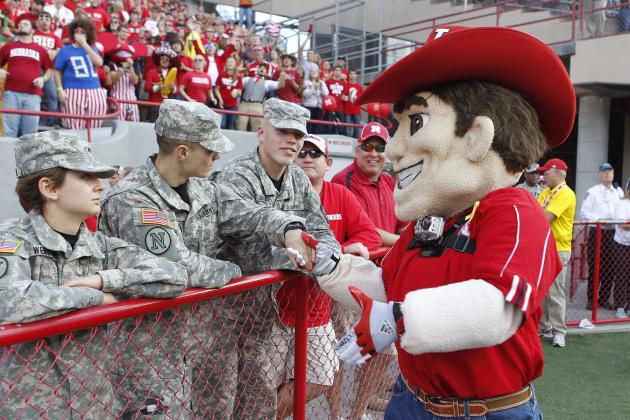 Bruce Thorson-US PRESSWIRE

Two weeks ago, Nebraska benefited from having Denard Robinson go down to injury as the Cornhuskers held off Michigan. That gave Nebraska the lead in their division.
A week ago, Nebraska looked to be headed to overtime against Michigan State, where anything can happen. Especially considering the Spartans were coming off a win over Wisconsin, the Cornhuskers could be in for the fight of their life to stay on top of the standings. But then, a bit of good fortune came in a questionable pass interference call. That set the table for a game-winning touchdown.
Then this week against Penn State, the Nittany Lions appeared to be headed in for a go-ahead score in the fourth quarter when the ball carrier stretched the ball to the end zone and had it knocked out. The play was ruled a fumble on the field, and despite seemingly clear evidence to the contrary on the close play, the fumble was upheld on review. That let Nebraska hold onto the lead and shut out the Nittany Lions for the remainder of the game.
Three straight weeks—and three straight good breaks—have kept Nebraska on top of the division standings. That's not to say Nebraska has not played well enough to win these important games, because the team certainly has.
But good fortune has smiled brightly on Bo Pelini and his team.
Those breaks usually go both ways over the course of time, so Nebraska should be on high alert. They will likely need to overcome bad luck before winning the Big Ten title later this year.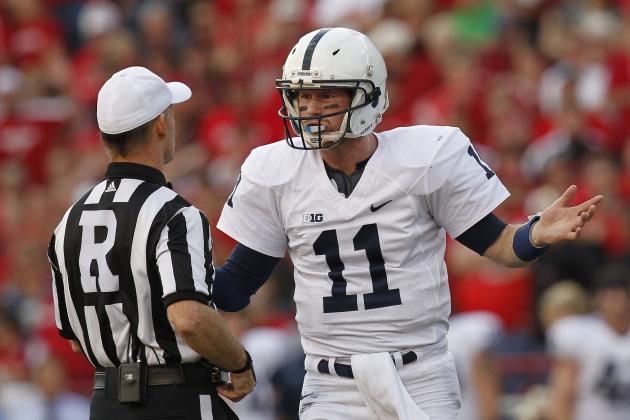 Bruce Thorson-US PRESSWIRE
How much did they pay you?
Penn State and Northwestern each sit in the middle of the conference standings at 4-2 and 3-3, respectively. That makes sense because both teams have taken care of the weak teams in the Big Ten with ease, but both have failed when given the opportunity to close out better teams. The only difference between the teams is a win by the Nittany Lions in a game between these two in October.
Northwestern held double-digit leads in the second half against Penn State, Nebraska, and Michigan. Yet all of those leads disappeared by the end of the game thanks to some defensive breakdowns. For a team led by a former All-American linebacker Pat Fitzgerald, these continued struggles to shut down a game defensively have to be maddening.
However, Northwestern will be headed back to a bowl and could grab eight or nine wins this season. It might be beating up on the meek, but things still looks good for Northwestern.
Penn State was worn down by Ohio State, but the same could not be said against Nebraska this weekend. Had it not been for the aforementioned fumble call on the goal line, the Nittany Lions may have won that game in Lincoln. Still, this team had multiple possessions following that fateful fumble and could not get it done.
That's the bond between these teams. Good enough to have a winning record, but not good enough to actually win the tight games against the top tier of the conference.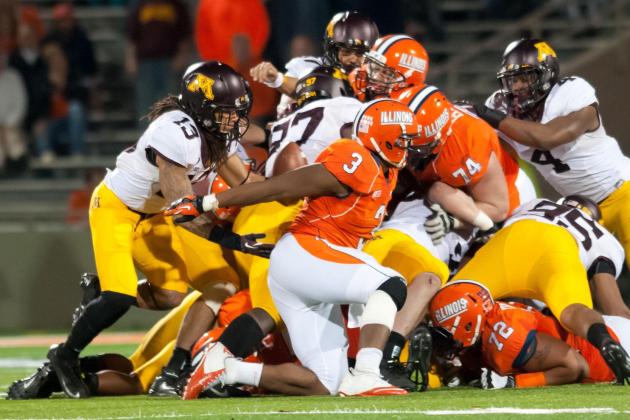 Bradley Leeb-US PRESSWIRE
Nothing like a trip to Illinois to earn a win in 2012
It was a true struggle in Champaign on Saturday, but Minnesota got the job done by finally eclipsing 13 points to earn a second Big Ten win. That plus the sweep of their nonconference opponents will put Minnesota back in a bowl for the first time since 2009, ending the longest drought in the conference besides Indiana.
The extra bowl practices are just what the doctor ordered for Minnesota, a team on the upswing in their second year under coach Jerry Kill. While other new coaches in the Big Ten are winning with revamped dynamic offenses, Minnesota is trying to win the old fashioned way with a nasty defense. That defense stifled the Illini, holding them to one field goal and 276 yards.
With a defensive performance like that, it does not take much offense to win a game. Which is good, because Minnesota still does not have much offensive firepower with freshman quarterback Philip Nelson running the offense. However, he is gaining valuable game experience that will come in handy next season and beyond.
Considering the clear progress and success at Michigan, Indiana, and Minneapolis, one has to view the coaching class of 2011 in the Big Ten as a huge success. That should make this league much more relevant going forward.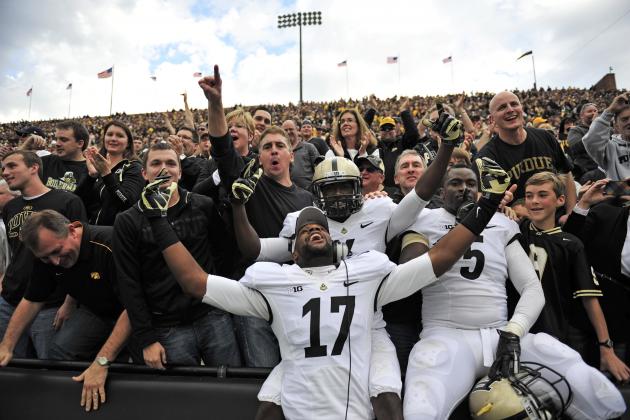 Byron Hetzler-US PRESSWIRE
Sweet "Rivalry" Win
Yeah, I'll admit that I made fun of the upcoming Purdue at Illinois game two weeks ago in this very column. At the time, both teams looked to be headed for identical 0-6 records in conference play heading into a cupcake battle for the bottom of the standings.
While Illinois has held up their end of the bargain with blowout losses to Ohio State and Minnesota, the Boilermakers shocked the world by knocking off Iowa on the road on Saturday. Purdue did not just win this game, but instead dominated the Hawkeyes for 60 minutes.
That puts Purdue at 4-6 with seemingly manageable games left at Illinois and against Indiana. Knowing how Purdue plays under Danny Hope, the Boilermakers will likely follow up this breakthrough with a loss that will ensure Hope's firing at the end of the season. But should Purdue win this game, then the game against Indiana could be for a bowl game and for Hope's job security.
It's shocking what one week can do.
So go get your tickets now, as Purdue is playing for something meaningful this weekend!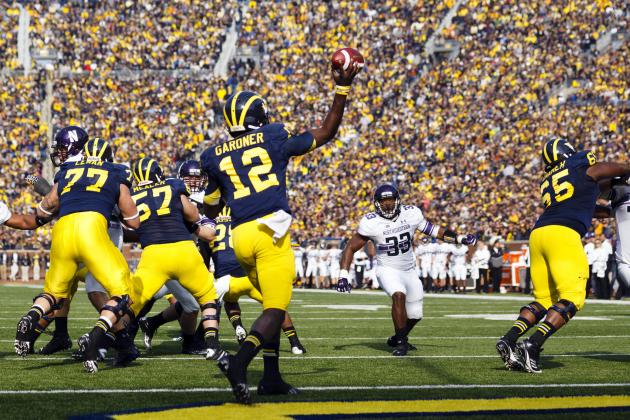 Rick Osentoski-US PRESSWIRE
This guy has a rocket arm, who knew?
The best quarterback for Al Borges and his pro-style offense may have been moved to receiver after the 2012 spring game. Following a hugely successful 11-2 season, it was impossible to go away from Denard Robinson and the game that put the Wolverines back on top.
But one has to wonder if Devin Gardner got a bad shake just based on timing.
After spending nearly all of this season at wide receiver, Devin Gardner came in and ran the offense well against Minnesota and Northwestern. Especially against the Wildcats, Gardner looked like a quarterback who had been starting all season long. He made good reads on when to throw the ball away and when to run, and on most plays he delivered the ball with a rocket arm and pinpoint accuracy.
With Michigan facing what should be a win against Iowa this weekend, Gardner should continue to build confidence and success if Denard Robinson cannot go. Then the big showdown with the Buckeyes will come, and there seems to be little doubt that Michigan can race with the Buckeye offense regardless of who is taking the snaps.
That is a much better situation than it seemed two weeks ago in Lincoln. Michigan may not make the Big Ten championship game, but they will be just fine with Devin Gardner.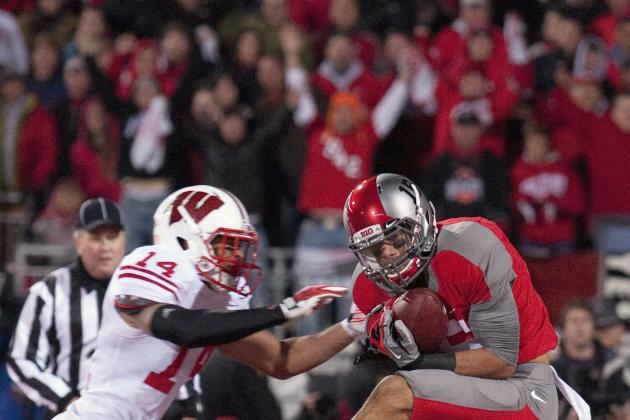 Greg Bartram-US PRESSWIRE
Here's guessing Wisconsin remembers this...
Wisconsin had a bye in week 9, and that seemed to revitalize a team that was struggling to find its way thanks to some injuries, especially at quarterback. The extra time off allowed new quarterback Curt Phillips to come in and contribute right away in an important game against Indiana. Plus, the Badgers looked completely refreshed on both offensive and defensive line, both lines dominating the Hoosiers.
Ohio State just took a bye in week 10, and the same type of lift could be provided for a team that has survived many weeks to end up 10-0. Although Jordan Hall will not be back, linebacker Etienne Sabino will likely be back to provide real depth at that position for the first time all year. Plus, any dings on Carlos Hyde and Braxton Miller will have had two weeks to heal up, leaving both stars refreshed for big games against the Badgers and against Michigan.
Thus, even though late-season byes can be unexciting for fans, it set up well for both of these teams with backloaded schedules. Both teams are rejuvenated and ready for the big showdown in Madison.
These teams will likely run things in the Leaders Division over the next few years, and one can only hope for an exciting game like last year's contest in Ohio State.
------
Thanks for reading! Please follow David on Twitter, and keep the discussion going there and below!