Winners and Losers from College Football Week 11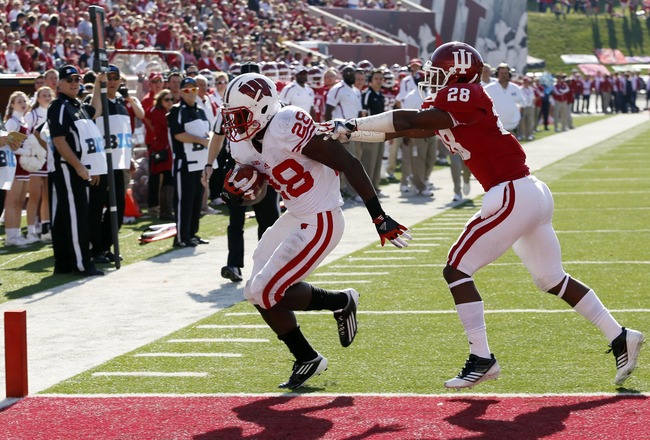 Brian Spurlock-US PRESSWIRE
Week 11 has seen its fair share of winners and losers. Some of our winners had record-setting performances that helped their teams to division-clinching victories. On the flip side, our losers this week may have won their game, but they did so by being lucky at the end.
Then again, one of the winners this week didn't even play a game. And some of our losers saw their BCS hopes and dreams take a serious hit.
This week has been crazy. Here are some winners and losers.
Winner: College Game Day Broadcasting from the USS San Diego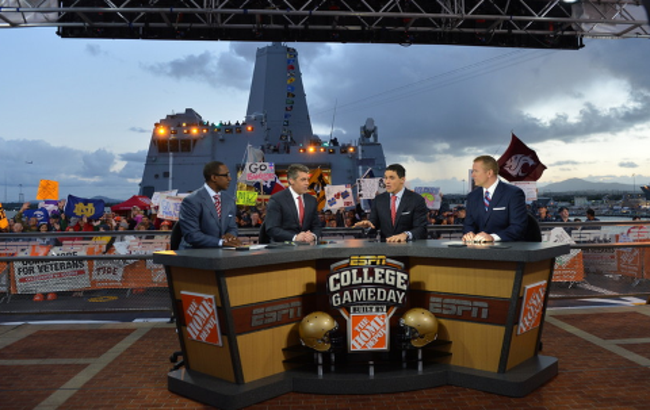 Credit ESPN Facebook

ESPN's College Gameday took its weekly television show to the naval ship, the USS San Diego. The three-hour broadcast didn't have as many signs or the large rowdy student body-filled crowd in the background, but what it did have was men and women who protect the United States on this large vessel.
You can visit the article from the North County Times for more on the decision to produce Saturday's show from San Diego.
And to see more photos from the broadcast—like Lee Corso with the Navy's mascot's head on—check out ESPN's College Gameday's Facebook page.
Loser: Louisville Cardinals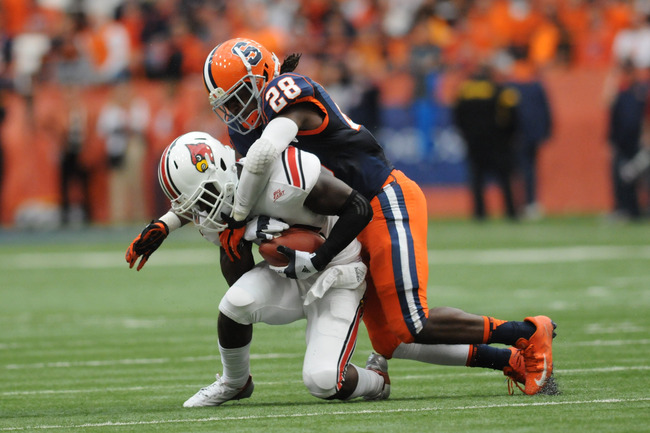 Mark Konezny-US PRESSWIRE
Louisville came into Saturday's road game against Syracuse unbeaten but only a 1.5-point favorite. In hindsight, even that point spread was too generous to the Cardinals, who trailed 31-13 at halftime and ultimately lost by 19.
Louisville did get 424 passing yards from quarterback Teddy Bridgewater, but its defense gave up 524 yards of offense to the Orange, with Jerome Smith rushing for 144.
Even with a loss, though, Louisville still controls its destiny in the Big East title chase. The Cardinals should win out, as they'll be favored over UConn next week and stand at least an even chance against Rutgers to end the season.
With those two wins, Louisville will win the conference title and play in the Orange Bowl.
But Saturday was embarrassing.
Winner: Texas Using the Wishbone to Open Its Game
Earlier in the week, legendary coach Darrell K. Royal passed away at the age of 88. He won won 167 games and a share of the 1970 national championship at Texas.
Heck, the stadium where the Longhorns played Saturday's game is named after the former coach—Darrell K. Royal Memorial Stadium.
The Longhorns paid tribute to him by using the coach's famous Wishbone formation to open the game.
As you can see, the Longhorns pulled a little trick on the play, as quarterback David Ash found tight end Greg Daniels for a 47-yard gain after the ball was pitched back to him.
Loser: Texas Tech Head Coach Tommy Tuberville Slaps One of His Coaches
Football is a passionate game and there are times when a coach or player can lose their head. Sometimes someone will scream, and sometimes we'll catch someone throwing or kicking an inanimate object.
However, Saturday we saw Texas Tech head coach Tommy Tuberville slap an assistant, which is taking it too far.
It'll be interesting to see how the university handles this situation, since it fired Mike Leach after the questionable way he handled an injured player.
Winner: Michigan's Roy Roundtree's Game-Saving Catch
Michigan struggled to a 38-31 overtime victory at home against Northwestern. The Wolverines' defense gave up 431 yards, and the offense came within this circus-style catch from Roy Roundtree from losing not only the game, but a shot at playing for the Big Ten title in a couple of weeks.
The catch was great, and it capped off a big day from Roundtree. He caught five passes for 139 yards. However, should Michigan go on and win the Big Ten title in Indianapolis, this catch will be remembered as the play that kept its season alive.
Loser: Northwestern with Another Late-Game Collapse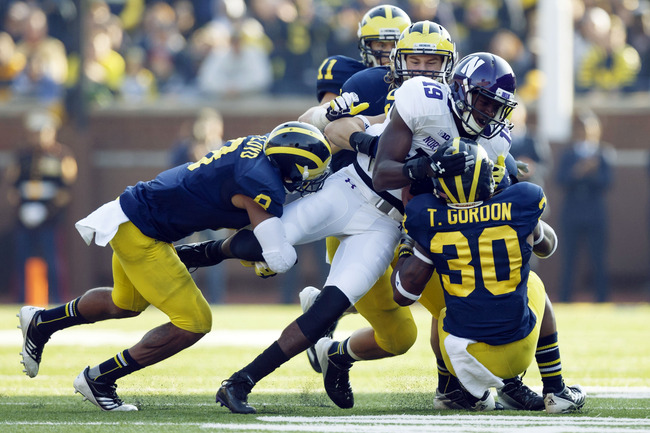 Rick Osentoski-US PRESSWIRE
I'm going to stay with this game for this slide, as it should be pointed out that Northwestern gave away another fourth-quarter lead.
The Wildcats have lost three games (all in the Big Ten), and in each one they've had a fourth-quarter lead evaporate.
They gave up 22 points in the fourth quarter to Penn State, 14 points to Nebraska and lost in overtime on Saturday to Michigan.
Those losses will keep Northwestern out of the Big Ten title hunt, which is a shame because this is a good team that just can't close out games.
Winner: Montee Ball's Record-Setting Game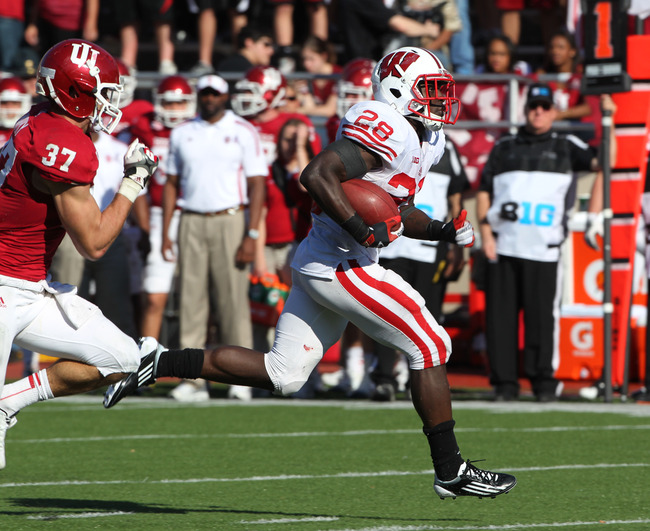 Brian Spurlock-US PRESSWIRE
Montee Ball had a huge day against the Indiana Hoosiers. He ran 27 times for 198 yards and three TDs to push the Badgers back into the Rose Bowl hunt.
However, that wasn't the only reason why Ball was a winner on Saturday.
His touchdown gave him 77 career scores, which places him second on the all-time NCAA scoring list. Ball trails only Travis Prentice of Miami (OH), who holds the record with 78 career touchdowns.
You can expect Ball to break the record next week when Wisconsin plays host to Ohio State.
Loser: Tennessee Head Coach Derek Dooley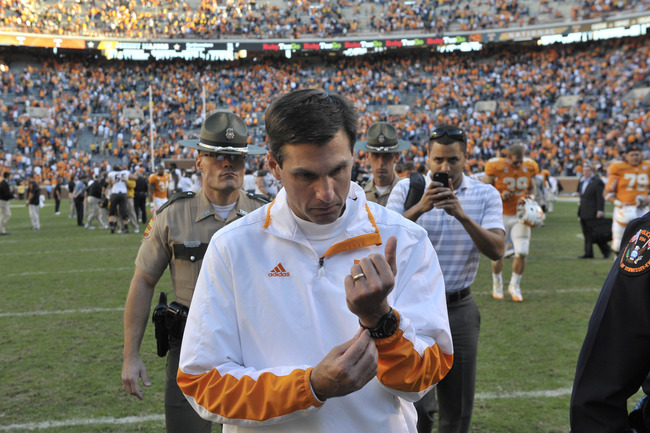 Jim Brown-US PRESSWIRE
It's never fun to predict when a coach may get fired, as no one likes to see someone lose their job. However, with another loss—this time to a Missouri Tigers team that had one SEC win prior to this game—may have been the final nail in Dooley's coaching coffin.
Dooley has lost five of his last six games and his Volunteers have yet to win a conference game. In those six SEC losses, Tennessee has been outscored 262-191 and has lost three of those six games by a double-digit margin.
Tennessee will have to win its last two games if it wants to qualify for a bowl game. Even then, a 6-6 record may not be enough to save Dooley's job.
Winner: The South Carolina Band Showing Support for Marcus Lattimore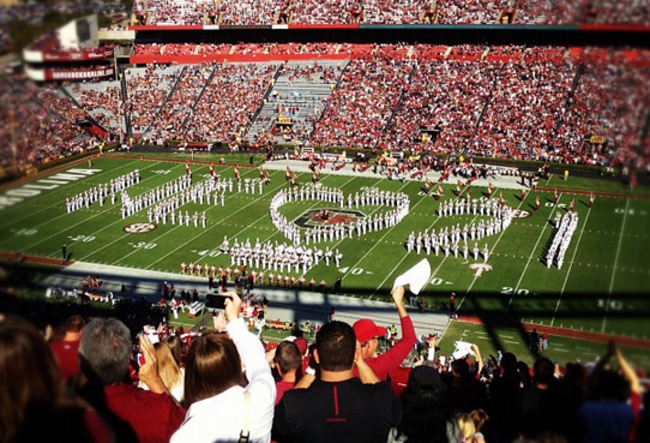 From @BleacherReport with (H/T) @USATODAYsports

A couple of weeks ago, South Carolina running back Marcus Lattimore suffered a season-ending leg injury when he was tackled by two Tennessee players. If you haven't seen the video, be warned, it's not easy on the eyes.
So Saturday, in South Carolina's first home game since the injury, the South Carolina band paid tribute to Lattimore with this touching formation.
It's not known if Lattimore will come back to play another down of football after this injury.
Loser: The Florida Gators Offense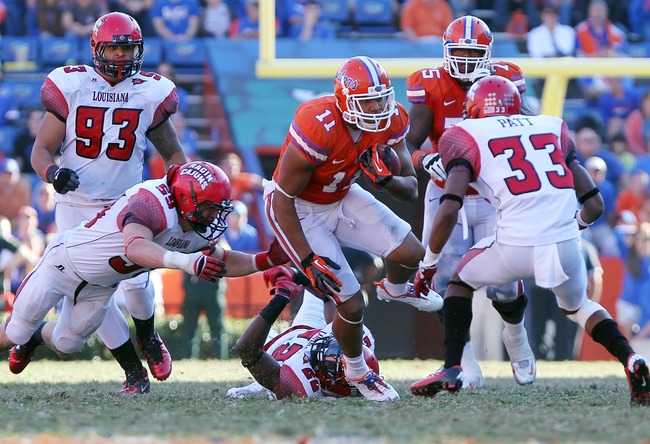 Kim Klement-US PRESSWIRE
Florida won, which in its quest to play in a BCS bowl game, is all that matters.
However, in the BCS standings, style sometimes matters. It's why Saturday's 27-20 victory over the Louisiana-Lafayette Ragin' Cajuns will not impress many voters in the AP and USA Today polls.
The offense struggled against a Ragin' Cajuns defense that came into the contest allowing 28.3 points per game.
Florida could only muster 311 yards of total offense and two short-yardage touchdown passes. The Gators had to get a blocked punt on the final play of the game to lock up the victory and may be pushed down in the next BCS standings.
Winner: Marqise Lee and Curtis McNeal Carrying the USC Offense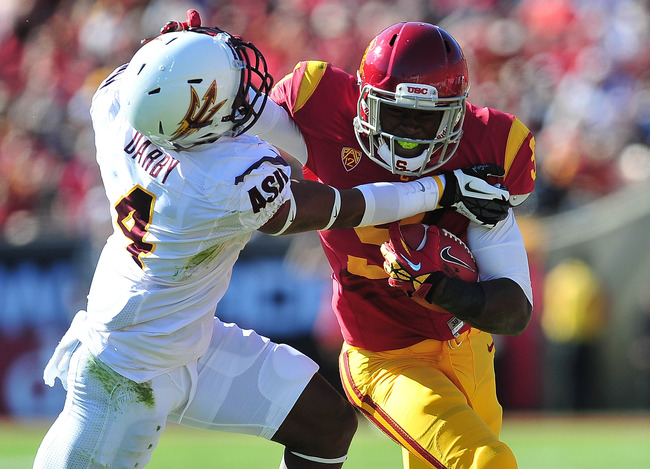 Gary A. Vasquez-US PRESSWIRE
This USC game had a mixture of winners and losers. First, the winners: wide receiver Marqise Lee and running back Curtis McNeal.
Lee caught 10 passes for 161 yards and a touchdown and ran for another 66 yards. McNeal, meanwhile, rushed 31 times for 163 yards and three touchdowns, and caught a 22-yard touchdown pass.
They combined for 412 yards and four touchdowns. To put that into perspective, USC as a team gained 447 yards and only one other player found the end zone for the Trojans.
USC needed these contributions, as Arizona State had a 17-14 lead in the third quarter before McNeal scored three times to help USC secure a victory.
Loser: Matt Barkley's Heisman Hopes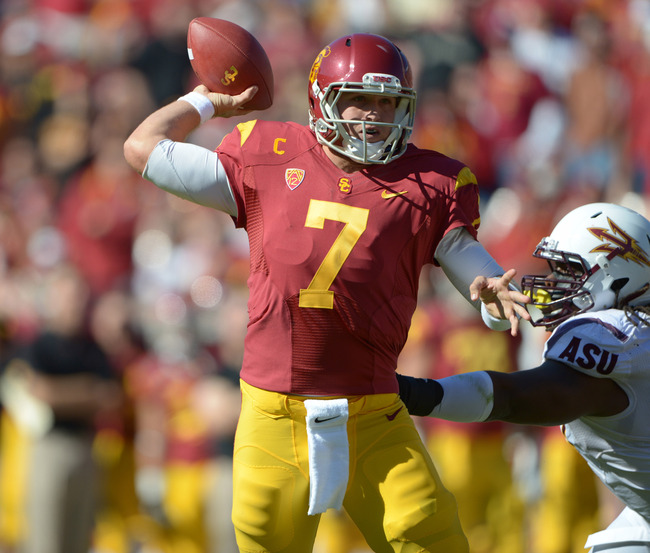 Kirby Lee-US PRESSWIRE
For starters, after 10 weeks of football, Matt Barkley wasn't going to win this year's Heisman Trophy. However, he was still in the running to make the trip to New York City as a Heisman finalist.
But after Saturday's subpar three-interception game against Arizona State, it looks like Barkley's faint Heisman hopes have vanished.
He did throw three touchdown passes. But Arizona's No. 1-ranked pass defense in the Pac-12 held Barkley to only 222 yards through the air, a passer rating of 128.9 and a 60.6 completion percentage.
All of those are season-lows for the quarterback at home.
Winner: Clemson's Dominating Defense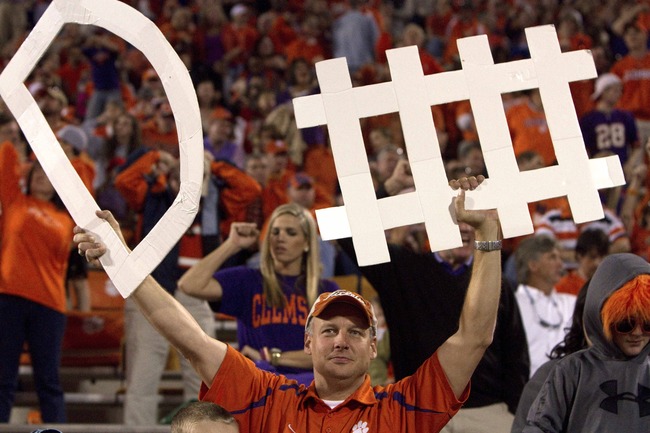 Joshua S. Kelly-US PRESSWIRE
Clemson may not play in a BCS bowl game because it is stuck behind Florida State in the ACC Atlantic. That is a shame because this is a really good team. The Tigers have a dominant offense, whose 42.9 points per game is seventh in the nation.
However, the defense has been lacking, having given up 22.4 points and 412 yards per game.
That's why Saturday's performance against Maryland was so impressive. The Tigers only allowed Maryland 180 total yards, forced three turnovers and allowed only one touchdown and a field goal in a 45-10 victory.
Loser: A.J. McCarron's Interception Streak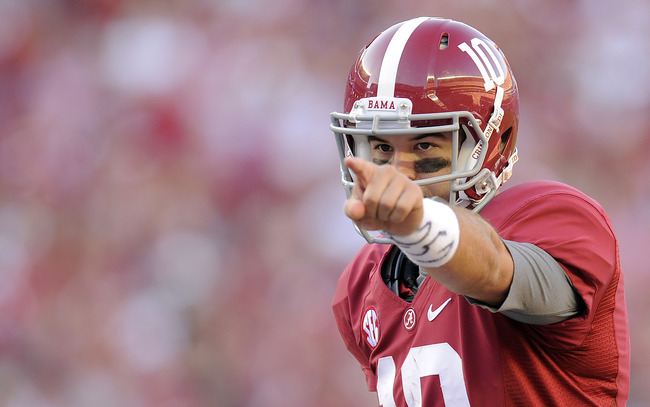 John David Mercer-US PRESSWIRE
Coming into Saturday's game against Texas A&M, A.J. McCarron hadn't thrown an interception since 2011, as his last turnover was against Mississippi State. That streak lasted 289 passes until Texas A&M linebacker Sean Porter intercepted a pass in the first quarter.
One turnover is bad, but it was McCarron's second interception that affected the outcome of the game.
Deshazor Everett's interception at the goal line prevented what could have been a go-ahead touchdown and season-saving score for McCarron and the Crimson Tide.
Winner: Johnny Manziel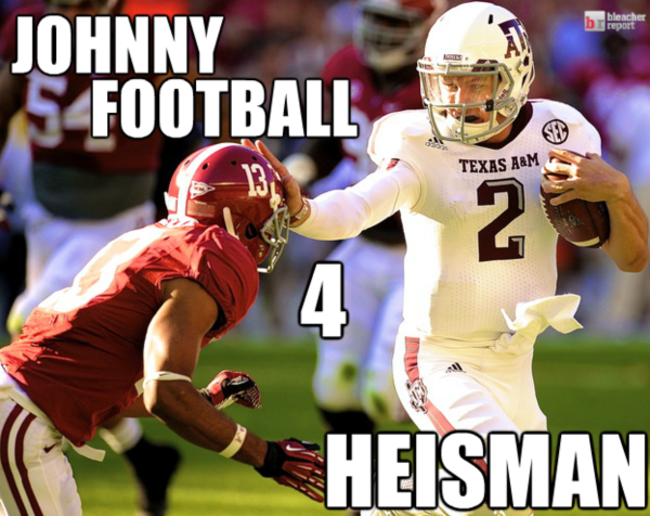 Credit @BleacherReport

I could have probably dedicated every "winner" slide to the freshman Texas A&M quarterback for what he did against the No. 1 team in the country, finishing with 253 passing yards, two touchdowns and 92 rushing yards.
He made plays with his legs, helped A&M convert third downs and led big drive after big drive for the Aggies. He never let the Alabama crowd or the Crimson Tide defense shake him. The result was an impressive 29-24 victory.
And, who knows, maybe they'll have a Manziel statue ready for him by the time the Aggies get back to College Station.
Loser: The SEC's Hopes for a Seventh Straight BCS Title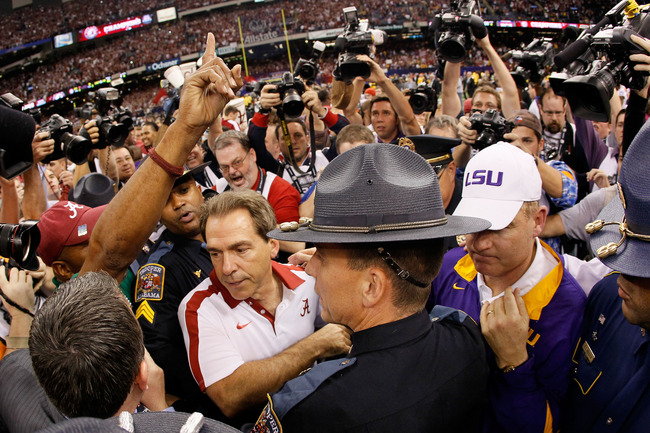 Kevin C. Cox/Getty Images
With Alabama's loss, it looks like the SEC will not be in this year's BCS title game for the first time since Texas defeated USC in the '06 BCS championship.
Now that Alabama has one loss, the Crimson Tide should drop behind the three undefeated teams—Oregon, Kansas State and Notre Dame—and potentially behind fellow SEC and one-loss Georgia.
Unless something happens to two of the three undefeated teams, it looks like the SEC will be on the outside looking in when the BCS title game is held on Jan. 7.
Winner: Stanford and Its BCS Bowl Chances
Ed Szczepanski-US PRESSWIRE
Stanford had to win against Oregon State to keep its Rose Bowl hopes alive. Even with a loss next week to Oregon, the Cardinal will still be ahead of Oregon State, should the Beavers lose to the Ducks on Nov. 24.
Stanford won Saturday behind a solid performance from freshman quarterback Kevin Hogan. He threw for 254 yards and three touchdowns. His game-winning touchdown pass to Zach Ertz with 5:01 left in the fourth quarter may end up being what punches Stanford's ticket to the Rose Bowl, should the Ducks end up playing for the BCS title.
Loser: West Virginia's Defense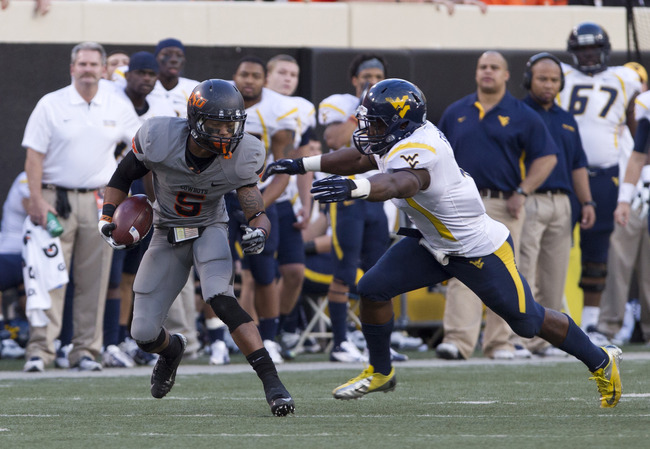 Richard Rowe-US PRESSWIRE
West Virginia has an awful defense that had another game in which it gave up 50 or more points. In fact, the Mountaineers have given up more than 40 points four times, and in a victory over Baylor they allowed 63. This week, they gave up 55 points Saturday in a loss to Oklahoma State, while allowing the Cowboys to rack up 443 total yards.
They rank 120th in the nation in points allowed, with 41.4 points per game, and are fourth from the bottom in the nation in pass defense.
Yes, the Mountaineers' offense is really good. But something, or someone, has to get this defense fixed.
Winner: Georgia Bulldogs Clinching the SEC East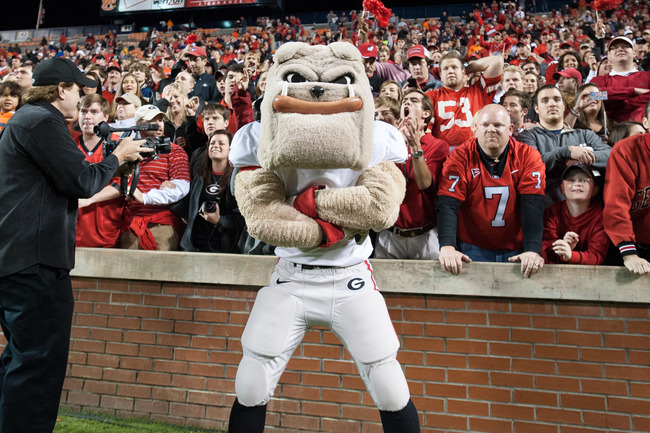 Michael Chang/Getty Images
While some teams in the SEC looked bad on Saturday—Florida, Alabama, Tennessee and Georgia's opponent Auburn—the Bulldogs looked flawless in their 38-0 victory.
Aaron Murray threw for three touchdowns, Todd Gurley and Keith Marshall each ran for 100 yards and scored a touchdown, and the Georgia defense forced two turnovers.
This was the perfect way for the Bulldogs to punch their ticket to the SEC title game as the East champions.
Loser: Auburn Head Coach Gene Chizik
Michael Chang/Getty Images
With Auburn's 38-0 loss to Georgia, head coach Gene Chizik's role as the leader of the football program will be questioned even more than it was heading into the game.
There were reports earlier in the week that Auburn's president was making preparations to fire the head coach.
From 247sports.com, via Sporting News:
Auburn president Jay Gogue has informed some members of the Board of Trustees that he is preparing to possibly dismiss coach Gene Chizik, multiple sources told 247Sports.com (pay link).
After the blowout loss to Georgia, followed by Auburn's final SEC game on the road at Alabama, it looks like Chizik will need a miracle victory over the Crimson Tide to save his job.
Winner: Notre Dame's Quest for the BCS Title Game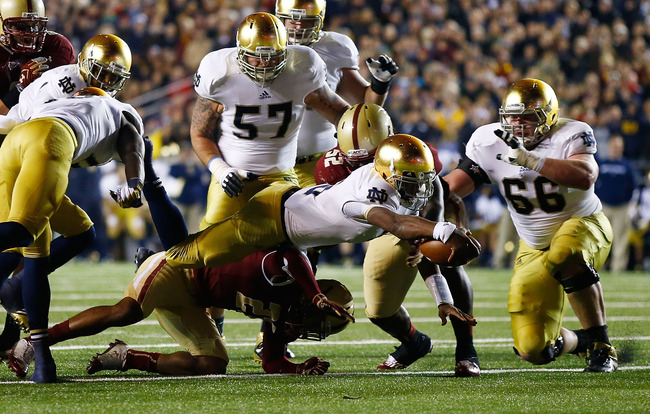 Jared Wickerham/Getty Images
Notre Dame should be No. 3 when the next BCS standings are released on Sunday night. That means it will have the most to prove in the next two weeks in trying to leap over Oregon and/or Kansas State to earn a berth in the BCS title game.
The Fighting Irish's dominating 21-6 victory over Boston College reassured Irish fans that this team can put away bad teams after having to survive a three-overtime win over Pittsburgh last week.
The Irish defense suffocated the Eagles' rushing attack, holding them to only 53 yards, while forcing two BC turnovers.
If Notre Dame's defense can keep its final two opponents out of the end zone, like it did against Boston College, it will be hard to keep the Irish out of the BCS title game.
Loser: Mississippi State Not Being Able to Play Up to Its Competition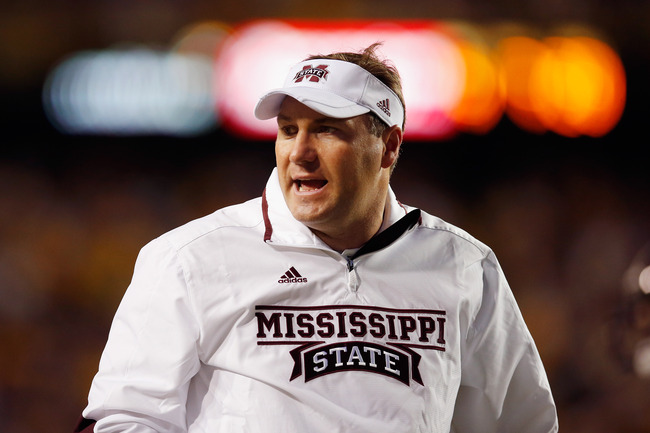 Chris Graythen/Getty Images
Mississippi State's record against non-ranked opponents: 7-0.
Mississippi State's record against ranked opponents: 0-3.
The last three weeks the Bulldogs have gone up against No. 1 Alabama and lost 38-7, No. 16 Texas A&M and lost 38-13, and No. 7 LSU and lost 37-17. That's three straight losses where the Bulldogs allowed 37-plus points.
If this team is ever going to reach the upper-tier of the SEC, it will have to win one of these tough games.
Winner: Zach Mettenberger Having Two Consecutive Solid Games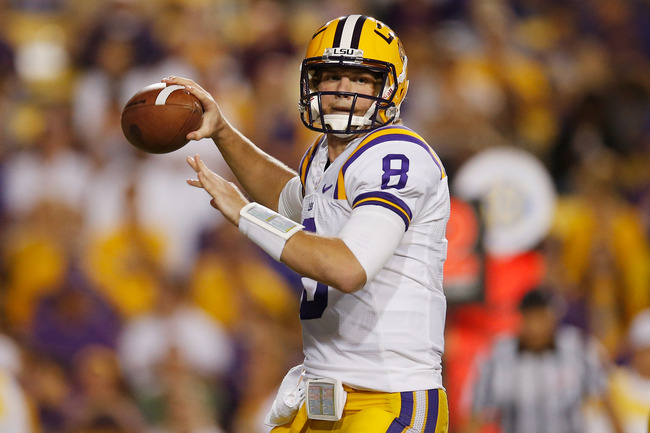 Chris Graythen/Getty Images
Before last week's loss to Alabama at home, Zach Mettenberger hadn't thrown for more than 250 yards or attempted 30 passes.
Now, Mettenberger has not only thrown for more than 250 yards twice, but he's also attempted at least 30 passes in consecutive games. On top of those numbers, the LSU quarterback did not throw an interception in either game.
LSU may not have gotten a victory against Alabama, but it wasn't because of the way Mettenberger played. On Saturday, Mettenberger's solid two-touchdown game helped the Tigers roll over Mississippi State, 37-17.
Loser: People Who Thought Kansas State Was on Upset Alert This Week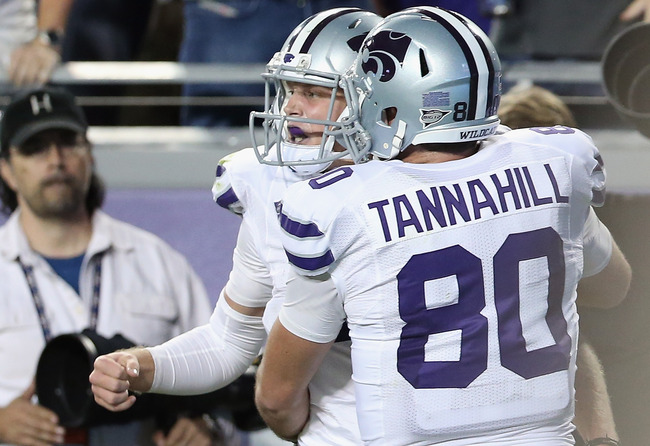 Ronald Martinez/Getty Images
Kansas State was on many people's upset alerts after there was no news on how Collin Klein's wrist injury from the Oklahoma State game was progressing.
Wildcats head coach Bill Snyder never gave any updates, only stating, "he seems fine to me" in a recent conference call.
But against TCU on Saturday, the Wildcats never trailed, topping the Horned Frogs, 23-10.
Klein didn't have to have his best game, rushing for two touchdowns and 195 rushing and passing yard combined. It was the Wildcats' defense that kept their perfect season alive. The defense allowed only 274 combined yards while holding TCU to 2.9 rushing yards per carry.
Winner: Vanderbilt for Being Bowl Eligible for the Second Straight Year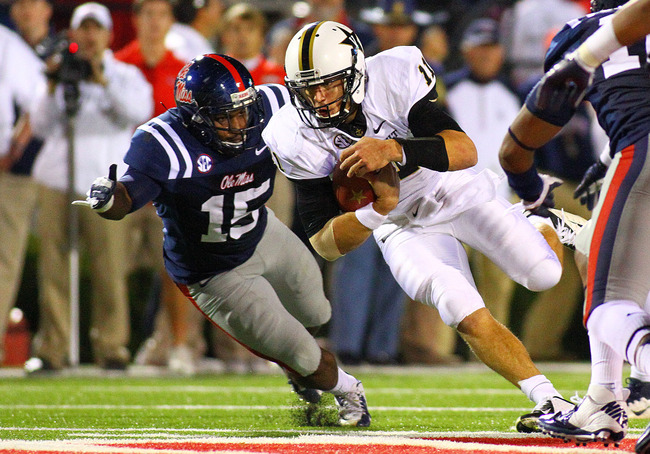 Spruce Derden-US PRESSWIRE
Vanderbilt won its sixth game on Saturday, making it bowl-eligible for the second straight year.
However, lots of teams qualify for bowls, so why is Vanderbilt making its second straight bowl game a big deal?
Well, according to the College Football database at Collegefootball.bz, this will be the first time in school history that the Commodores have made back-to-back bowl games.
Last year, the Commodores played in the Liberty Bowl and lost to Cincinnati, 31-24. This year, with six wins and a good chance of improving to eight wins with games against sub-.500 teams left on its schedule, Vanderbilt may end up playing in a New Year's Day bowl game
Loser: Penn State Blowing a Double-Digit Second-Half Lead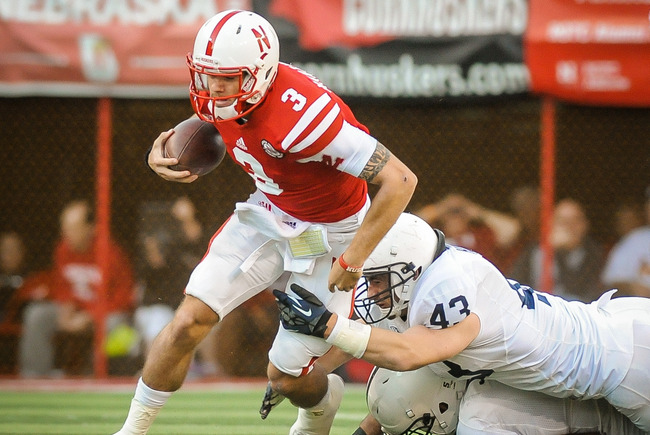 Eric Francis/Getty Images
Penn State will not go to a bowl game or play in its conference championship game because of NCAA sanctions that were handed down after the Jerry Sandusky scandal. However, that doesn't mean that this team hasn't played well and could finish with a strong record.
Penn State may be 6-4, but three of those four losses were because of second-half collapses by the Nittany Lions' defense.
Against Nebraska on Saturday, Penn State had a 20-6 lead and complete control of the game.
However, two Imani Cross touchdown runs in the third quarter tied the game and gave the Cornhuskers' enough momentum to rally for the win.
Penn State could only muster a field goal in the third quarter as the Cornhuskers added on three more scores in the fourth quarter to win 32-23.
Winner: Marcus Mariota's Six-Touchdown Performance vs. Cal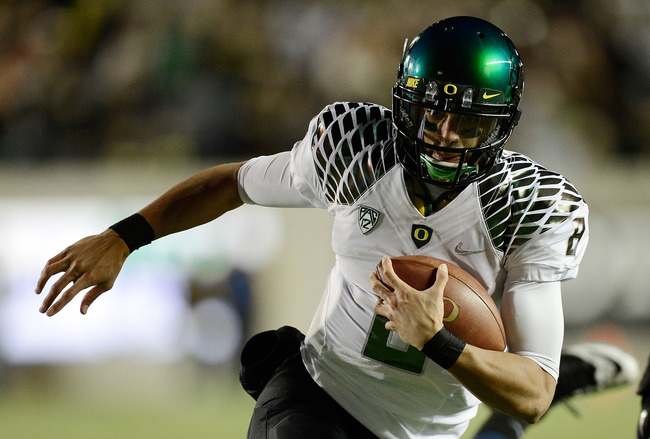 Thearon W. Henderson/Getty Images
Marcus Mariota and the Oregon Ducks may have started slowly against the Cal Bears, leading 24-17 with 10 minutes left in the third quarter, but they finished strong, winning 59-17.
A big reason was Mariota, who threw four straight touchdown passes to go with his six touchdowns on the night. Mariota threw for 377 yards and ran for 42 more.
A lot of the talk will be about Texas A&M's freshman quarterback Johnny Manziel and how he played this week. However, the more impressive statistical day belonged to Mariota, the freshman quarterback out west.
Winners: First-Year Quarterbacks
Mike Zarrilli/Getty Images
Saturday belonged to first-year starting quarterbacks.
For starters, there was the play from Johnny Manziel as he led Texas A&M to the biggest upset of the season. Next, you had Stanford and its first-year quarterback Kevin Hogan, who took down Oregon State in only his second start.
Zach Mettenberger led LSU to a big victory at home over a ranked opponent with a solid two-touchdown, no-turnover performance.
Everett Golson had another two-touchdown game for Notre Dame, as it cruised past Boston College, 21-6.
If it wasn't for Devin Gardner throwing for two touchdowns and 286 yards, who knows if Michigan would have been able to get past Northwestern at home.
Along with those other freshman performances, there was Mariota's six-touchdown game on the road at Cal.
And finally, there was UCLA's Brett Hundley, who had his second straight three-touchdown game as he led the Bruins to a 44-36 victory over Washington State to keep UCLA's Pac-12 title hopes alive.
Saturday may have been a crazy day in college football, but it was a day that belonged to first-year starting quarterbacks.
Keep Reading