Big Ten Football Power Rankings Featuring T-Pain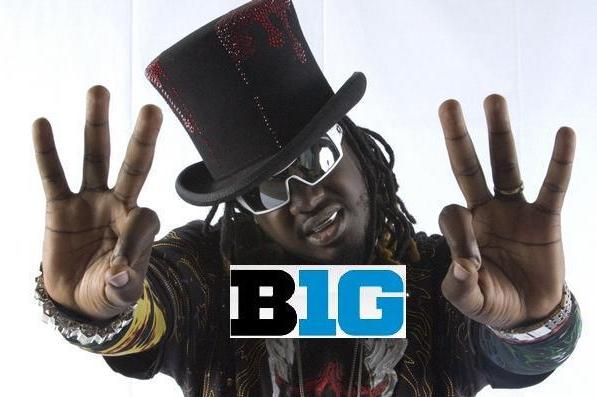 Courtesy Michael Ice-Blue Harris
Two more weeks have passed since The Eagles gave us some sweet melodies and Ohio State temporarily fell out of the top spot in the rankings. Since then, the Buckeyes and Cornhuskers have taken firm control of their respective divisions by defeating other top contenders Penn State and Michigan. However, the races are not done yet with three weeks to go.
In the Legends Division, Northwestern faces a must-win against Michigan, as the loser of that game will fall out of contention, with Nebraska holding the tiebreaker on both. Indiana (of all teams) can take the virtual lead in the race for the Leaders Division "championship" in a home game against Wisconsin.
The issues will be simplified this weekend, and at least one slot in the Big Ten Championship could be decided this week if Wisconsin wins. Heading into the home stretch, let's take a look at where the Big Ten teams stand after week 10. T-Pain brings some noise and funk to the themes this week, so let's get rocking!
Begin Slideshow

»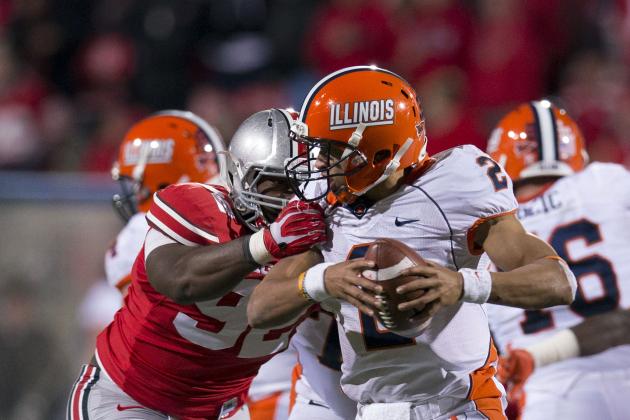 Greg Bartram-US PRESSWIRE

Theme Song – Chopped 'n Screwed
Illinois locked up a losing season with a 52-22 loss at Ohio State last weekend. The Illini have not come particularly close to winning a game in Big Ten play, although the road gets little easier going forward with games against Minnesota and Purdue.
Tim Beckman had to look across the field at the level of talent Urban Meyer inherited and just shake his head. Nathan Scheelhaase is one of the better talents at quarterback in the conference, but Illinois just does not have much talent around him, especially on the lines. That lack of depth and talent showed on Saturday, as Sheelhaase was harassed all afternoon.
The Illini also had no answers for the dynamic Buckeye offense, surrendering the aforementioned 52 points and 567 total yards. The final three weeks have to be about making progress with young players, as Illinois has a long road ahead to build this program from the shambles Ron Zook left it in. With no pressure to try and return to a bowl, perhaps the pressure will come off and Illinois will win a game.
I'm not holding my breath for it though, as Beckman has to feel a little chopped and screwed in his first Big Ten season.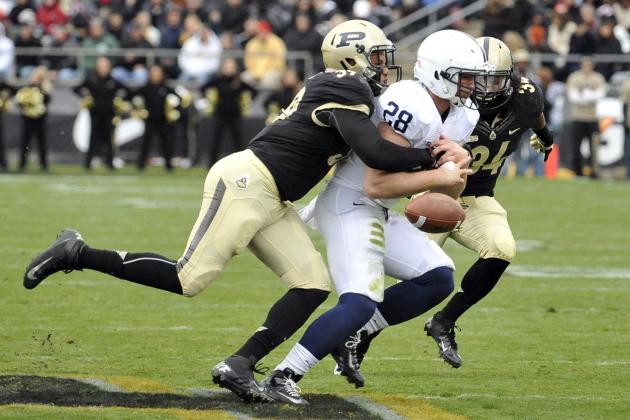 Sandra Dukes-US PRESSWIRE

Theme Song – 5 O'Clock
Purdue, unlike Illinois, still has a slight possibility of making a bowl game with only six losses. However, five straight losses to start Big Ten play has put Danny Hope on the hot seat and Purdue on the razor's edge of becoming the worst team in the conference. The remaining schedule is full of cupcakes against Iowa, Illinois and Indiana, so Hope has a chance to save his job.
Purdue faced an angry Penn State team last week and had no answer for the now-dynamic passing offense led by Matt McGloin. The Nittany Lions threw for 321 yards against the struggling Boilermakers secondary. With another good quarterback James Vandenberg on the docket this weekend, Purdue must shore up those weaknesses or face another disappointment.
Outside of the nearly-shocking win at Ohio State, Purdue has done nothing. If a loss happens this week, there may not be enough capital in a win against Illinois to stop it from being quitting time in West Lafayette. When the fans turn away from football, athletic directors have little choice but to make a change. For Danny Hope's sake, this week has to be a win against the struggling Hawkeyes.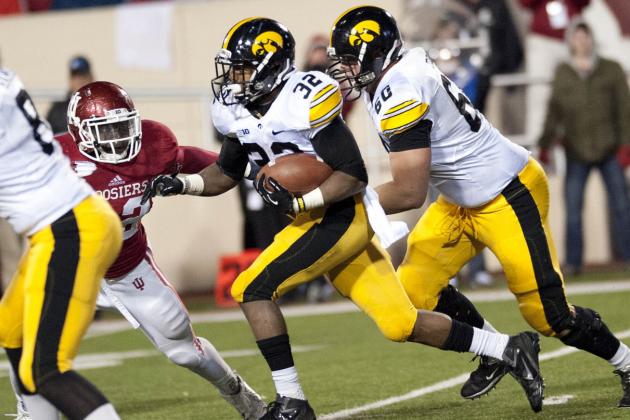 Jerry Schultheiss-US PRESSWIRE

Theme Song – Bartender
Iowa has bounced back and forth with bowl eligibility in 2012, seeming to be out of it following a loss to Central Michigan and then back in the mix with a win against Michigan State. Three straight losses have Iowa reeling as they head into a winnable game against one of the few teams struggling more right now, Purdue.
At least Iowa still has a decent defense, although that unit was gashed by Penn State and Indiana in the passing game. The good news is that Caleb TerBush and the Purdue offense is not set up to abuse that weakness.
Damon Bullock is the latest Iowa running back to take the lead in the running game, and he should find some openings against Purdue if he tries to run along the boundaries. Running up the middle is a recipe for failure, though, with the strength of the Purdue interior defensive linemen.
With two tough games remaining after this weekend, the Hawkeyes must win this one to have any shot at six wins. If a loss happens this week, the bartenders in Iowa City and surrounding parts will be very busy this winter.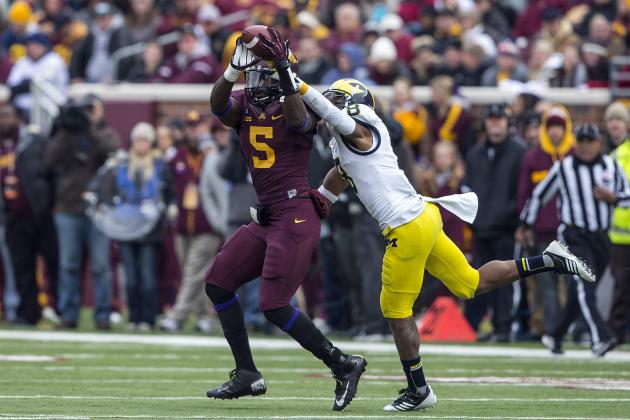 Jesse Johnson-US PRESSWIRE

Theme Song – Good Life

Minnesota seemed to have a real chance at the Little Brown Jug with Michigan coming in with no Denard Robinson and seemingly no viable backup quarterback. However, Devin Gardner moved back from receiver to quarterback and proved that he maybe never should have left that role, throwing 12-of-18 for 234 yards and two touchdowns.
This was a rare bad game from a solid Gophers defense, but the bigger problems remain on offense with freshman quarterback Philip Nelson still learning the ropes. Nelson did not get much assistance from his running game, which teams like Michigan are now loading up against in view of the passing game struggles.
This week brings everyone's favorite punching bag Illinois to play against Nelson and the Golden Gophers. If Minnesota cannot score more than 13 points against this defense, then this team simply does not deserve to represent the conference in a bowl game. However, Minnesota should be living the good life with a win this weekend and a return to the winning ways of a few years ago.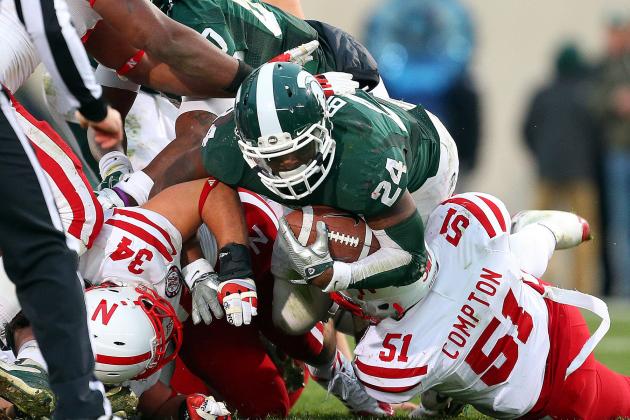 Mike Carter-US PRESSWIRE

Theme Song – Low
Once again, Michigan State played strong defense and held a solid lead in the fourth quarter and still lost, this time to Nebraska. The Cornhuskers have learned a thing or two about comebacks with wins over Northwestern and Wisconsin, and that played right to form for both teams. That also marks the difference between a team probably headed to a Big Ten Championship and the Spartans, who still need a win to go bowling.
That win will not come this week, as Michigan State finally gets a bye to assess and regroup following the 5-5 start. This has certainly been a big step back following two huge seasons at the top of the conference race, and feelings are pretty low in East Lansing thanks to the dropped ball this season. The struggles have overshadowed some big leaps forward on offense from a few weeks ago.
However, Andrew Maxwell struggled once again this weekend by only completing 33 percent of his passes. Le'Veon Bell ran for nearly 200 yards, but that was not enough when Nebraska put together a couple of late drives to win the game. The remaining schedule includes two teams that struggle at times on offense in Northwestern and Minnesota, so the opportunities are there to finish strong.
With the rest of the conference being down in the dumps, 7-5 might be good enough to reach a respectable bowl game.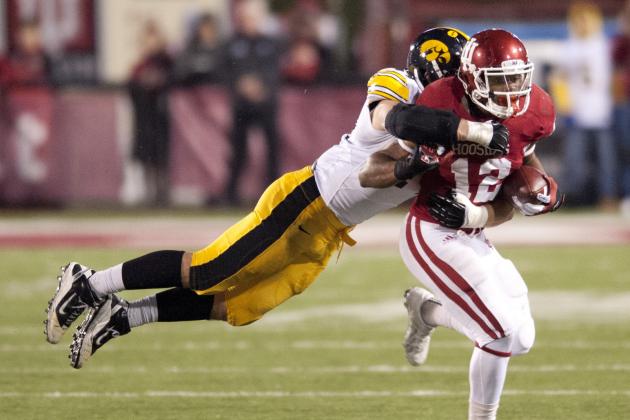 Jerry Schultheiss-US PRESSWIRE

Theme Song – Can't Believe It

Watch out now, momentum is wearing Crimson and Cream. Indiana had not won a single conference game since 2010, but now the Hoosiers have two wins in a row. The strides Kevin Wilson and his team have made on offense have been clear all year, but the defense has been making some progress as well.
Following up on bad performances against Ohio State and Navy, the defense shut down Illinois and then repeated the task against Iowa. Cameron Coffman now has a chance to put up some more big numbers against another inconsistent defense in Wisconsin. With the Badgers coming to Bloomington, anything could happen. It's hard to believe, but Indiana may lead the Leaders Division after this weekend.
However, these young players have never had this much success or this much pressure. Although a win against the Legends Division champion would be tough, Indiana would have a play-in game for the Rose Bowl. In a really down year for the conference, this is just the type of golden opportunity that small teams need to take advantage of.
Of course with Wilson, Indiana may be headed back to the top half of the division. Now there's something else that's hard to believe.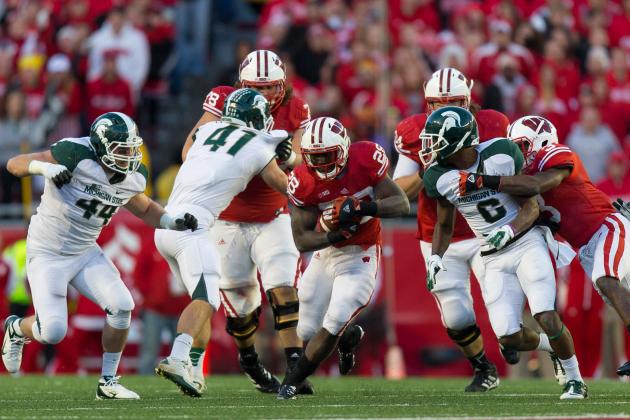 Jeff Hanisch-US PRESSWIRE

Theme Song – Go Hard

Wisconsin comes off a bye week and a surprising second conference loss to a struggling Michigan State team. The Badgers lost Joel Stave for the season with a broken clavicle, and now must rely on other options to survive the last three weeks of the season. With transfer Danny O'Brien struggling, Curt Phillips will get his shot in a final season after paying his dues in the program for four years.
Phillips walks into a pressure cooker of a situation though, as Wisconsin still has a Rose Bowl to play for and some tough games ahead. Following the crucial road game at Indiana where the Badgers could lock up a spot in Indianapolis, the Badgers must face the two teams ahead of them in the conference standings: Ohio State and Penn State. If Phillips struggles, there may be no answer for the 2012 Badgers.
Indiana has struggled on defense, but they do have a couple of good run stoppers on the line. Much like Purdue, Wisconsin will have to send Montee Ball and James White around the edges of the line to find openings and get this running game going again. If that does not happen, Wisconsin could very well find itself on the outside looking in after two straight Rose Bowls.
It's money ball time...go hard or go home, Badgers.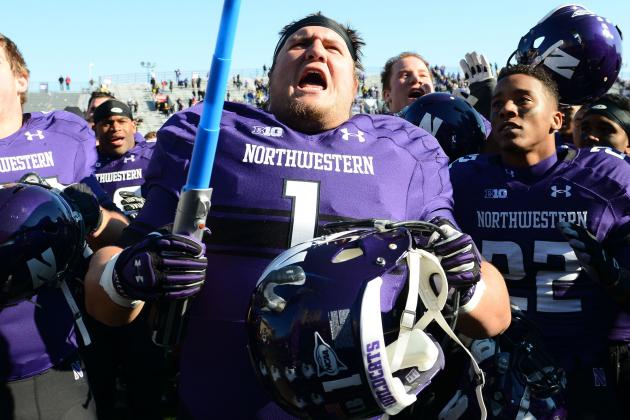 Mike DiNovo-US PRESSWIRE

Theme Song – I'm A Flirt

Although I did not include the Wildcats as a possible second BCS bowl team, Northwestern has sneaked into the BCS rankings at No. 24 this week. However, unlike Michigan, the Wildcats really have no marquee wins and national following to back them up. As a result, even a win over the Wolverines would likely not vault Northwestern into a BCS bowl, even if the Wildcats win out.
What Northwestern has to hope for is a total collapse for Nebraska. If the Cornhuskers lose two of the final three games, then Northwestern could end up in Indianapolis for the Big Ten Championship. That seems unlikely, but you can never discount a possibility in this crazy Big Ten season.
Northwestern fits this theme song well, as they have been flirting with greatness all season. However, two come-from-ahead losses against the only really good teams on the schedule have prevented the Wildcats from perhaps putting together a special 10- or 11-win season. Still, a New Year's Bowl game seems inevitable even with a loss this weekend, which makes for a good season in Chicago.
Will Northwestern finally get a win against one of the better teams in the conference? This weekend could be the last chance, and Kain Colter will give them a chance, especially running the ball.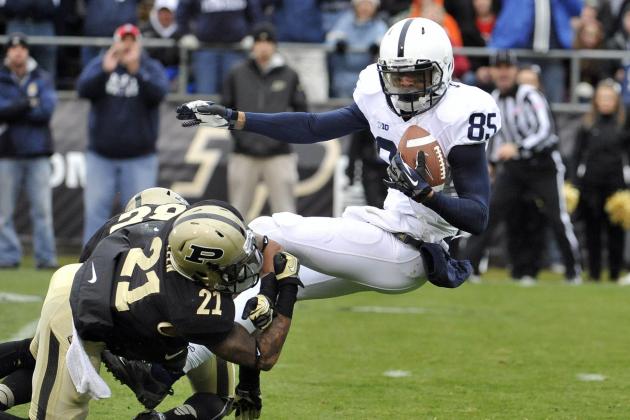 Sandra Dukes-US PRESSWIRE

Theme Song – I'm in Luv
Despite having a nice bounce-back win over Purdue, we still do not know much about the Nittany Lions thanks to the level of competition so far in Big Ten play. Penn State has defeated Illinois and Purdue, which seems meaningless, as well as Iowa on the road and Northwestern at home. All those wins tell us is that Penn State is a better-than-average team, but perhaps not elite.
Bill O'Brien gets one more big shot on the national stage this weekend at Nebraska. The Cornhuskers, much like the Buckeyes a couple of weekends ago, are playing for everything their season rides on. In Nebraska's case, that is a Big Ten Championship instead of a perfect season, but still an important goal nonetheless. The senior class would love to go out with a big win streak, but that must start this weekend.
Ohio State gashed the Penn State defense as the game wore on, something that no other team has been able to expose since Ohio University in the opening game. Nebraska has the depth and talent to do the same, so Penn State will need to grab a big lead and hold on in the fourth quarter, if past precedent becomes truth again. O'Brien has brought a different flavor to the offense and Matt McGloin has shined, letting Happy Valley fall in love again with its football team.
With a long winter of NCAA sanctions ahead, this is a fun team to watch. With nothing to lose, perhaps the signature win comes this weekend to complete a notable 4-0 road slate in the conference for 2012.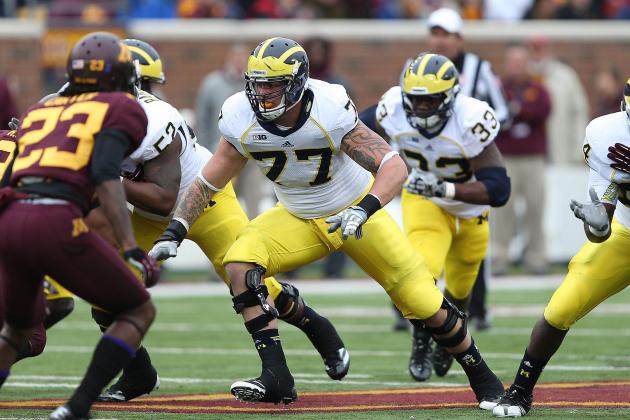 Jesse Johnson-US PRESSWIRE

Theme Song – Blame It

Michigan put aside the troubling loss to Nebraska and took care of business against Minnesota to retain the oldest trophy in college football. With three weeks left, Michigan must continue to win to put pressure on Nebraska if they want to win out. One would imagine that one loss to Northwestern or to Ohio State in a couple of weeks would put the dagger in Brady Hoke's Big Ten Championship hopes.
There was a lot of blame to go around two weeks ago. Blame the loss on Denard Robinson's injury, which seemed inevitable after all these years of taking big hits. Blame the loss on the coaches who could not adjust to the loss of Robinson at all and stuck with freshman Glenn Bellomy instead of trying Devin Gardner. Or just blame it on tough luck in another hard road game.
Michigan ranks 108th nationally in passing offense and 28th nationally in rushing. Thanks to the struggles of Fitzgerald Toussaint, the rushing offense becomes nearly non-existent without Denard Robinson. That being said, another week of practicing the comfortable (for the coaching staff) pro-style offense that the Wolverines run with Gardner should have this team in good shape to produce more numbers against the Wildcats.
This is the type of game Michigan won every time last year. Will the good trend continue and propel Michigan to a huge showdown with Ohio State?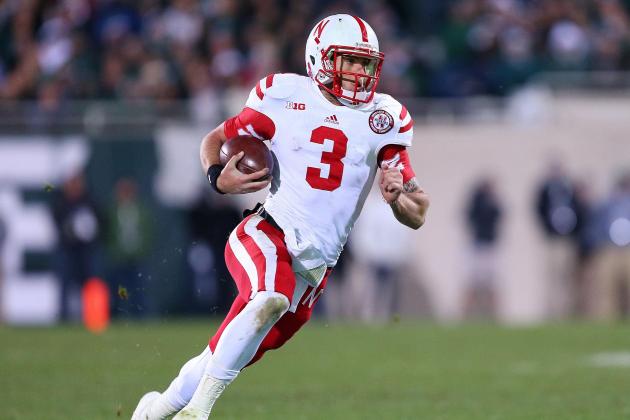 Mike Carter-US PRESSWIRE

Theme Song – Freeze

Multiple times this season, Nebraska could have been left for dead in conference play. Against Ohio State, the Cornhuskers could not keep up in a nasty road environment. However, in similar tough games against Michigan State and Northwestern, Taylor Martinez has led fourth-quarter drives for victories.
Although he won't be knocking Braxton Miller off the perch for Big Ten offensive MVP, Martinez is clearly improved again, which has propelled Nebraska to the top of the standings. Even with Rex Burkhead missing some time and leaving it all up to Martinez and Ameer Abdullah, the rushing offense continues to churn our nearly 270 yards per game. Now Nebraska faces an important home game against a tough Penn State defense.
If Nebraska can survive again at home, then a fairly easy closing schedule awaits against Minnesota and Iowa. While Nebraska will not be counting the division championship finished until those games are over, a win this weekend would make Nebraska a clear front runner for the Rose Bowl. After so many recent disappointments in conference championships in the Big 12, that would make for a happy offseason in Lincoln.
If Nebraska could freeze the standings where they are now, I'm sure it would do so. However, that might not matter if Nebraska wins out and goes 7-1, which freezes even a 7-1 Michigan team out of the conference championship.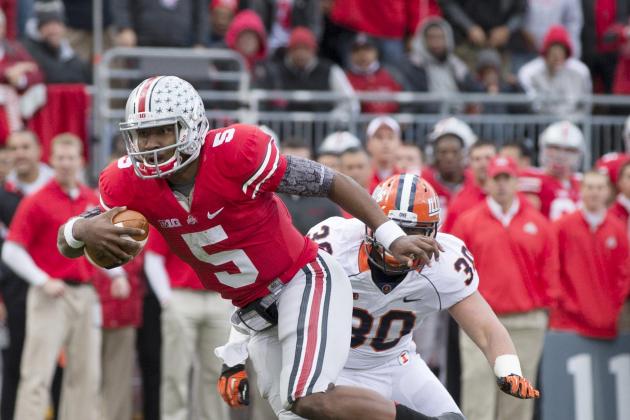 Greg Bartram-US PRESSWIRE

Theme Song – All I Do Is Win

Although Urban Meyer certainly had some good talent left over from the Jim Tressel days, one could not have imagined that Ohio State would be sitting at 10-0 with this team of mish-mashed talents. With a game-changing quarterback like Braxton Miller and some other good playmakers, all things are possible. Ohio State readily dispatched Penn State and Illinois to put a choke hold on the division title, although one more win will be required to wrap that up.
Ohio State finally enjoys a bye this week after 10 straight games, and that will give players like LB Etienne Sabino a chance to get healthy and add to the depth of the defense again. With two power running pro-style offenses left on the schedule in Wisconsin and Michigan, this is playing out nicely for a perfect season. While that may just increase the groans over the NCAA sanctions, who knows if this team plays as loose and carefree with national championship implications on the line?
This past weekend was easily the most complete performance the Buckeyes have put on the field all year. Ohio State finally did not play down to its competition, although you have to go a long way down these power rankings to reach Illinois. With so many other undefeated teams, Ohio State will likely not win an AP National Championship.
But who cares, when you have a coach who only knows how to win and produce greatness out of his teams. With the talent rolling into Columbus in droves, it could be a long time before anyone truly challenges for this top spot in the power rankings for a long period against the Buckeyes.
------
Thanks for reading! Please follow David on Twitter, and keep the discussion going there and below!