South Carolina Football: 5 Keys to the Game vs. Arkansas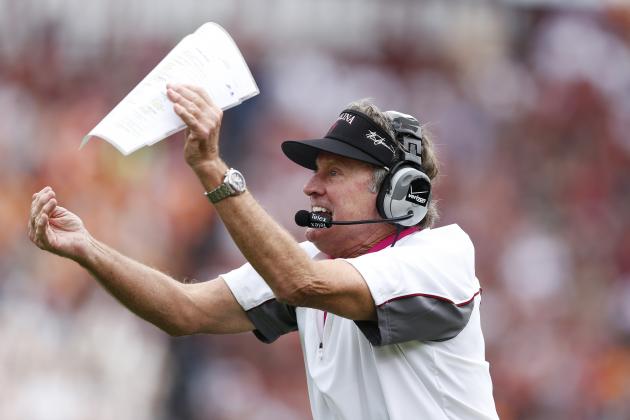 Joe Robbins/Getty Images

While South Carolina was eliminated from SEC championship contention with a Florida victory last week, there is still no shortage of goals for this team.
Remaining unbeaten at home for the first time since 1987 is one of those goals.
A victory against Arkansas this weekend would all but make that goal a reality, with only Wofford remaining on the home slate.
This is bound to be an emotional affair, it being the first game since Marcus Lattimore's horrific knee injury two weeks ago.
Let's take a closer look at some keys to the game.
Begin Slideshow

»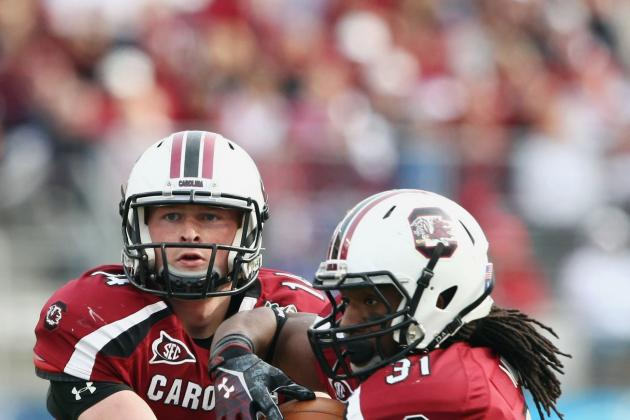 Douglas Jones-US PRESSWIRE

There is a common misconception surrounding many Gamecock fan circles that Spurrier's commitment to the run has continued into this year.
Seemingly, that would make sense when you have a running back like Marcus Lattimore handling carries.
Since No. 21 will no longer be able to contribute on the field, however, the burden falls to fifth-year senior Kenny Miles and true freshman Mike Davis.
The thing is, even before the Lattimore injury, South Carolina was not exactly setting records with their running game.
Heading into this weekend's matchup against the Razorbacks, the Gamecocks are averaging 145.1 rushing yards per contest. That's good for 10th among SEC programs and 82nd nationally.
If the offense hopes to prevent becoming one-dimensional, it's pivotal for Miles and Davis to prove they can handle the load out of the backfield.
Not such an easy task when facing the SEC's fifth-ranked run defense.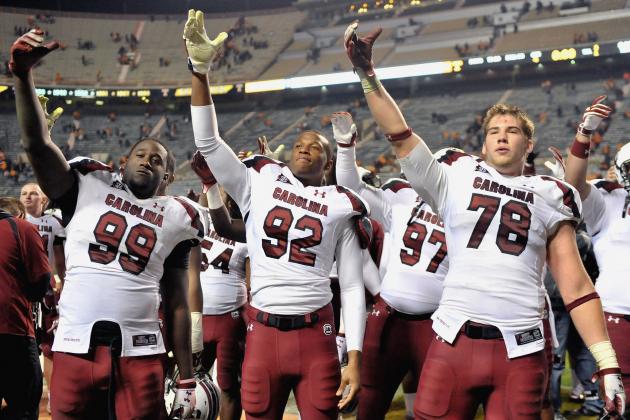 Jim Brown-US PRESSWIRE

The season-long anchor to this team has irrefutably been the strength of the defensive line.
Yet after a few troublesome injuries, the Gamecocks were left scrambling often times against the Vols.
Tim Hill of ABC-Columbia reported this week that the nagging foot injury that has plagued superstar defensive end Jadaveon Clowney may require offseason surgery.
While Clowney's playing status for the rest of the year isn't currently in doubt, the news that the Gamecocks' best defensive tackle, Kelcy Quarles, will return this week has to be a relief to fans.
Fifth-year senior defensive tackle Byron Jerideau has also been dealing with an ankle injury, but should be able to suit up against the Razorbacks.
Arkansas has been able to beat the Gamecocks the past three years by dominating the line of scrimmage.
While South Carolina has never had a defensive line this talented, it'll have its work cut out for it with a massive Arkansas offensive line.
The smallest lineman that will be protecting quarterback Tyler Wilson weighs in at over 300 pounds while standing 6'4".
Overcoming nagging injuries on the front four will be crucial to the Gamecocks' success.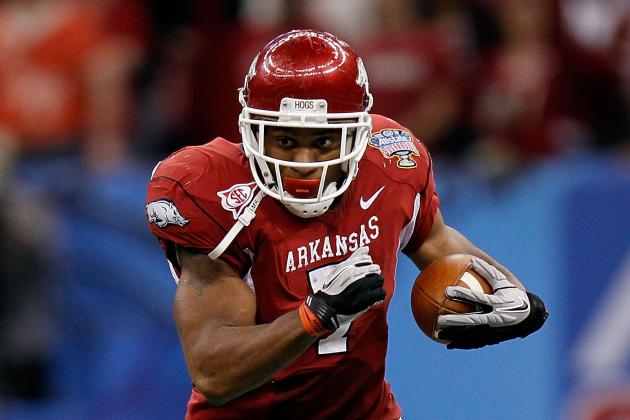 Kevin C. Cox/Getty Images

Once upon a time, Arkansas running back Knile Davis rivaled Marcus Lattimore for the crown of the SEC's most dominant running back.
Two years and a broken ankle later, he's no longer the leading back on his team.
Still, the combination of the talented Davis along with senior Dennis Johnson is nothing to snub your nose at.
When you consider that the team's fifth-leading tackler in Holloman may be moved to free safety for this game, the proposition of the Razorbacks catching the Gamecocks napping doesn't seem so unreasonable.
While the Arkansas running game has put up paltry numbers so far this season, shutting down the running game will go a long way towards securing a South Carolina victory.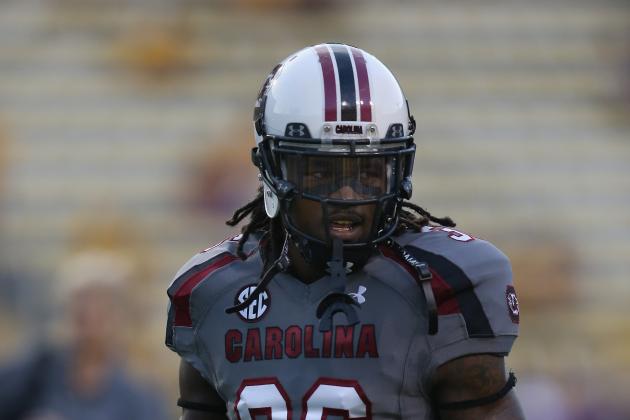 Ronald Martinez/Getty Images

No single unit has taken more heat in lieu of the Tennessee game than the South Carolina secondary.
After giving up almost 400 yards through the air against the Vols, GamecockCentral.com's David Cloninger has reported that the coaching staff may be considering mixing things up.
Once considered a prime candidate for the team's 2012 breakout player, junior cornerback Jimmy Legree may be benched in favor of starting free safety D.J. Swearinger following a rough outing against Tennessee.
If Swearinger moves to corner, expect DeVonte Holloman to drop back to safety from his "Spur" line backing position.
Regardless of what personnel moves the staff makes, the Gamecocks defensive backfield better come prepared, as they look to slow down the SEC's third-best passing attack (305 ypg).
Arkansas receiver Cobi Hamilton averages almost 120 receiving yards per game and leads the conference in both receptions (69) and yards (1,077).
South Carolina receiver/punt returner Ace Sanders has been electric this year, averaging over 15 yards per return, including a touchdown.
While the punt return unit has been a rare bright spot for the Gamecocks special teams unit, Arkansas ranks among the bottom of the conference in the same category.
Kickoffs are a different story entirely.
Arkansas place kicker Zach Hocker has caused a touchback on a whopping 72 percent of all kickoffs.
South Carolina, on the other hand, boasts the conference's worst net kickoff yardage.
With an offense that's reportedly predicated off long sustained drives, the Gamecocks' field position could be a key factor in deciding the outcome of Saturday's game.