College Football Week 11 Betting Picks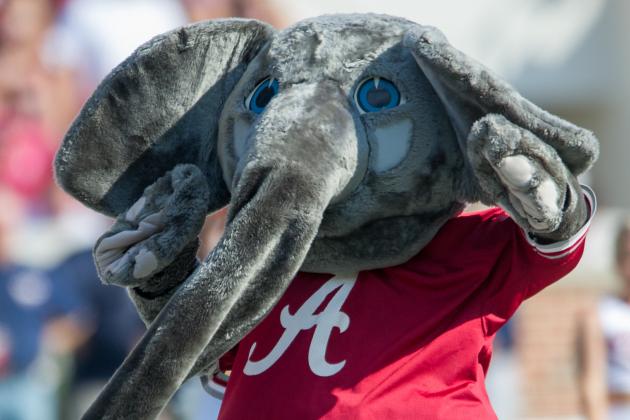 Michael Chang/Getty Images
All smiles in Alabama, as they are still ranked number one in the country. A tough task is ahead of them against a battle tested Texas A&M team. Who's going to cover this weeks showdown. 'BAMA or A&M?
Happy Thursday folks. It is Week 11 of the college football season. This year has surely gone by fast. What a year for college football fans. Last week my picks went 2-1, boosts my overall record to 21-14 on the year.
Before we jump into my Week 11 picks, let's rewind and review Week 10.
In the spirit of Halloween, I wanted to pick games with something holiday related. I decided to pick three games involving the Blue Devils (Clemson vs. Duke), the Sun Devils (Arizona State vs Oregon State) and a scary place called "Death Valley" (home of the LSU Tigers, Alabama vs. LSU).
For the first game, I told you that Tajh Boyd of the Clemson Tigers won't fear the Blue Devils and cruise on to an easy win and cover and that they did. Clemson pounded Duke for 718 yards (379 passing and 339 rushing) en route to their 56-20 beat down against Duke. Boyd threw for 344 yards with five touchdowns and ran for 72 yards and one touchdown.
The second game didn't fare to well on our part. I said to take ASU to cover against a decent Beavers team. Sadly, Cody Vaz and Oregon State had other plans. At halftime the two teams we're locked in a 19-19 tie, but the second half OSU came out to play. The Beavers scored 17 unanswered before Marion Grice of ASU caught a two yard pass from Taylor Kelly with 0:22 seconds left in the game. ASU failed to cover and lost 36-26.
The weekly Game of the Week featured, yet again, another BCS implicated SEC game. This time Alabama traveled to the feared Death Valley of Louisiana, when they took on the LSU Tigers. I said that I expected another repeat of the 2011 regular season showdown, which LSU won 9-6 and folks that is what we received last Saturday. The game was at 17-14 LSU when Alabama quarterback AJ McCarron stuck the dagger into the heart of Baton Rogue with a 28 yard touchdown pass with under a minute left in the fourth quarter en route to a 21-17 victory. LSU lost straight up, but covered the spread.
Here are my Week 11 picks, as always thank you for reading my picks (tell your friends) and best of luck! Let's keep the money train rolling.
2012 Record ATS
21-14 (9-2 Game of the Week Picks)
Week 10 Results
(My picks of week 10 are in bold)
No. 10 Clemson 56 Duke 20 (+13.5) Win
Arizona State 26 No.11 Oregon State 36 (-4) Loss
Game of the Week Pick
No.1 Alabama 21 No.7 LSU 17 (+9.5) Win
Begin Slideshow

»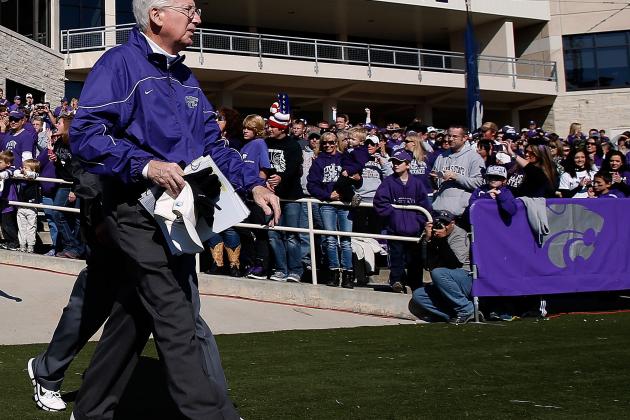 Jamie Squire/Getty Images

Date: Saturday, November 10
Time: 7:00 p.m. ET
Current Line: TCU +7
The Story: As the season dwindles down, Kansas State finds themselves undefeated sitting in third place in the FBS and a top contender for the BCS National Championship. Their season could be in jeopardy however due to Heisman Trophy candidate Collin Klein's head injury he sustained in last week's 44-30 victory against Oklahoma State.
The Wildcats will travel to Amon G. Carter in Fort Worth, Texas to take on Big 12 new comer TCU. Bill Snyder's "miracle 'cats" boasts the 41st best offense averaging 224.6 in rushing (18th) and 214.4 in passing yards (80th) per game. K-State also has the 34th best defense giving up an average of 99.8 rushing yards per game (9th) and 259.9 passing yards (91st).
TCU is relaying heavily on redshirt freshman quarterback Trevonne Boykin after the departure of Casey Pachall, who left school after a DUI charge on Oct. 4. Boykin has thrown for 1,376 yards and 13 touchdowns with seven picks as starter. TCU holds the 47th best offense and 35th best defense in the nation. In the Horned Frogs' last three games, TCU has gone 1-2 losing to Texas Tech 56-53 and Iowa State 37-23.
Recent Trends:
Kansas State is 7-1-1 ATS this season.
TCU is 4-5 ATS this season.
K-State is 2-0 in road games this season and 10-2 on the road in the last three seasons.
TCU is 2-2 this year at home and 8-7 in the last three seasons.
The Pick: I expect Klein to start on Saturday. With that being said, I believe that K-State will survive on the road against TCU and cover. The game will be a nail-biter until K-State pulls away in the fourth quarter.
Kansas State -7
Kansas State 38 TCU 24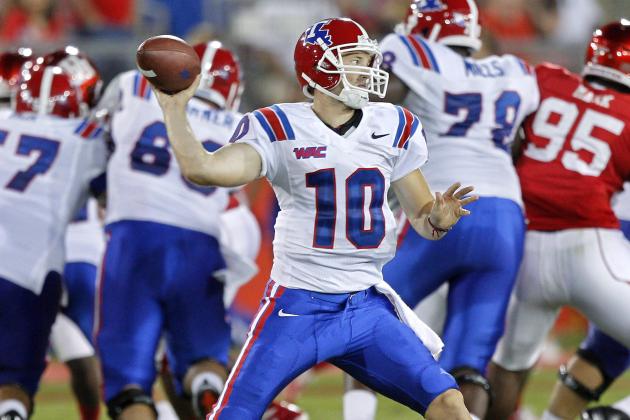 Bob Levey/Getty Images

Date: Saturday, November 10
Time: 7:00 p.m. ET
Current Line: Texas State +25
The Story: Louisiana Tech has been one of the pleasant surprises for the weak WAC conference sitting at 8-1 and ranked in the top 25 for the first time since 1999. The Bulldogs also have a good chance at obtaining a BCS Bowl bid, if they move up four to five spots in the BCS standings and finish above a champion from a BCS Conference and qualify under an at-large BCS berth from a non-automatic qualifying conference.
LT comes into this game with the third best offense in the FBS, averaging 239.1 rushing yards (12th) and 331.8 passing yards (7th) per game.
The Bulldogs are lead by their quarterback Colby Cameron, who should be looked at as a dark horse for the Heisman Trophy. Cameron has 2,946 passing yards with 24 touchdowns and zero interceptions.
Another part of the Bulldogs top ranked offense is running back Kenneth Dixon, who should also be in Heisman talks. Dixon has averaged 100.9 yards per game, gained a total of 908 yards this season with a total of 20 touchdowns.
The only flaw to the Bulldogs tremendous season has been their defense, which ranks 117th giving up 344.1 passing yards (116th) per game. Their lack of defense caused the Bulldogs to lose to SEC opponent Texas A&M on Oct. 13 59-57.
Texas State comes into this game wondering how much are they going to lose by? With the 105th best offense and 109th best defense, the Bulldogs figure to cruise to victory against FBS newcomer Texas State. Despite the Bulldogs terrible defense against the pass, Bobcats quarterback Shaun Rutherford figures to be the only focus on Louisiana Tech's scouting report.
Recent Trends:
Louisiana Tech is 5-3-1 this season ATS.
Texas State is 5-3 ATS this season.
LT is 12-4 on the road in the last three seasons, going 3-1 this year.
Texas State is 3-1 at home ATS this season.
The Pick: Louisiana Tech will win this game handily, but the only question is will they cover? With Texas State's defense being one of the worst in the FBS, I am confident in saying that Cameron and Dixon will add to their stats and the Bulldogs will destroy the Bobcats. Take Tech to cover.
Louisiana Tech -25
Louisiana Tech 52 Texas State 17
Ronald Martinez/Getty Images

Date: Saturday, November 10
Time: 3:30 p.m. ET
Current Line: Alabama -13.5
The Story: Texas A&M come into Bryant-Denny Stadium in Tuscaloosa, Alabama with a high octane offense and the chance to upset the number one team in the nation in the Crimson Tide of Alabama. This game will be Alabama's last real test of the 2012 regular season (before SEC Championship).
The Aggies average 44.7 points and 559.6 yards per game, which will be the best offense that Alabama's top ranked defense has taken on all season.
Texas A&M's offense is propelled by freshman quarterback Johnny "Mr. Football" Manziel. The freshman has had an unbelievable season so far. He's thrown for 2,527 yards, 16 touchdowns and six picks. What's even more amazing is his ability to run. Manziel has rushed for 922 yards (102.4 average per game) and 15 touchdowns.
The Aggies are ranked fifth in total offense and 46th in total defense. The key for the Aggies will be to get the offense fired up right away. If the Aggies and Manziel can exploit the 'Bama's defense early they can keep up and possibly beat the mighty Crimson Tide.
Alabama comes into this game with the 48th best offense lead by their quarterback AJ McCarron who's thrown for 1,849 yards with 19 touchdowns and zero interceptions. The story for this season's Crimson Tide is their defensive unit.
The unit is ranked second in the nation and hasn't allowed more than 17 points all season. The key for Alabama is to contain Manziel for the full 60 minutes of play. If they can eliminate Manziel, the Aggies will struggle to keep up with the Crimson Tide and Alabama should cruise on to a perfect regular season record.
Recent Trends:
Texas A&M is 5-4 ATS this season
Alabama is 5-4 ATS this season
Texas A&M is 0-2 ATS as an underdog, but 3-1 ATS this year on the road.
Alabama is 4-0 as a favorite of 10.5 to 21 points ATS this year and 9-2 in the last three seasons.
Alabama is 1-3 in home games this season.
The Pick: In what would be another exciting SEC match-up, I find it hard to pick any of these teams. The SEC is one of the most unpredictable crazy conferences in the NCAA. Alabama is bound to lose sometime, after all, their last loss came against LSU last October. I usually go with my gut and I believe that Texas A&M's offense will be able to keep the game close and I think will upset 'Bama. Take A&M to cover.
Texas A&M +13.5
Texas A&M 27 Alabama 24.
All lines are subject to change based on the line movement. All lines are from ScoresandOdds.com.
Follow me on Twitter @SMcDermott29