Ohio State Football: 10 Crazy Stats from 10 Crazy Weeks of Football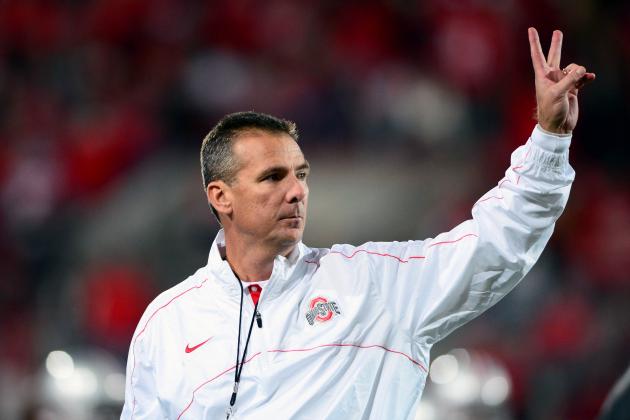 Andrew Weber-US PRESSWIRE
Urban Meyer says there are two to go.
Take a deep breath, Buckeye fans; it's been quite a ride for the past 10 weeks. The Buckeyes have done just about everything, good and bad, except lose. Urban Meyer and the team knows there are two tough games ahead before the Buckeyes can celebrate, but this bye week leaves us plenty of time to look back on what this football season has brought us thus far.
When Meyer took over in Columbus, fans expected to win and expected an explosive and entertaining team; through a 10-0 start, that is exactly what we have gotten. The Buckeyes are the only 10-win team in the country—with the bye week and the other undefeateds unlikely to lose, it will be the last week the Buckeyes get to claim the best record in college football by themselves.
But while that stat may no longer be true, there are several stats that have me shaking my head and several others that could soon be a reality.
Stats from Ohio State's history came from here.
Begin Slideshow

»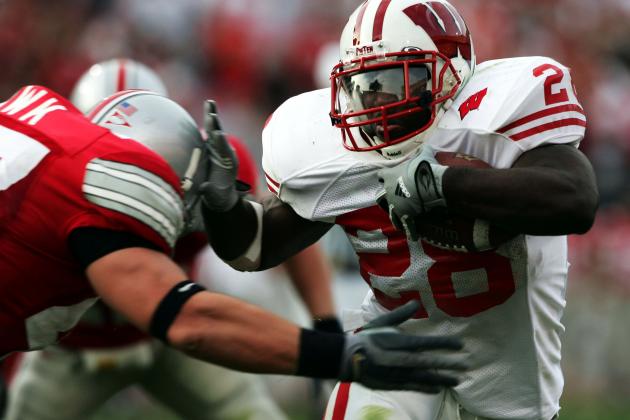 Andy Lyons/Getty Images
Wisconsin's former RB Anthony Davis helped the Badgers defeat A.J. Hawk and Ohio State two straight seasons.
On that day Wisconsin beat Ohio State 24-13, making it the Badgers' second win in a row against Ohio State. Since then, Ohio State has gone 56-12 in conference play and hasn't lost consecutive games to a conference foe.
This season, Ohio State has had the chance to avenge four of the five conference losses it suffered last season. The Buckeyes defeated Michigan State and Nebraska in back-to-back weeks and then did the same with Purdue and Penn State. Now, they only have one more score to settle, and it's the biggest one of them all: the Michigan Wolverines.
Ohio State's record against Big Ten opponents since Oct. 9, 2004.
Illinois—7-1*
Indiana—7-0*
Iowa—4-1*
Michigan—7-1*
Michigan State—6-1
Minnesota—6-0*
Nebraska—1-1
Northwestern—4-0
Penn State—6-3*
Purdue—4-3*
Wisconsin—4-1
Total—56-12*
*2010's vacated wins counted.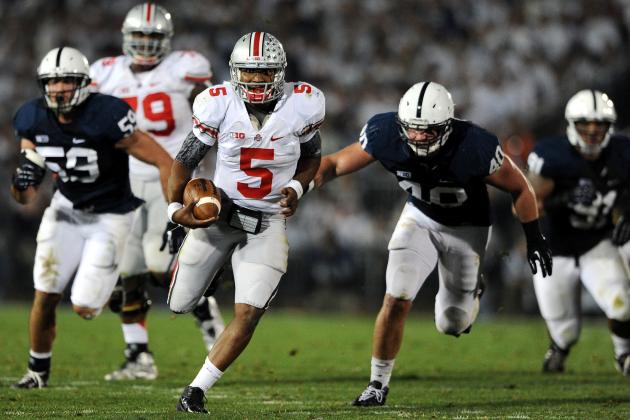 Patrick Smith/Getty Images

In the third quarter against Penn State, Braxton Miller broke through the line on a triple option, cut off a Rod Smith block and burst up the right sideline for 33 yards. That play did more than just spark a slumbering Buckeye offense to a 35-23 win over Penn State, it pushed Miller over the 1,000-yard plateau on the ground—Miller is seventh in the nation with 1,166 yards thus far.
Until that run, the best rushing season from an Urban Meyer-coached player was the 976-yard season Utah running back Brandon Warfield had in 2003. Miller also became the 27th Buckeye to rush for 1,000 yards in a season, the first QB ever and the first 1,000-yard rusher to not have their yards stripped by the NCAA since Chris "Beanie" Wells rushed for 1,197 in his injury-plagued junior season.
Daniel "Boom" Herron rushed for 1,196 yards in 2010, but had his stats stripped as a part of Ohio State's sanctions.
With "Beanie" and "Boom," what is Braxton's nickname?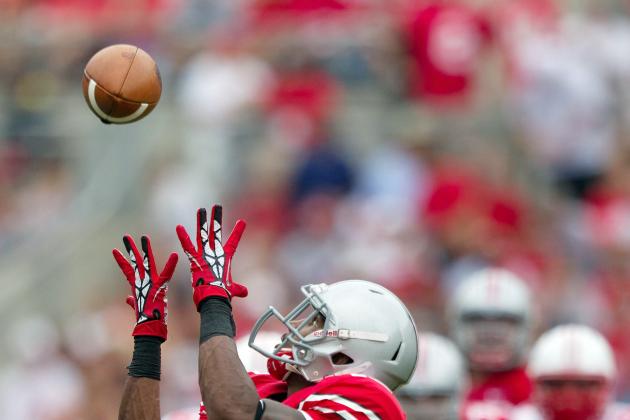 Rob Leifheit-US PRESSWIRE
Corey Brown is leading Ohio State's growing passing attack.
I'll be honest; this section has a lot more to do with the ineptitude of the offense last season than it does the successes of this season. In 2011, Ohio State was led in receptions by Corey "Philly" Brown, Devin Smith and Jake Stoneburner, all of which had 14 receptions. Smith led the team in yards with 294 and Stoneburner in TD's with seven.
This season, Brown is on pace to quadruple his number of receptions sitting at 48 and has nearly doubled the number of yards Smith led the team with last season, with 526.
Smith has also surpassed last season's team highs with 24 receptions 514 yards. Smith is once again the big-play threat for the Buckeyes; the sophomore is averaging over 20 yards a reception for the second straight season. He also leads the team with six TD's through the air.
The passing game still needs work, but it is improving, and of the 13 players with receptions this season, 11 will be back. Stoneburner will graduate, as will former fullback Zach Boren, who has switched to defense.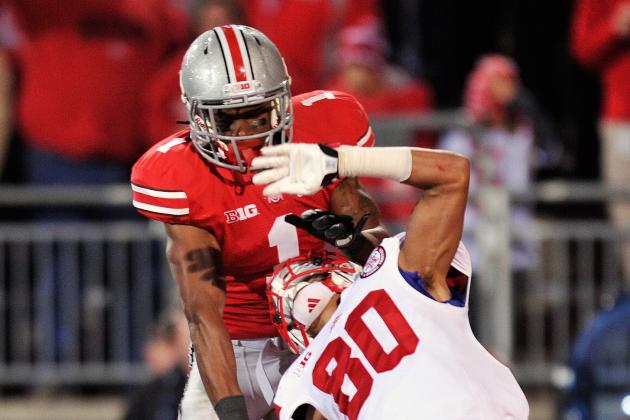 Jamie Sabau/Getty Images
Bradley Roby knocking the ball out of receivers' hands has become commonplace in the Buckeye secondary.
Pass-Breakups, or PBU's, are not an extremely popular stat, but if you watch a guy like Ohio State's Bradley Roby continuously knock balls out of receivers' hands, it becomes pretty entertaining to count. The Big Ten's website has Roby listed with 16 PBU's and two interceptions for a total of 18 passes defended. But I'm pretty sure he had 18 passes defending against Penn State alone.
OK, I'm exaggerating, but in Urban Meyer's press conference the Monday after the Penn State game, he said he had never seen one of his players get his hand on as many passes as Roby did. The Penn State game was not an aberration. Roby has been extremely consistent for a defense, especially a secondary, that has not been consistent this season.
Roby has also managed to score three TD's for the Buckeyes, two off of blocked punts, along with a pick-six against Nebraska.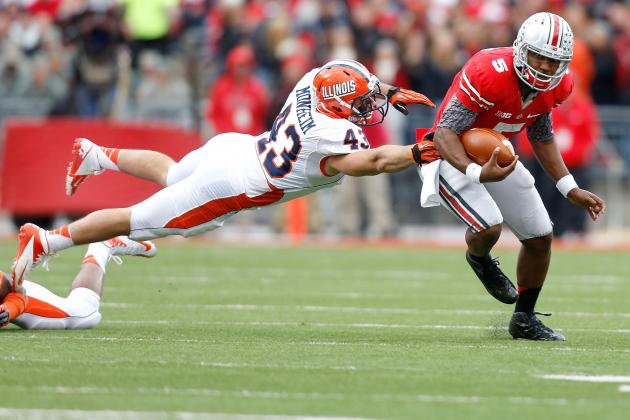 Kirk Irwin/Getty Images
Illinois tried everything, but no one has figured out how to stop Braxton Miller for four quarters.
No, this is not about the way Braxton Miller consistently embarrasses defenders in the open field. On a side note, though, did anyone else notice he was openly laughing after he put the moves on the Illinois defense?
Miller has thrown for 1,753 yards and rushed for 1,166 yards, which puts him at 2,919 yards on the season. That leaves Miller 328 yards behind Joe Germaine, who produced 3,247 yards in 1998 and 371 yards behind the all-time single-season total offense leader Bobby Hoying, who amassed 3,290 yards in 1995.
Miller is averaging 291 total yards a game, and if he matches that for his final two games, he will finish the season with 3,503 yards, a school record.
Miller leads Nebraska's Taylor Martinez by 2.2 yards per game for the Big Ten lead.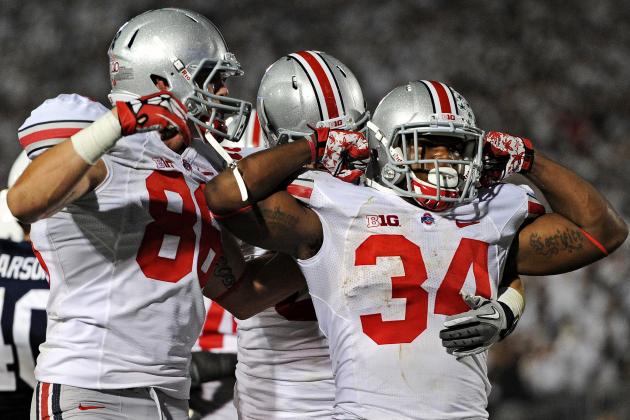 Patrick Smith/Getty Images

Carlos Hyde, a junior from Florida, has really come on for Ohio State of late. In the last five weeks, Hyde has lightened the load on Braxton Miller by becoming the team's between-the-tackles workhorse.
Hyde's 109 carries and 579 yards in the last five games have Buckeye fans thinking it is possible to get Urban Meyer's second 1,000-yard rusher of his career and season.
Hyde was injured early in the UCF game and missed the games against Cal and UAB, so his run towards 1,000 yards didn't look possible. But with two games left and 737 yards, Hyde needs 131.5 yards per game to reach the mark.
The bad news is, Wisconsin is the second-toughest team to run against in the Big Ten—behind Ohio State—and Michigan is the sixth-stingiest run defense.
Hyde is averaging 5.1 yards a carry and consistently falls forward, but without increasing his big plays—only five runs of 20 or more yards and a long of 29—getting 263 yards will be tough.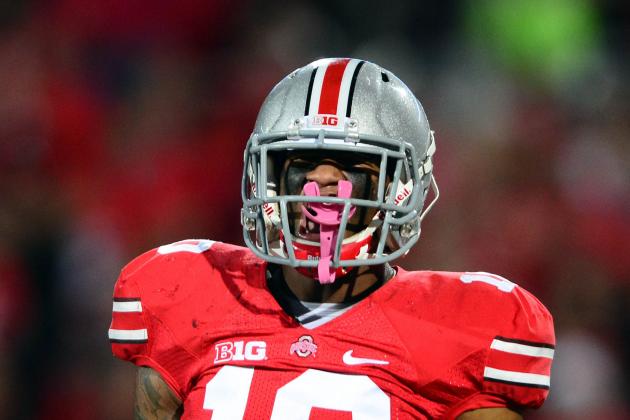 Andrew Weber-US PRESSWIRE

Ryan Shazier is leading the Buckeye defense with 98 tackles this season and has without a doubt been one of the biggest keys. It is not a coincidence that Shazier's best three games of the season have happened in last three games and the Buckeyes defense once again feared.
Shazier has always played fast and had the talent, but too often early in the season, he flew by ball-carriers instead of tackling them. I don't know if it has anything to do with Zach Boren settling Shazier and the rest of the defense down of if the light just came on for this speedy linebacker.
Whatever the case may be, Shazier is two tackles away from 100 and can become just the seventh Ohio State sophomore to reach the 100-tackle mark. The list he will join is rather impressive, with names like James Laurinaitis, A.J. Hawk, Chris Spielman, Steve Tovar, Marcus Marek and Tom Cousineau.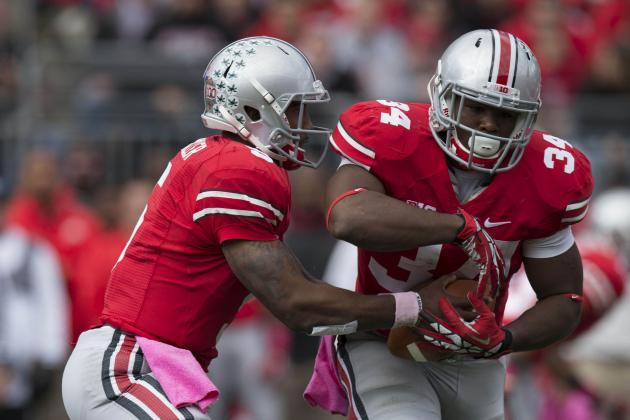 Greg Bartram-US PRESSWIRE
Braxton Miller and Carlos Hyde are giving d-coordinator's nightmares.
In Ohio State history, there have been 44 instances where two or more Buckeye players have rushed for 100 yards in a game. Braxton Miller and Carlos Hyde have accomplished that feat twice this season. But only four times had the same two teammates reached 100 yards in the same game twice in the same season.
In 1975, Archie Griffin and Pete Johnson both reached the 100-yard mark in the same game four times. In '74, Griffin's 100-yard performances were matched twice by Cornelius Greene. The feat was also accomplished twice in '89 and '43 by Carlos Snow and Scottie Graham and Dean Sensenbaugher and Ernest Parks, respectively.
Hyde and Miller have two more chances to become only the second pair of Buckeye backs to accomplish the feat three or maybe four times before this season ends.
The two have also rushed for a combined 26 TD's—13 each.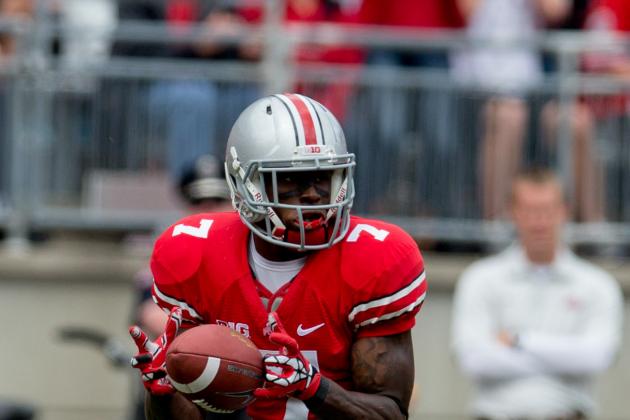 Greg Bartram-US PRESSWIRE
Travis Howard is tied for the Big Ten lead in INT's.
It's no secret Ohio State's defense has been downright horrible at times, although that is improving. One sign of a good coaching staff is that when a team shows ineptitude in an area of the game, it quickly improves. For example, Cal ran all over Ohio State in the third game of the year. Fast forward to now, and Ohio State leads the Big Ten in rush defense.
Likewise, the Buckeyes struggled to get pressure on passers; they are now tied for third in the Big Ten in sacks.
However, the Buckeyes pass defense has never completely come around. Sure, big pass plays have been cut down a bit since Miami (Oh.), Indiana and Purdue victimized the Buckeyes secondary and Ohio State has moved out of 12th in the conference in pass defense—after holding Illinois under 100 yards, the Buckeyes are 11th.
Despite the huge number of yards Ohio State gives up through the air—260 yards a game—the Buckeyes are sixth in the conference in pass efficiency defense. How is that, you ask?
The Buckeyes lead the conference with 13 interceptions while allowing 13 TD's through the air. That number could be a lot higher if the likes of Christian Bryant and Ryan Shazier held on to a few more of their PBU's. Both are top 10 in the conference in PBU's, but have a combined two interceptions.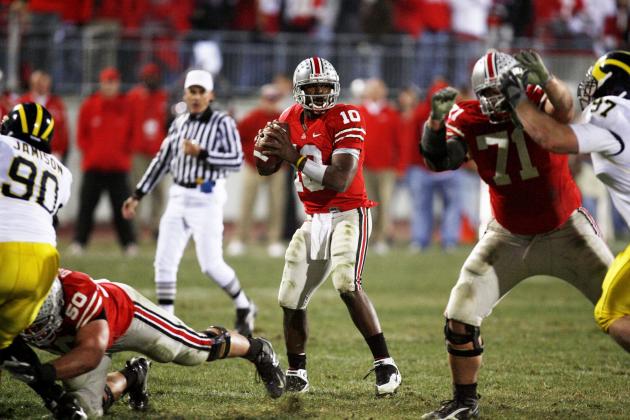 Gregory Shamus/Getty Images
Troy Smith and Ohio State capped off their undefeated run through the Big Ten with a win over #2 Michigan.
There are two more games left against two of the better teams on Ohio State's schedule, so I don't want to get too far ahead of reality, but undefeated seasons are rare, especially in the Big Ten.
Ohio State has had nine undefeated seasons, but in three of those seasons, it had a tie, so in over 120 years of football, it has had six unbeaten and untied seasons. That's one every 20-plus years.
The Big Ten hasn't had a team finish the regular season undefeated since 2006, when Ohio State did it. The conference hasn't had a team go undefeated for a whole season since 2002, when the Buckeyes went 14-0 and won the National Championship.
Almost as rare is an undefeated conference run. Since 2000, only three teams have gone 8-0 in conference play, the 2002 and 2006 Ohio State teams and the 2002 Iowa Hawkeyes.