Joker Phillips and the Worst College Football Coaching Hires of Last 5 Years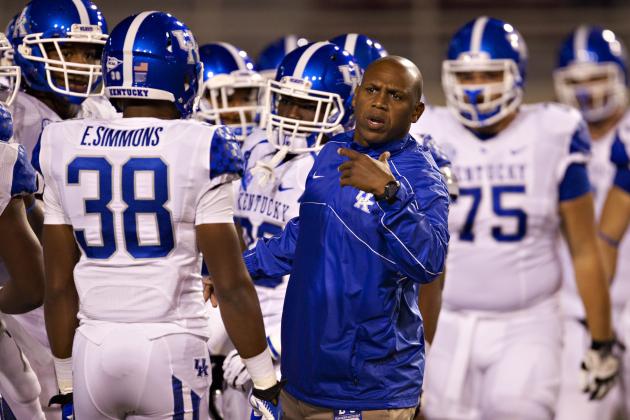 Wesley Hitt/Getty Images

The coaching carousel is getting cranked up with coaching vacancies already opening this year. Joker Phillips is the latest victim of coaching termination, but it shouldn't be a shock.
Phillips is now the perfect picture of how bad some college coaching hires have been in the past five years. A number of teams are not only losing, but they are falling faster than the laws of physics should allow.
Coaching changes happen constantly in college football, but this season, there are a number of key programs that could be looking for new leaders.
These 10 coaches have been the worst hires in the past five years.
Begin Slideshow

»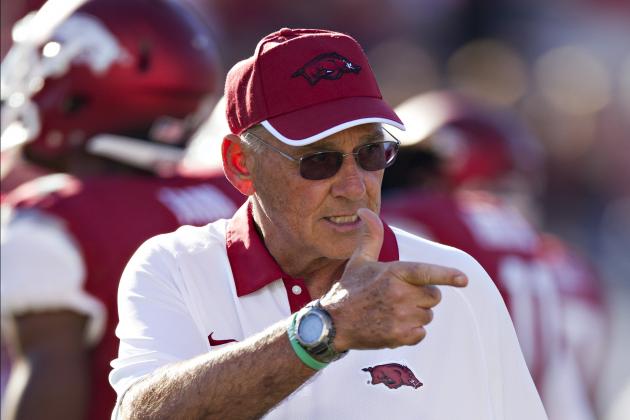 Wesley Hitt/Getty Images

Just smile folks, or John L. may not talk to you.
In all seriousness, this was no doubt the worst hire that Arkansas could have possibly made after the departure of Bobby Petrino. The Razorbacks had SEC and national title hopes entering the year, but a loss to Louisiana-Monroe quickly shattered those dreams.
In one season, Smith has taken a 10-win program and turned it into a four-to-five-win squad so far in 2012. There is no confusion as to whether he will return, but losing the next three games will seal his fate in Arkansas.
It wasn't as if this was supposed to be a good hire, and that may be the most frustrating part of it for Razorbacks fans. Arkansas decided to punt the 2012 season in hopes of finding a big name coach.
After this year, it may not be that easy.
The Razorbacks still face South Carolina, Mississippi State and LSU—all three are Top 25 teams. Arkansas has a long three weeks ahead and an even longer climb back to relevance.
Making the right hire in the offseason is crucial to this program finding the top of the SEC West again soon.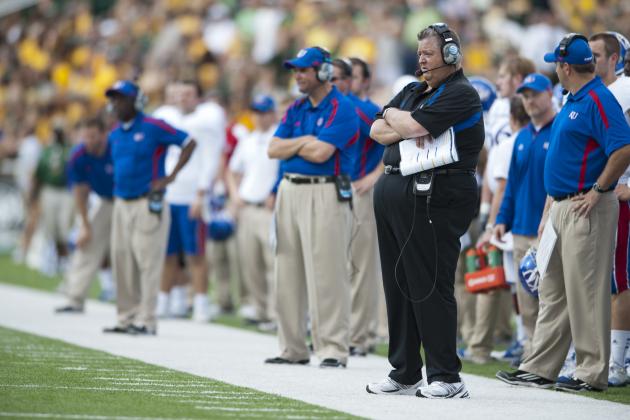 Cooper Neill/Getty Images

Kansas showed its commitment to basketball when it hired Charlie Weis as the head football coach this past offseason.
This was as bad a decision as firing Mark Mangino.
Weis was hired away from Florida, where he was serving as the offensive coordinator for the Gators in 2011.
Weis has danced with head coaching once before, serving four years as the head man at Notre Dame. After taking the Irish to two-straight BCS berths—both ending in losses—Weis could not find a winning season.
In his last three years at Notre Dame, Weis went 15-21, with his worst season coming in 2006 in form of a 3-9 campaign. Weis was able to recruit well for the Irish, finishing in the Top 15 in his final three seasons with the school, but he couldn't translate that talent into wins.
So far in Kansas, the woes have continued.
Weis' team is No. 116 in scoring offense and No. 98 in total offense. The Jayhawks have only one win this season and that came against South Dakota State to start the year.
Nothing about this hire screams success for the Jayhawks.
Lawrence is still a basketball town.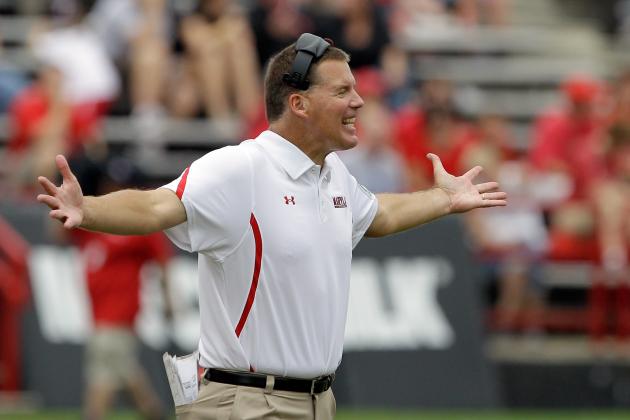 Rob Carr/Getty Images

How far will this Maryland team fall before a change is made at the top?
Randy Edsall was hired away from Connecticut after 2010, when the Huskies finished with a Fiesta Bowl berth.
Edsall was a rising star on the coaching trail, becoming the winningest coach in UConn history during his tenure.
Since arriving at Maryland, his stock has plummeted.
In his first season, the Terrapins were a 2-10 team. This year, they are clawing for a bowl berth, currently sitting at the 4-5 mark.
With a seven-figure salary on his contract, Edsall needs to start winning soon. He will be given one more year, but this is a school that fired alumni Ralph Friedgen after going 75-50 and 5-2 in bowl games.
The clock is ticking on Edsall, and after this implosion in Maryland, he will have a tough time finding another top-level job.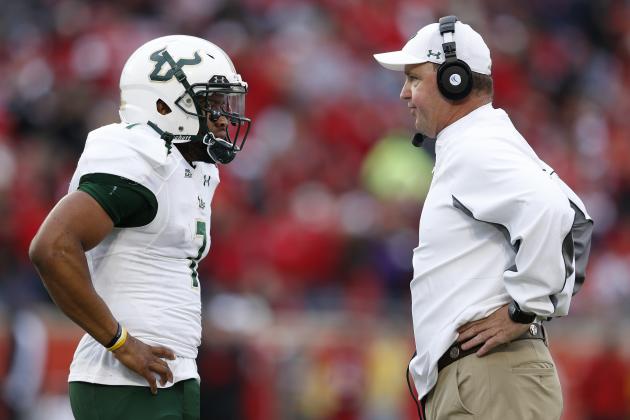 Joe Robbins/Getty Images

Skip Holtz was handed one of the most talented programs in the Big East in 2010, and in three short seasons has made this team one of the worst in the conference.
Jim Leavitt built the South Florida program from the ground up, introducing this school into FBS competition in four short years after program inception.
Leavitt only had two losing seasons with the school—Holtz already has two in three years.
This was an established school in the Big East conversation three years ago, but now it is looking up from the bottom of the conference. This team lost six straight games before beating fellow conference bottom-feeder UConn this past Saturday.
Holtz's time in Tampa appears to be wearing thin as this program has been driven far from the beaten path laid by Leavitt a decade ago.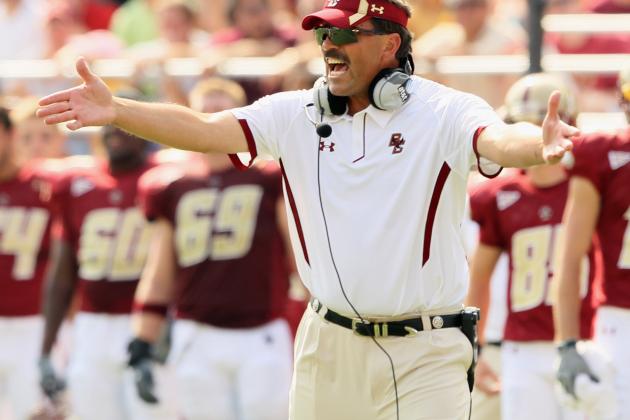 Elsa/Getty Images

Boston College was a rising star in the ACC during the early 2000's with coach Jeff Jagodzinski.
After leading the Golden Eagles to consecutive ACC Championship game appearances, Jagodzinksi was fired after discussing the head coaching vacancy with the New York Jets.
The Golden Eagles administration is kicking rocks for that decision now.
Boston College promoted defensive coordinator Frank Spaziani to head coach in 2009, and this team has been falling on its face ever since.
In his first two seasons, Spaziani was able to guide Boston College to two-consecutive bowl berths, but the Golden Eagles lost both, finishing the 2009 season 8-5 and the 2010 season 7-6.
Since then, Spaziani has lost 15 games.
This squad currently sits at 2-7 and is well on its way to a devastatingly bad season.
There doesn't appear to be a bright future ahead for Frank Spaziani in Boston.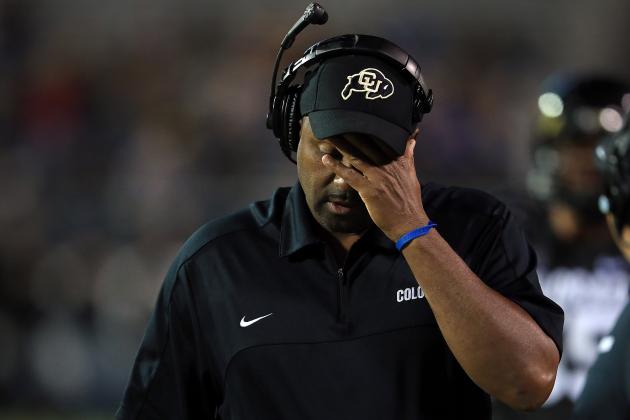 Doug Pensinger/Getty Images

Colorado is possibly the worst team in any major conference in college football.
The Buffaloes are getting destroyed every weekend, but they did find a win against Washington State.
This Buffaloes team is the worst in points allowed, allowing an average of 46.2 points a game to be scored against them.
They are ranked No. 122 in points scored, making matters even worse.
History says this should not be happening in Colorado. This is the No. 16 all-time winningest program in college football history.
This season, they are 1-8.
Since taking over the program, Jon Embree is 4-18.
It seems like it may be the time for this program to begin hunting for a new coach. Embree was a tight ends coach in the NFL before receiving the job, and it shows that he was a bit over his head.
Dan Hawkins did no favors for this program, but neither has Embree.
It is time to move on in Boulder.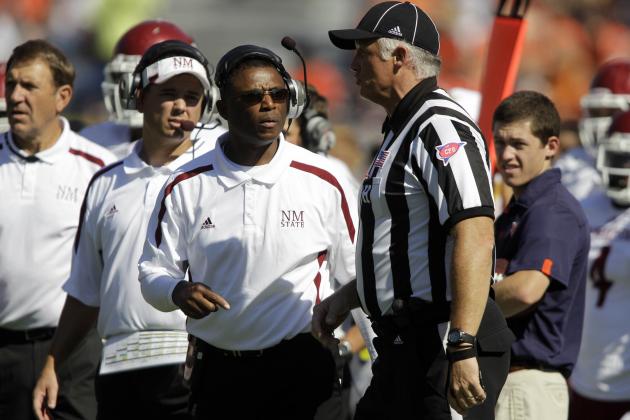 John Reed-US PRESSWIRE

DeWayne Walker was hired at New Mexico State before the 2009 season.
Since then, the Aggies have gone 10-37.
New Mexico State isn't a powerhouse in college football, but they have to find some wins soon or Walker will be gone.
The Aggies are a WAC school and have no excuse for being this bad. Louisiana Tech and Utah State are established FBS programs, but UTSA and Texas State are new to bowl level competition.
At this point, there is no foreseeable positive future with Walker leading this team.
New Mexico State needs to rip the Band-Aid now and make things easier.
It is time to start the coaching search.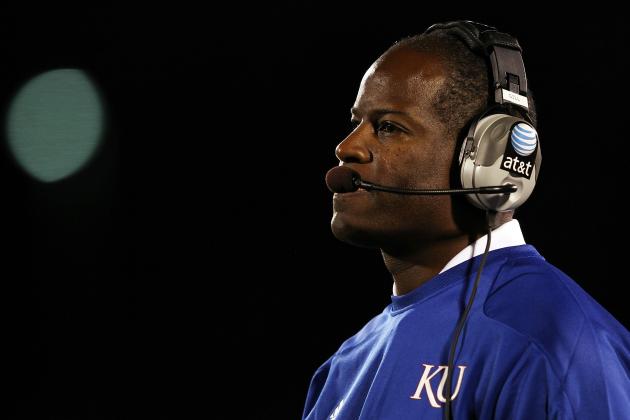 Jamie Squire/Getty Images

Turner Gill was hired by the Kansas Jayhawks in 2010 after leading Buffalo from the bottom of the MAC to the championship game, where the Bulls defeated Ball State in upset fashion, 42-24.
Gill interviewed for the open Auburn job during the 2008 season.
Auburn alumni Charles Barkley blamed race on Gill losing out to Gene Chizik, but after a 2009 season that saw Auburn finish 8-5, the Chizik hire looked good.
Gill led Buffalo to a 5-7 year that same season.
After Mark Mangino left Kansas in 2009, the Jayhawks came calling to Gill. He was hired and brought high expectations to Lawrence after his turnaround in Buffalo.
After going 5-19 in two seasons, Gill was fired by Kansas.
He now coaches the Liberty Flames.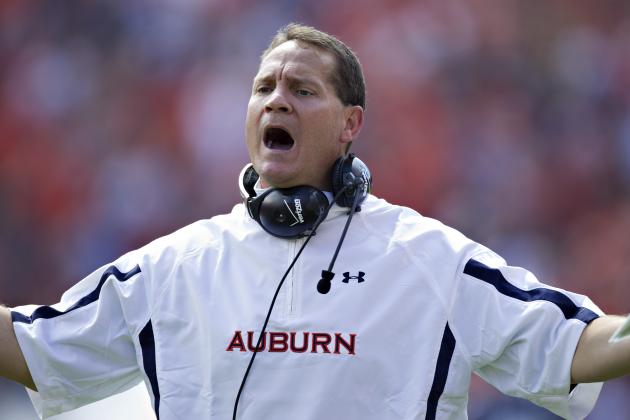 Wesley Hitt/Getty Images

Gene Chizik landed his "dream job" after a 5-19 tenure at Iowa State.
In 2008, Auburn courted "Mean Gene" and made him the Tigers head football coach after Tommy Tuberville resigned, or was fired—whatever you call those strange departure scenarios in college coaching.
Chizik took his first year by storm, finishing 8-5 with a big bowl victory in the Outback Bowl.
After signing a huge recruiting class in February of 2010, Chizik guided a 28 senior strong roster to a national title. Cam Newton won the Heisman that season after breaking virtually every offensive record held at Auburn for a single season.
In 2011, the Tigers finished 8-5 again, but another Top Five recruiting class had fans looking ahead with high hopes to 2012 and beyond.
This season has brought absolute disaster and rumors of his firing are swirling.
He is now on the hot seat with one of the most talented rosters in college football.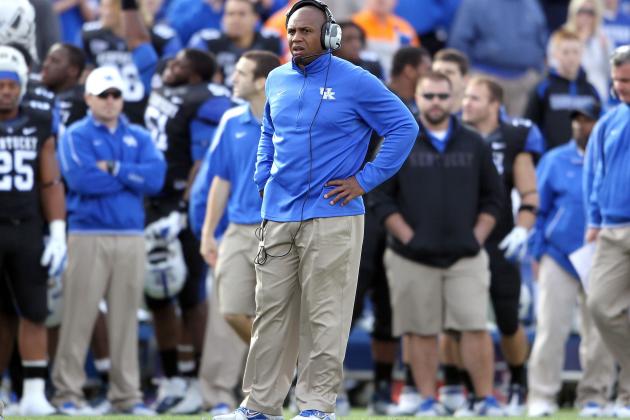 Andy Lyons/Getty Images

Joker Phillips was promoted by Kentucky in 2010 after Rich Brooks announced he was stepping down as head coach.
Phillips was the head coach of the offense and offensive coordinator prior to his promotion.
Since taking over the head spot, Phillips is 12-23 and it was announced recently that he has been fired as the Wildcats head coach after this season's disaster.
There was no sign of a turnaround in Kentucky and Phillips obviously saw the writing on the wall.
He was a great offensive mind but jumped in a little too deep with a program that will consistently be a bottom-dweller in the SEC.