Pac-12 Football: Oregon Ducks Will Race to BCS Title Despite Defensive Woes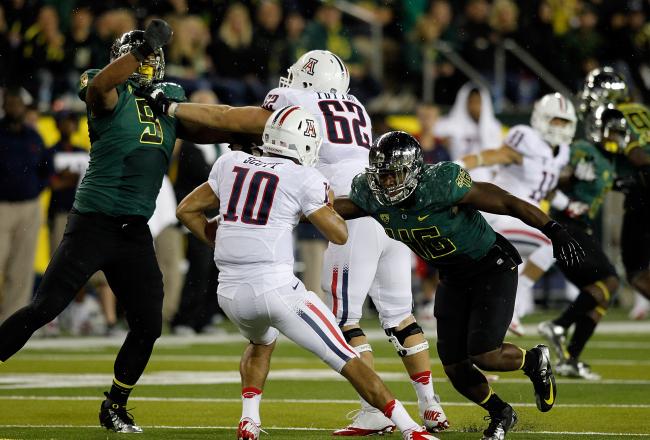 Arik Armstead and Michael Clay close in on a sack
Jonathan Ferrey/Getty Images
After last weekend's 62-51 victory over the USC Trojans, the Oregon Ducks were lauded for their explosive offensive play.
But chatter also started to occur about their defense, which had played pretty well up until the USC game.
Let's set the record straight, though. Not only was Oregon's performance on Saturday not indicative of how good their defense is, but it means absolutely nothing in the long run.
Does Oregon's defense stack up against Alabama's or Notre Dame's?
Absolutely not. But fans of the Tide and the Irish are kidding themselves if they think their team could hold the Trojans to less than 30 points if USC brought their A-game, as they did Saturday.
College Football has become more about perception than reality, and the perception about USC has been that they are an underachieving team with an overrated offense. Half of that is correct, because the Trojans have undoubtedly underachieved thus far.
But their offense has the capability to explode against anyone. Matt Barkley is as accurate as they come with time to throw, especially on deep passes.
And if there's a better receiving tandem than Marqise Lee and Robert Woods, I haven't seen it.
Lee may not win the Heisman trophy, but he's without a doubt the best all-around football player in the country. He would torch NFL defenses right now.
If you look at the score of Saturday's game, the 51 points can be slightly misleading.
The Trojans scored with just a second left on the clock, when the game was decided. They also hit two deep passes, one of which was a bit lucky considering two defenders were in position to make a play.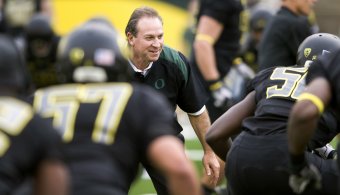 Defensive Coordinator Nick Aliotti leads the team during warmups
Steve Dykes/Getty Images
If you take away those scores, the Trojans have a total somewhere in the 30s, and this chatter about bad defense is absent.
Obviously the Ducks failed to make those plays, and that's on them. The point is that 51 could have just as easily been 38.
The same cannot be said for Oregon's 62 points. The Ducks failed to score on any touchdowns longer than 50 yards. They sustained long drives throughout the game and luck had nothing to do with it.
But back to the defense, where Oregon trots out future NFL'ers Dion Jordan, Kiko Alonso and Michael Clay at linebacker.
They lost All-American candidate John Boyett for the season, but safety Avery Patterson has filled in nicely. The D-line is more athletic than it has ever been.
Critics point to games against Arkansas State and Fresno State where the Ducks allowed 34 and 25 points. But the Ducks led the Red Wolves 50-3 before pulling their starters, and the game against the Bulldogs was 35-6 at halftime.
When the game is close, the Ducks have one of the best defenses in the country. A game that tends to escape conversation is Oregon's 49-0 win over the Arizona Wildcats, a solid offensive team in their own right.
Counting the USC game, the Ducks are still giving up just over 20 points a game. And when the offense is averaging nearly 55 a contest, the numbers seem less worrisome.
The main concern at this point is the health of the defensive line. Rob Moseley, a beat writer for the Register Guard, tweeted out that redshirting freshman Alex Balducci will likely be playing in upcoming games.
Is Oregon's defense good enough to carry them to a BCS Title?
But if Oregon can withstand the late-season injuries that are undoubtedly affecting everyone at this point, they'll take a strong defensive unit into the postseason.
The defense had a bad game against USC, there's no question about that. But this isn't West Virginia, and the Ducks proved that even when they are giving up a lot of points, they can outscore the opponent.
Unless they face a rematch in the Pac-12 title game, Oregon won't play a better offensive team than USC. Not Alabama or Kansas State. Certainly not Notre Dame.
And for those talking about how the Tide would slay the Ducks without batting an eye, didn't LSU just score 17 on Kirby Smart's immovable D? The same LSU that managed 12 against Auburn?
There's no argument here about how great the Crimson Tide's D is, but you can play the stats game all day long and come up with ways to make a team look bad.
Oregon's performance against USC was an outlier, but you still may not be convinced.
If that's the case, don't be surprised when Oregon bounces back with strong performances over the next three weeks.
This article is
What is the duplicate article?
Why is this article offensive?
Where is this article plagiarized from?
Why is this article poorly edited?

Oregon Ducks Football: Like this team?