Breaking Down 5-Star DEs Robert Nkemdiche vs. Carl Lawson: Who's Better?
247Sports.com
This 2013 recruiting class features several awesome DE prospects, but the top two are Robert Nkemdiche and Carl Lawson. One of the hottest growing debates we have in this recruiting cycle is that many are starting to whisper that Lawson may be better than Nkemdiche, who is the nation's No. 1 player and prospect.
Well, I'm here to finally and fully settle the dispute from a pure scouting perspective. I'm going to break these two excellent prospects down into several position-specific categories, and at the end of each breakdown, I'll list who has the advantage.
At the end, we will see who is the superior player and prospect. Let's get started.
Begin Slideshow

»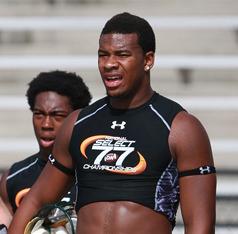 247Sports.com
Nkemdiche
Nkemdiche is one of the most physically impressive-looking players to ever come out in college football recruiting. He stands between 6'4" and 6'5" and weighs in the 270-pound range. He has the frame to carry an extra 15 pounds easily.
Lawson
Lawson is not as big as Nkemdiche is, as he stands 6'2" and weighs close to 255 pounds. His frame is still impressive, however, and he has very good potential for adding more bulk.
Advantage: Nkemdiche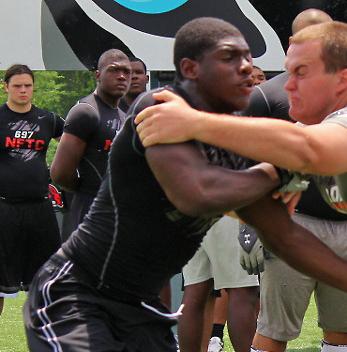 247Sports.com
Nkemdiche
To be as big as he is, Nkemdiche can wow you with snap quickness. He anticipates snap counts well and can fire out of his stance to really jump on top of blockers. He has the ability to get violent in a hurry; it is almost unfair to tackles trying to block him.
Lawson
The explosion and snap quickness that Lawson displays is rare. On tape, he usually is the first guy out of his stance; he fires out low and is a play-starter rather than a play-reactor. He surges off the ball to get upfield and into an opponent's backfield, down after down.
Advantage: Lawson
247Sports.com
Nkemdiche
Strength and power are the main traits of Nkemdiche's game. He can stack blocks by playing like a grown man at the point of attack. Nkemdiche shows the strength to fiercely shed blocks on the edges to clean himself up and make stops versus the run. He also has fantastic ball-locating skills.
Lawson
Thanks to his explosive snap quickness, Lawson can generate great force to strike a blocker, stack up with leverage and use solid strength shed with some violence to it. He doesn't always execute moves as cleanly as he should and can get tied up beating up his opponent rather than locating the ball. Yet Lawson does show great speed in pursuit.
Advantage: Nkemdiche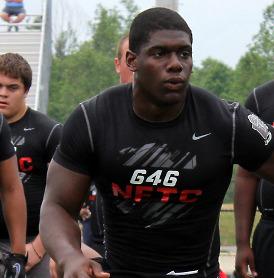 247Sports.com
Nkemdiche
At his size, not many show the movement skills Nkemdiche displays at times. He is fluid and agile, he can redirect well to pursue ball carriers and he has the speed to hawk down anybody from anywhere on the field. Nkemdiche also has a much-needed burst to finish when rushing the passer.
Lawson
Lawson is a very explosive athlete who is light on his feet. He shows great speed in long and short pursuit and can easily change direction to make a play. Lawson also has great burst and closing speed as a pass rusher and run defender.
Advantage: Lawson by a hair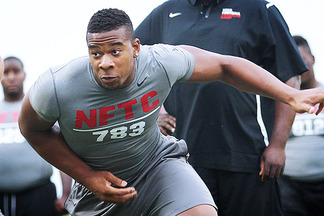 247Sports.com
Nkemdiche
Studying Nkemdiche on tape, it's obvious that he has heavy hands and can jolt a blocker back with a violent punch and strike. Not only are his hands heavy, but also they are quick, and they allow Nkemdiche to strike and get clean in a hurry. I would like to see him develop more sound technique and a better pass-rushing arsenal.
Lawson
Lawson can be quick and fierce with his hands. He has the ability to use his hands as weapons to punch, counter punch, strike, fight and clear away from blocks. I don't see him doing this as consistently as Nkemdiche does, however.
Advantage: Nkemdiche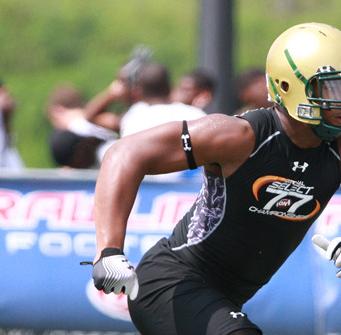 247Sports.com
Nkemdiche
The big man has the ability to play in various schemes and at various positions. Nkemdiche can play both SDE, WDE or DT in a 4-3 and OLB or 5-technique DE in a three-alignment. For good measure, Nkemdiche has played LB in passing tournaments and held his own. Versatility is not a problem with this guy at all.
Lawson
Lawson can play WDE in a 4-3 and some SDE there, too. I can also see him playing some sub-package DT and he has the athleticism to play OLB in a 3-4. He presents many options for being used defensively.
Advantage: Nkemdiche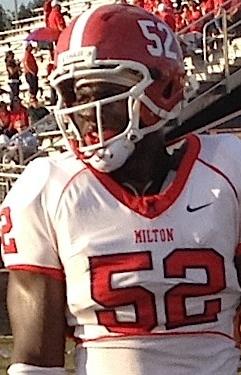 247Sports.com
If you run a scheme that requires your DE's to be speedy, tough and quick with some strength to combat the run then Lawson is your guy. He really reminds me a lot of Dwight Freeny of the Colts and would be a great fit for the scheme Indy ran with Tony Dungy.
But if you run a scheme that requires your DE's to be versatile, big, and very strong then Nkemdiche is your guy. He isn't as big as a Julius Peppers or Mario Williams but could be in their class like a Michael Strahan or DeMarcus Ware.
Edwin Weathersby has worked in scouting/player personnel departments for three professional football teams, including the New York Giants, Cleveland Browns and the Las Vegas Gladiators of the Arena League. He spent a year evaluating prep prospects and writing specific recruiting and scouting content articles for Student Sports Football (now ESPN Rise-HS). A syndicated scout and writer, he's also contributed to WeAreSC.com, GatorBait.net and Diamonds in the Rough Inc., a College Football and NFL Draft magazine.