9 College Football Teams That Should Be Relegated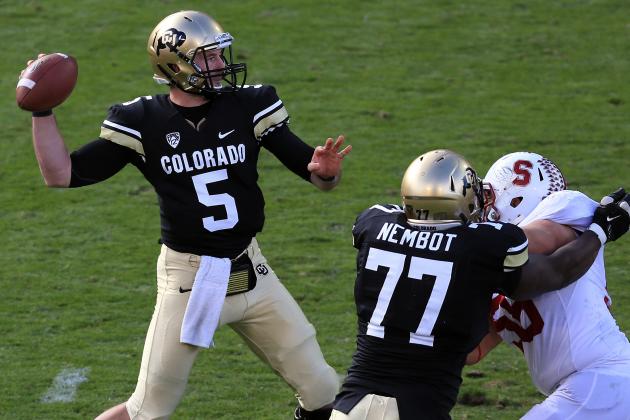 Doug Pensinger/Getty Images

Do you ever get the feeling that certain football programs are playing in the wrong division?
Have you ever noticed that some teams seem to finish every season with records like 2-10, 3-9 or even the dreaded 1-11?
This issue is obviously exasperated by the fact that the 124 member FBS (formerly Division I-A) are split unjustly between BCS conferences (the haves) and non-AQ leagues (the have-nots), which ultimately means not every team is on a level playing field.
Regardless of the current structure, there certainly are teams that just don't seem to be able to successfully compete in their current conference/divisional home.
The following slideshow highlights nine college football teams that currently call the FBS home but should perhaps be on the chopping block to move down a level—or in other words, be relegated.
The concept of relegation is used in the highest levels of European professional football (a.k.a. soccer) and means that clubs must reach certain relative levels of achievement to keep membership in the elite division of the sport.
Though the idea is a long way from crossing the water via the Nina, Pinta and Santa Maria, it's certainly intriguing to consider which teams would be subject to a move downwards and then, conversely, who would rise up from the FCS.
Begin Slideshow

»
Cooper Neill/Getty Images

Even though the Jayhawks went 12-1 and tied for first in the Big 12 North as recently as 2007, Kansas hasn't won more than five games in a season since it went 8-5 in 2008.
Since then the Jayhawks have gone 11-34.
Making the situation more dismal is the fact that Kansas hasn't won a Big 12 game since it beat Colorado 52-45 in Lawrence on Nov. 6, 2010.
Perhaps the football Jayhawks shouldn't be relegated to the FCS, but maybe they'd be more of a factor in a non-AQ conference.
No matter how you slice it, this is a painful topic, and it makes even the most confident enthusiast cringe (namely me).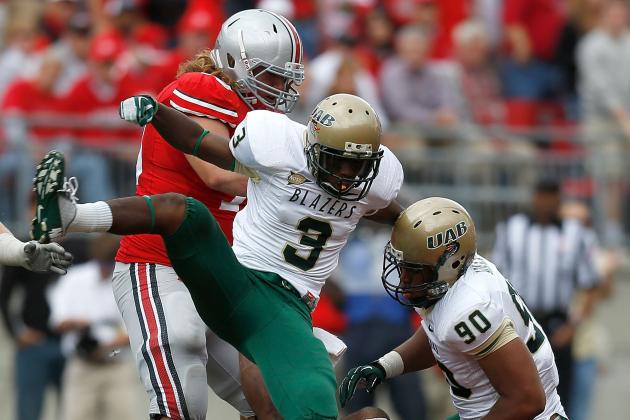 Kirk Irwin/Getty Images

The Blazers have only been FBS members since 1996, and from that point until now things have not necessarily been golden.
UAB has only eclipsed the five-win mark three times since moving up from the FCS, and only once, in 2004, has it been bowl eligible.
The Blazers have only been hitting the gridiron since 1991 (the school opened in 1969), and they have never won a football title of any kind.
Though UAB may well break through and be a player in Conference USA, or at minimum in the East Division, a possible recharge period at a lower level could well benefit all parties interested in the future success of the program.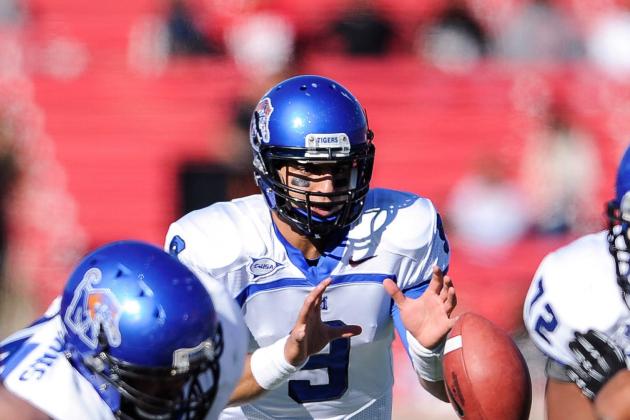 Jerome Miron-US PRESSWIRE

Memphis has been an FBS member (formerly Division I-A) since 1978, and after spending 18 years as an independent, it hooked up with Conference USA when it began operations in 1996.
Since that period, the Tigers haven't won any titles (their last conference championship came in 1971 when they won the Missouri Valley), and they have been bowl eligible just five times.
Memphis is 3-3 overall in bowl play and 2-3 since 2003; its only wins came vs. North Texas in the 2003 New Orleans Bowl and then over Akron in the 2005 Motor City Bowl.
But even these relatively high achievements can't cover up the fact that the Tigers haven't won more than two games in a season since 2008 and are 6-39 since 2009.
This is a program that is clearly struggling and may need to regroup before it tries to become a factor even from a divisional standpoint.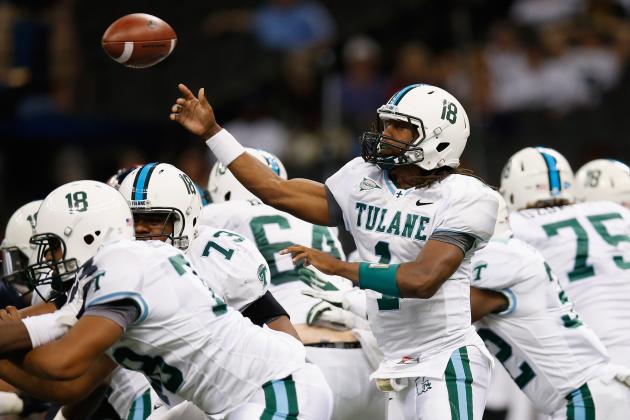 Chris Graythen/Getty Images

Even during an era in college football wherein more than half the FBS field is offered a bowl bid each and every season, Tulane has only been bowling twice since 1990.
The first of the Green Wave's most recent postseason triumphs came via a win over BYU in the 1998 Liberty Bowl, and the most contemporary is a victory over Hawaii in the 2002 Hawaii Bowl.
Since then, the season has ended promptly in November for the gridiron Green Wave.
Tulane did capture a Conference USA title in 1998, but since then it's only won more than six games once and has only won 13 games, total, since 2008.
The Green Wave represent a handful of underperforming teams from mid-level conferences that would be well-suited for a move either to a smaller FBS league (i.e. the Sun Belt) or a visit even further down the line to try to return to the land of .500.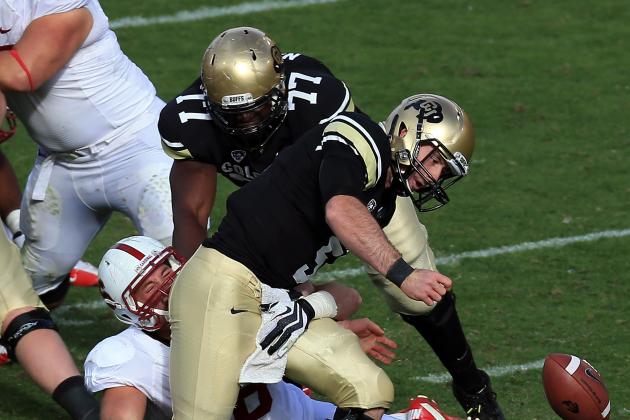 Doug Pensinger/Getty Images

Colorado is probably the BCS team with the most viability concerns as far as where it belongs from a conference/division standpoint.
The Buffs won a national championship in 1990 and have captured two conference titles and three divisional crowns since then, but since taking home the 2005 Big 12 North, it's been slim pickings.
To illustrate, since 2006 Colorado is 25-58, and since joining the Pac-12 in 2011, the Buffs have gone a dismal 4-18.
The Buffaloes did beat Washington State in Week 4 of the 2012 season, but this achievement needs to be qualified by pointing out that it's only their third Pac-12 win ever and that the victory came on the heels of consecutive losses to Colorado State, FCS Sacramento State and Fresno State.
Like any other BCS team, it may be a huge stretch to say that Colorado needs to be bumped down to the ranks of the FCS, but on the other hand, it is fairly simple to argue that the Buffs are not competitive in their current conference home.
This all means that perhaps a drop to a non-AQ-level league could be a more appropriate starting point for the beginning of a Colorado football revival.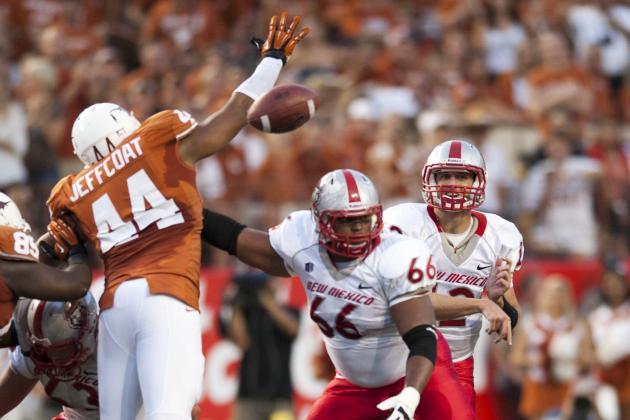 Cooper Neill/Getty Images

Though the Lobos have managed bowl eligibility five times since 2000, they've scored only one postseason win in the new millennium and haven't won any title since taking home the WAC Pacific Division crown in 1997.
But what really gives New Mexico immediate consideration in terms of a relegation discussion is the fact it went 3-33 from 2009-11.
This, of course, makes the Lobos' 4-6 start in 2012 look almost miraculous.
The big question regarding New Mexico is whether the coming of the Bob Davie era will actually save the Lobos not from actual relegation, but from the dreaded tag of "one of the worst football programs in the recent history of the FBS."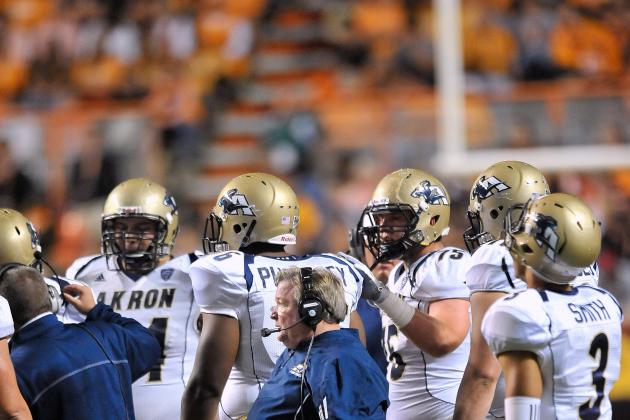 Jim Brown-US PRESSWIRE

Another program that has struggled to compete, Akron hasn't hit the eight-win mark since 1985, when it went 8-4 under then-coach Jim Dennison. The Zips actually won the MAC East in 2005, which is also the only year they have ever been to a bowl game, a contest they lost.
Since these two shining moments, Akron has not only continued to struggle to be relevant, the Zips' production has dwindled.
Akron won five games in 2006, four in 2007, five in 2008, three in 2009 and then hit rock bottom by winning only one game each in both 2010 and 2011.
The pain continues on this season with the Zips sitting at 1-9 through 10 weeks of play; the only win came over FCS Morgan State in Week 3.
Akron hasn't beaten a FBS team since besting Buffalo 22-14 on Nov. 26, 2010, which is also the last time it bested a conference foe.
The Zips would have to be considered one of the top candidates for relegation if the scheme ever was adopted in major college football.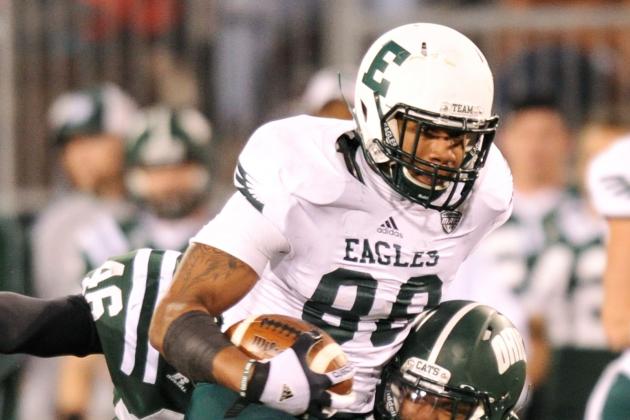 Jamie Sabau/Getty Images

Even EMU's historic 6-6 record from 2011 can't save it from the relegation roundtable.
Yes, let's keep in mind that the last time the Eagles won more than five games was way back in 1995, when they went 6-5 under then-coach Rick Rasnick. To further illustrate, Eastern Michigan went 10-50 from 2006 to 2010, which makes 2011's six-win figure seem like the Holy Grail.
The Eagles last won the MAC in 1987, which also marks the year of their one and only bowl appearance.
Eastern Michigan simply hasn't competed at the level it calls home, which makes it a natural part of this conversation.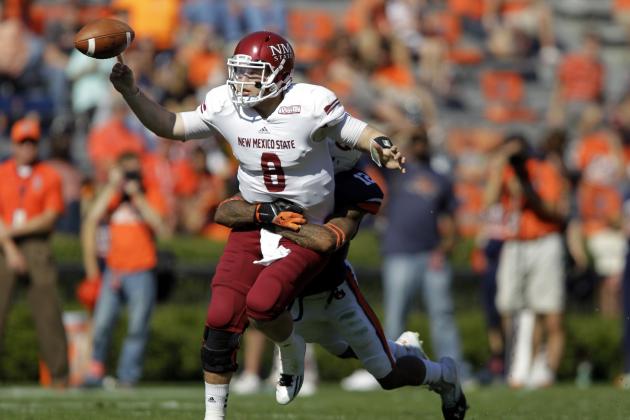 John Reed-US PRESSWIRE

Another team that last struck pay dirt in the Missouri Valley Conference, New Mexico State notched its last league title in 1978 in the MVC.
Though the Aggies went 7-5 as recently as 2002, they haven't won more than five games since then and haven't eclipsed the four-win mark since they went 0-12 in 2005.
As far as bowls go, New Mexico State hasn't been bowling since the 1960 Sun Bowl, and again, we live in an era where half of the field plays in a postseason showcase game.
The Aggies offer up yet another resume that lacks relevance and wins. With an 1-8 record in 2012, hope is a diminishing commodity as well.