Michigan State Football: Winners & Losers from the Week 10 Game vs. Nebraska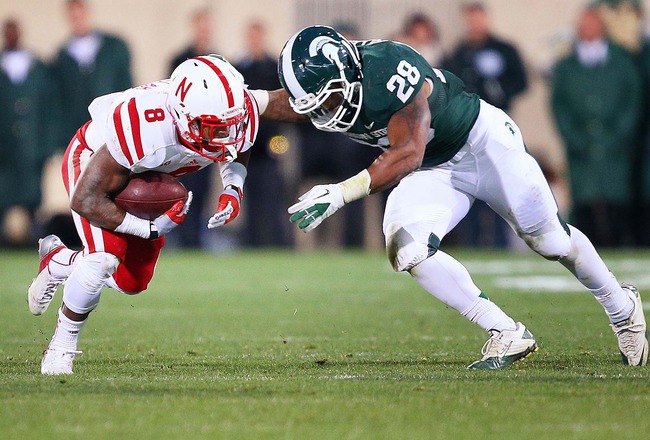 Mike Carter-US PRESSWIRE
After suffering a heartbreaking, 28-24 defeat to the Nebraska Cornhuskers in Week 10, the Michigan State Spartans have now fallen to 5-5 overall and 2-4 in the Big Ten.
MSU was desperate for a win to keep its Big Ten title hopes alive, but was unable to retain a two-possession fourth-quarter lead and is now officially eliminated from contention.
Both teams were victimized by what could only be classified as awful officiating. The Spartans, however, suffered from questionable calls at the most inopportune of times.
Ultimately, it was the Cornhuskers who executed in key situations to clinch the win. As a result, Nebraska remains in first place in the Legends Division and moves to 7-0 all-time against Michigan State.
While the loss—the Spartans' third in their last four games—will undoubtedly sting for some time, there were a few positives the be found. Let's take a look at the winners and losers for Michigan State from Saturday's action.
Winner: Darqueze Dennard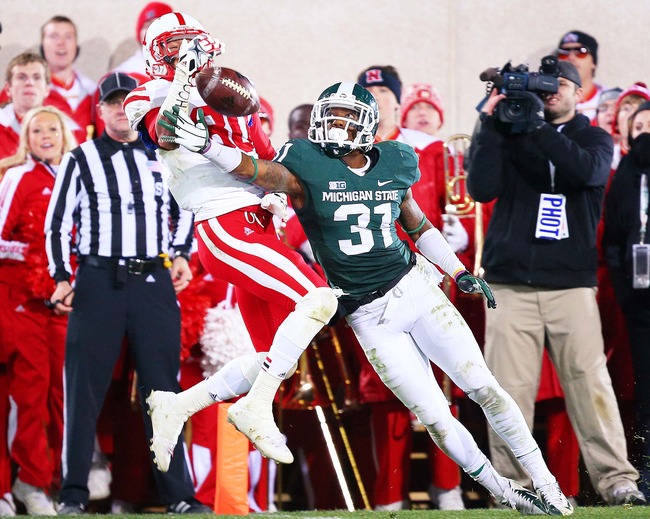 Spartans' defensive back Darqueze Dennard was flagged for pass interference on a questionable call in the game's final moments.
Mike Carter-US PRESSWIRE
Perhaps no one player in this game felt the wrath of bad officiating more than Spartans' cornerback Darqueze Dennard.
Early in the fourth quarter with the Cornhuskers in position to score, Dennard intercepted a Taylor Martinez pass to the sideline and seemingly returned it nearly the length of the football field for the score—extending the Spartans' lead to 31-14.
While the interception—Dennard's second of the game—would count, the touchdown would not. Officials called Johnny Adams for a personal foul on the return, bringing the ball all the way back inside the Michigan State 20-yard line. Perhaps the referee who made the call felt Adams was sneaking in a cheap shot, but the block which drew the flag appeared to be clean.
The Spartans would go three-and-out on the ensuing drive, and Nebraska made it a three-point game with a touchdown shortly after the punt.
As if that wasn't enough, it was Dennard who officials flagged for pass interference on the Cornhuskers' game-winning drive. What looked to be good, clean defense was ruled otherwise, and an incomplete pass would have forced a field-goal attempt to send the game into overtime.
Loser: Spartans' Run Defense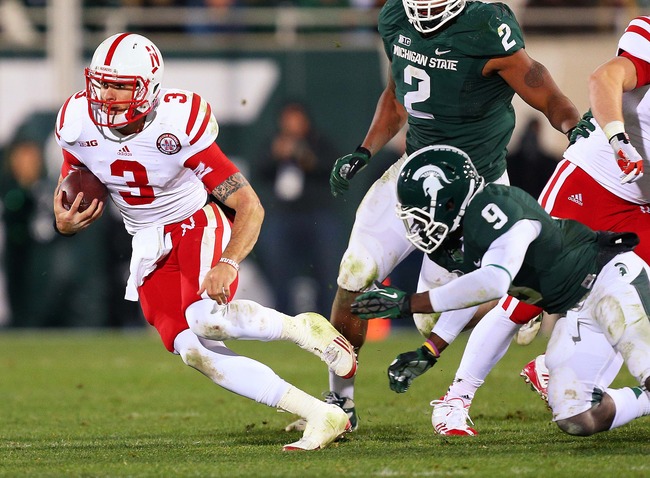 Michigan State allowed a total of 313 rushing yards to Nebraska ball-carriers.
Mike Carter-US PRESSWIRE
Before Saturday's loss, no Michigan State defense had ever allowed 300 yards rushing with Mark Dantonio at the helm.
Martinez and the Cornhuskers had something to say about that, though.
Just a week after containing All-American running back Montee Ball to the tune of 42 yards on 16 carries, the Spartans' defense was torched by Nebraska's ground game for 313 yards and two scores. Martinez, one of college football's dynamic dual-threat quarterbacks, piled up 205 of them. Running Ameer Abdullah, starting in place of the injured Rex Burkehead, contributed with 110 yards of his own.
State's defense allowed as many 100-yard rushing performances in 60 minutes on Saturday as did in its nine previous games combined.
Martinez creates even more headaches for opposing defenses because of his improvement as a passer, but he's always been a dangerous threat on the ground. That said, allowing him to nearly double his highest single-game rushing performance of the year is inexcusable.
Forcing Martinez into committing turnovers was key, and the Spartans did just that—intercepting him three times. But the inability to prevent Nebraska's signal-caller from consistently gaining chunks of yardage with his feet was a key factor in Michigan State dropping this one.
Winner: Le'Veon Bell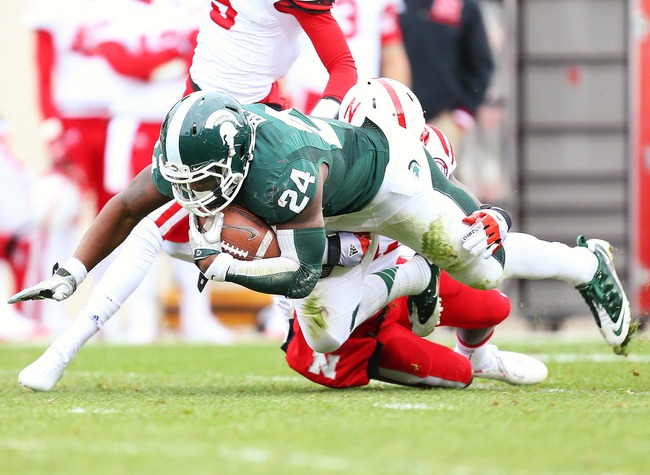 Junior running back Le'Veon Bell pounded his way to 188 yards rushing on 36 carries.
Mike Carter-US PRESSWIRE
Nebraska's ball-carriers weren't the only ones running wild at Spartan Stadium on Saturday.
Le'Veon Bell rumbled his way to 188 yards rushing on 36 carries in the game. Offensive coordinator Dan Roushar knew pounding away at the Cornhuskers' defense with his 6'2", 245-pound running back was a must, and the lineman up front did a much better job opening holes for him this week.
Bell's 5.2 yards per carry served as his second-highest average of the season, and this was the fifth time in 2012 he's eclipsed the 100-yard mark. Over 10 games, the junior RB has totaled 1,249 rushing yards and 10 TDs on 283 carries.
Bell continues to assert himself as a powerful back capable of handling the ball 35-40 times a game, wearing down defensive fronts in the process. Surprisingly, of the four times he's carried the ball 30 times or more this year, this was the only time the Spartans failed to come away with the win.
Loser: Michigan State's Passing Game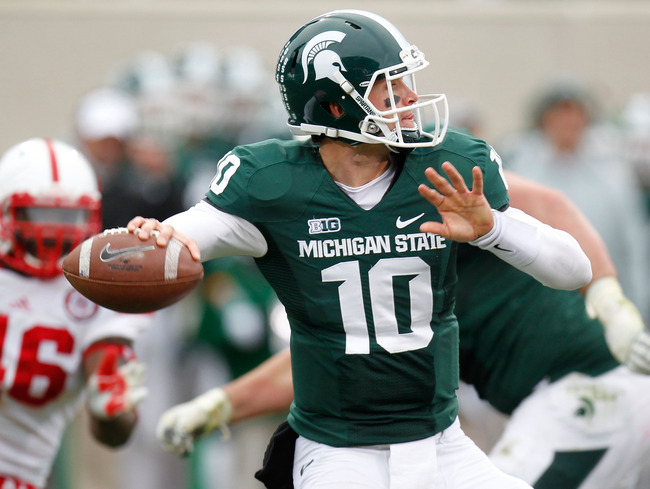 Junior QB Andrew Maxwell completed only nine of his 27 pass attempts in the loss.
Gregory Shamus/Getty Images
It's tough to win a ball game when your quarterback attempts 27 passes and completes only nine of them.
Of course, it wasn't all QB Andrew Maxwell's fault. Michigan State receivers dropped perfectly thrown balls on numerous occasions throughout the game. Needless to say, that's been the story much of the year for the Spartans' inexperienced group of pass-catchers.
The lone bright spot in the passing game was Maxwell's 46-yard touchdown pass to WR Tony Lippett in the second quarter. Aside from that, it was an abysmal performance on all accounts. Maxwell missed on more throws than he made, and his completion percentage of 33.0 was the lowest of 2012.
It was also the first time this season Michigan State failed to account for at least 150 yards through the air.
Loser: The Spartans' Ability to Win Close Games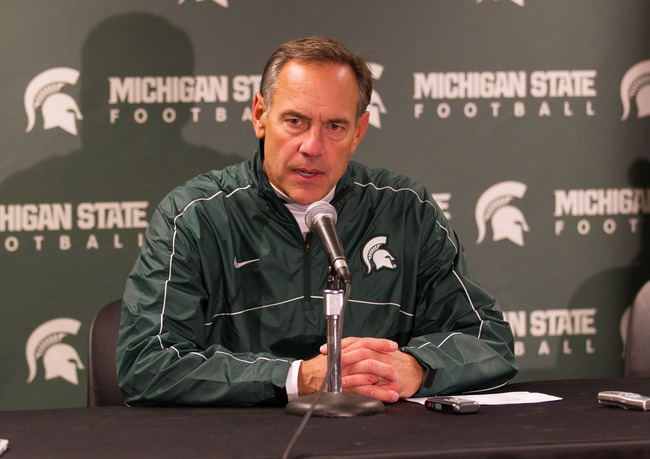 Mark Dantonio and his staff made some questionable play calls late in the game.
Jeff Hanisch-US PRESSWIRE
The Spartans' held a record of 7-1 in games decided by eight points or less during the 2010 and 2011 seasons. In 2012, they're 3-4. To make things worse, all four losses have come against Big Ten foes.
Michigan State's lack of explosive playmakers on offense has crippled the team's production much of the year, but the coaching staff has done its part, too.
For example, let's look at the final drive against Nebraska. Directly after the pass-interference call on Dennard, the Spartans sent an all-out blitz and forced an incomplete pass.
Great, it worked. But even in the college game, predictability will come back to haunt you. Dantonio ordered up a second straight blitz on the following play, and Martinez beat it with a timing route to the corner of the end zone.
Nebraska knew what was coming.
Just minutes earlier, the Spartans had the ball on the Cornhuskers' 39-yard line—facing a 4th-and-2 with only 87 seconds remaining in the game. Rather than try for a conversion that would allow Michigan State to run out the clock, Dantonio and Roushar elected to punt.
Still, it was the defense's inability to shut down a late rally in the final minutes that hurt the most. Earlier in the year against Iowa, Sparty's D gave up a touchdown in the game's final minute to force overtime. The inability to hold a lead against Ohio State ended up in a loss as well.
Michigan State's four conference losses have come by a total of just 10 points. Now, the Spartans must win one of their final two games in order to even become bowl eligible.
Keep Reading

Michigan State Football: Like this team?