Texas A&M vs. Mississippi State: Live Scores, Analysis and Results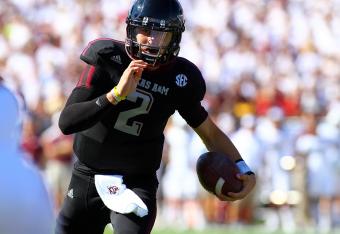 FINAL SCORE: Texas A&M 38, Mississippi State 13
Texas A&M beat up on Mississippi State, after a dominant performance by star quarterback Johnny Manziel. A&M outplayed Mississippi State in every aspect of the game.
Scoring Summary (From ESPN)
FIRST QUARTER

TA&M

MSST

TD

09:16

Ben Malena 1 Yd Run (Taylor Bertolet Kick)

7

0

TD

03:11

Christine Michael 22 Yd Run (Taylor Bertolet Kick)

14

0

SECOND QUARTER

TA&M

MSST

TD

11:51

Johnny Manziel 37 Yd Run (Taylor Bertolet Kick)

21

0

FG

02:53

Taylor Bertolet 24 Yd

24

0

THIRD QUARTER

TA&M

MSST

TD

12:40

Christine Michael 1 Yd Run (Taylor Bertolet Kick)

31

0

TD

08:01

Chad Bumphis 14 Yd Pass From Tyler Russell (Devon Bell Kick)

31

7

FOURTH QUARTER

TA&M

MSST

TD

09:11

Tyler Russell 4 Yd Run (Two-Point Pass Conversion Failed)

31

13

TD

05:59

Johnny Manziel 8 Yd Run (Taylor Bertolet Kick)

38

13
And be sure to check out the 10 Things We Learned From the Aggies Big Win.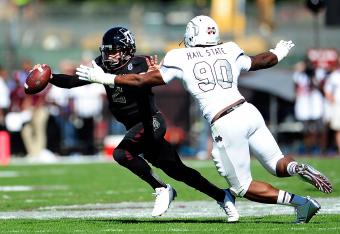 And that's going to do it.
Texas A&M beats Mississippi State by a score of 38-13.
A dominant performance by A&M on both sides of the ball, and they have a lot of momentum heading into next week's clash against Alabama.
Meanwhile, MSU now has two straight losses and has to fix things up.
Thanks for following along on the live blog!
This win secures third in the SEC West as the worst case scenario for the Aggies...in year 1 of the SEC...with so much young talent

— Derek (@DerekAggie06) November 3, 2012
We're under two minutes now and, even with Manziel resting, they're still threatening. Really tough day for MSU. Brings them back to earth.
Manziel gets to rest after a pretty amazing day. Showers is the backup QB, we'll see how he does.
Well, that will do it for this game probably. For Manziel that's 30 of 36 for 336 passing, 129 yards rushing with 2 TDs. #ThatllDo

— Aubrey Bloom (@AubreyBloom247) November 3, 2012
More from our friend Dan:
Ags have now scored the same number of points on state as Alabama. I have no delusions about what will happen next week against the best team in the nation, but still, our offense can hang in the SEC
And it's another touchdown for Manziel and TAMU, this time on a seven yard run.
The score is now 38-13, with 5:59 left in the ballgame.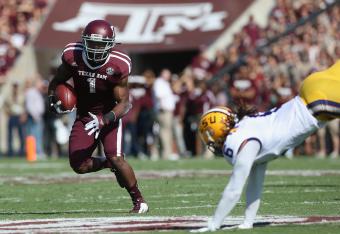 Malena has grown on me as the game has progressed. Strong, powerful with a nice burst of speed.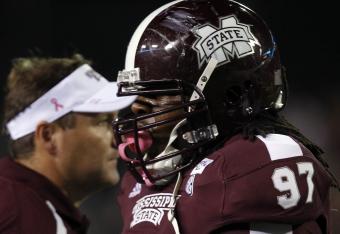 DT Josh Boyd was down on the field, but he's up and walking off the field now. He's hobbling a bit.

— Brandon Marcello (@bmarcello) November 3, 2012
There's nine minutes left in the game and MSU is down 18. Three possession game. Is there enough time? I say no. What say you?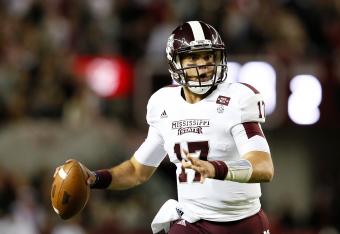 Touchdown Mississippi State! Russell keeps it for a four yard run.
It's now 31-13 Texas A&M with 9:11 left in the game.
MSU in scoring territory. Again, too late for anything crazy to happen, but it should help going forward.
DJ had a question:
The announcers havent said anything about Steven Jenkins and I haven't payed attention to if he's back in the game or not. Any update?
And here's the answer:
Steven Jenkins back in for #TAMU. That's good to see.

— Mark Passwaters (@themarkup) November 3, 2012
Russell picks up the first down on the option. But if you're going to run the option, why not put in Prescott? He's much more athletic and much faster. Instead of a 10 yard run, why not get a 15 yard run?
Wow. It is EMPTY in the stands. Can't say I blame them, but jarring to see.
A&M is just horrible on field goals right now All there is to it.

— Aubrey Bloom (@AubreyBloom247) November 3, 2012
A&M going for a 43-yard field goal and it is...no good. Way right.
MSU takes over with 13:31 left in the ballgame.
#Aggies at an astonishing 569 yards on 74 plays. Eighth straight game with 400-plus total yards. Still in 3rd Q

— Texas A&M Football (@AggieFootball) November 3, 2012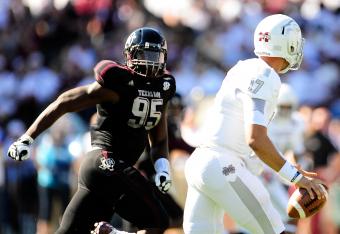 And that's the end of the third quarter.
It's 31-7 Texas A&M.
Mike Evans is only a freshman, so there's a lot of time left in his career, but I think it's pretty fair to say you're looking at a first round type player.
And that hurts. Russell is blitzed heavily, hit as he throws and it's picked off by Harris.
Just as MSU was getting going, they turn it over. Been that kind of day for State.
There's Bumphis again. Mark my words: He will be a second round pick in the 2013 draft.
True fact: there might not be anyone - on either team - playing harder than Cam Lawrence. Everywhere all day.

— Bob Carskadon (@bobcarskadon) November 3, 2012
Ruling on field stands. Looked on replay like football might've crossed, but probably not conclusive enough.
Big break for MSU.
And that's a huge break for State. Manziel fumbles in the end zone, MSU ball. If MSU can turn this into points, this game is not out of reach.
But of course, the play is under review.
This article is
What is the duplicate article?
Why is this article offensive?
Where is this article plagiarized from?
Why is this article poorly edited?