College Football: Power Ranking the 5 Teams with the Most to Prove in November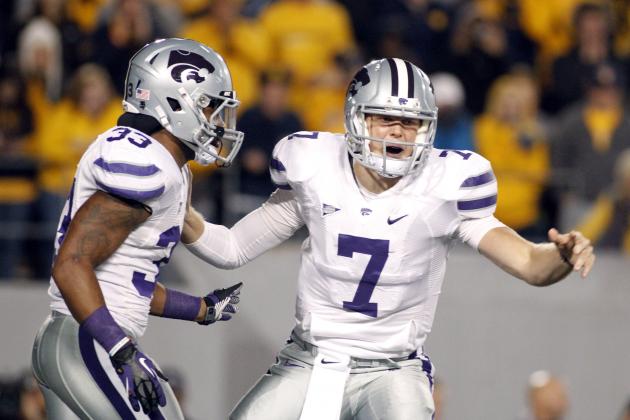 Justin K. Aller/Getty Images
Collin Klein has his team at a surprising 8-0 this year.
As the college football regular season heads for the home stretch, many highly ranked teams must prove their mettle if they want a shot at a national title or a BCS bowl game berth.
Some teams like Kansas State and Notre Dame have shocked the football world with unbeaten records while other teams like USC and Florida State suffered losses that destroyed their title hopes.
There is still a lot to be decided as the calendar turns to November. The polls will almost certainly change as upsets happen, conference title matchups are decided and teams jockey for position as their fate is decided by a bunch of computers.
This list of five teams takes into account what the teams have accomplished up to this point in the year, what the remaining schedule looks like and the general perception of the team at this point of the season,
Let's take a look at the teams with the most to prove.
Begin Slideshow

»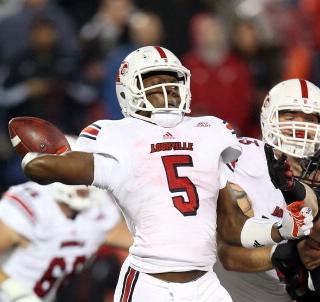 Andy Lyons/Getty Images
The Cardinals are unbeaten, but not many people have taken them seriously.
The Cardinals are No. 10 in the BCS Standings and hold a perfect 8-0 record.
They have beaten the teams on their schedule, but many people feel that they are not legit because they haven't beaten or played a single ranked team.
Additionally, the Cardinals haven't exactly dominated, winning their games by an average of just under 10 points.
Louisville must prove they are deserving of their ranking by winning the next three weeks (vs. Temple, at Syracuse, vs. Connecticut) before a big showdown with Rutgers on November 29. Rutgers just lost at home to Kent State, giving them their first loss and plummeting them from the rankings.
The Cardinals must win convincingly in these games to prove they belong in the top 10 in the BCS rankings (they are No. 12 in the AP Top 25).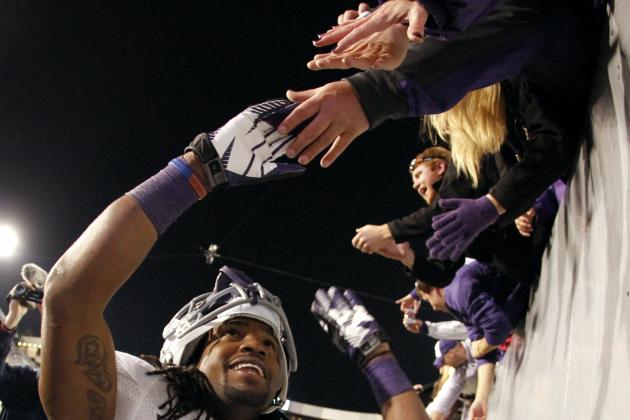 Justin K. Aller/Getty Images
Running back John Hubert has 10 TDs for the unbeaten Wildcats.
The Wildcats are 8-0 and No. 2 in the BCS Standings after beating three ranked teams this season and establishing themselves as a force to be reckoned with.
They also have the favorite in the Heisman race in quarterback Collin Klein (1,630 passing yards, 12 TDs; 634 rush yards, 16 TDs) and a solid running back in John Hubert (722 rush yards, 10 TDs).
The Wildcats put up 44.4 points per game, fifth-best in the nation, and only surrender 17.1 points per game. In their last two contests, they have blown out ranked opponents (West Virginia, Texas Tech) by a combined 72 points.
Yet, they still have a long way to go in proving they deserve a shot at a national title.
The remaining schedule isn't easy and features No. 24 Oklahoma State (home), formerly-ranked TCU, high-powered Baylor, a bye week and No. 23 Texas on December 1.
A slip-up will likely cost the Wildcats a chance at the BCS National Championship Game, so they will have to run the table and dominate the way they have been have to prove they belong with the top-tier teams.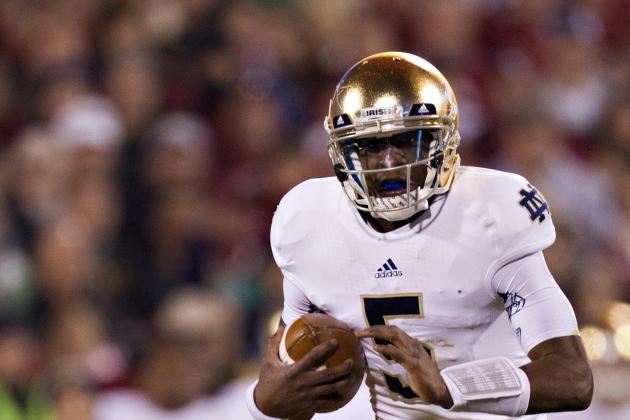 Wesley Hitt/Getty Images
The Irish have a favorable November schedule but can't take it lightly.
The Fighting Irish seem out of place if you look at the offensive stats, but they have made enough plays and have a stellar defense that surrenders just 9.9 points per game (second-best in the country) and has the Irish thinking national championship.
Brian Kelly's squad leaped up to No. 3 in the BCS rankings and are No. 4 in the AP Top 25 after an impressive 30-13 win at Oklahoma, their fourth win over a ranked opponent this season.
The Irish (8-0) have Pittsburgh, Boston College and Wake Forest in the next three weeks, all games they should win. This sets up a huge showdown with USC on November 24.
The Trojans (6-2) have underachieved this season, but will want to knock off a potentially unbeaten Irish team and dash their national championship hopes.
Notre Dame's win over Oklahoma proved they won't be intimidated by a good team on the road, but they will have to contend with a dynamic offense in a rivalry game at the Coliseum.
The Fighting Irish have accomplished more than expected up to this point, but November is a critical month, as they must beat USC to prove they are for real.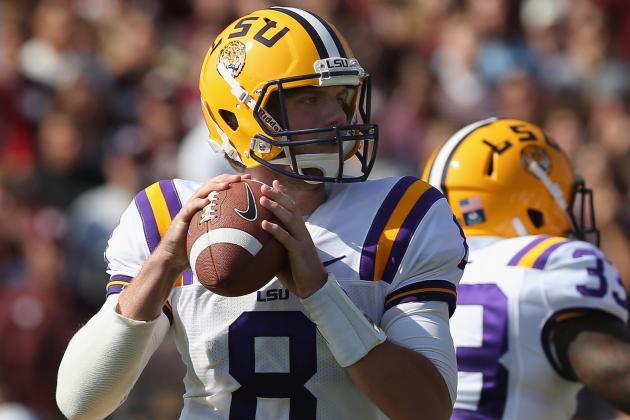 Ronald Martinez/Getty Images
The offense has been a work in progress, but the Tigers have still found ways to win.
Head coach Les Miles's team has looked inept on offense on many occasions this season. They haven't looked like the same LSU team that is one of the country's best teams every single year.
However, the Tigers are 7-1 and coming off back-to-back wins over highly-ranked foes (South Carolina, Texas A&M), putting them in back in the national title picture (No. 5 BCS, No. 5 AP).
Does the road get any easier? Nope.
The Tigers face off with No. 1 Alabama this week in Baton Rouge in a national championship rematch with huge title implications .Following that, they play No. 15 Mississippi State, Ole Miss and Arkansas to end the season.
The big test will obviously be against an Alabama team that looks unbeatable. This game doesn't like winnable on paper, but the Tigers believe they can defy the odds and take down the Crimson Tide.
November is a huge month for the future of LSU football, as Miles will be able to assess if this team belongs in the same breath with the nation's other great teams.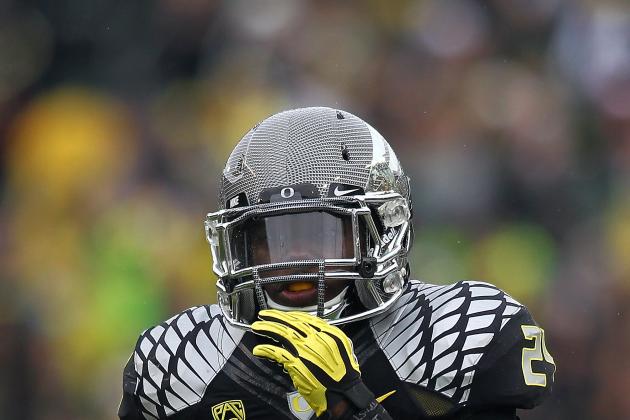 Jonathan Ferrey/Getty Images
The Ducks look unstoppable, but they face their tough part of the schedule in November.
The Ducks rolled up a nation-best 53.4 points per game and simply beat up on their opponents with an incredible offense and much-improved defense.
However, they haven't proven a thing up to this point in the season and have the most to prove of any top team in the country.
Yes, they beat ranked foes Arizona and Washington in landslides, but they play three ranked opponents in four weeks to close the regular season, starting at USC this week. The Trojans are going to be mad about their loss to Arizona and prepared to slow the Oregon attack. The Ducks must go at USC hard and not expect to win easy.
While the Ducks are No. 2 in the AP Top 25, they are a bit miffed as they sit at No. 4 in the BCS Standings, behind both Kansas State and Notre Dame.
For now, that's the way it should be, at least until the Ducks pass the test at USC. They must then pound California and take care of business by beating two more ranked foes (Stanford, Oregon State) in the regular season's final two weeks.
If the Ducks are able to do that, they very well could leapfrog both of the teams ahead of them and play for the Pac-12 title, with a chance to make it to the national title game.
Oregon has the most to prove because they have looked so dominant before the hardest part of their schedule, making college football fans wonder if they can do it against stiffer competition.